After the pandemic hit, businesses from all the countries are making the move to outsource. The reason could be anything I mean for small companies it is their need to find someone who can take care of all the technicalities while they focus on their core business whereas for large enterprises outsourcing their IT needs is the only way left to cut their costs in comparison to that of an in-house team. Whatever the scenario is, in the end, they all do end up entering the outsourcing market.
You must have heard a lot of buzz around the term outsource, but there are several businesses that have failed to understand its importance in the present times. Don't worry, the following post mentions the basics of Outsourcing and the best practices for IT outsourcing to take into account! Let's begin.
1. Basics of IT Outsourcing Industry
Like I said before, most businesses consider IT outsourcing because it aids them in lowering the cost, improving efficiencies, and gaining speed. Choosing IT outsourcing services or third-party IT services for your IT project can be a bit tricky since you have so many options around. Well, before we could even get there, it's time to consider the benefits offered by an outsourced development team or a remote dedicated team of developers for your upcoming IT project.
Saves Time
Cost-effective
Get instant access to a huge talent pool
Increased focus on business objectives and core business competencies
Time to market has been accelerated
Access to new and dedicated resources
Greater competitive advantage
Outsourcing IT services possess a lot of advantages, only when done correctly with the help of a reliable outsourcing service provider who does know how to do things rightly. For project success, it is necessary that the service provider understands the clear project scope and project requirements. This brings us to our next segment.
2. Best Practices for IT Outsourcing Software Development
Do you think Outsourcing is only preferred for only software development? In that case, you have a wrong assumption, Outsourcing is here, they're everywhere. Right from human resource management to supply chain management, finance, and accounting, customer support, research design, legal documentation, and software development. Outsourcing is there everywhere and the list goes on.
2.1 Building a Mutually-Friendly and Profitable Relationship
It is of vital importance to build a cordial network with the company you work for. This simplifies the process of communication and makes a business a hassle-free process. Start with the creation of a collaborative connection with your outsourcing service provider that emphasizes the growth of both parties. Having a clear understanding of the project, respecting each other's commitments and capabilities, ensuring transparency in work, adhering to contractual terms, staying up to date on the project's progress, and acknowledging the successful completion of the project's milestones can all help to build such a relationship.
The effectiveness of the relationship is based on how you interact daily with the teams and other seniors involved in the process. If you have a good synchronization, then the work gets easily done. There are businesses pillared on exceptional coordination and understanding that boils down to long-term partnerships and trustworthy business relationships.
2.2 Determine If Your Project is Right for Outsourcing
Do you think all projects can be outsourced? Absolutely not! Outsourcing works best only when you have specific requirements, an appropriate model, and a fixed price. Some of the best examples include Google Cloud, and Amazon Web Services considering outsourcing when it comes to hosting their websites.
By choosing a reliable outsourcing partner, one can easily free themselves and focus on their core business activities. Now when I used the term specific requirements, it must be a fully developed and detailed project plan in place. Certain aspects must be included such as:-
A short description of the project
Do consider the project budget,
To measure their performance
Can they match up to deadlines
By pre-determining these aspects, you will be able to foresee what's coming up!
2.3 Choose The Right Outsourcing Service Provider
Of course, choosing the right service provider makes sense when considering best practices for IT outsourcing. Now, what are the things or factors that must be taken into consideration?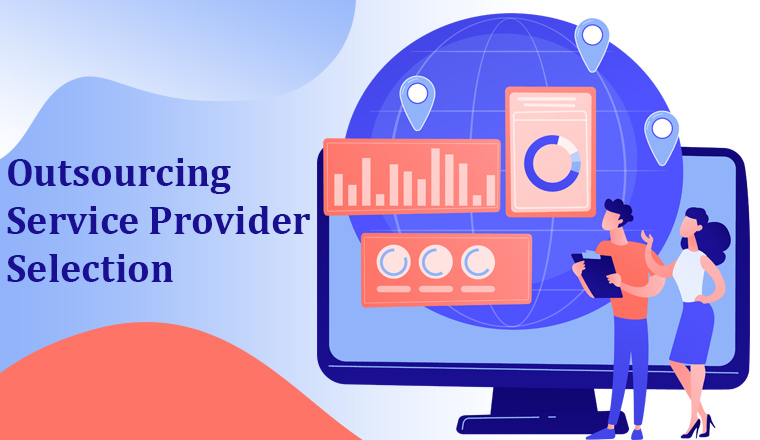 Do they possess Rich experience?
Have you inquired about the Fast turnaround time?
Are they well-acquainted with the latest technologies and tools
How are their coding practices
Do they follow strict service level agreements
It may also interest you to know that for large, long-term projects, having dedicated resources is important. Now you see when you choose a partner make sure you have their dedicated team at your service, Developers only need to be introduced to the project once.
2.4 Select The Right Outsourcing Engagement Model
Once you decided who to partner with a service provider. It's time to consider the right outsourcing engagement model. What are the options? Right from the dedicated teams model, Time & Material model to the remote developers model and managed projects model, choose one according to your needs.
Now each of these models is of a kind, For example – A dedicated development team works great for both short and long-term projects.
Next is the remote developers model, here you will get work done on your terms and in your time zone
Lastly, the managed project model is a full-fledged service offered by web development outsourcing services providers.
Further Reading On:

Insourcing vs Outsourcing – Which One To Choose!
2.5 Communicate Clearly
Last but not the least, communication is the key! And when we are already talking about outsourcing projects, how can we miss the communication aspect? This can be hard. Language, time, and cultural differences are some critical aspects that highly impact communication.
2.6 Ensure Data Security
If you are a company wanting to secure data from any kind of breaches then you must learn how an IT outsourcing service provider protects your company's and customers' data before you start working with them. It becomes a challenge for businesses to manage and maintain data as well as add a layer of security to it. To reduce the chance of a data breach, firstly you must ensure that your hired service provider follows best practices. You as a business can also create tight service level agreements to ensure that all of your project's activities are carried out in accordance with industry standards. This will provide enhanced security and all of your data will be fully safeguarded.
3. Conclusion
On and all, it's all about getting a compatible provider who can save money and offer some real value for your upcoming project. The above-mentioned post must be very helpful especially when it comes to IT outsourcing. Apart from these aforementioned practices, you must also consider following IT outsourcing trends. In case, if you still have any doubts or queries, feel free to mention that in the comment section below.