1. Introduction
Digital business transformation is pervasive, but for multinational corporations with possibly hundreds of people, it may be a formidable obstacle. Despite larger funds and greater resources, the transition is not always straightforward.
Nevertheless, enterprise digital transformation is doable, and the advantages of enterprise application development justify the effort. How can organizations and directors balance development and cost reduction? How can you reduce expenses while growing income and transform customer expectations into data-driven assets for making more informed business decisions?
Well, in this guide to enterprise digital transformation, we will lead you through the principles of enterprise digital transformation. Keep reading!
2. What is Enterprise Digital Transformation?
A digital transformation of a business is the introduction of digital services into a company's operations. You may begin migrating your firm to cloud infrastructure and enhance business processes with digital transformation consultancy.
Digital transformation experts provide a thorough framework for digital culture strategy, conceptualizing, execution, and operations. For a digital company who plans to be successful; real management, a customer-centric culture, and the capacity to manage and drive change are the most important aspects.
Creating a strategy for a successful digital transformation may be advantageous for your organization, workforce, and users. It might be a strong technique for enhancing the production flow of the company.
In addition, you may see emerging technologies such as cloud technology, smartphone applications and tablets, the Internet of Things (IoT), artificial intelligence/machine learning, and digital twins.
3. Benefits of Enterprise Digital Transformation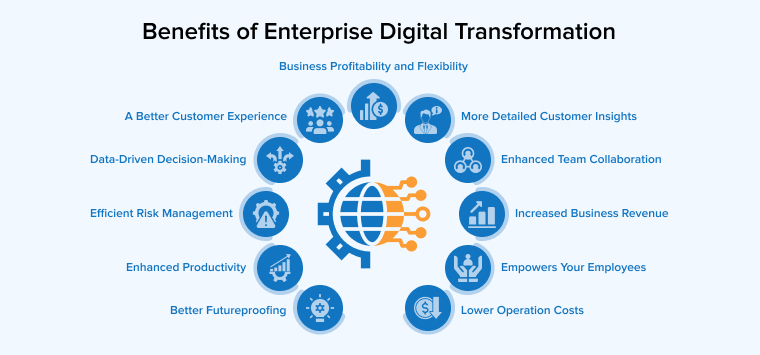 The potential rewards of a successful digital transition are enormous. Digitalization is a one-way pass to practical progress, as it yields comprehensive customer insights, enhances earnings and adaptability, and improves business leaders' decision-making.
Let's examine some of the benefits you might anticipate after putting digital transformation efforts.
3.1 Business Profitability and Flexibility
This transition to digitization has a significant impact on the flow of your business. However, you can switch to a unified connectivity and contact center system that is based on a hybrid cloud architecture that uses the cloud for "decisions" while relying on its data centers for audio and video performance.
This innovative design significantly improves call quality, and for large enterprises migrating their conversations to the cloud, it might be a crucial factor in the outcome of digital transformation.
This implies that you will be able to drastically reduce your bills and expenses. There is no costly hardware to deliver or set up fees; merely a simple monthly subscription model that includes a contact center system as part of a streamlined array of communications capabilities.
3.2 Empowers Your Employees
Lastly, digitalization has a very personal and practical component. Digitization entails as much information, technology, and operational efficiencies as it is for empowering your team to perform and live more effectively.
In reality, digitalization enables an increasing number of individuals to attain the ideal work-life equilibrium. How so? Because the achievement of a digital transformation project affects both work styles and procedures.
In recent times, adaptable, virtual, and hybrid job roles have flourished due to digitalization. The ability to work from any place is inevitable in the future. And such a digital transformation journey is essential for enabling a global workforce to operate from any location.
Is your customer service team able to create additional call center services and operators on its own? Or must they constantly contact your vendor and wait weeks or months?
Most businesses are accustomed to the second, but nowadays, with the correct communications platform, managers and executives can rapidly add new recruits and assign them contact information without IT assistance.
3.3 Enhanced Productivity
Another competitive advantage of incorporating the digital transformation process is that it might increase your business's performance. Adopting digital business models can facilitate the automation of corporate procedures. Therefore, you may minimize expenses and manual labor, increase service provision, and facilitate workers' jobs. Automation can also result in fewer errors, which can increase the quality of your company's services.
3.4 Increased Business Revenue
With digital transformation, you can have access to cloud-based solutions that can enhance the consumer digital experience. Consequently, you may boost your company's income.
It is evident that Digital Transformation in financial services has enhanced commercial income for companies.
3.5 More Detailed Customer Insights
No matter if you're a health professional, a change management consultant, or a SaaS business, information gathering is a big piece of the digital revolution. Structured data like client contact details and unstructured data such as metrics from social media are essential for propelling business growth and staying relevant.
Getting the right information at the right moment can be your most valuable asset. This is essential to comprehending what customers know, what they want, what they need, and more.
Once you can respond on these insights, you can provide better customer-centered services that boost customer allegiance and retention over time and make your company stand out from the rest. By using precise data, you'll be able to come up with a well-thought-out business plan.
3.6 A Better Customer Experience
One of the major benefits of enterprise digital transformation is that it enables firms to significantly enhance customer experiences.
With additional data analytics at your disposal, you will be able to tailor your services to your consumers' desires and requirements. Statistics are frequently considered to be impersonal, but nothing could be farther from reality. Data enables firms (especially bigger ones that may not have daily face-to-face interaction with clients) to cultivate deeper and more genuine connections.
With the proper digital technologies in place, businesses are able to gather, store, and analyze vast amounts of client data in order to provide highly tailored services.
Even enterprises today have the skills and resources necessary to offer digital products and services that are customized to each customer's particular tastes and requirements.
3.7 Better Futureproofing
One of the most vital and challenging things for businesses to do is to prepare for the future. Your digital transformation tactic doesn't matter how good it appears on an article if it doesn't look toward the future.
A high quality digital infrastructure should give your business an additional layer of safeguarding against industry changes, shifts in demand, new trends, catastrophes, and anything else that could happen in the future. You want to be prepared in case a customer needs change.
Keep in mind you can easily obtain data and that the technology solutions you're putting in place give you good data storage and insights.
3.8 Lower Operation Costs
Your company must undergo digital transformation for a sustainable business strategy. It can help you save costs by reducing the prices of gear and operations. Digital Transformation in industrial production is an instance of reducing operating costs.
3.9 Efficient Risk Management
Using enterprise digital transformation, you may have effective risk mitigation. Additionally, you may utilize data-driven decision making to enhance your daily activities. In particular, it helps reduce prospective corporate losses. It may also give you data modelling, allowing you to develop and execute more successful ways to please your consumers and effectively manage risk. It may also enhance client engagement, recruitment, maintenance, and revenue growth.
3.10 Enhanced Team Collaboration
Additionally, enterprise digital transformation may enhance team communication and lead to increased corporate efficiency.
3.11 Data-Driven Decision-Making
In the digital age, big data is the primary driver of innovation. The bigger your organization, the more client dialogues and insights you collect everyday, and the greater the significance of big customer data analytics.
The focus of digital transformation programs is the collection and incorporation of data into routine business tasks, policies, and procedures. Thus, organizations begin to operate at a far higher level than was previously conceivable.
Once your activities are digital, data is no longer something that is seen annually on a linear trend in the boardroom.
After the digital transformation, this data becomes actual, concrete, usable research, giving you a holistic perspective of your whole business, from manufacturing to customer service to advertising and accounting.
4. Challenges That Enterprises Face with Digital Transformation

Implementing enterprise digitalization is difficult despite its importance. Digitalization is a challenging endeavor, particularly for bigger, enterprise-scale firms with various departments, numbers of workers, and even multiple worldwide locations.
A large-scale digital transition presents several obstacles, so let's examine a few of the most significant ones.
4.1 Digital Strategy and Vision
When it comes to providing software programs to clients promptly, businesses face competitive pressures. Companies employ technologies and operating end states to enhance performance in order to meet the expectations of consumers.
To enhance sales, the enterprise digital transformation vision may be embedded into the company's assets and skills. Additionally, you may use key performance measures to have a deeper understanding of which areas of your organization require development.
4.2 Culture
A further obstacle in enterprise digital transformation is a societal obstacle. Enterprise digital transformation necessitates processes and organizational modifications. With this, you must create a workforce shift tactic for the enterprise digital transformation approach among the staff. You should inform your staff on the goals, approach, and timeline of the enterprise digital transformation.
4.3 Digital Expertise and IT Infrastructure
Certain businesses utilize restrictive technology for their monolithic apps. Transitioning technologies throughout the enterprise digital transformation approach can be difficult.
4.4 Organizational Structure
Most firms have organizational systems designed to optimize departmental corporate goals. The lack of data visibility across teams might result in restrictive workflows.
Consequently, you should design crucial methods to solve enterprise digital transformation issues and increase the profitability of your organization.
4.5 Scheduling and Time Management
Planning is an important part of any enterprise digital transformation. Once more, it thus can be even more difficult for large business organisations.
Your enterprise digital transformation approach should preferably include a plan for how to put it into action quickly. That's because once businesses incorporate tools that require a long time to set up, it appears to slow down the whole enterprise digital transformation strategy.
Execution across a large company with a lot of workers and a presence around the world will, of course, require a lot of planning and rigorous time management.
To speed up the process of going digital, select techniques and tools that can be put in place rapidly and effortlessly.
4.6 Being Bound by Enterprise Contracts
Agreements are another thing that can be hard for businesses. Every method and application will have its own policies and guidelines. Things like who owns what and who has the right to make decisions are always on the table.
Most of the time, contracts for enterprise digital transformation services are made on the terms of the service provider. This means that businesses that use these digital services don't have much space to negotiate.
Scoping that can't be changed is another possible problem. Some agreements will tell you right away what your project will be about. One of the best things about shifting to the cloud is the ability to make services bigger or smaller as needed.
5. The Enterprise Digital Transformation Strategy

Now is the moment to discuss the important steps that need to be taken in order to amplify digital transformation. Let's examine the specific steps below to complete your digital transformation:
Step 1: Gauge Your Current Business Processes State
First and foremost, take a moment to assess the present condition of your business. Examine your existing company tools, such as productivity apps, CRM, helpdesk systems, and so on. Would you prefer to skip any tool to add to the unified communication medium? No, right? If it's possible, you'll try to incorporate almost all.
In the past, while digital technologies weren't as evolved as they are now, corporations would have focused on their telephone network rather than their unified communications platform; but, nowadays, the majority of organizations also use texting and video chatting.
Start by outlining the basic functionalities and technical domains that may be implemented.
Step 2: Narrow Down Your Strategy
Next, refine your approach by identifying critical business situations, target demographics, objectives, and outcomes. Utilize these criteria to construct a preliminary marketing strategy that takes into consideration all of the aspects that might have an impact on your enterprise's environment.
Determine the customer categories and technology that will enable you to approach them. What do these consumers require and desire? Ensure that they are included in your digital transformation strategy.
Step 3: Set Your KPIs
How will the progress of the successful digital transformation initiative be measured? To do this, you will want focused KPIs (key performance indicators).
As you begin to integrate the new technology stack, be watchful of some key indicators to have a better understanding of how your clients are engaging, how your company's services are operating, and how this is affecting your gain on investment.
You may not require all of the following KPIs (key performance indicators), but you must have to at least be informed of them:
Customer lifetime value
Time saved
Earnings from innovative digital services
Business viability
Outbound marketing effectiveness
Operational efficiency
Productivity of the workforce
Innovativeness rate
The rapidity of cloud application deployment
Step 4: Deploy in Phases
Take a stepwise strategy to deployment in order to minimize risk. Most businesses begin with simpler and more achievable stages.
After completing a number of these sorts of digital transformation programs and gaining a better understanding of the procedure, you may choose to move your organization's speech or telecommunication to the cloud.
In the level of task automation, you will concentrate on automating formerly manual processes in order to increase operational efficiency.
During the phase of digital growth, you will deploy your cloud-based architectures and utilize your software automation technologies to assist digital expansion and development.
In the final step, augmenting, you will focus on expanding your digital journey with more complex tools and functions.
Step 5: Keep Track of Everything
Your digital transformation success strategy concludes with tracking. Using real-time information and insights, you will need to monitor everything that's occurring.
Digital transformations have a higher probability of failing, so it's essential to evaluate your progress and address any difficulties while they get out of control.
Continue to regularly monitor these KPIs, and use this data to your benefit.
6. How to Know If You're Ready For Enterprise Digital Transformation
You have finished the planning business process and are now ready to take action. Let's discuss a few strategies to determine if you're prepared for the business digital transformation process.
An effective digital transformation project involves more than a competent IT department. Designing, implementation, handling workforce and client demands concurrently requires a careful balance.
6.1 Is Your Email Still On-premises?
Even if you believe or assert that your business is prepared for digital transformations, there are several warning indications that might give you a general notion of its readiness.
For instance, if your email service is still on-premises, this will probably be one of your initial moves before tackling more big digital transformation initiatives, such as migrating your telephony to the cloud.
6.2 Are You Ready for the Cloud?
The cloud is a fundamental pillar of all digital transformation processes. Consider it the base that builds the cornerstone for your company's future adaptability, mobility, and versatility. Cloud-based architectures are essential for global and cost-effective connectivity, data on request, and genuinely adaptable scalability.
6.3 Do Your Employees Demand a Hybrid or Remote Revolution?
Prior to the COVID-19 outbreak, employees then demanded flexibility and a healthy work-life balance who could keep blaming them?
Previously, when UCaaS and CCaaS were still new concepts, sitting in a workplace from 9 to 5 was appropriate for the majority of employees. No more now.
Digitization enables an increasing number of firms to give flexible work options to their employees, and it also helps the companies through savings on office rent or lease, pricey hardware and technology, and more.
If your workers are requesting a remote-first or hybrid working atmosphere, you will likely be forced into an enterprise digital transformation quicker than ever.
6.4 Are your customers expecting smoother digital journeys?
Consumer demands are rapidly evolving. This is partially attributable to the effect of digital technologies.
Digital technology has altered the routines and behaviors of customers. Consequently, tracking and responding to consumer expectations must be an integral element of any digital transformation effort.
Customers today need rapid satisfaction. Everyone is accustomed to receiving what they want when they want it. Consequently, ensure that your business has the tools necessary to support this.
7. Conclusion
Enterprise digital transformation is advantageous to the success of your enterprise organizations. It has more sophisticated functionality for automating your company's activities. It may also give several benefits to your firm, such as improved team communication, decreased operation expenses, and increased production. Enhance your organization with enterprise digital transformation immediately. This allows you to explore new technology, motivate your team, and fulfil your business's goals in the most efficient manner possible.