The search experience is the most important feature for any organization as it helps users access and finds the content from sites. SharePoint is providing two different search experiences for end-users, i.e., classic and modern search experience. Each organization may be confused to select between classic and modern search experience, which is best suitable for their organization users. The same search index is used by both the search experiences to display the search results.
In this article, our SharePoint Consultants will discuss a little bit deeper on both the search experiences, which will give an idea to select a search experience for one's organization.
SharePoint offers both modern and classic search experiences. Modern search experience in SharePoint online, also known as Microsoft Search.
Classic and Modern Search Experience are turned on by default. Search administrators cannot turn on/off the search experience. A search experience is depending on where the user is searching for the contents. For example, users get a classic search experience if he/she is accessing the content from publishing sites, classic team sites, and search centers.
Classic Search Experience
Users get a classic search experience in SharePoint on-premise and Office 365.
Know More About Migrating to SharePoint Online from SharePoint On-Premise
In the Office 365/SharePoint Online, users get a classic search experience on the following type of sites:
Publishing sites
Classic team sites
Search Center
Search Administrator can change/manage classic search experience from the SharePoint Admin Center. Search Admin can manage search schema, manage search directory, query suggestion settings, manage result source, query rules, etc., from the search administrator page.
The user interface can be customized for the classic search experience result as per the requirement.
Classic search provides a "controlled" search experience so that all users will find the same result for the same words

.

Classic search provides the facility to change the user interface using display templates.

It provides an option to add more refiners to get more precise search results based on the selected refiners/filters.

Search Admin can bind the search scope to search the content from the specific site collections, sites, lists/libraries, etc.

It also provisions the Search Admin to define "promoted results" for searching the important content.
Please find the below screenshot of the classic user interface experience for end-users.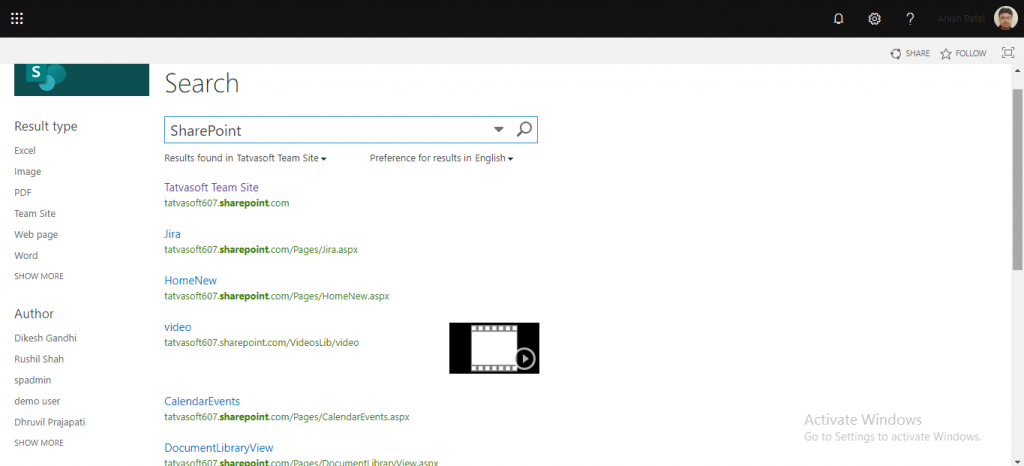 Modern Search Experience
Users get a modern search experience in SharePoint Online only. It's more about a personalized search experience. In Office 365/SharePoint Online, users get modern search on the following type of sites.
SharePoint home page
Hub sites
Modern Team sites
Communication sites
The modern search text box is visible on the top header of the SharePoint. Microsoft search can be managed through Microsoft 365 admin center, but the search admin cannot customize the modern search experience UI. It's mobile-friendly. Exploring search results without leaving search. It provides a great user experience without any configuration by the search administrator.
Modern search always uses the default result source to search the contents from sites, and different results are displayed for individual users based on keywords and their activity in SharePoint Sites. Before starting typing in the search box, one can also see the relevant results based on one's previous activity and trending content in Microsoft 365.
Know more about the Difference between SharePoint Modern Team Site vs. Communication Site
Users can explore the search result to see more details about people, files one has found or refine the search result based on default filters such as last modified time, file types, etc.
If a user makes any changes in the search schema, then the modern search experience is also affected because both the search experiences use the same index. Security trimming is already in place in the modern search experience.
Changing sort order and building refiners based on metadata is not supported in the modern search experience. So, the following search schema settings do not affect the modern search experience.
Sortable
Refinable
Company name extraction
Microsoft/Modern Search experience uses bookmarks to fetch important content like the promoted results of the Classic Search experience. If any promoted results are configured at the Organizational level, and users search something, then promoted results can be seen by the user on all tabs in result pages. If both a promoted result and bookmark are defined for the same content, only the bookmark will appear on the All tab.
Please find the below screenshot for the end-user modern user interface experience.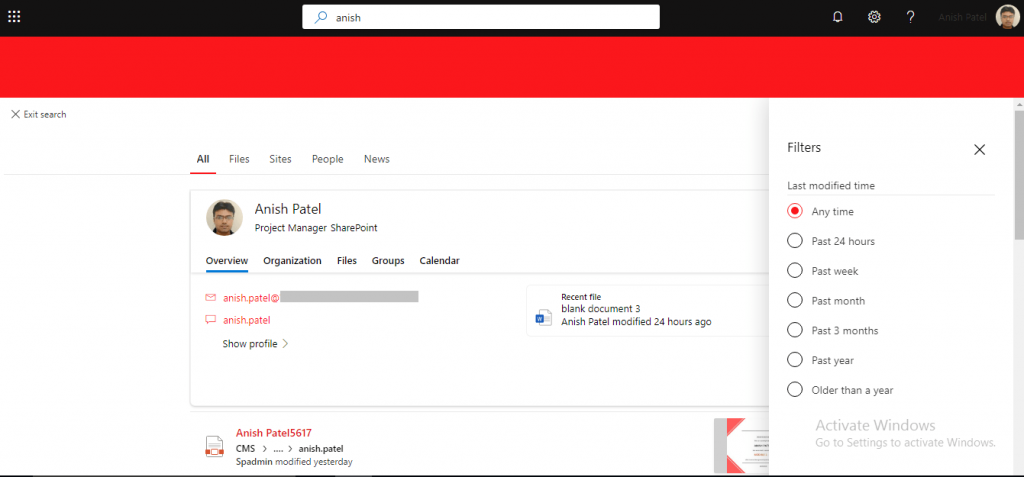 Conclusion
Based on the site template finalized for one's organization in SharePoint Online, end-users can experience the searched content in a classic or modern user interface. If there is a requirement for customization, one can go for the Classic Search experience and select the site templates accordingly. Microsoft/Modern Search experience provides the best user experience without any customization, so SharePoint development company can promote his/her team to start using a modern site.
More blog on SharePoint Online
Introduction of Site Design and Site Script in SharePoint Online
MS Team and SharePoint Online Site Association via the MS Team tab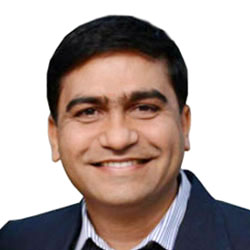 Shital Patel
Shital Patel is VP at TatvaSoft with a high-level of proficiency and technical precision in SharePoint Development. His experience of the last two decades has helped businesses to solve complex challenges resulting in growth and performance of Startups to Fortune 500 companies.
Related Service
SharePoint Development
Know more about SharePoint Development Services
Learn More
Subscribe to our Newsletter
Signup for our newsletter and join 2700+ global business executives and technology experts to receive handpicked industry insights and latest news
Build your Team
Want to Hire Skilled Developers?