Businesses around the globe are constantly hustling to compete and win the league of the offshore business landscape. This has led businesses to face challenges in increasing employment costs, new and non-adaptive business models, lack of expertise in existing business functions compared to outsourcing providers. These are some of the inevitable reasons and key drivers behind this process of business modernization. Many of you might feel this surprising, but cost-effectiveness is often not the main driver for offshoring.
Fortunly research showcased that "The global outsourced customer experience market was estimated to be worth $75.1 billion two years ago. The value of the market is projected to increase to $81.5 billion by 2023, rising at a CAGR of 3.51%." It has been demonstrated that there is a constant rise seen in outsourcing businesses and there is no way to look back.
However, this is quite contrary because numbers state something else and businesses do some else. Most businesses are reluctant when it comes to offshoring. Enterprises have their reasons which restrict them from outsourcing. The reasons can be many from lack of expertise, knowledge, or budget- these are organizational reasons. There can be threats like data breaches or data privacy issues or non-transparency in communication and similar. Other reasons can be personalized based on the experience like cultural barriers, unable to understand their domain or industry or Additional Hidden Cost or Government Legislation issues in their region, and several similar reasons.
In this blog, we will be unveiling the reasons for what makes businesses reluctant to perform offshore outsourcing. Here are some of the reasons that stop businesses from Offshore outsourcing.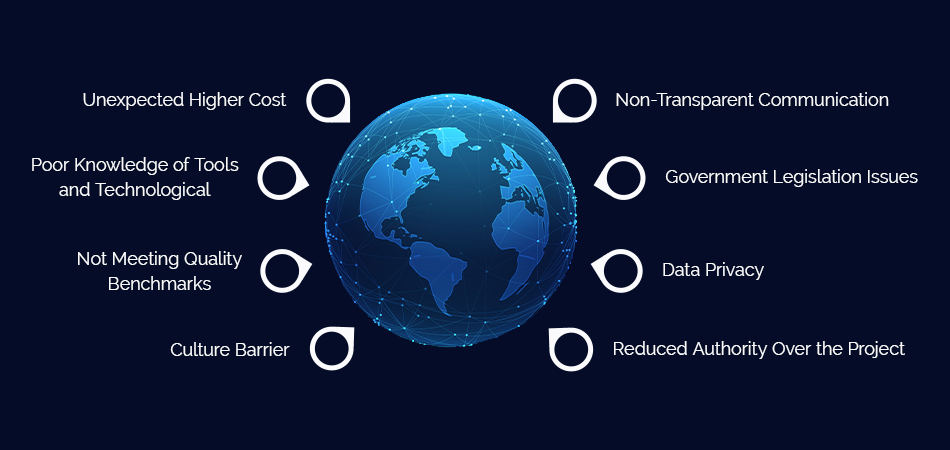 1. Unexpected Higher Cost
One of the primary reasons why businesses tend to outsource is because of the cost they can save. Cost-effectiveness is one of the major reasons why businesses tend to outsource. The common problem with businesses is that they expect that offshoring is low-priced, it is economical. For good quality of output, sometimes you might need to extend your budget. Offshoring company has world-class technical professionals who are smart and proficient to cater to unique business needs.
Compared to developing in-house, there are no other additional charges that make the process costlier. Businesses leveraging the skills of talented resources can make this process a little higher than they expected.
2. Data Privacy
Another most common misconception about Offshoring is that it leaks information or personal details of the company. But all you assume may not be true. Offshore outsourcing enables businesses to maintain a pact between two companies. This pact doesn't allow them to leak each other's details or any codes or internal information.
This type of pact is called a "Software Agreement" or NDA- "Non-Disclosure Agreement" which is a legal contract restricting both the parties from leaking any type of details. Thus, this is a myth that offshoring comes with data leakage or doesn't take care of businesses' private information. Because when you sign a software agreement, all these details are taken care of. Not all companies are the same but most of the offshoring companies adhere to stringent security practices. This saves businesses from all types of security threats, saves from intellectual property rights, and other similar data leakage concerns.
On account of following strict data practices, Offshoring considers data protection and robust security practices, followed by most offshoring companies in international contracts and services. Although These issues mostly pose a major concern, their impediment to outsourcing must be clearly defined and documented before integrating it with other members.
3. Not Meeting Quality Benchmarks
Businesses that like offshore are chosen because it can lower down the labor rates. Offshore Outsourcing has this as their forte which allows them to recruit two to three workers for the price of one. When it comes to offshoring, however, professional work is not necessarily assured. Inexperienced personnel, weak team management, a failure to grasp the specifications, and other factors may all contribute to this problem.
One of the most common reasons why businesses do not opt for outsourcing is because of a lack of quality concerns. This is another myth to this concept. This restricts businesses from outsourcing because of the fear that it won't meet qualitative deliverables and results.
4. Culture Barrier
There is a consistent barrier that may sound like a risk for businesses who are planning to outsource to a country located at a distant location. Offshore outsourcing is a process of outsourcing services to a company located at a distant location, different geography, or continent. These countries have different cultures and may follow a different standard of IT implementation.
The English language connects one business with other businesses irrespective of zone, locale, or country. But still, when it comes to culture, there are many cultural gaps like local languages, pronunciation, accents, religions, leave the structure, and other social activities. Most of the leading vendors of offshoring companies provide proper training on voice, accent, cultural understanding, and alignment for better coordination and understanding of their culture.
5. Non-transparent Communication
As we know that Offshore location is a faraway location and businesses cannot afford to spend so much on traveling to that distant location. Hence the only expectation from the software development offshore company is to be transparent and communicable. As they already are located at a far location so building trust is always a concern.
To revive trust between the two businesses, it is very important to use communicable apps that are transparent and effective. Technology has paved its way so efficiently that you can easily keep a birds-eye on what the business is doing and what is the progress of your project. Microsoft-based apps like skype allow free of cost communication and other Project management tools that can simplify your vision and provide you constant updates on what your business is capable of offering.
6. Poor knowledge of tools and Technological
Most IT organizations, showcase what they can offer to their clients. But there have been cases where businesses show something and when it comes to implementation they know very little. They lack knowledge, technical expertise and are inefficient in any development technology framework and architecture.
So, while your business decides to outsource, especially to an offshore location, companies need to assess their business knowledge and know what is the company capable of offering, what best practices as a leading software development company they follow and offer. This can lead to a complete failure for businesses to deliver what clients want because of a lack of experience and expertise.
7. Reduced Authority over the Project
Another challenge in the process of offshore outsourcing is the conflict of authority. Here when you outsource, the ownership of all the decisions regarding the source codes, intellectual property rights, or any other type of ownership any further advancement regarding the project or the management goes to offshore outsourcing companies. Not all businesses can allow the full authority to a third-party company whom they have never seen or worked with. Thus the authority of decision-making becomes a concern for both parties, creates confusion, and does not support coordination and management.
This exercise can help you take up the authority of decision-making by making it crystal clear while drafting an NDA or Software agreement. In adherence to that rule, the decisions can be taken.
8. Government Legislation Issues
Specific industries like finance and healthcare are very focused to protect their internal or client data. Thus they should contract businesses that comply with government regulations. Businesses want to do cross-trading and want to expand their business overseas.
To do that, they need to follow all the rights of confidentiality, liability, data protection, and regulation compliance. Some countries have a data protection Act like Europe has GDPR which protects their data from leakage to any other country. The countries in Europe are not open to cross-border trading. So, with this understanding businesses should contract to only those companies who know the laws, abide by them.
Most businesses do not adhere to legal compliance and policies. You should also neglect to support the industry and create more issues for outsourcing. So, consider the legal aspects of a company are equally important to foster business benefits and create a cordial legal environment that promotes growth for both the businesses.
Conclusion – Offshore Outsourcing is a Bane, not Boon
Finally, we now know that the majority of businesses now recognize the value of outsourcing. As a result of which most businesses opt to recruit top offshore developers to improve their growing skills, gain access to technical expertise not available locally, and get their products to market faster. There are innumerable examples available on the market such as Microsoft, Shutterstock, Oracle, and a slew of others who have demonstrated the clear picture that there is no risk in offshoring. In fact, Businesses can gain a lot of advantages from outsourcing.