Our lives have been transformed, our standard of living has improved – all thanks to the ever-changing technology. The ever-changing evolution of financial services includes everything from a customers' ability to go online and view their financial transactions to apps that allow you to pay friends via different tools. As a result, all these factors lead to quick lending decisions. Anything we do whether it is socializing or shopping or traveling, technology has mended in a seamless way. And the financial services industry and banking sectors are no exception.  
Millennials would totally love this as it can be said that they and the digital era grew up hand in hand. Earlier it was pretty hard for people to invest and make necessary payments or even get a loan. Well, it's great for millennials as they seem to have happily glued with their smartphone devices and apps. I mean conducting financial transactions has become as easy as applying for a job or ordering food online. Before we delve in, let us understand what is Fintech?
1. Fintech as Technology
Often known as financial technology, this one is the portmanteau of finance and technology. Fintech or financial technology is the term used to describe many technologies that provide financial services through software, such as online banking, mobile payment apps or even cryptocurrency that helps both consumers as well as financial institutions at once.  In simple words, any business using these services to enhance or automate their work and procedures of course has to be in regards to finance.  The use of advanced technology to provide financial services to consumers and business — from buying and selling cryptocurrency, to authenticating electronic payments, mobile banking and insurance to cryptocurrency and investment apps are what fintech is all about. 
Though fintech software is a phase it's definitely not a short-term buzzword whose significance can be denied. Over a few years, a radical change has been observed in the way we manage our business and even personal finance  – all thanks to ever-growing financial service departments. Along with this, more and more fintech firms are found making financial services more accessible to the general public. Everything from those traditional financial transactions, such as investing, saving, and loan processing, are also included in these services. However, it also embraces cutting-edge financial technology such as blockchain and cryptocurrency.
According to Accenture, global investment in fintech services has skyrocketed from $930 million back in 2008 to over $12 billion by the beginning of 2015. Europe experienced the highest growth rate, with an increase of 215% to $1.48 billion in 2014.
In layman's language, this one seems to be now making a million-dollar industry. Somehow I have always felt that whether we have acknowledged the fact or not but technology has always been there in the finance industry whether it's the introduction of ATMs or credit cards, etc.  Of course, to what extent it's being used varies among projects and applications. 
2. Why is Fintech (Financial Technology) Important in the Business World?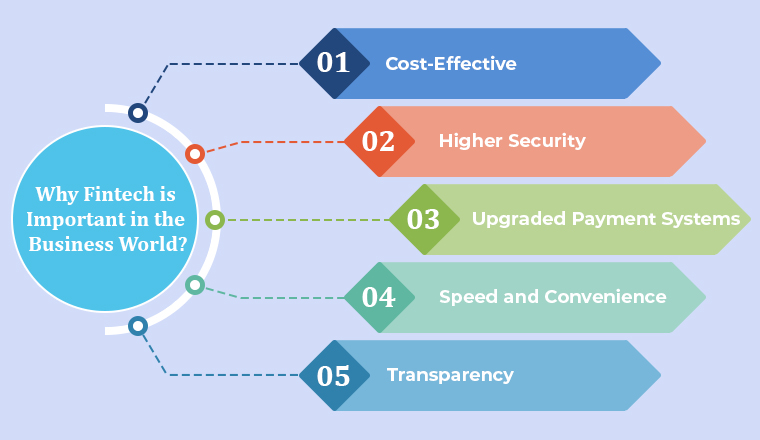 The rise of fintech has forever changed the way companies do business. From crowdsourcing to mobile payments, there have never been as many decisions to business people as there are present. It's never been less expensive to set up your business as well as to extend it. 
Crowdsourcing empowers individuals with enormous plans to get financing rapidly and effectively from any place. This can be done with the help of individuals you have never met. Instead of months of investor talks, entrepreneurs can – on account of the shop window that is the web – pitch straightforwardly to the world. Those with the magic touch can see the funds roll in within a matter of weeks rather than months. 
Transferring money across borders, a bane of entrepreneur's lives since time immemorial, is another area that is being reworked and reframed by innovators. Time to get acquainted with TransferWise – the innovation which turned the customary (and costly) banking answer for sending cash across verges on its head. It empowers little firms and people to move cash far less expensive than was beforehand conceivable. Moreover, technology and data are pretty important to make things much easier and cheaper to bring investment advice to the masses.
I am sure you won't find the post convincing till I don't provide some accurate reasons stating how important the Fintech software is. So without any further ado, here it goes! 
1. Financial Services are Pretty Cost-Effective
Of course, you are well-versed with the fact that global remittance has proven as a pure blessing for a plethora of communities. But what you may not know is that global remittance is a costly venture and not every business has the potential to afford it. 
Now there is no one proper reason for it but many like FX spreads affecting remittance costs between both the inter-bank currency conversion rate and the bank's quoted rate. It also impacts the processing fees for each money transfer, as well as multi-intermediary commissions associated with the process.
Using Fintech services, businesses could end up holding back from charging additional fees, such as modification fees, cancellation fees and other hidden charges. There are a plethora of tools available. By using their businesses they aren't limited to just sending or receiving money from their respective accounts but across multiple currencies. And here they do not need to worry about the heavy burden of conversion fees.
Lastly, integrating physical and digital payments has now become a possible method that consolidates multiple bank accounts or cards using a single interface. This capability empowers businesses with easier transaction methods and reduced overall costs. And you know what is the best part? This fintech software is beneficial for consumers as well. 
Atom is the best example I could think of as of now. This one provides all its services through the app where you don't need to visit any physical branches, meaning no overheads to pay.   
2. Compliance + Security = Fintech
Many of you might not agree that Fintech is secure enough to rely on your business. Well, on the contrary, Fintech one is way safer than traditional banking. 
According to several sources, traditional banks are quite slow when it comes to adopting cybersecurity measures. Now since Fintech's foundation is based on these services, adopting cybersecurity won't be such a problem. Also, cyber-criminals find it fascinating as well as easier to penetrate the systems of large and conventional banks. Do you know why? It's because the institution doesn't focus on technology as often as our very own fintech technology.
In addition, with the advent of the next-generation IT systems, businesses would be able to detect anomalies and attend to them quickly and effectively compared with traditional banking systems. These systems have a lot more on their plates because of diversification. 
3. Upgraded Payment Systems
And since we have been pretty much concerned about the security aspect here we shouldn't underestimate how beautifully financial software can upgrade payment systems.
It's a dog-eat-dog world out there, a huge cut-throat competition, to survive or to raise a cut above, one must make use of fintech software. As a result, nothing can stop your business from being effective at issuing invoices and collecting payments with higher accuracy. By doing this, you are not just offering more professional service but also helps to enhance сuѕtоmеr rеlаtіоnѕ, increasing the probability of them returning as a regular buуеr.
4. Speed and Convenience is Best for Companies as well as Customers
Since I already mentioned everything has become about speed and your customers are no exception. Many lenders or digital ones are seen offering same-day lending as soon as the applicant is approved. This is all because of the Financial technology  services. For example, let us assume that you are looking for some short-term loans or some kind of a payday loan, of course, there are plenty of companies ready to offer you a fast turnaround on their service. So since the demand is pretty high, you need something that would be better to solve your financial needs. Hereby you will be able to  deliver a quicker decision process, provided it comes from good FinTech companies. In fact, by incorporating artificial intelligence technology, 95% of all customer interactions have reached new heights in comparison to the previous decade .
5. Say it Like You Mean It – Transparency
With the rise of Fintech in the banking and financial industry, the term transparency is no longer just said. In fact, it is being meant and implemented upon by the vendors. International payment solutions are setting new benchmarks related to the perception of the process of global remittance. So it doesn't; matter whether you are sending or receiving funds, people using fintech platforms are kept in a tight loop. A win-win situation for the banking industry as well as their valued customers.  
Of course, you do get all the other perks such as 24/7 dedicated customer support,  real-time updates and tight security measures and whatnot!
3. To top it all, Fintech leads in regards to Economic Growth!
Till now, you must have realized the fact that how fintech innovation can make everything around so easy and effective. On that note, a recent IMF report entitled The Promise of Fintech: Financial Inclusion in the postCovid era reveals that countries with higher levels of digital financial inclusion were associated with higher annual GDP growth rates.  
Even before and after COVID -19, Fintech firms are found growing at a fanatic pace. Due to which heavy-leveraged businesses are found focusing more on smart automation, machine learning, and big data. It has been observed in China, fintech was accepted at a tremendous rate. Can you imagine it almost reached 95% due to severe money transfers and payment applications?  
How Fintech contributes towards economic growth?
To begin with, it reduces overall transaction costs. The high use of digital payments has resulted in a small effect on GDP and job creation. Fintech innovation around digital payments reduces costs and expands access for new customers–individuals and merchants–to payment means. Digital payments have been one of the most active fintech sectors around the world, including in our four African countries. 
Let's take a look at the Top three countries having a good number of fintech startups.
USA – A considerable rise has been observed among companies offering digital currencies services here. The USA acts as a hub to attract immense capital in the fintech sector.
UK – Many fintech investments have been made in the UK especially after the COVID massive hit and it is showing no signs of slowing down. As a result, fintech innovations are thriving in the UK.
Singapore – The Singapore government is investing considerable money in financial data and fintech projects, reaching approximately $735 million in 2019.
Due to fintech risk can be transferred especially where it can be carried. This can make firms and households more resilient to shocks. Insurtech innovations take effect through this channel.
Lastly, intermediating funds from savers to borrowers. In the process this transforms their liquidity and maturity profile: this is the work of banks, non-bank lenders, and capital markets. This channel works through funds invested in or lent to firms, enabling them to grow, and as a result, hire more workers. Innovations in digital banking, fintech lending, and equity or debt crowdfunding platforms  have demonstrated the potential to make this process more efficient and reach more borrowers. 
According to Neil Ambikar, CEO and Co-Founder of B2B Pay – Fintech could be the secret sauce central banks need to implement their vision of pumping cash into the market. It has the potential to actually create jobs and growth, not just inflation and a few billionaires.
What scope of activities does this fintech cover? You may ask!
Loans – There is a massive difference between operating methods of banks now and then. You will be able to spot several Lending-based markets where loans and similar advances can be easily availed by a consumer. 
Payments – With the rise of the internet, payments now can be easily made whether it's through the internet or via mobile phones. In fact, online payments are the reason why people love to shop online these days. Also, one shouldn't ignore the fact how the money can be transferred easily from one Bank Account to another with a lesser amount of transaction fees and also chances of fraud are minimized. 
Managing the Funds – With the emergence of this technology, there are lots of changes in the habits and ways in which consumers are saving money, investing or managing their assets. A company aims to provide complete solutions for investment and savings. Fintech Software also helps in choosing the best investment by giving an option to compare.
4. Conclusion
Brace yourself up as the fintech industry is going to get bigger and better. Although all this cash has been the biggest bottlenecks in business and personal finance but not anymore. A new wave known as fintech is right here to assist you.
Let's keep our fingers crossed and keep watching the space to know more about what exciting lies ahead in the Fintech space.