Small, medium or large businesses all find a nerve-wracking challenge to manage accounts payable for their business bank accounts. Financial data is a critical part for businesses to manage and thus it demands trustworthy and reliable resources to work with for any kind of financial data transmission. With the advent of accounting software, the syncing of information is easier and handier. With the transformation in the accounting ecosystem from shelf to no shelf, cutting-edge accounting software has eliminated the extra usage of pen, paper, voluminous binders, and files and now pushing companies to rapidly move to online accounting systems.
The popularity of custom software applications has made it quite easy for businesses to operate and create seamless and easily-performing accounting systems. With the help of financial software development, companies can hassle-freely manage accounts, invoices, financial transactions, financial statements, tax compliance, inventory management, cash flow, financial reporting, profit and loss statements, and other accounting operations. Businesses can tap on the potential benefits of accounting software like cost efficiency, real-time decision making, speed, the accuracy of digital backups, scheduling bank payments, and other considerations too.
This blog will help you understand how small businesses can easily get benefitted from accounting software.
1. Advantages Of Accounting Software For Small Businesses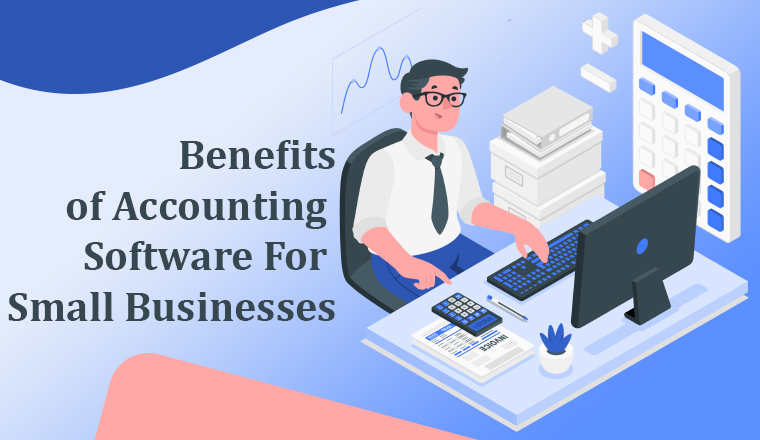 1.1 Smarter and Organized
Accounting software adds up automated systems to your existing business operations. This gives businesses the added advantage of utilizing the speed with which accounting data is processed. Another added advantage of small business accounting software is the way it organizes financial data. With accounting software, the data import and exports become simpler and turnaround time also becomes faster. The data is recorded and structured in a way that makes it easy to find.
Take any business scenario where someone else has paid the bill, it will show paid in the accounting software. The main benefit of such apps is that they will automatically tell you when the bill is paid, the check number, and any other information about the vendor all in one spot. Also, if you misplace an invoice or a bill, the application may still include information about it. You may effortlessly send out duplicate invoices. Instead of browsing through papers, you can search for information that has been organized.
1.2 Saves a Lot of Time
Accounting software is actually designed to save time. It cuts down on larger time from app functioning, manual paperwork or management, and other lackluster manual tasks. Automated accounting software saves a lot of time to set up your account. And once you do, it will save your hours of work. You can easily count on each week by automating those time-consuming manual bookkeeping and accounting tasks.
1.3 Anytime Access to Accounting Data
One of the most obvious advantages of choosing best accounting software is that you can use it as cloud-based accounting software over any traditional accounting system. This is because such software allows you to access your data from anywhere and from any device you wish. Such online accounting software benefits at a larger scale as we can access it from a PC, laptop, tablet, or mobile phone. All you need is a device with an internet connection.
This has numerous benefits for enterprises of all sizes. Say if you want to create and submit invoices to clients and it is urgent work, so you can easily do it from your mobile device. Alternatively, it will also allow you to generate, view, and download financial statements and financial reports within clicks.
Businesses do not need to ask accountants to prepare those reports manually which might consume three days or more time. Instead, you can do it by simply logging in to the platform, going to the financial reports section, and downloading the report on the browser of mobile phones.
1.4 Everything at One Place-Invoicing, Bookkeeping, and Expenses
Now that you have access to online cloud accounting software, you can manage your bookkeeping, invoicing, and costs all in one place. This software doesn't require any rigorous training or management and makes it simple to develop, transfer, track, and record invoices to your accounting software. All this can be easily done without switching between multiple tabs or application programs. Accounting software enables you to keep track of your costs by simply using these internet applications.
1.5 Consistently Update Data Entry of Account Information
When you use accounting software for small businesses it is enforced to keep up with data input and stay relevant. So it can be whether you are running a retail operation or a manufacturing business, as a process, there is a need to add each transaction and electronically enter them into the system. This would require one person to personally enter the transactions daily, weekly or bi-weekly basis.
This adds a brownie point to your small business's financial pulse. It helps businesses and pushes them to stay updated with their accounts in real time. You have a much higher chance of detecting a cash flow problem at the initial stage itself. You can also identify customers who are creating a significant credit problem for your small business..
1.6 Centralization Financial Management
Accounting software centralizes many areas of your company's financial administration by allowing you to handle operations like inventory management, financial statements, payroll, and even some aspects of CRM all in your accounting software application. Because you don't have to buy separate software tools to perform other tasks like specialized software for invoice customers, centralization helps in saving time and money..
1.7 Accuracy
Online accounting software can remove common accounting errors. Online accounting software will ensure that your accounting data are always structured properly and accurately. If newly made journal entries do not balance when utilizing cloud accounting software, the system will warn you instantly and identify the likely issue.
Another major accounting error occurs when you are not connected to updated data and that accounting software may help you prevent any error if it is not connected to the latest data.
It can take a long time to figure out how to integrate modifications from two distinct files. However, because all data is in sync in the cloud, you will never have to deal with such issues with online accounting software.
1.8 Payroll Simplified
While your accounting system offers a dedicated payroll system, it is likely to be required at some point, and many small businesses utilize accounting software and handle payroll. Organizations are still expanding their use of most accounting software and its features. Accounting software allows you to automate employee payments, calculate healthcare and insurance contributions, and obtain precise payroll tax information.
1.9 Simplified Tax Compliance
For all small companies, this accounting software is an aid to develop and create unlimited reports that demonstrate the current scenario. For a business scenario let us consider an example. How much specific tax will your firm have to pay over a specific time period? Data will show the results and make it easier to acquire the file with all essential government tax forms. Some business accounting software even allows you to directly do file returns.
1.10 Improved Accounting Security
The fact that all of your accounting information is securely stored on the cloud is one of the main benefits of cloud-based accounting software. As a result, your data is much safer than if it was kept on a shelf in the office because it is protected by many high-end encryption techniques. The best thing is that your info is always in sync. Therefore, it's not only safer but also more recent.
When it comes to financial data, hard discs or temporary storage pose a significant risk. Accounting and accounting data integration required businesses to invest a significant amount of effort in their disaster recovery planning; it results in higher expenses and wastes more time.
1.11 Improved Invoicing
Despite the size or industry of the firm, drafting an invoice is one of the tedious accounting activities that must be completed. Although, invoices are not the same for every customer. The type of invoice will vary every time depending on the sort of sale, but the method for creating an invoice is mostly the same.
In the past, invoices were either handmade. Then they progressed and Excel, Word, or both were used. The end result was typically a poorly designed invoice that would require time to generate.
Now, if your company only generates 5 invoices every month, this isn't a major problem. Doing it by hand would be disastrous if you produce more than 100 invoices per month, some of which are recurring. This accounting software will be the best to manage income statements and other data entries. You can make accounting decisions using cloud-based tools.
2. Final Thoughts
It wouldn't be wrong to say that accounting software has made life easy for small businesses. It is much better than the traditional way of dealing with accounts. Accounting software is a computerized system and is most capable of delivering information within a few clicks, with fewer errors and even less aggravation or ambiguity.