Accounting software that is suitable for any firm, irrespective of company size or sector, is essential. Over the decades, the number of financial software development developing accounting software for organizations has increased. As a result, the relatively straightforward process of selecting a high-performing accounting system has become rather difficult. Apart from the fact that the quality of manufacturing varies, some suppliers provide superior functionality to others. On the other side, some provide more scalability choices.
Choosing the appropriate functionality and the optimal accounting software for your organization becomes simpler when one is informed of and fully appreciates the importance of such a solution. Let's take a deeper look at why having an accounting system in place is critical for your organization.
1. What is Accounting Software?
Upgrading the traditional version of bookkeeping, account software helps you automate your finance management process by cutting down the time of repetitive tasks of payable amounts, billing and invoicing, and reconciliation.
To manage the finances of your business, your accounting software should be multi-functional and be able to measure inflow and outflow your money into various accounts. To save time and get efficiency, we develop software with a plethora of functionalities. Your accounting software features must encompass all the programs of the client that you have, invoicing of customers, accounts receivable records, and dues. A clear, lucid, and transparent software will make your balance sheet simpler and cash flow easier.
2. Key Features of Accounting Software
Numerous financial details like bank accounts, bank statements, and other financial data need to be processed in the software. so, the accounting system should be up-to-date. Whether you are a small business that is just initiating the accounting software or an enterprise-level company deciding to build an accounting software, you need all the key features like basic billing, invoicing, payments processing system, electronic tax payment, payroll management, and inventory management integrated into the software to simplify the process.
The right accounting software will address all the prerequisites of the customers. Businesses need complete security when they plan to develop this software since the details included are very confidential. The payments, electronic tax payments, business transactions invoices, and other facilities are the most sought-after features of accounting software. Businesses can now streamline results with faster finance operations.
Let us see what ideal features of accounting software can make a difference for your business and what your company needs for a smooth run.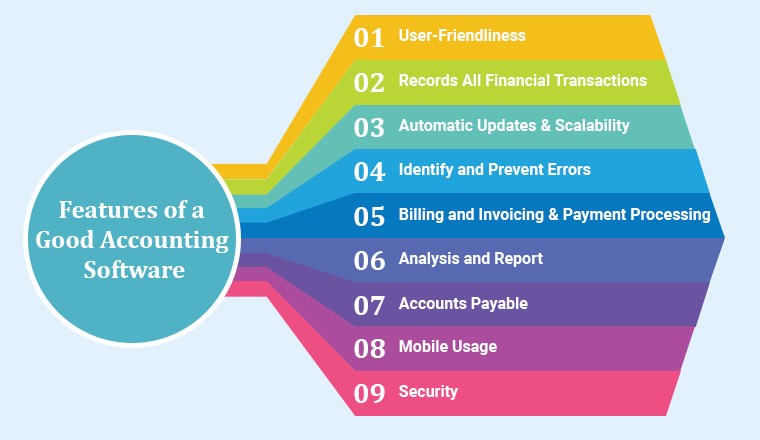 2.1 General Ledger: Records All Financial Transactions
Basic accounting key features, such as general ledgers, chart of accounts, invoicing, tax management, account reconciliation, accounts payable, accounts receivable, payroll and financial reporting, and payments records, should be included in any accounting software. They also assist with the administration of financial rules, such as state-by-state legislation on issues such as online sales tax.
To address all the accounting features together in software needs smartness and domain expertise about what is necessary and what is not. The general ledger is the engine that contains software development information that includes all vital information contributing to the financial transactions. It is similar to traditional bookkeeping which manages the entry of data and reports. It can efficiently manage all the details from initial financial statements, tax calculations, bank statements and balances, cash flow management, accounts receivable (AR), and accounts payable (AP).
This general ledger will also include third-party vendors, and their details like bank accounts, payment modes, invoices, and advance payment if any, and other financial procedures.
2.2 User-Friendliness
Accounting software, in general, caters to all types of users. There is no specific domain that accounting favors but the customers may vary from domain and vertical. However, when you build your own accounting system, you must ensure that the one you select is user-friendly and intuitive, and anybody can utilize it from your staff, including those who aren't accounting or tech knowledgeable.
Furthermore, your pick should be adaptable and functional. We propose choices with multi-dimensional reporting capabilities, which means your team will be able to create reports in sync with your company's needs and goals.
2.3 Analysis and Report
Analysis and reporting are the qualities that a good cloud ERP accounting & finance software must own. Reports record maintenance is a basic need of any business to analyze and report on the critical financial situation. Easy access to the records can facilitate the major tasks and meetings within organizations. At the time of decision making, this analysis and report will help the management and save their maximum time as well as stress.
This feature of accounting software is very important it allows you to track and monitor the financial reports maintaining all secrecy required. This will enable real-time tracking of essential data which will in the end contribute to making the best accounting software.
2.4 Automatic Updates & Scalability
When you design software, you must develop it with a futuristic approach. Technology comes and goes and there are innovations happening every day to streamline businesses and fast-track management. Customers need to upgrade technology and so your developed accounting system will also need to have a balance to keep money, vendors, and expenses on track. This developed software benefits your business in the long run.
Accounting software should be able to expand with the firm as it becomes larger and more affluent. The program should be able to adapt on its own or be quickly updated. It should be able to handle a greater user base, as well as more transactions. As we see a rising volume of data, much of which is financial data, this needs to be automated using specialized tools or software.
2.5 Billing and Invoicing & Payment Processing
The developed accounting software should be able to manage invoicing and payments at its best. It is like you must be aware of the amount you owe to someone or if someone owes you. Such software will help you analyze the amount that is due to you. All accounting software allows you to print invoices, and most of them also allow you to email them.
Your basic client information, such as names, addresses, account numbers, and normal terms, should be remembered by your system. The majority of today's business is software-driven and thus systems with enhanced features are a must for any business. Especially when it comes to accounting and finance management.
2.6 Mobile Usage
Accounting software that is mobile-friendly is no longer a luxury that only large companies can afford. It has become the new norm for businesses to offer the mobility of their businesses to their customers. The majority of online accounting software includes Android and iOS apps. Some of the mobile apps may just be able to assist you with expenditure monitoring. While others may also be capable of developing as well as sending invoices.
2.7 Security
The accounting department always has sensitive and vital financial information, which we can also say knows about the secrets of any business. Thus it is critical to maintain the data secure and safe. It is advisable to develop accounting applications with an extreme level of security and scalability within apps. For each business, Security is a core and crucial component. So, be sure that you look for data protection and security as a must-have feature while selecting accounting and financial software.
2.8 Accounts Payable
In the general ledger section, we have already discussed this feature. It shows how accounts payable are equally an important part of payments. By imbibing this feature, within your accounting software, you will get access to all the vendor information, systems managing the outflow of business transactions, and track of what the company owes. In accounts payable, these three factors play an important role.
Purchase orders- This section includes a track of all the orders with quotations that need processing. It may differ in processing but it follows sequentially all the quotes from purchase to payment.
Automatic payments- This section takes care of any scheduled payments, drafts with their smallest details from the banks, amount transferable, invoices data, and similar information.
Credit memos- Most of the time, the credit notes are given to vendors and businesses do not have track of it. So developing an accounting software will show the imbalance of financial data, and track & control the vendor credits. This system will ensure a clear idea of profit and loss of business.
2.9 Identify and Prevent Errors
Transparency and accuracy are the two factors ensured when you are using accounting software. A dependable solution is designed and coded to provide data on time, compute properly, and eliminate mistakes. As a result, you can expect your company's financial development to be clear and easy to comprehend. As a result, you'll be able to develop programs and strategies that are tailored to the needs of the business.
3. Benefits of an Accounting Software
I am pretty sure that by now you must be convinced about buying accounting software and if you are not, now it's the time. Here I would like to mention certain benefits of accounting software. First and foremost, your software must be capable of multiple log-ins. Apart from that, down-below I would like to mention certain benefits of choosing accounting software.
The data-entry procedures turn out to be pretty simple and fast.
You receive in-depth and comprehensive financial reports.
Manual errors are reduced due to which precise decisions can be taken
Reduce the time for approval of invoices and cash disbursements.
Multiple departments can access the centralized accounting data.
Enables scalability and flexibility.
Overall, you get timely and informative financial reports
I can just go on and on stating the benefits offered by accounting software. For example, the types of reporting options an accounting software offers. Fortunately, you will find an array of reporting options ranging from standard reports to customizable reports, graph summaries, subsidiary reporting, predicting cost, and so forth.
Now what is the difference here, you may ask? Well, standard reporting businesses can issue income and expense statements (profit and loss), trial balance sheets (assets and liabilities), statements of cash flow, accounts receivable, accounts payable and payroll summaries. Whereas with customizable reporting, you can create and compile any report of your choosing. Just ensure to choose a system that enables businesses to add or remove columns in standard reports, resize column widths, and remember custom reports so that they can duplicate them in the future.
Just before you start finding the right accounting software, it is important to analyze the needs, and requirements and clearly understand the functions that it has to perform.
4. Conclusion
Accounting software's intricacy and feature sets vary per business. It relies on whether the customer is a sole proprietor looking for a straightforward single system or a large organization deploying a full solution.
Accounting software development may be customized to meet the unique requirements of each business by including industry-specific components and tools. Accounting applications differ in terms of their usefulness, pricing, user quantity, and transactional capabilities.
Reach out to us to create your bespoke accounting software!