Over the years, one thing that hasn't changed is the rise of technology adoption in every sector. From Manufacturing, Retail, banking, finance, or Accounting- all of these sectors are embracing the potency of custom software development within their business. Amongst all this, developing Accounting software is a blessing in disguise and it is one of the transformative tools that can augment business against their peers.
Specifically, when it comes to the best accounting software. The industry is bracing itself with technological advancements with new-edge financial technologies like IoT, Artificial Intelligence, Machine Learning, and Automation. Accounting software can help you track, monitor and analyze the current situation, streamline accounting tasks, manage finances, and predict ways to resolve your financial issues.
Many businesses undergo ambiguity while deciding to develop accounting software for their own business. Often, when businesses decide on what they should integrate within their software, the answer is not easy. In this blog, you will identify all the major aspects that contribute to making a robust, high-performing, and sustainable. Here is a list of essential accounting system requirements for developing a hi-tech software solution.
Let's start with the basic necessities of any accounting software requirements,
1. Accounting System Requirements Checklist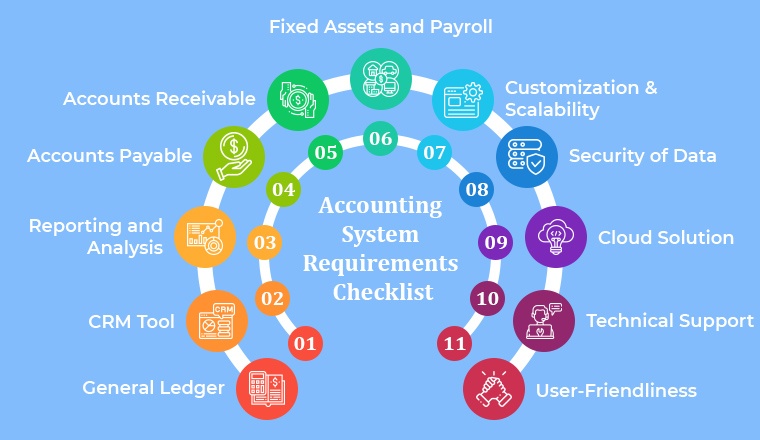 1.1 General Ledger
If there is a question on why you use accounting software then the answer is very simple. To achieve higher efficiency, productivity, and better business results. ISo, to accomplish that, the developed software should include all these vital entities. The first thing is General Ledger. Every business should include a General ledger that keeps a track of the company's all financial transactions. Transaction between Accounts includes a record of all the assets, equities, expenses, income, and revenue. The general ledger is like an accounting book(in literal terms) that keeps all the operations organized in a structure.
Apart from the obvious ones mentioned, we can also customize the ledger structure and add additional elements such as,
Recurring Transactions
Accounts Charts
Year ending Accounts
Random Financial statements
Unique Ledgers
1.2 A CRM Tool
Any business domain can have CRM features for their enterprise. This is one of the ways to get more customers, amplify customer service satisfaction and promote customer loyalty. The sole motive of integrating a CRM tool within your application is to get a complete idea about the customer data on a centralized accounting system. Combining CRM and accounting software enhances the service you offer, makes your workers do a better job and increases the profitability of the business.
With A CRM integration tool, all the minor to major problems of the customers are easily addressed through this. It is a need of the hour as it accelerates the day-to-day process, and automates and manages the customer lifecycle.
1.3 Reporting and Analysing data
Like any other department, the accounting department also needs the ability to exchange data efficiently and conveniently. Thus, in accounting software, there are multiple third-party integrations along with accounting software that generates results in combination. So, make sure that your financial software developer develops your accounting solution with reporting and analytics varied features. Make sure, your developed application can exchange the data that's most important to your business.
You can design an application that will only allow specific users to have access to all the confidential information and business data, thanks to the drill-down capability that we can integrate into the app developed.
1.4 Accounts Payable
Another indispensable term in accounting is Accounts Payable (AP) and Accounts Receivable (AR). These essential functions for any accounting software buyer are a good point to consider. An AP module is one that keeps a track of all the money that the business owes to suppliers and other creditors. It uses a Vendor Master File and several AP modules that will allow businesses to handle all of their vendors through a centralized location.
With Accounts Payable, you can also check the credit card transactions, cash payment details, currency converters, and other essential details. The reports generated using accounts payable can have data regarding your purchase history in addition to
Master File of Vendors
Purchasing Controls
Analysis of Accounts Payable
Automated Payments
Currency conversational values
IRS Tax forms
1.5 Accounts Receivable
This is indeed very obvious that if we have understood accounts payable and accounts receivable will be the opposite of it. To brief Accounts Receivable (AR) is a feature that helps the company to keep track of all the money dues. There is a list of the Main file that keeps track of the clients. It enables users to categorize and select the most important ones. We can track the invoicing, remainings, inventory management, and collection methodology. It is an automated process that manages applications in multiplicity. When you choose to develop a solution for accounting, you must include all the AR resources you use to ensure reliable and effective payment processing.
Additionally, you can add these attributes in the accounts receivable section
Invoice notes
Purchase orders
Credit memos
1.6 Fixed Assets & Payroll
It is essential for a business to define what are fixed assets to them. You should ensure that none of the operations goes uncalculated. The tools of fixed assets can be tracked and recorded which may include barcodes, tax benefits, operational equipment, maintenance ad, and others. When you integrate your fixed assets with GL, it will automatically provide information and other depreciation calculations.
Payroll is another important aspect that needs to be included in this checklist. Because we don't want to miss out on any important details of an organization that contributes towards profit. Turning to the inclusion of Payroll into the software is a great idea. Repaying all the dues of the company and people working in the company is accounted for in this software. Payroll is an important part of this module because it streamlines the majority of employees' records starting from employee accounts management, their leaves (sick, regular, uninformed), overtime pays, and recording other essential details. If there are multiple businesses we can also track
Employment details
Human Resources Management
Country-Specific Payrolls
Payroll Check Writing
1.7 Customization and Scalability
Currently, almost all organizations are developing custom-built software that benefits their business. No matter what size your business is, it always needs to cope with the market environment and grow. If your company size is tiny, you would definitely need software that makes your business evolve and expand with a few days of hard work. The accounting software may be able to improve its scalability accordingly because it will be very costly to update the software as the business expands. With the upgrading of customized software, you will be able to upgrade it faster and with better results as per market demands.
1.8 Security of Data
When there is accounting and finance, the word security holds great importance. Within financial accounts, there lies much confidential information about the company. So it is necessary to ensure security at different levels. From corporate managers to third-party corporations, all the details of the accounting departments must be confidential and secured with passcodes within the organization. For any organization, the security function is critical and basic. Hence when you decide to develop an application, ensure that it meets all the security aspects of the banking app.
1.9 Cloud Solution
Mobility has encouraged businesses to work remotely without any interruptions. But it is not feasible when you work on a server that works within a certain proximity. The dependency on mobile applications comes into the picture. Consider this a huge plus to be able to develop a system that can be accessed from anywhere. The cloud solution allows teams to access the system from any place, on any computer, and without the need to install anything if you choose a cloud solution.
1.10 Technical Support
Effective technical support makes the application development process complete and satisfactory. The technical consulting and support approach must be quick and effective. Experts will ensure that your problems are resolved in a much better way. Confirm that your software provider will be able to respond to your queries within a reasonable time frame, particularly given the few months required for system implementation. Nothing beats making a team that is competent in its technical support approach.
1.11 User-friendliness
This is the last and very important checkpoint on this list. To have user-intuitive and friendly software that streamlines the work and makes it simpler for users. Accounting for financial information is already tough and time-consuming. This may require users to put their whole time into managing and creating records. So building software that is fast, productive, and user-friendly is a huge plus.
2. Purchasing Considerations
There are some considerations to ask before one starts the software selection process and they are –
2.1 How Big is the Company?
When a company has to pick a new application, its size is something that matters the most. And this is why, instead of one-size-fits-all software, the majority of the vendors provide programs for different sizes of businesses. And in this case, the size of your business must be analyzed. And as the employees and resources in the organization increase, the scale of the organization adjusts accordingly. So while choosing software, you must look at the size of your company and see what is the future. Is it going to expand, downsize or stay the same for the next few years?
2.2 Which Deployment Option is Well-Suited for your Company?
The one thing any business owner must decide is which type of deployment option he requires, cloud, on-premise, or a hybrid of both?
Cloud deployment is something that allows the business owners to store the software he uses and information through a vendor's server. It enables one to access the software solution and company information on mobile devices anytime from anywhere. Cloud deployment is an option that is ideal when a business has regional or global facilities, stakeholders, partners, and more. Basically, when the company's employees or clients would want to access data in real-time through the internet, cloud deployment is the perfect option.
On the other hand, on-premise is an option that enables the users to access the software on company computer servers in one location. This is an ideal option for small-size companies that have local stakeholders and partners. Besides, this is a type of solution that leverages licensing fees, while cloud-based programs provide reasonable subscription fees. Therefore, if you are going with an on-premises deployment option, it is better to ask the vendors about TCO (the total cost of ownership), price, and more.
2.3 What is your Budget?
Before searching for software for your company, finalize a budget. The main reason behind it is that accounting software for any type of company runs anywhere from a couple of hundred dollars to $100,000. And if you are willing to spend this much money, you must stick to the pre-decided budget. And you won't want to spend everything on accounting software.
3. Conclusion
Accounting Software can help you trace the money as it moves in and out of your accounts, which is why managing the company's finances can be complicated. There are many time-saving solutions in quality systems that reduce the amount of time you spend inserting data into the system. Accounting software, depending on the package you use, will make things like invoicing your clients and tracking the purchases easier. Accounting software is an aid for businesses to streamline their daily operation and tap on all the potential business opportunities and grab each one of them.