Financial technology is an industry that is evolving with each passing day and it helps businesses streamline their finances. In the last decade, the number of FinTech solutions in the market has increased and they have helped eCommerce businesses invest in advanced sales, growth, manage financial services, and more. With the help of FinTech, many eCommerce businesses have become huge successes. This clearly shows that financial technology is a perfect match for eCommerce sites. To know more about this and have a clear idea about financial software development being the perfect option for eCommerce, let's go through this blog.
1. Why Do Fintech and eCommerce Build For Each Other?
Since its emergence, Fintech has started to disrupt the payment processing industry. It has made it very easy for eCommerce businesses to accept payments from clients. Besides processing payments, fintech also helps Commerce businesses to manage their finances more efficiently. For example, it can help businesses invest wisely, track their spending such as money transfers, and budget better. Basically, fintech helps eCommerce evolve in many ways and makes it more convenient, efficient, and trustworthy.
2. The Impact of Fintech on eCommerce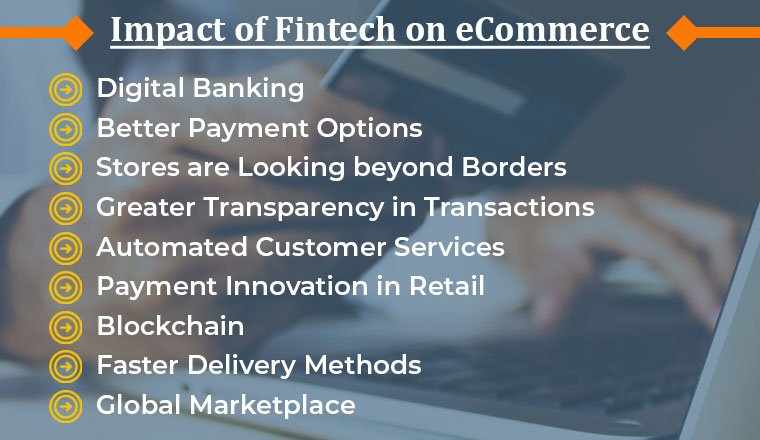 If we go by the statistics, Fintech and e-commerce together are making good business and contributing to the global economy. Just like countries Argentina and Brazil, both industries have accounted for more than 60% of the market value of IT companies, with 85 percent and 69 percent respectively. This is just the condition of Latin America where online sales surged but if you see in 2020, global investment in fintech (financial technology) startups is expected to reach roughly 105 billion dollars. This clearly shows the rise of online shoppers.
This clearly shows how much Fintech affects the eCommerce sector and impacts its profitability ratios. So, there are multiple ways businesses and traditional financial institutions can use fintech technologies specifically for the eCommerce sector. Let's see which of the fintech technologies can be used in the eCommerce business.
2.1 Digital Banking
We know how traditional banks function and know how easily they can manage businesses online. All traditional banks now allow you to manage to bank online, deposit checks from your mobile device, and transfer money digitally as needed.
Traditional banks often come with a cost associated with them. The infrastructure is the main cost. Now just imagine the number of bank branches around the world and the cost associated with it. They must handle their own expenses.
As a result, standard commercial bank accounts sometimes have annual or monthly maintenance fees, minimum balance restrictions, and transaction limits that if not maintained, result in additional fees. Thanks to the advancement of these technologies they can now provide the same services online banking, digital payments, and so on. When it comes to eCommerce stores, digital payments are like blessings. The payment process has turned to be easier and simpler. With digital payments, you don't have to go places to pay or borrow money. Digital transactions have made it easier. While you wait for your marketplace payouts as an eCommerce vendor, you're probably experiencing cash flow concerns. Online Payments will make these processes easier.
2.2 Better Payment Options
With fintech operations, loan finance companies are now offering 0% interest online loans directly at checkout to enable consumers to purchase large items in one go. Consumers have been able to make purchases that they would not have made if they had planned and prepared for a long time. Fintech innovations have not only boosted eCommerce but have also injected financial discipline into the lives of customers by allowing individuals to make purchases without worrying about the cost or ways to fund them.
2.3 Stores are Looking Beyond Borders
Fintech has had a tremendous impact on the global e-Commerce market. It has enabled businesses to make boundaries just a word and go beyond borders. Leaving this consideration of geographical barriers, a consumer can purchase any product or service from anywhere in the world and pay for it while sitting in the comfort of his own home. Secure payment platforms and digital wallets have completely transformed payment processes, allowing e-commerce to thrive worldwide. Fintechs allow e-Commerce businesses to provide services such as advance payment and refund options to their customers, even if they are located on the other side of the world.
2.4 Greater Transparency in Transactions
Online transactions are something that we cannot see and thus that creates a seed of suspicion. When seen in conjunction with fundamentally related sectors, such as banking and eCommerce, the fintech services industry which is undergoing a transformation in this age of digitization, is laying the stage for massive economic growth.
Transparency in transactions is one of the most visible aspects of the technological revolution in fintech, banking, and eCommerce. It simply implies that once a person's bank account has been linked to any of the fintech platforms of his choice, he is ready to use it as needed. A bank account linked to a fintech platform makes it extremely easy for a user to execute purchases on an eCommerce site that accepts payments through it.
2.5 Automated Customer Services
Haven't you heard of Bots? If yes, they are behind satisfactory customer service. Because more than 50% of businesses use chatbots to excel in customer service. This enables businesses to establish real-time communication between internet shoppers and retailers. With improvements, these chatbots are being customized to deliver individual shopper recommendations based on their behavior and individual profiles. Prior to the rise of Chatbots, e-commerce businesses relied on manual resources to engage with their customers, which posed a logistical difficulty as well as the risk of human error.
2.6 Payment Innovation in Retail
Innovation in payment functions is normal for online businesses. Continuous innovation is making businesses transform the way they operate. Payment strategies, particularly in the case of online enterprises, have a quantifiable impact on merchant sales. Payments have progressed from a necessary cost center to a centralized role that is now acknowledged as a revenue and profit generator. To ensure that their buying experience remains best in class, merchants must develop and test their offerings.
Businesses have been maximizing their sales with the help of payment innovation. There has been advancement in the way the traditional payment system works. Now, since everything is online, businesses do not have to spend on traveling to pay or borrow amounts or visit the person/company in real-time. Payment gateways can be easily integrated with other eCommerce systems as well to make buying and selling convenient and reliable.
2.7 Blockchain
If you had a synonym of security in finance then it would be called a blockchain. Yes, blockchain has been developed with a primary objective to secure the financial data of businesses and customers. Blockchain is a relatively new technology that refers to a specific type of database that is often used to keep track of transactions including money transfers, contracts, and shipments.
Blockchain technology acts as a sort of public ledger, storing information in blocks that are then linked in chronological sequence. The data is saved in the form of a "block," which is then "chained" to the block before it. All data is time-stamped, permanent, and open to the public, ensuring its accuracy and transparency. Blockchain can assist you in tracking your supply chain, managing inventories, lowering expenses, and more in eCommerce.
2.8 Faster Delivery Methods
Software companies are consistently working on a technology that will allow them to deliver things to customers using drones. Drone deliveries are still in the experimental phase, but it is expected that technological developments will soon overcome their limitations. Then drones will be able to carry big cargo and travel longer distances. Faster delivery is a part of eCommerce daily operations.
FinTech innovations have already improved e-commerce by making all of the processes involved in online shopping faster, easier and simpler as well as making it more accessible around the world. Countries are cooperating to close the gap between them, and FinTech opportunities continue to have a good impact on global e-commerce. The Fintech industry's breakthroughs will make it easier for businesses to manage deliveries while offering customer satisfaction both at once.
2.9 Global Marketplace
Fintech has helped the global market to make the eCommerce sector a successful one. Consumers no longer have to face geographical constraints while purchasing goods from different countries. For a long time, logistics had been a problem but internet payments across geographies remained a challenging issue. Multiple integrations with third-party platforms have enabled businesses to successfully cater to customers with effortless payment options by fintech companies.
Then we had an introduction of digital wallets for businesses and consumers. Payment platforms and digital wallets like Amazon Pay, Google Pay, and WhatsApp Pay have transformed payment processes, allowing users to buy goods and services from all over the world from the comfort of their own homes. These platforms have made services like refunds, advance payments, and money transfer more convenient as well as increased consumer and vendor trust.
3. Conclusion
After reading this blog, we can say that fintech and eCommerce are a great match. Companies are venturing into this fintech market and similarly, eCommerce businesses are also trying to leverage it more efficiently. The journey of eCommerce has been extremely progressive and promising and also has enabled everyone to see and track everything that they have ordered. Payments have gotten simpler than ever before. Everything has become simpler with Fintech integration in eCommerce. So, go ahead and consult any Fintech app development service provider to achieve the goals within a year that you have targeted to accomplish within ten years. As a business you must ensure, you make the best of financial innovation for your eCommerce business.