Prior to the epidemic, AI implementation in the banking industry was extremely sluggish. When the world came to a halt, financial firms and their associates throughout the world were finally compelled to automate the remainder of their banking operations and make them truly consumer-centric. What does the world of 2022 hold? Here are some of the finest fintech trends to keep a watch on in 2022!
1. Latest Fintech Trends to Watch
This or that, digital banking and fintech companies are anticipated worldwide to only keep going up. As a result, banks and financial institutions today are found making the most of financial technology. Further, let us discuss the current hot fintech trends in the following post.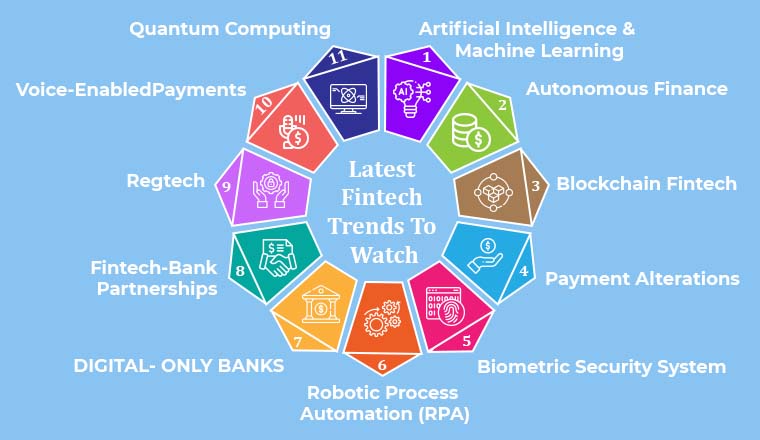 1.1 Artificial Intelligence & Machine Learning
Artificial Intelligence popularly known as AI is quite a rage these days. Do you remember chatbots? The best client service software is used by businesses to get in touch with their customers without them actually having to chat. Artificial intelligence, machine learning, and deep learning are trends that enable fintech firms to segment consumers by what they need. For example, Imagine when you for the first time took any financial product into account. There was no credit history, no credit score, or any signs indicating that you won't get bankrupt so easily. 
On that note, the importance of perfect credit histories and scores was observed when fintech came into existence. Though it might seem pretty a small aspect to neglect but quite an effective point. You see the actual benefit for such fintech patterns comes from understanding the genuine reliability of the rest of the market and how one can draw in numerous great clients at rates that they can reimburse with unsurprising and sensible default rates
1.2 Autonomous Finance
Believe it or not, there was a time when financial service providers, as well as customers, suffered a lot as in-person transactions were out of the question those days. Thus, both the banking industry and the financial sector needed to come up with the latest development in fintech.
Money transactions are no longer the same as they were years back – all thanks to the ever-changing digital revolution. Technically, the autonomous finance term revolves around self-driving funds. If you are seeking around for apps that guide its customers on making investments and managing unavoidable risks, Autonomous finance apps must be considered. 
Moreover, it's not just limited to businesses, even several banks and the financial sector can make the most of this trend. Many financial software development companies offer cutting-edge platforms and apps to offer autonomous finance, digital lending, and other financial services.  The loan approval procedures become faster at considerable interest rates.
Are you already thrilled and can't wait to try?
1.3 Blockchain Fintech
Distributed ledger technology is rapidly serving as the modern world's backbone. It is the innovation that powers Bitcoin and other cryptocurrencies, but it has a plethora of other uses.
The full potential of blockchain technology has not been even scratched. Over the next several years, this field may see some ground-breaking advancements.
Decentralized finance (DeFi) and non-fungible tokens (NFTs) are just two cases of how blockchain technology has the potential to transform the financial industry. There are innumerable further applications for this technology, and it's tough to forecast what new innovations may emerge in these fields over the next few years.
Blockchain technology has enormous potential for expansion, but there are some obstacles to tackle before it gets more widely adopted.
Benefits of Blockchain:
Fraud Prevention and risk management
Independent client verification
Trading Process Automation
Secure Payment Processing
Smart Payments
1.4 Payment Alterations
Even Fintech comprises numerous variations when it comes to payments. Do we need to mention that Google Pay and Apple Pay are the trend-breakers? Here I would like to mention payments trends that are set to remain:
higher demands for frictionless payment processes.
Businesses, in particular, who are owning restaurants, coffee shops, or fast-food chains and retailers counters will crave more cashless transactions.  
Apps for ordering drinks and food from tables rather than counters will be encouraged.
Online banking and mobile banking usage by banking customers will continue to increase.
Mobile and digital-only banking services will spread like a rage.
1.5 Biometric Security System
Mobile banking is now available literally at the tip of one's fingers. Biometric technologies are based on measuring a person's individual characteristics often known as biometrics. These features can be congenital (eye color, fingerprint pattern) or acquired and change over the course of life (voice, handwriting).
Biometric technologies were originally used at military facilities. Then, they began in airports, bus stands, metro stations, basically all the places which include mass gatherings. Some of the popular trends of biometric technologies include:
Fingerprints
Face Image
Iris Image
Voice
Veinprints
Hand geometry
DNA
1.6 Robotic Process Automation (RPA)
Another recommendable fintech software development trend is Robotic Process Automation (RPA). As the name implies the technology is meant to automate business procedures. In other, a significant amount of manual errors can be reduced if one decides to incorporate AI, ML, and RPA into their existing operations. Right from financial services and banking to healthcare, telecommunications, manufacturing, technology, retail, consumer goods, and hospitality, RPA is everywhere! 
Do you think all the action sequences are performed by the hero himself throughout the movie? Of course not! There are stunt men who mimic the hero available. Similarly, RPA bots tend to mimic interactions and tend to accomplish monotonous tasks at a fanatic pace. As a result, businesses can free up manual labor and switch them toward core activities. Not to mention by 2027, the RPA tech will reach $11 billion. 
Its benefits include: 
Enhanced efficiency and productivity
Accurate outcomes
Improved Security
Scalability
Improvised customer services
1.7 DIGITAL-ONLY BANKS
With the massive pandemic hit, there has been observed a severe change in the habits of a consumer. People no longer are willing to visit places whether it's to shop or visit a restaurant or watch a movie, book tickets, or make payments, all they want is to perform all these tasks simply by using their smart devices. And banking or managing their finances is no exception here. Digital banks have surpassed the way how conventional and traditional banks are supposed to carry out tasks. Not to mention with the increase in digitalization, customers have become pretty much happy watching different banking organizations offering end-to-end services online. Some of its benefits include: 
Better convenience
Enhanced security
Full-control over finances
Spreading Financial Education
Incorporates tons of features such as tools to save, virtual assistants, etc
1.8 Fintech-Bank Partnerships
It is a safe bet to say that both the fintech and the banking sectors are found to redefine the meaning of managing your finances. Though there was a time when the banking industry did not take fintech seriously and was pretty much suspicious about it but not anymore. With the rise of digitalization, banks are no longer enrolled in processing papers all day long. 
Now fintech firms are always in need of relevant cash flow and by partnering with banks they no longer need to worry about that part. It becomes totally out of question. Apart from constant cash infusion, stability, and extreme market reach, better solutions can be gained with fintech-bank partnerships.
1.9 Regtech
Businesses irrespective of their verticals are found looking for streamlining their ongoing procedures and banking is no exception. Here's when Regtech comes to the rescue. Now, what exactly is this? Well, it is said that technology is being used to process tons and tons of data in a short span of time. Today, advances and investments in regulatory technology (regtech) are increasing day in and day out. Further, let us see how Regtech offers substantial benefits across the globe. And more importantly, why businesses have already considered it to be the next big thing! 
Saves ample time, energy, and money
Risk Management can be well-taken care of
Exploitation can be significantly reduced
Enhanced security
Streamlining work management
1.10 Voice-Enabled Payments
Do you know how many words can one speak within a minute? 150 to 160 max and how many words can one type in a minute? 40 – 50 max. So which one is more beneficial? Of course, speaking instead of typing. Keeping this fact in mind, our next fintech software development trend is voice-enabled payments. There is no denying the fact that voice assistants such as Google assistants, Siri, Alexa, and Cortana are growing at a fanatic pace. 
You can provide a next-generation customer experience
Enhanced KYC 
Say no to Fraud
Log in/out, check the balance, making payments, purchases can be made via voice
Monitor finances 
1.11 Quantum Computing
Quantum computing was once considered a bizarre thought but fortunately not anymore. It has become a reality. Of course, this doesn't mean there is no scope for uncertainty or fear but one has to step forward and take advantage of such disruptive trends, or else you may have a lot to lose. 
Based on Quantum's theory, Quantum computing is carried out in the banking sector to streamline several complex data operations. Not just this, more and more financial companies are able to research the present market and conduct predictive analyses regarding the same. You see it is impossible for a normal computer to predict probabilities precisely. No wonder, tech giants such as Google and IBM are found pretty much invested in Quantum computing. 
Its benefits include: 
Improved cybersecurity
Fraud can be detected pretty much in advance
Predictive analysis 
No downtime 
Automation leads to a well-informed, precise, and quick decision-making process
2. Conclusion
So that's all for now! These are the top ongoing trends in banks and financial industry institutions. So what are you waiting for? It's time to give a seamless, cashless experience to your users.