Fintech is a critical component of contemporary finance. The conventional view of the financial services industry has shifted. Fintech options enable people to manage their financial operations more conveniently and quickly. Additionally, it possesses immense potential for enhancing world economic life.
Fintech has enabled firms and people to tackle new financial challenges created by social isolation and other government limitations during the coronavirus epidemic. Despite the fact that Fintech is a relatively young instrument, it nevertheless faces several difficulties. Let's have a look at the opportunities and difficulties faced during financial software development with respect to business in 2022 in this post.
1. Opportunities For Fintech Companies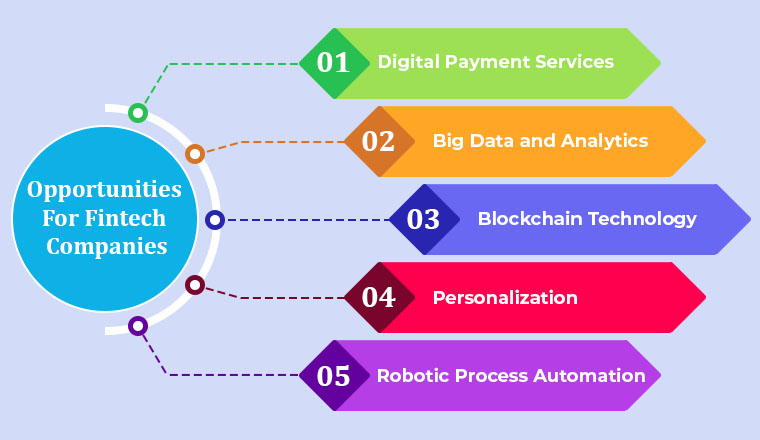 Financial innovation is definitely an opportunity for sectors like commercial banks to rethink service distribution channels and find ways how to leverage its benefits. Many sectors using innovative solutions offered by Fintech already know its worth and are benefitting from this. So, if you are a company already using fintech services, then make use of the right circumstances and make a profitable business. Many business landscapes are seeing a rapid rise in the financial technology trends and market.
Many existing practices empower the financial services industry to build more innovative and advanced business solutions. This can be done using extensive analysis, report development, business data analytics, and several other ways to tap into the potential opportunities coming their way. Let us discuss some of the popular ways.
1.1 Digital Payment Services
One of the common revolutions that have taken place in every sector including finance is digitalization. Massive technological and fundamental transformations are happening right now, and they're swiftly becoming the new normal. The rise of digital-only banks has improved efficiency and convenience. Nobody wants to go to the bank in person, wait in huge lines, and fill out a lot of paperwork. You may open an account or transfer money at any time and from any location with digital-only banks. This is the benefit of digitalization. A rapid overview of account balance, account transaction history, bill payments, and real-time analytics are just a few of the fantastic benefits of digital-only banks.
1.2 Big Data and Analytics
In the financial business, digitization has invaded and revolutionized many financial institutions that compete in the market. Over the last decade, data and analytics is advancing increasingly, and as a result, they have become increasingly vital to businesses.
To create more tailored and targeted user experiences, big data and analytics are being employed extensively. Companies use data and analytics to be competitive because they help them to improve operations, maximize income, foresee client wants and provide customized product offers, and forecast demand. Businesses must take this as a word that if there is big data, there is analytics. They have an unbreakable bond. Companies must adapt to these developments in a planned and thorough manner as the finance sector quickly advances toward data-driven optimization. It will be quite insightful to derive business results from the collected customer data.
1.3 Blockchain Technology
Blockchain is becoming a fundamental aspect of financial institutions' operational infrastructure, including digital payments, stock trading, smart contracts, and identity management, due to its rapid expansion and acceptance. Blockchain's global reach, speed, and security are encouraging financial institutions to use it more quickly.
In contracts and the supply chain, Fintech companies must establish confidence and demonstrate openness. They may obtain visibility throughout the supply chain by using blockchain. It also handles quality assurance and performance benchmarking. Financial services must immediately integrate blockchain into their systems and seek out chances to expand FinTech.
1.4 Personalization
Banking and personalization are two sides of a coin. Personalization in banking always works in favor of businesses. In the financial services business, personalization refers to providing a valuable service or product to a consumer based on personal experiences and past data. The epidemic has forced financial institutions to focus on the essentials rather than the nice-to-haves. A tailored relationship also fosters trust.
The implementation of digital transformation is mostly motivated by enhancing customer happiness and increasing sales. Financial Institutions are nowadays not only competing against one another but also against technology behemoths. To stay up with the changing environment, the financial services industry must rethink its campaign measurement strategy in order to have a better understanding of its consumers on a personal level.
1.5 Robotic Process Automation
Can you imagine any banking process that is rapid and effective at the same time? Well, you have got this one, then. RPA has proven records of being one of the most efficient ways of managing financial transactions. RPA doesn't really mean that the process must be automatic, it can also mean bots.RPA's rise can undoubtedly be linked to the fact that they provide a high-quality user experience and cognitive wealth-management advice at reasonable costs.
The need for Robo-advisors is increasing. People want to take advantage of the current situation and are eagerly anticipating sophisticated investment options and in-depth market analysis. To take advantage of this unusual opportunity, the businesses must prepare themselves to provide new features with Robo advisory services. In the banking sector, they provide services such as account opening methods, customer support services, or any other financial-related operations.
2. Challenges Faced By Fintech Companies
The companies who haven't adopted fintech services for their business for some basic reasons. Either they are not sure of what to do with fintech- that is subsequent knowledge, or they don't have start-up services providers who can do that for them. But businesses who are already working with Fintech understand that they get what they wish for in Fintech. But there are a few pain points highlighted that restrict other businesses to adopt fintech technologies. Some of them are mentioned below.
2.1 Data Privacy and Application Security Challenges
As per the nature of the business, fintech firms store enormous amounts of very sensitive user data, such as credit card numbers, income and investment information, social security numbers, and so on. Because of the increased use of phone and online banking services, this information is always at risk of transit. As a result, this information is extremely sensitive. Thus, there is always this question of risk in tandem with fintechs' application security and data privacy. Information protection is becoming increasingly crucial.
Because you can access vital IT infrastructure remotely owing to technological advancements. Sophisticated data hampering against financial data sources appear to be easier. Other concerns include the lack of physical checkpoints on essential infrastructure and endpoint devices that carry company data.
2.2 Regulatory and Compliance Laws
It is not easy to start a fintech organization. Due to fraud alerts and data thefts it has become a lot difficult to get approval for commencing a fintech enterprise. These restrictions are not only tough to comply with, but they also make it difficult for Fintech companies to join the Indian market. To avoid fraud, make compliance regulations act as a stringent regulatory framework. They, too, serve as significant roadblocks for new Fintech startups. Fintech start-ups must complete a long number of requirements before they may begin operations.
2.3 Focusing on the Customer Experience
Finance has a reputation for being difficult. Although the procedures involved in fintech organizations have swiftly changed. There is still a lot of ground to be covered in terms of creating a superb user experience that goes beyond a simple UI. Conversational UI is an innovation of business that focuses on the special user interface that simulates speaking with a real person. Bots may offer information to the user in the format they require.
Fintechs have paved the way in terms of simplicity and accessibility. And it's now simple to create an account with any of the banks. By displaying charges and fees up front, there is more transparency. Trading platforms like Robinhood have made financial language easier to understand.
2.4 Changing Revenue and Business Models
Fintechs should reconsider their income and expense strategies, as well as adapt or extend their resources. To cope with the economic downturn, many businesses are using cost-cutting tactics such as employee reductions and wage cutbacks. If the business takes up, there are so many necessary changes that need to be applied within businesses. This includes changes in revenue streams and other business dependencies. This will also alter your business models. To cope with the higher transaction volumes, contactless payment fintech are repurposing their resources.
2.5 Personalized Services
As we know, it is difficult for businesses to cope and offer personalized services. Though it has been the key and fundamental aspect of banking, businesses find it challenging to offer. Personalization, in today's context, implies communicating with a user in real-time, on their chosen channel. You must provide a tailored solution to their specific demands is what customers mean by personalized services. They are not ready to settle on any other grounds.
Customers are also willing to embrace Fintech as a financial wellness consultant. Some users are overwhelmed by a vast range of options. But good customization ensures that they only see the options that are relevant to them.
3. Conclusion
Throughout this blog on fintech challenges and opportunities, we saw that there are several advantages offered by Fintech, as much as businesses think they face challenges within the industry. But, challenges can be taken care of and you can take advantage if you choose the right partner for your fintech needs. However, it is challenging to keep a balance between traditional ways of banking and current-day methods. In order to leverage benefits, consult a fintech development company.