For at least a decade the fintech sector has been growing. It became the reason behind reshaping the payment and banking system. But since the pandemic hit the world, the acceptance of fintech products and services has increased and more businesses have started adopting this approach. Traditional financial institutions have started going digital to offer digital banking facilities to clients. This has increased the demand for financial software development services providers.
Even after observing the change in global fintech market, many businesses are still thinking whether to go digital or not. They are still confused about why is fintech growing. Let's go through this blog to give them a clear idea and see what is driving the growth of fintech.
1. What's Driving Fintech's Growth?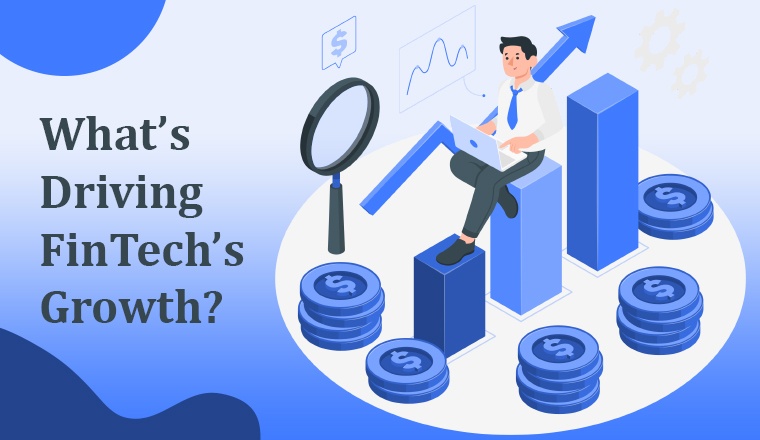 FinTech is one of the most emerging approaches as it is driven by the rapid adoption of cutting-edge technologies in the financial industry services like money transfer, digital payments, funding platforms, alternative lending, financial software and automation. Here we will go through some of the major trends that are the reasons behind why is Fintech growing.
1.1 Technology
Technology is one of the main reasons behind the fintech industry's growth. Every day new technologies come into the fintech market. As they operate almost exclusively in a virtual realm, all the financial services have been transformed by technologies like AI, ML, AR/VR, Blockchain, Cloud Computing, and more. They have made the financial companies offer remote services. Algorithms and machines have enabled the financial sector to automate processes that were previously carried out by humans. Basically, fintech services have changed the traditional approach in many ways and eventually, it has brought advantages like –
More productive – Traditional banks didn't only get automated services that can fasten their daily operations. They also give their staff some free time that used in focusing on banking strategies, completing challenging tasks, and innovation. These things have helped traditional banks completely automate and make a mark in the fintech market. Besides, it also helps in increasing the productivity level.
Cheaper – With new technologies coming into the picture, experts from fintech companies who can help the banks to offer digital banking features and stay at a very high productivity level are needed. With the help of techies, banks go digital and save a lot of money that can go behind physical offices. Besides, they can also save on staffing as everything goes digital the requirement for staff members reduces. All these benefits make the global fintech market rise higher and higher.
Accessible to anyone – As fintech adoption increases, banks are offering a broad range of financial services through mobile apps and websites. This means that fintech investments have removed intermediaries like bank managers and brokers which eventually helps in having direct access to banking services and information.
1.2 COVID-Driven Contactless Payments
The biggest benefit of fintech investment has been observed after the pandemic. COVID has completely changed the FinTech sector. In the year 2020, financial institutions saw the biggest ever wave of new accounts in mobile payment and banking apps. Governments around the globe are encouraging contactless payments to be safe from COVID infection. In addition, the increased usage of eCommerce, telemedicine, and e-learning has contributed to the increasing demand for online payments.
To make digital banking easy for the users, both fintech startups and giants are coming up with different types of financial software and they are –
Robo-advisors.
Finance automation.
Voice-activated and QR code payments.
Contactless neobanks.
Blockchain and real estate crowdfunding.
Further adoption of digital business models.
Biometrical security.
Diversified payment options.
1.3 Regulations
One of the reasons that are driving fintech growth is regulations. Regulations are the reason behind entrepreneurship becoming more challenging. Every institute in the financial sector is subject to regulatory obligations but some of these regulations are not rigid and this enables the financial technology companies to come up with new fintech products with greater agility. Besides, nowadays, governments of many different countries are actively encouraging digital banking. For instance, in the year 2016, the UK Competition and Markets Authority came out with an order where nine of the country's largest banks had to grant licensed startups access to their transaction data. This regulation helped customers find new ways to manage their finances through mobile devices and in today's time, the UK is at the top of fintech internationally.
This proves that regulations enable the fintech industry to grow and clients to get the best services through digital financial products.
1.4 Expansion Beyond Traditional Financial Services
Nowadays, with the increasing demand for digital banking solutions, many financial technology companies are exploring new technologies and services that can offer core banking services at lower rates. One of the financial areas that are getting considerable attention is blockchain and crypto-assets.
Currently, fintech companies that are representing one-quarter of the Global X FinTech ETF (FINX) are involved in blockchain or crypto-assets. Many of these firms view blockchain as a disruptive, high-growth potential technology and they leverage this technology to advance the fintech field. The main goal behind all these things is to offer the customer a larger base to perform their financial activities and help banks carry out fintech funding.
1.5 Maturing
One of the reasons behind fintech growth is the industry evolution. As the fintech industry is growing, a new phase in its development is coming through. The reason behind the financial technology sector being mature is that the financial software development companies are becoming more sophisticated and have greater access to capital. Besides, the companies are also hiring fintech developers that can work on the latest technologies like artificial intelligence, blockchain, and cloud computing for creating financial apps for their clients.
2. Where to Find Business Opportunities in Fintech?
With each passing day, the financial services market is growing and some of the reasons behind it are discussed previously in this blog. But still, experts say that fintech is only covering 1% of the complete business market in the world. This means that there are a lot of opportunities for this field to grow. But the question is how to find those opportunities. Experts in this field also say that different countries offer different prospects. For instance, the UK offers more opportunities and services for retail banking and SMEs. On the other hand, US fintechs are mostly concentrated on wealth such as personal finance management applications and investment applications. Basically in retail banking niches.
This shows that there are many fintech suppliers in the market who promise a bright future for entrepreneurs. So, anyone can start a business to offer data for Know Your Customers (KYC) purposes such as DueDil and LexisNexis.
Besides this, businesses can also help bigger fintechs with staffing requirements and increase their opportunities to earn more.
3. Conclusion
As seen in this blog, there are many different reasons behind the growth of the fintech industry. This industry comes with various business models and focuses on different areas which leads to be a well-positioned and experienced field. There are many financial services industries that are on the edge of moving towards a more digital and scalable structure. And this is creating more opportunities for businesses to grow. Basically, there are many reasons behind fintech growing into a big phenomenon in this digital age.