Nowadays, everyone favors secure and convenient online purchases. It is a convenient method of processing transactions but does not allow us to track our financial position. Here, a financial software development company comes into play to help you keep track of your expenditure and earnings.
Everything is performed online in this modern age via sophisticated applications, and the banking sector is no different. When the app is linked to your savings account, you can follow each transaction. Additionally, mobile financial apps protect your details and transaction records to ensure your privacy and confidentiality.
In this blog, we will discover the types of fintech applications, how to build them, which factors contribute, and how much would it cost to build such a financial app.
1. Types of Fintech Applications
There are many of you who might know what is fintech and how it can change the shape of your business. Thinking of fintech, there can be numerous names that can come into our minds, like digital wallets, assets management, secure payment gateways, asset management, and other several app developments favoring businesses. If we were to divide the necessary fintech applications then we can clearly divide these applications as:
1.1 Banking Apps
This is arguably the broadest set of fintech applications that allows users to monitor their financial accounts and transactional data, initiate transfers of money to certain other bank accounts, schedule payouts, send P2P payouts, and locate open ATMs nearby.
The components involved for enrollment, identification, payments, withdrawals, savings, configurations, assistance, and alerts might take up to 3500 hours to construct, increasing the average cost of developing a banking app to $175,000 on average. The cost covers the creation of a native banking application and administration panel.
1.2 Lending Apps
P2P lending applications assist users in borrowing money by linking them with persons who are willing to lend. Certain lending applications employ machine learning to collect data on individuals with no or little credit record and suggest to lenders the maximum amount of money that may be loaned to such individuals. Budgeting capabilities integrated into the software are intended to assist users in managing their expenditures more efficiently. The estimated number of hours spent developing the loan app is 2200, equating to a budget of $110,000.
1.3 Investment Apps
These applications enable consumers to spend and optimize their financial performance by utilizing the app's pertinent data. This might include blogs, videos, the latest investing news, or other automatic AI-powered advice tools that assist consumers in increasing their return on investment. There has recently been an increase in demand for investing applications that facilitate the trading of digital currencies and other investment securities. Fintech app developers might spend approximately 2100 hours developing an investing app, culminating in a cost of $105,000 for the native app and admin panel.
1.4 Insurance Apps
Insurance applications simplify the process of resolving insurance-related difficulties for users. These options include coverage for vehicles, business, health, family, and leisure. Additionally, insurance marketing applications have been developed. The project duration can reach up to 1400 hours when enrollment, authorization, sales, payment methods, privacy, push alerts, contracts, and terms and conditions are included. A basic estimate indicates that the expense of developing an insurance application begins at $70,000.
1.5 Finance Management Apps
This category of fintech apps assists users with budgeting, controlling spending, and avoiding credit card debt. Additionally, personal money management applications assist users in paying bills, link bank cards and PayPal, and visualize expenditure through charts and graphs. Certain fintech apps have investing functionality. The developer business might spend around 3450 development hours, or $172,500, on developing the program with the essential personal money management functionalities.
2. Features to Consider Before Building a Fintech Application
As per the unique market demands, your business needs to build apps that meet your end business goals. Your app should be high-performing and fully enhanced with new-edge features so as to stand against customers' expectations. You can develop a banking app or any fintech app with all types of functional abilities of consumer-centric applications. Every bank needs to cater to their customers uniquely and that can only be done if they offer unique customer experiences. Lets us see what the fintech app features can we integrate in-app,
2.1 Account Management
The good features of an accounting system are an aid to users as it helps them to easily manage their banking accounts. The app should play a pivotal role in verification, transfers, and day-end tally for the users. When you have your banking application in place, you are capable of examining your regular transactions, account history, and account balances. You can also access the money transmissions in a simple and secure way. The developer will add multiple advanced features of account management like the Transfer of money via the phone number or email address.
2.2 Customization Option
In the market, there are so many platforms offering the same monotonous function in app development. How can you make your application/platform sound differently? Customization will bring a difference. Adding basic features depends on the banking and financial sector clients. It starts with developing clients approaching software development companies with various challenges. To resolve those challenges, technology solutions are offered. Developers can use various technologies like IoT, machine learning, Bots using AI, and other enterprising technologies.
For instance, with the use of Artificial Intelligence, businesses can provide clients with quick and easy customization options. They should have a personalized home screen and provide guidance based on the client's preferences. The goal here must be to provide the finest customization through technology features that can be useful to customers at all uncertain times. Just like in the pandemic period, the banking sector saw a rise of 72% in the usage of fintech apps in Europe- Source
Do not be skeptical about building a digital banking solution because it will save most of the time and in addition offer customers functions that are easy to operate.
2.3 Data Analytics
The Fintech industry will never leave a chance of analyzing data and getting some insights to offer better financial advice to their clients. Data analytics is an important component of a fintech app since it allows users to access and trace the history of their financial transactions. In addition, the app analyzes the whole data set and generates reports for the user. Data Analytics is a useful tool that allows consumers to view and trace their previous financial transactions.
2.4 Notifications & Updates
When you develop applications, your finance updates will keep your customers active and informed. It is important to notify each user about the transaction updates or any application updates. As we know, for user enhancement, you must keep updating your banking and finance apps. Users can utilize transaction notifications to double-check their transactions. Furthermore, the applications serve as a reminder to the user regarding expenditures and investing. Before consumers buy stocks, the banking applications should also deliver articles and statistics. Users may check their credit score, incentives, and bill due dates, as well as keep track of their accounts.
2.5 Voice-Activated Chatbot
Chatbots are Voice, text, and tapping users selecting choices on the app are all methods to communicate with customers. Bank and financial institution chatbots have the potential to improve customer service. The future of banking is conversational banking. Speed, availability of information, and pleasant encounters are all key aspects of customer service and assistance.
2.6 Creative UI/UX
You might think that for making simple mobile payments there should be a good UI. The answer is, not just bank transfer, it is the user experience that your development team offers with the developed mobile fintech app. It is critical to have an intuitive UI/UX in order to provide the greatest comprehension when using the fintech app. The strategy must direct the executives and help them get more information. Choosing suitable textual styles and presenting content logically with appropriate shading codes for all UI components. It's important to include these features as needed in the development plans.
2.7 Security
There are many reasons for integrating the security aspect in mobile apps. There can be hackers using dummy fintech apps or using public Wi-Fi to access your fintech app. Not upgrading your phone's operating system or apps is a recipe for disaster. Use your phone to store passwords and PINs. There are innumerable reasons for using security for your application. You must not think twice about imbibing this feature within your finance app. The cost may be a factor here, but you should consider security as one of the priorities.
3. How Much Does It Cost to Develop a Fintech App?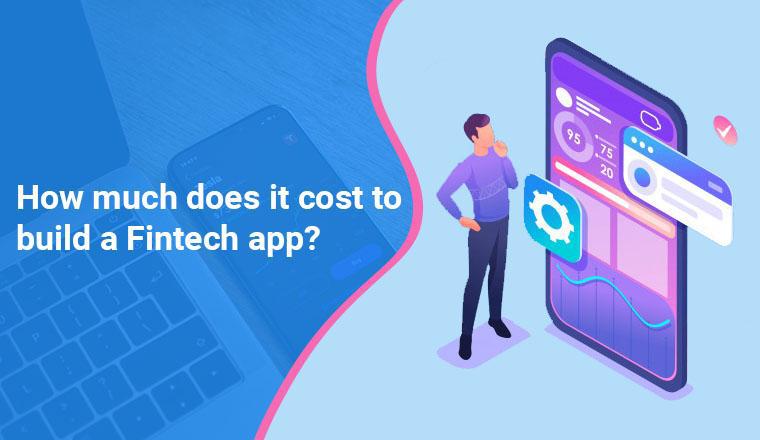 The fintech development cost is undoubtedly the turning point for many businesses. Because every business works within a specific budget and time, it is very important to make plans before going into debt. Who doesn't want secure and convenient way to payment option, everyone does. But not everyone can keep a track of finances through a fintech app. Thus, fintech app development is very important for businesses that are safer, transparent, and effective for all types of financial transactions.
The fintech app development cost rises from one country to another. If we were to take a common cost, it wouldn't be the same. The typical hourly cost for fintech app developers in the United States is usually between $100 to $120, but it may be anywhere between $60 to $80 in India.
A finance app with basic functionality and a simple UI for a single platform will cost about $20,000-$35,000 to create.
Building a best-in-class banking app with extensive features will cost between $40,000 and $70,000.
The cost of developing feature-rich finance and banking apps for Android/iOS. It provides a sophisticated user interface that can range from $70,000 more depending on the needs.
There are many factors that combine to determine the cost of banking app development.
3.1 What is the Cost of Maintenance?
In the banking industry, maintenance and security are important considerations. If you develop a Fintech application, you need to be sure to maintain it on a regular basis. It will guarantee users no serious bugs or security concerns that might compromise users' money or bank account details. Earlier for a basic app, the cost of maintenance was minimal but with new-edge changes in the business, its demands are surging. Your yearly maintenance costs a lot of your mobile banking app is transferring, receiving, or keeping money for customers.
Since there are many important aspects of a fintech app development. To name a few to ensure a quality, security, and reliable User Experience, maintenance costs are high. Your yearly maintenance expenses may vary depending on the number of users you have, the complexity of your application, and the quantity of data you have access to.
3.2 Cost Depends On Types Of Apps
Due to the fact that each business runs at a different speed and has distinct goals, no Fintech application can possibly suit the demands of all enterprises. As a result, there is no set fee for fintech app development for your organization. Budgeting applications will need a thorough grasp of their purpose, functionality, and applicable rules.
However, you will want a reasonable estimate of the budget and time required to create your application in order to prepare appropriately. Thus, to develop a basic application that facilitates the secure, transparent, efficient, and simple transmission of online payments, a budget of at least $40,000 and a timetable of three to four months are required.
Between $30,000 and $50,000 will be required to develop a financial application with limited functionality and a simple user experience for a single platform.
However, a sophisticated solution with more functionality and contemporary technology stack will cost between $50,000 and $65,000.
Basic Fintech App development costs between $30,000 and $50,000, an average app for around $50,000 to $80,000, and a Complicated Fintech Application will ask for more than $80,000.
These are indicative figures that may vary significantly based on platform characteristics, features, API integration, difficulty, design team, weekly developer fee, and patterns of interaction, among other factors.
3.3 Cost Depends On Types Of Teams
Your selection of a development team has a significant impact on the development's cost. Consider the typical cost of developing a banking app for the item if the local agency is headquartered in the United States and the outsourced firm is based in Eastern Europe.
Costs associated with team development:
Internal team – $90,000
Local government entity – $120,000
Freelancers – $30,000
Outsourcing firm – $50,000
The cost of developing a popular banking application is also dependent on the size of the crew. If the mobile app development company lacks the necessary assets, it must add individuals to cover skill shortages in the team. The amount spent on resources by mobile app developers will be represented in the overall cost of the application.
3.4 Cost Depends On Location
The location of the development business or freelancing is another significant factor affecting the cost of Fintech development. We evaluated rates in various locations for various types of applications and calculated the mean cost of Fintech app development in 2022.
The price is determined by the product's mean range, moderate difficulty, and the pay rate of a team of four to seven professionals (business strategists, consultants, programmers, quality assurance, and designers) over the course of four to nine months.
When we compare the cost of app creation in the United States to that of other European nations which ranges between 280,000 dollars in Eastern Europe to 840,000 dollars in American regions, we can see that Fintech mobile app development in Eastern Europe is accessible to entrepreneurs.
4. Conclusion
It wouldn't be wrong to say that Fintech apps are game-changers. Every bank has its own set of requirements to meet with the help of fintech apps. Although, all of these banking enterprises have one common aim- to satisfy their consumers. And developing apps is the most practical way of doing it. Developers are keen on observing the needs and offering feature-rich and trustworthy mobile applications. These features can be simply viewing the bank account to perform money transfers or credit card details or similar other features. In a nutshell, if we were to build an application, our prime focus would be customer satisfaction and security, and so we will build the app accordingly and manage the app development cost.