The insurance industry has poised a transformational change in the market by adopting new-edge applications and services. These applications are accelerating the insurance market and its activities by leaps and bounds. A technology-led insurance business that has almost all types of Insurance software features is capable of managing day-to-day business operations more efficiently. You as an insurance company need to orchestrate the legacy way of working which includes customer policies, and renewal claims, and address all of the customer's queries meticulously. There are a plethora of ways your business can achieve this by using technology or in other words using software and apps for their business challenges.
The technology-led insurance business is capable of managing day-to-day business operations more efficiently with the help of financial software development. They can advance their business in the technical aspects and can stand still to manage other insurance-dependent stakeholders like insurers, brokers, agents, and other big operational managers. This is a one-time investment but software integrated with it will deliver more benefits than expected. Now that we have the slightest idea of what insurance software is capable of offering to the business. So, in this blog, we will shed light on the major aspects of developing insurance software. Starting from, what is insurance software, types of insurance software that will make regular functioning easier. We will also focus on the vital features of insurance software that will be a key differentiator for every business adopting it.
1. What is Insurance Software?
Insurance software is an application that is capable of managing insurance business operations. Insurance software comes with a variety of features to help you manage your daily operations. It helps brokers, agents, agencies, and carriers to save time and money by streamlining their processes. It should, however, support both the client and administrative sides.
There are several operational activities that have become a part of insurance software from the administrative side like underwriting, issuing policies, managing teams, tracking claims, complying with laws, and updating policy information.
And when it comes to client-side operational activities, with the help of software and web applications activities like login, policy update, form filling, payments and some more can be done.
2. Types of Insurance Software
Depending on the customized needs of insurance businesses, the software for insurance companies is decided. There are a plethora of ways that insurance companies plan to meet their operational and consumer demands through the development of software applications.
The insurance fraternity needs multiple software that would make their tasks easier. Some of the majorly used insurance software are insurance agency management software, insurance workflow automation management, underwriting software, claim management software, mobile apps for agents and reps, and insurance policy management software. Let us see what each of these software is capable of offering.
Insurance Document Management Software
An excellent choice for safeguarding accessing, collecting and organizing policyholder agreements, contracts, and private documents, among several other things.
Insurance Workflow Automation Management
Such software is automated ones that are used to organize, monitor, regulate, and coordinate numerous business processes such as lead management, HR, marketing, and sales.
Underwriting Software
Underwriting software manages and analyzes the underwriting process. Furthermore, it is an excellent choice for automating policy and rule execution while eliminating human error. Digitization of ERM systems may also be used by businesses.
Claim Management Software
This software handles everything from claim workflow management to automating the claim document process, payments management, monitoring fraudulent activity, and integrating policy administration.
Mobile Apps for Agents and Reps
Mobile apps for insurance businesses allow you to create custom software specifically used for their agents and representatives. This software can have as many features as you want from database access, special access, GPS tracking, and other features that will make the app highly efficient and streamlined for operations.
Insurance Policy Management Software
It is intended to manage, generate, and administer insurance and reinsurance policies in a streamlined manner. Furthermore, it aids in the integration of risk-management treaties.
Let us look at the many forms of software used by insurance companies and their capabilities.
3. Features Of Insurance Software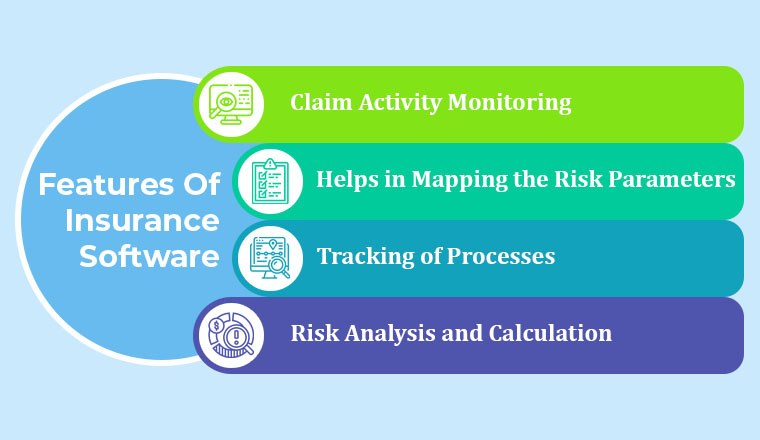 3.1 Claim Activity Monitoring
Claim activity monitoring includes keeping a constant watch on the opening, creating, closing, and reopening of claims. Imagine the ease when you combine it with claim management software, the process will get easier. The integrated functionality has been designed to make use of a wide range of claim-related data. This element of the insurance management software system gives you information about claims such as outstanding claim reserves, event codes, payment components, dangers, and any deductibles along with relevant dates of claim activities. Insurance companies can properly monitor and manage them without any worry. They can evaluate even the smallest information, such as open and closed claim activity for services.
These activities can enable Insurance companies to manage, track, and make real-time business decisions for each business activity. Thus, considering this as an essential part of the claim monitoring process, you can automatically manage claims without much hassle.
3.2 Map and Mitigate Risk Parameters
Among all the features of insurance software, it also enables users to map risk indicators. Furthermore, it enables insurance firms to inspect the covered goods, such as a home or automobile, or any other object mentioned in the insurance contract.
Mapping risks is one of the most important components of insurance management software. The tool enables businesses to examine and compute insurance risk parameters such as unit insured, amount insured, system risk, reinsurance surrender, and so on.
Furthermore, by utilizing this software, your businesses can easily do daily profitability evaluations while tracking trends in real-time. It also aids in the calculation of both unearned and earned amounts.
3.3 Tracking of Processes
If you are still unclear about the procedures and their state in the funnel, implementing insurance management software is pointless. And, if you are still working with manual documentation, it will be quite difficult for you to keep track of procedures after implementing the program. It's time for you to improve the software as soon as possible. Improving software has so much to do with upgrading the software. If you automate the software applications, you will be able to track your processes easily and conveniently. A decent software package will monitor all the critical operations with ease.
3.4 Risk Analysis and Calculation
Risk becomes an inevitable part of the insurance business. No one can save you from it. If you are a business striving to do your best in the insurance business, then you must develop software that will calculate the risk factors and help you make pre-informed decisions for your business. . If you have risk analytics in place you can actually take decisions over data-driven insights. Thus the risks will become more calculative and you will actually be able to detect issues and resolve them beforehand.
When you consider calculating risks associated with Insurance firms, it includes risk cost, loss ratio, burning cost, and loss frequency per policy. In addition, insurance agencies receive thorough research and detailed information on insurance contracts.
Furthermore, it may be used to analyze and prepare performance reports for claims managers, reinsurance managers, underwriters, marketing executives, and accountants.
4. Benefits of Insurance Software Solutions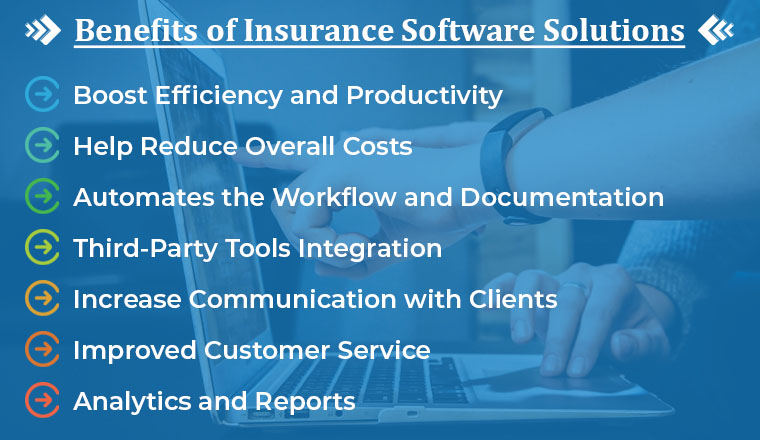 Insurance policy management software offers limitless benefits to businesses and delivers the best results to insurance businesses. There are incredible options available for insurance businesses to provide. Since, insurance operations are complicated and include several stakeholders such as consultants, agents, and third-party agencies. Traditional procedures were riddled with redundancies and dependencies, resulting in interminable delays. Fortunately, current insurance software solutions quickly remove these limitations and provide clients with a superior insurance experience. The following are some of the noteworthy advantages.
4.1 Boost Efficiency and Productivity
Insurance software for business provides higher efficiency in operational activities and with its automation facility, it can also accelerate the overall process. There is a single dashboard available to manage, track and see policies coming from multiple sources. When you get everything on a single platform, you are saving countless hours of data gathering and rectifying it. Such software is preferred because it reduces manual work and increases the speed of working. If you want to develop an insurance policy management software or application, you must consult an insurance software development company like TatvaSoft. They can help you boost efficiency and productivity for all types of insurance operations.
4.2 Help Reduce Overall Costs
Insurance software is automated and it certainly manages all the manual processes effortlessly with collaborative software. Such software systems help your employees work more efficiently by streamlining processing operations. It also implies that manual errors can be reduced and eliminated. Since the software is now performed via machines and codes, it will generate way less than expected errors and will be faster. . As a result, you may minimize the number of excess hours of operation and will lead to a lower cost of operation.
4.3 Automates Workflow and the Documentation System
How cool it is to have software that is automated and works on its own.. Insurance software assists in the management of alerts and emails from all departments and can be connected through a collaborative platform that manages data from all departments and processes. This program can easily collect data and automate the entire document-generating process. It is also a scalable and resilient solution for managing customer queries and requests.
4.4 Third-Party Tools Integration
The seamless integration of tech-driven insurance management software provides you with a single platform to monitor and manage all of the agency's current and previous procedures. You may simply view and examine user requests that are aligned, transactions that are completed, and their computations.
With an innovative insurance software system, insurance companies may easily combine additional technologies to improve process monitoring and administration. You may also integrate different management systems and benefit from their capabilities to better organize and manage based on your needs.
4.5 Increase Communication with Clients
Communication is the key to any business process. In the insurance business, a CRM is a point of communication. CRM also gets outdated with the influx of newer terms and policy information. This absence of vital information can lead to a misunderstanding of information, terms, and conditions. Hence it is really important to have a customized CRM that manages your insurance communication with clients. This will add real-time decision making and prevent delays of insurance dates, add reminders and give several other notifications.
You can either create two different platforms for internal or external communication or give necessary access rights to avoid a collision. Because when everyone uses the same program, communication with both the internal team and outside agents will not be managed equally. Hence two different software developed for communication will improve this part significantly. Everyone will be able to see their deadlines, notes, and form status all at once.
4.6 Improved Customer Service
The insurance system enables you to communicate with your consumers quickly. It makes assessing their problems and providing appropriate quotations easy. It also guarantees that your clients may complete service requests when it is convenient for them. Insurance CRM software with opportunity management capabilities takes this a step further. It offers to upsell and cross-sell signals to salespeople and agents by understanding client actions on your website, advertisements, or marketplaces. As a result, more agreements are being closed and more income is being generated.
4.7 Analytics and Reports
In all the systems, data is the key aspect. You need to understand that the data you trust will be the reason why you proceeded. Insurance software keeps your data up-to-date. With integration to this data, there is a separate system that performs analytics and reporting. The ERP system and CRM systems cover all types of analysis and generate a standard report for reference. This report will export data and deliver insights.
5. Conclusion
In this tremendously competitive business, insurance software is no longer simply an option. Gaining and retaining a competitive advantage in the insurance business is increasingly essential. Digital insurance software solutions with all the features may also help you to empower all of your operational activities and efficiently satisfy client requests. Whether you are an insurance agency, brokerage, or carrier, the appropriate solutions may help you improve efficiency, safety, and profitability.