The complex world of accounting is eccentric yet evolving. Looking from one side, these advances in the accounting software world are definitely needed while on the other hand, it becomes equally challenging to make pace according to market needs. So how should you start your approach toward accounting software?
This blog post will stroll you through the basics of accounting software, what is accounting software, and its advantages, features, and benefits in-depth. So, let's dive in.
1. What is Accounting Software?
Accounting software is a tool that allows you to understand the influx of money in your business and analyze its financial situation. You can use other ways of financial software development services to manage financial transactions, develop reports, take care of customers and secure vendor contacts, track purchase orders, stock levels, bills of customers, and other managed accounts. Modern accounting solutions help you to make business decisions for the future, manage and record transactions, inventory tracking, fixed asset management, expense management, project management, accounts receivable, accounts payable, and many more.
Accounting system can help your company save time and avoid mistakes. Instead of manually keeping a track of financial data and transactions, you can connect your accounting software. Business owners can add bank or credit card details using accounting software features. This software will help you automatically manage daily data entries. With this, you can also create a dashboard to display the most important details in real-time.
Well, accounting software can be customized as per your business needs. You can add features to overcome your personal financial data or blockages that would run down the software's efficiency. Here are some of the common features that you may find in most accounting systems.
2. Accounting Software Features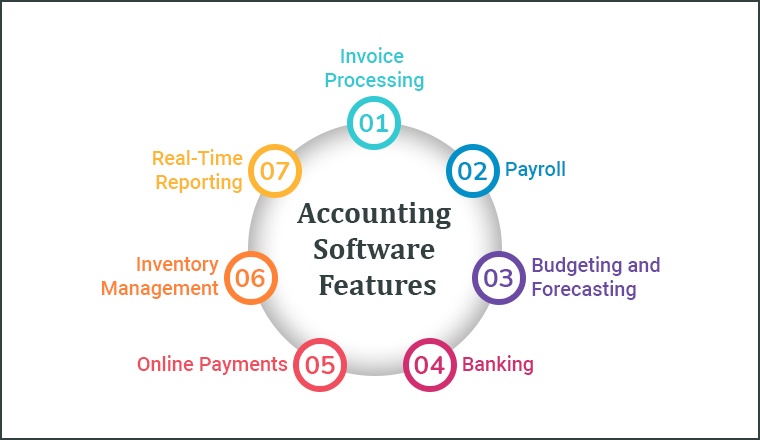 2.1 Invoice Processing
In the accounting system, invoicing tools play a critical part in being a basic need of business. The accounting software that already exists or has been decided to be developed will make your accounting tasks easier. Like it will help you keep a track of who owns what, which business owner has funds and whose payments are due, and for which date. All this information can be accounted for easily in accounting software. It offers some significant features such as automated invoicing, payment reminders, and adding the estimated conversion to the invoices to make the process of accounting transactions easier.
2.2 Payroll
What should you do if the needs of accounting professionals are different? When the employees have different needs like some employees are paid monthly, while others are paid weekly, biweekly, or on an as-needed basis. Wouldn't it be difficult to calculate the accounts differently? Well, modern accounting software solutions can come to the rescue for this.
Your developed accounting system should be able to handle a variety of payment schedules and compensation types. Payroll modules in some accounting systems are quite determined that include holistic payroll services such as calculating hours and processing wages. In this process of developing an app, you need to have features such as variable wage schedule, direct deposit calculations, and also automatic tax calculations.
2.3 Budgeting and Forecasting
Budgeting and forecasting are the most useful phenomena for any accounting software. And this is a standard packaged feature in most accounting systems that calculates and analyzes financial performance for the current year and aids in budget estimation for the next. Companies can use such a system to prepare estimation and goals of their sales targets.
2.4 Banking
Accounting software should be very seamless and smooth in operations. This means it can be linked to your bank account, allowing you to directly make payments and extract information in real-time even before the bank. Such accounting software has a long lifeline. You can do reconciliation of accounts receivable if you have multiple accounts, this software can even track and reconcile them all in one is vital. Certainly, your program must include a general ledger function as well as checkbook reconciliation. With this, you can also prepare a bank deposit.
If your accounting package cannot handle the setup of basic electronic deposits, it is unheard of these days, but if you were to build such an app, you should inquire about the types of electronic payments it can handle.
2.5 Online Payments
If you are a business that doesn't have an online payment option for its consumers, then its targeted users will be quite less in comparison to other platforms. If you are going digital, it is wise to integrate an online payment option for you and your customers. Payment collection is an important aspect of running a business, so your accounting software should make it simple for you. You can integrate a third-party payment solution for a simpler and more secure way of performing payments.
Good accounting software integrates payment gateways, allowing one to collect payments online for a more convenient experience for both the company and the customer.
2.6 Inventory Management
An accounting system with stock and inventory management rules can assist you in determining what you have in stock, what you need to replenish, and where your buy budget is being spent. You can add a tracking system to the Inventory Management System to track the item's lifespan. Businesses can follow a product from purchase to stocking or even sales to shipment. Inventory tracking is a useful tool for keeping track of inventory levels.
You can avoid buying specific products by using the feature of automatic ordering to assure stock within a specified range. This spares you the bother of not having items in stock when you need them or having a surplus of products that just won't sell.
2.7 Real-Time Reporting
One of the most significant benefits of accounting software is likely to be real-time financial reporting and tracking. All the financial transactions can be easily calculated and kept track of if you do real-time reporting. All you have to do to manage your accounting data in real-time. This works in combination with your online accounting software with your business bank accounts, and this will help you to track aspects in real-time like costs, sales, and inventory.
Within your accounting software, developers can create a dashboard. This offers you a specialized dashboard that allows you to track all of the accounts and data that you wish to monitor.
3. Benefits of Accounting Software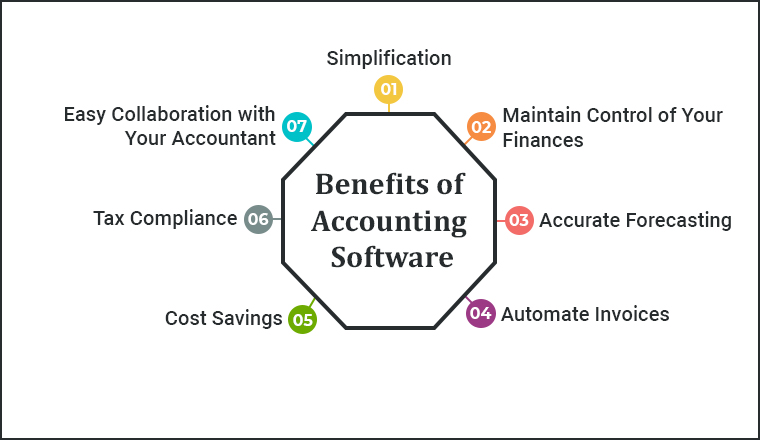 3.1 Simplification
Accounting software is quite simple to use if you have the right features in place. So if you develop an accounting system as per your business need, you give the software that power in the hands of non-accountants and are designed to give numbers meaning while completing automated computations. The business owner can undertake accounting tasks and comply with legal standards from a desktop computer or a mobile device with no training, and without paying an external party to keep the budget in the loop.
3.2 Maintain Control of Your Finances
To build a modern accounting software, business owners must know the cost of developing it and the features that they want in their accounting software. Accounting software costs can be managed and the finances can also be controlled on the fly if you ensure that you have the right accounting software in place. This is to uplift your actions from manual data entry to automated software.
Now the pens and papers will be replaced by excels and word and you can get real-time insights. Accounting software is one way to manage your financial data in one location. With this, you can have a full view of your business model. You can even check the financial performance simultaneously in real-time.
3.3 Accurate Forecasting
One of the primary benefits of why business owners decide to develop accounting software is because of forecasting. The reason is quite obvious because it would minimize accounting software work and the forecast will be done without much effort. Without a good study and robust system, it would take a long time to understand the patterns and trends in your financial performance.
The customized Accounting software will tailor business forecasts and provide numbers meaning, assisting you in determining where to minimize costs or invest more. With a comprehensive picture of your present financial situation, companies can establish sensible strategies to allocate resource tasks effectively.
3.4 Automate Invoices
It is important to bill clients on time. If you want to keep cash income flowing and your firm thriving. The more the delay is, the more difficult it will be to collect the cash and maintain the records. Automated invoicing can be advantageous in many of the greatest ways for accounting software applications.
Enterprises may use the invoices to establish recurring bills, issue follow-up reminders, and collect digital payments right from the invoices. You can also keep track of your unpaid invoices and provide early payment discounts. This guarantees that the income is at stake even if you forgot to send an invoice. Furthermore, the accounting software functions as your collection department, reminding clients to pay their invoices through automated statements and late reminders.
3.5 Cost Savings
In the process of developing accounting software, software cost takes the center stage. An accounting solution or finance system is meant to be a one-time investment that would automate basic computations and all its administrative procedures. To manage the cost aspect, accounting software takes control of your revenue structure and eliminates the requirement for financial management or any other payment gateway problems.
This software reduces the costs involved with manual accounting work and other process work like printing and distributing papers. Instead going digital will also help you to store important and essential data in secure and controlled areas.
3.6 Tax Compliance
Nowadays, tax has also become an inevitable part of accounting services. Some of the best accounting software consider financial reports in course of that action there is dedicated payroll assistance and report downloading facilities offered to them. If you activate these features, you can get all the information about audit trails, tax, and other essential details. This will help in managing a transparent & efficient workflow.
3.7 Easy Collaboration with Your Accountant
Last but not the least, this is an unsaid benefit of accounting software that helps companies to organize financials in a centralized location. This means you don't have to toggle between tabs or need to get receipts scanned for tax forms. That significantly simplifies your accountant's job for multiple users. Many accounting software applications will provide free access to your accountant. It also saves the time it would take to acquire the paperwork and information required by your accountant.
4. Conclusion
This article is all about Accounting software and how this software is helping us to solve accounting-related issues. Accounting processes like simplified fund accounting accounts payable, document management, optimizing cash flow, improving financial planning, and several others can easily be accomplished with the help of accounting software. By adding automation, it simplifies and accelerates most processes like recurring invoices , bookkeeping tasks and financial statements too. Choosing a partner for your needs or hiring a development team for the custom accounts needs is your choice, but ensure the results are quite as expected and certain.