The majority of businesses prefer doing tasks on their own in order to be cost-effective. In other words, if we say that businesses are saving money so that they can invest in something more constructive and lucrative, it wouldn't be wrong. In order to be cost-effective in the arena of accounting, companies can consider developing accounting software and there is a variety when it comes to types of accounting software.
On the whole, accounting software reduces manual work and automates the accounting processes, and concurrently delivers faster efficiency, turnaround time, and accurate results. This blog will help you understand why you need accounting applications and what are other ways to manage accounting software for commercial or enterprise or any other ways. To start with let's delve into what accounting software is.
1. What is Accounting Software?
Accounting software is an integrated system and a set of apps for managing and processing financial data.. Accounting Software is based on streamlining accounting functions of managing financial statements, inventory management, online payments, accounts payable, and accounts receivable. Expert accountants and bookkeeping teams use these applications to manage accounts and automate routine tasks. Some accounting software helps to collect accounting data, measure indicators, and report on the financial activity of the organization. It can also be used by creating a dashboard to get insights from financial data. As per the custom needs, financial software development can also be favorable in many instances. Accounting software has multiple variants which are classified below according to different ecosystem needs like commercial or enterprise or customized.
2. Types of Accounting Software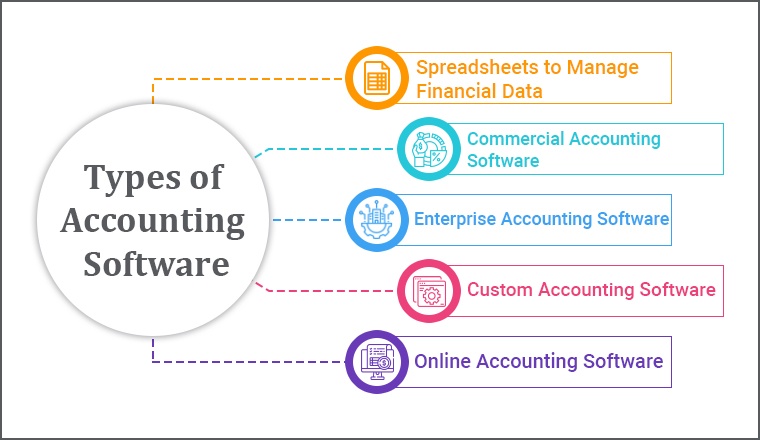 To succeed at running your business or even to know if you're succeeding, you need accounting software. Accounting software allows you to monitor the financial health of your business. Typically, it allows you to enter all expenses, such as payroll and equipment expenses, as well as income such as income from sales for businesses of all sizes. Small business accounting software is very popular because of the advantages it offers. The turnaround time is unexpectedly faster, no manual efforts in maintaining documents or papers in the drawer, and even the accuracy or reports are far better than what it was using with bill papers and binders.
There are many ways you can use accounting software, it just depends on the use and the technology that is available for use.
2.1 Spreadsheets to Manage Financial Data
Microsoft Excel truly excels in this list and hence spreadsheets are number one to manage financial data for small businesses. Spreadsheets by Microsoft Excel are easily available as well as easy to use. Also, there are other popular tools such as Google Sheets and OpenOffice to assist in bookkeeping. Almost any simple accounting requirements can be simply accommodated using a spreadsheet. Minimalistic or complex problems are equally addressed.
Programs created using spreadsheets will manage more complicated accounting procedures as well as another list of expenses, sales, and other pertinent financial data. The majority of businesses use spreadsheets to supplement other accounting processes; only very simple businesses should rely exclusively on them to manage accounts.
2.2 Commercial Accounting Software
Accounting software may be tailored to meet your unique needs and integrates with virtually any type of organization. You'll see graphs and infographics that summarize data, along with reports that give an overview of the health of the company and the tax forms required.
Moreover a small to medium company's accounting needs, if not all of them, can be handled by commercial accounting software. An accounting system will enable you to create capabilities that are custom-made specifically to your needs.
This software's capabilities are custom-made as per the company's requirements. They create standard reports that may typically be tailored to the needs of the user and contain multiple layers of error detection to stop inappropriate data entry.
2.3 Enterprise Accounting Software
Enterprise accounting software is for enterprise needs and is custom-made according to their needs. Such software helps manage the operational complexity that larger businesses may have. Accounting software for larger businesses might also incorporate accounting systems with additional software services including project planning, business analytics, enterprise resource planning, and workflow management.
When a large business chooses this kind of accounting software, it means that they are frequently following a multistage routine that involves asking accounting software vendors for information, seeing the product in action, and also involving other businesses. Enterprise software frequently uses relational databases rather than two-dimensional spreadsheets to display relationships between various types of data, such as the number of employees at each firm or the sales volume from all clients compared to their areas.
2.4 Custom Accounting Software
As it goes by the name, you can create custom accounting software as per the enterprise's needs. A company develops its own accounting application. This accounting solution frequently works well when a company wants to expand, using the skills of talented employees to design software and handle various accounting circumstances.
Eventually, accounting software works for all types of bank accounts and transactional services. Using advanced accounting functions, the company may discover its own unique accounting software with larger benefits. In other cases, a company develops its own software since no existing commercial accounting tools can satisfy its requirements.
2.5 Online Accounting Software
Online accounting software can also be simply called web-based accounting software or cloud-based accounting software. Such accounting software is stored at a distant server. Data sent by users are processed in "the cloud" and then sent back to the user.
Through a cloud application service provider, businesses can use them with the internet or other networks. A business employing cloud-based accounting software can avoid setting up individual PCs with software as it gives access to every employee from anywhere anytime. Every employee in the firm can access the cloud on their own devices. This allows remote teams or branches to access the same data and the same version of the software.
Cloud-based accounting software has a lot of benefits, including that it acts like invoicing software, business intelligence, customer relationship management, data backup, and disaster recovery are typically included in your account.
3. Conclusion
From this entire blog, we think accounting systems are major game-changers. The most crucial step in choosing accounting software for your business is to do an exhaustive task analysis that takes into consideration both managerial and financial requirements. Take your time with this important step so that it can be broad in breadth. It is impressive if unexpected growth necessitates an upgrade. However, thorough planning could enable you to delay the need to switch to new software.