Fintech application programming interfaces (APIs) are known for transforming various financial industries. Financial software development companies adopt these APIs to use them in getting new financial services, applications, and business models into the market. To know more about it, let us go through this blog.
1. What are Fintech APIs?
APIs(Application Programming Interfaces) enable different systems to communicate with each other. So, when it comes to fintech (financial technology), APIs help in accessing data for the parties involved in financial transactions like third-party providers, banks, consumers, and websites. All the popular fintech applications in the market work on APIs that help them with real-time data access. Similarly, in the financial sector, APIs allow third parties to access data with the permission of the client. And this has completely changed the way the financial sector works.
The increase in the dominance of APIs in financial technology makes it easy to understand this technology. For this, banks have to connect with third parties if they want to expand their services. And the merchants have to make it simple and easy for the clients to pay using their preferred option. And all these things are possible with the help of the fintech APIs. These financial API is utilized by the developers in creating applications for the banking and finance industry and makes services cost-effective & faster.
2. How Does API Work?
APIs are known as the mediators between different parts of software that are used to exchange data and this is the case in all the fintech solutions. The APIs for fintech applications come with a set of functions that can be tailor-made for various purposes that can make the application developers utilize them as building blocks for new software solutions.
3. Best Fintech API To Use In Finance Software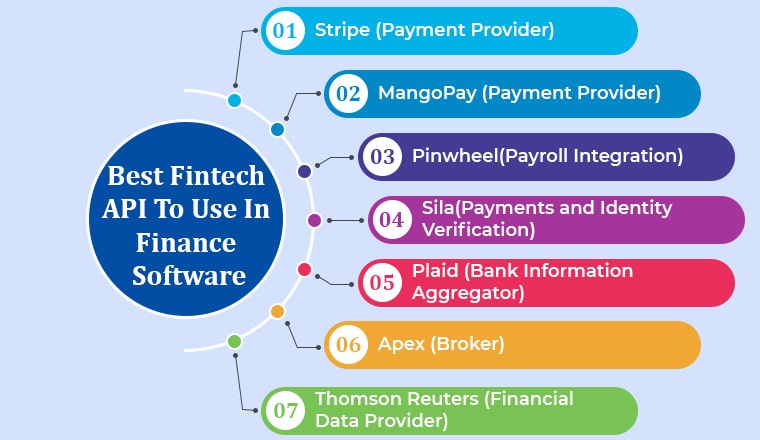 3.1 Stripe (Payment Provider)
Stripe is an APIs in fintech that enables users to manage and process online payments. Custom commerce and SaaS also use it. It comes with features like securing the transactions, consistent service, easy-to-use reporting features, and democratic fees.
Pricing:
Stripe charges $0.30 plus 2.9% plus for each successful card charge online.
When it comes to in-person card processing, it charges $0.05 plus 2.7% for each successful credit card transaction.
3.2 MangoPay (Payment Provider)
MangoPay is a fintech API that is used by many fintech companies because it offers multiple currency payments with the help of various local payment methods. In this API, all the payment flows and commissions are automated and this is possible because of one single contract of MangoPay. It is designed in such a way that developers can easily integrate the payment solution on the business platform and this is because of the open-source SDKs.
Pricing:
Pay-in per transaction charge is 0.18€ plus 1.8%
Pay-out per transaction is free of cost.
3.3 Pinwheel(Payroll Integration)
Pinwheel is a popular payroll connectivity API company that is utilized by the majority of the fintech companies to securely access income and update direct deposits. It is an API that helps neobanks to connect to a client's payroll information system and enables offering things like income verification, direct-deposit switching, and paycheck-linked lending.
Pricing: NA
3.4 Sila(Payments and Identity Verification)
Sila is an API platform that has the capability to issue an ERC-20 stable coin. And this coin is known as SilaToken (SILA). Every transaction on the software is done using this token. Sila enables the installation of international payments, card payments, business ID verification, and more.
Pricing:
The Grow plan of this API is free but if you want access to its advanced features the price starts from $2000/month.
The Scale plan of this API is also free but its advanced featured system costs $10,000/month.
3.5 Plaid (Bank Information Aggregator)
Initially, Plaid used to create financial service APIs that would help the clients share their banking information more easily. But in 2018, they started offering their fintech solutions to a wider class of people. It can be used as a bank information aggregator. It helps in streamlining bank account authentication, fraud prevention, user income validation, comprehensive transaction history, and transaction geological tracking.
Pricing:
Plaid comes with two payment options – Scale and Launch.
The Scale version costs $500/month and for the launch version, you have to pay as you go.
3.6 Apex (Broker)
Apex comes with a robust and booming suite of APIs that helps in investing and trading for lifecycle starting from bank account opening and more. This fintech API is used by many fintech startups because it enables the users to execute across various asset classes like book-keeping, fractional order, and stock locate support.
Pricing:
To know the payment details, the user has to send a request for a quotation.
3.7 Thomson Reuters (Financial Data Provider)
Thomson Reuters offers critical information that helps in making a decision in the legal, financial market data, tax, and media. The tax and accounting APIs by this company include –
Checkpoint — It is an online research suite that has the capabilities to source various tools, materials, and news.
Onvio — It enables the cloud-based software to offer real-time access to billing, documents, and projects.
Pricing:
The fees of these APIs are available on request.
4. Benefits of Fintech APIs in Finance Software
Some of the top advantages of fintech APIs are –
4.1 Third-Party Integrations
In the fintech industry, users are in constant need of new services, and developing such services is quite expensive. Therefore, many companies use services available through third-party integrations that are offered through APIs.
4.2 Security and Compliance
Many countries have introduced rules and regulations for the financial organizations to offer third-party services that can help in accessing clients' data and this is all to support the open banking concept. Basically, fintech APIs have the capability to work on open and sensitive data. They offer security and compliance to financial institutes.
4.3 Data Accessibility
In this digital world, keeping data secure or hidden from the public is impossible. And for this PSD2 was introduced. But it has also made it difficult for the users and programs to access important and required data. PSD2 enables third parties to access financial data. This means that the right to access or manage data is possible because of GDPR and PSD2. Because of this, now users are able to have the legal right to understand how their personal or financial information is used.
4.4 Fast and Efficient Operations
With the help of API solutions in fintech, companies are able to quickly add new features to the application and also help in accelerating the launch of new services. Besides, they also help in creating customized API functions that can fulfill a specific purpose. APIs also help the clients to manage their banking transactions easily through online banking, mobile banking, and digital wallet services. Basically, with fintech APIs, 90% of the physical transactions that are happening in banks can be carried out digitally and this can save a lot of time & money.
4.5 Cross-Platform Availability
Financial institutions use APIs to offer cross-platform support to their users. Desktop, mobile, and wearable app versions allow seamless client support.
5. Top Use Cases of Fintech APIs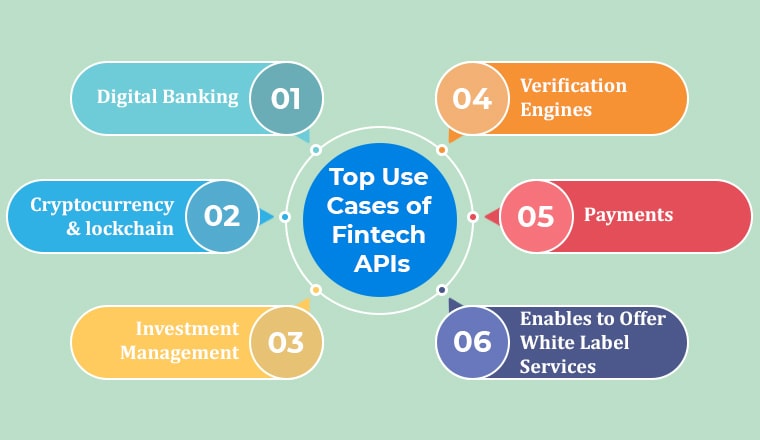 Top use cases of fintech APIs –
5.1 Digital Banking
With time, mobile banking has become a very important part of the financial industry. And with the increase in neobanks like Revolut and GoCardless, the majority of financial institutions are going mobile-friendly. And this attracts a diverse customer base which makes it easy for them to manage their financial account information, financial transactions, data analytics, and many more.
5.2 Cryptocurrency & Blockchain
Crypto-currency is a concept that has brought a new evolution in the financial services industry and has made users rethink the way they engage with money. With blockchain being the technology behind cryptocurrency, sharing and storing financial data has been very secure. And this has been very beneficial for every financial institution.
5.3 Investment Management
Fintech has also changed the world of investment. It has made investing easy with the help of various applications. There are applications like Robinhood in the market that make it easy for users to invest their money and learn everything about the markets.
5.4 Verification Engines
Initially, when users submitted their information for verification, the task was carried forward by several staff members. But now, with the help of fintech APIs, applications like Zillow are now doing it robustly and faster, by automatically reaching out to other electronic systems.
5.5 Payments
With the help of fintech, payments have become real-time. Now every business organization enables its users to make payments using digital payment processing services. And this is possible because of the API integrations into the businesses' payment processors. For this companies like Venmo, PayPal, Stripe, and Square have been very useful.
5.6 Enables to Offer White Label Services
There are many companies in the market that offer branded APIs but there are also white-label APIs that are available for both fintech companies and banks. And these APIs enable financial firms or traditional banks to utilize the benefits of these APIs without the need to create their own programs and platforms.
6. Final Thoughts
As seen in this blog, fintech APIs are the most important parts of the fintech revolution that can help businesses introduce new ventures and innovative services. These APIs are available in all sizes for both small fintech companies and large organizations. These APIs are known as the doorways for developers as they help them in making applications and services reliable and fast.