Technology seems to be making its mark everywhere and our very own banking and financial institutions are no exception. However, several traditional banks around the corner still eye on these fintech companies with concern or suspicion. The overall financial system will improve because of the superior technology fintech can bring to the banking industry. A combination of modern technology integrated with financial services helps people easily do their transactions and avail other financial services. Well, the answer is right here as the following post emphasizes how bank and fintech collaboration can result in becoming your valuable partners. With this blog post let's take a deep dive into what's the takeaway when we compare fintech vs traditional banks in the current scenario.
1. Knowing Traditional Banking – How Streamlined were the Process of the Loans and Lending then?
Can you name any better example for technology than in the financial world? Gone are the days when individuals, as well as businesses, were compelled to conduct traditional in-person banking but not anymore.Fintech may have a small share in the world banking system and also it has begun to acquire fintech startups to add to their services. Today we have internet banking which has also evolved from desktop to the comfort of your palms through mobile banking. Everything seems quite simple , streamlined and better, isn't it?
There is no denying the fact that the Financial software development popularly known as Fintech in several areas such as mobile internet, cloud computing, big data, search engines and blockchain technology has significantly reshaped the financial industry like never before.
Over these years the entire banking landscape seems to have undergone a steady change. Now one cannot change its future without knowing the past. So let us take a small detour and understand the traditional banking scenario before Fintech came into existence, what were the problems back then and how did Fintech come to the rescue.
Earlier when somebody said traditional banks, an unusual picture came into the mind where there was a large legacy infrastructure (especially large physical offices) where banking professionals used to give face-to-face attention to their customers. Keeping the ultimate objective of providing close human treatment in mind, traditional banking also offered financial services, specifically accounts, money transfer, payrolls, credit/debit cards, personal or mortgage loans, etc. There was a time when clients needed to travel to the physical offices to conduct their work whether it was carrying out procedures or transactions or even receiving cash from their respective accounts.
All this was acceptable before but not anymore especially when we are well-acquainted with the emerging technologies. Further below I would like you to get acquainted with certain pointers which the conventional banking architecture is facing in today's modern/competitive world.
2. What were the problems faced by the banking sector then?
1. Slow Digital Transformation
Traditional banks have been incredibly slow, no two ways about it! In fact, it restricts itself in regards to the online footprint. I am talking about the basic bunch of financial services like deposits, transfers, credit applications and bill payments. As a result, several banks had failed in making most of the benefits of the IT solutions available today. If we see in today's contemporary scenario, the digital environment seems to be making things impossible for these banks to function.
2. Customer Service
Bank customer services couldn't be ignored! Gone are the days when customers used to hold back in case they felt that the bank, in particular, wasn't up to the mark. Earlier most people thought of these banks as a rude realm. Do you know Why? Because they are unable to get in touch with the executives even after waiting for so long.
By offering round-the-clock, easily accessible and well-resourced customer help, banks can get away with this problem quite easily.
3. Going Local vs Standardizing Operations
Another challenge was the absence of customized experience because traditional banks couldn't find some kind of harmony between their activity model and the tech stage for customization. Honestly, if these traditional banks need to endure they should give a customized client experience that mirrors their qualities with each collaboration. A solid feeling of spot mirroring the character of the area is one approach to make the administrations more private or intimate.
3. Enters Fintech – Our very own Digital Finance
Over a couple of years, fintech seems to be booming like never before. Today one can proudly say that the world of finance will no longer be brick-mortar banks or investment firms working off spreadsheets and in-person advice . Of course, everyone plays a crucial role including financial innovators who strive hard to meet market demands or various fledgling businesses who aim to shape the future of the finance industry like none other .
What is Fintech? According to the Webster dictionary, the combination of words, i.e. finance and technology is what Fintech is all about. Any monetary innovation, most normal items and organizations that utilize recently created computerized and online advances in the banking and monetary administrations enterprises. To be precise unlike traditional banks Fintech comprises of:
Large and legacy financial institutions such as the Bank of America or Wells Fargo;
infrastructure or technology for facilitating certain financial services
Companies focus on innovative technology or processes such as mobile payments, retail banking or insurance.
Fintech is thriving – according to research values, the global Fintech market was at $127.66 billion in 2018 and is expected growth to $309.98 billion by 2022.
In short, any financial activity conducted online is what Fintech is all about. If you ask me about mentioning instances of Fintech then I must say the word can mean a lot more. For the general purpose, it can be defined as covering bills or buying items on an eCommerce site, purchasing a month-to-month membership, and various sites. And gateways, or moving assets starting with one record then onto the next.
4. Fintech vs Traditional Banking Services – Can you Spot the Difference?
Fintech and traditional banks both work as financial intermediaries that differ in many aspects, yet the most significant one can be identified right in their purpose. Like I said before traditional banks Like I said before traditional banks are nothing but large institutions that cater to the broader audience whereas fintech is mainly used by identifying a specific gap in the marketplace. Another major yet interesting difference is that progressive fintech software companies tend to focus more on mobile functionality, big data, agility & accessibility, and convenience. Also offer solutions across personal finance, wealth management, payments, settlement, data analytics, and regulatory technology. This probably means Fintech is in much relevance to faster transactions, 24/7 access and remote account opening which can be pretty beneficial for many.
Whereas traditional banks on the other hand seem to be quite lagging behind as they are only integrating UX practices just to conduct a flawless interaction. However, this doesn't mean that Fintech doesn't have any such disadvantages. Well, as far as they are concerned the financial technology uses different providers. That's the reason why you may find people, especially your customers, disapproving of the idea of managing deposits, borrowing and investing through them. Most of these customers are millennials when compared with older generations.
Traditional Banks
Traditional banks have always been strong players. After all, they seem to have been around for quite some time now. Strong relationships are often formed with some of these institutions that could have been lasting for years; some even for decades. Do you know what is the best part and benefit here? Traditional banks comprise branch offices that people stick to. This surely helps in creating a professional and tangible relationship with the clients. Also, when you find that traditional banks are also looking around for ways to make the most of financial services and grow in the digital space.
Still, traditional banks are being perceived in a negative light. The only reason is that plenty of consumers expect banks to be moving towards digital and technological innovations at a fanatic pace.
5. How FinTech is Shaping the Future of Banking?
Like it or not but in today's digital era, customers are no longer keen enough to go for services provided by the old financial business or the financial service industry. Instead, quick and safe services are being adored. And maybe that's the main reason why Fintech is gaining popularity in no time.
It might be pretty shocking for you to know that approx. 1.7 billion people worldwide do not have any bank accounts. Financial technology comes as a savior for these individuals as well as the business sector. Let us find out how.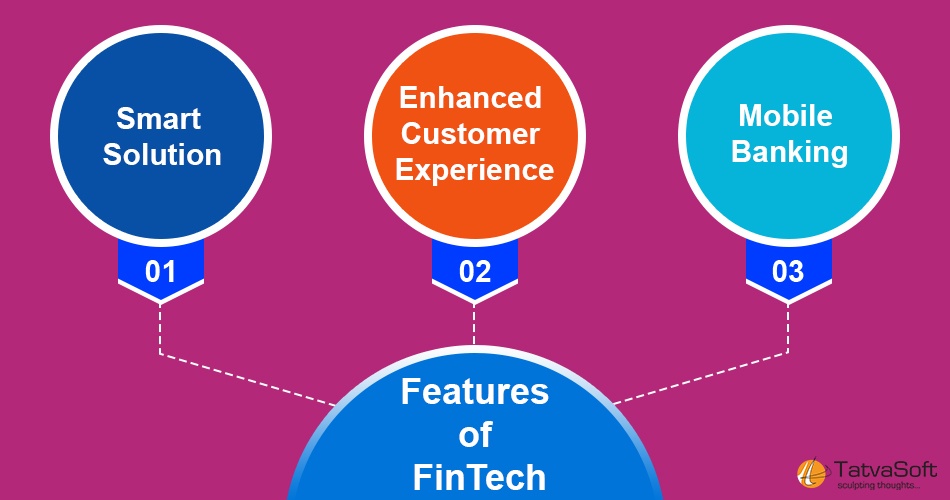 1. Smart Solution
The ever-growing needs and no-time clause of customers have compelled the financial services industry to seek around different solutions which are quick, abrupt, robust, flexible and so forth. After taking a close look at the current offerings provided by traditional banks, business here decides to depend on FinTech services and solutions for investigating in the earnest and centered need of clients.
These solutions turn out as a pure blessing. A good example, in this case, would be the emergence of online loans. Another interesting example is smart chip ATM cards. Over time they have significantly helped in minimizing the financial loss that occurs in the case of mishaps. Incorporated with the EMV technology (one-time password for each transaction), nothing has been safe and secured like this before.
Earlier bank officials ask their customers to memorize the pin to avoid any unnecessary hassles and troubles. And with the rise in financial technology, we can successfully look around for ways to top-notch security and how to make it more susceptible to fraud.
2. Enhanced Customer Experience
Another interesting aspect of financial technology is that it highly emphasizes the ever-changing digital trends as well as customer behavior. This surely results in digitally empowering the customer. Managing your finance is a tricky venture. Fintech offers every minute of everyday access data to bank clients. It also offers installment benefits that are accessible by means of the most recent computerized channels, for example, social media, web, mobile, versatility and so forth. It is revealed that by 2020, these social media spaces will likewise be viewed as an essential medium to interface, connect with, educate and get clients. A stage where they can lead exploration, or access any data and think about the bank's contributions.
Chatbots are viewed as profoundly effective in the monetary business sectors as they smooth out client associations like question dealing with and direct clients to the necessary offices. Additionally, they diminish expenses and improve consumer loyalty as well as permit specialists in the call centers to zero in on the most esteemed option.
3. Mobile Banking
The increase in the use of smartphones has constrained banks to think of versatile applications that offer advantageous FinTech banking services groups. Today, the vast majority of banks have a portable application that has an easy-to-use interface. Banks have likewise concocted portable applications that perceive the fingerprints of the client. The application plays out this capacity with no biometric application or equipment.
A mobile application provides quick access to funds. With a mobile application, the client can play out a few financial capacities, such as quick bill pays, check deposit, account balance, statements, and many more.
6. Conclusion – Now you Know Why Fintechs are so much in Hype!
Finance rules the world! But technology is expected to rule the finance world as well. The approach of forefront innovations especially when you combine it with the client's interest, you get banking experience like none other. Also, Fintech or finance technology seems to have resulted in a protected and easier banking experience. This has eventually driven the banks and monetary administrations at a fanatic pace. So what are you waiting for? Time to upstart the movement in your business.