Interconnected software is building a future for business and almost every enterprise is shaping up its foundations with new-edge enterprise application software. Different and unique types of enterprise softwares that not only streamlines business operations but also amplifies productivity, sales, and profits are booming the business growth. have been blooming businesses This is the reason why companies are prone to adapt enterprise software or enterprise applications for their businesses. This blog isn't a special blog focusing on the latest software development trends of 2021 but it is about enlightening businesses on the importance of enterprise application and the benefits of enterprise software.
For the teams located at different locations, ERP software will link them all. There are many benefits of using ERP apps. It includes user-friendly resources that aid in the productivity of company operations around the board. ERP software can be developed in a connection with all the departments and can deliver output with maximized business benefits.
It has the ability to standardize corporate processes and significantly increase a company's bottom line. It has proven to be a very user-friendly technology capable of streamlining company administration. Because of the current business world, ERP software has been shown to be essential even for small and medium-sized businesses. For deeper understanding let's start with why is enterprise application software vital for any business?
1. What is an Enterprise Application Software?
Enterprise application is a simple yet very essential system that serves the entire business organization and not just a single department like any other software solution. It enables the systems of the company to integrate with each other and work as one. This smoothens the workflow of the firm. It creates a clear and transparent connection between various departments of the firm.
One can simplify the day to day work processes of the business and enable the employees to get access to everything on their mobile devices through enterprise application integration. Some of the most popular areas that can facilitate this service are –
Business Intelligence
Accounting
Customer Relationship Management
Enterprise Asset Management
Database Management
Enterprise Resource Planning
Supply Chain Management
Forecasting
Security
Payroll
Scheduling
2. The Importance of Enterprise Application for a Business
Enterprise software is a centralized system operating multiple systems simultaneously. It wouldn't be incorrect to say that enterprise software is like a troubleshooter for all business challenges to be addressed one at a time. It has proven to be a very user-friendly technology capable of streamlining company administration IT, resourcing, finance, payroll, and everything. Because of the current business world, Enterprise software has been shown to be essential even for small and medium-sized businesses. Enterprise apps can have accurate and dependable predictions as well as automate system workflows which will increase the overall efficiency of your enterprise.
Businesses may think that why should I ask some other company to develop an enterprise application. Many businesses think that with the help of the instructions available on the official website, you can run the program on your own. It's critical to know how to choose the best range of options while looking for the right kind of business applications. It is always good to take guidance from a company that is experts, proficient, and knowledgeable in a software application. This will save most of the time of companies and they will be able to focus more on their core business functions. Excellent enterprise-level IT infrastructure enables you to achieve knowledge transparency and availability in all company functions.
Do you exactly know what all gains can your business reap from enterprise application benefits? If your answer is No then, let's delve deeper into the next section.
3. The Benefits of Enterprise Application
A plethora of businesses around the world benefit from Enterprise software. The prime reason behind developing enterprise applications is the improvement and enhancement in efficiency they bring to business by unifying. And preserving your data, automating procedures, and generating simple reports. The benefits of ERP programs in an enterprise make day-to-day activities and long-term planning more effective with these and other capabilities. Here are the crisp and clear enterprise app benefits that every business aims for.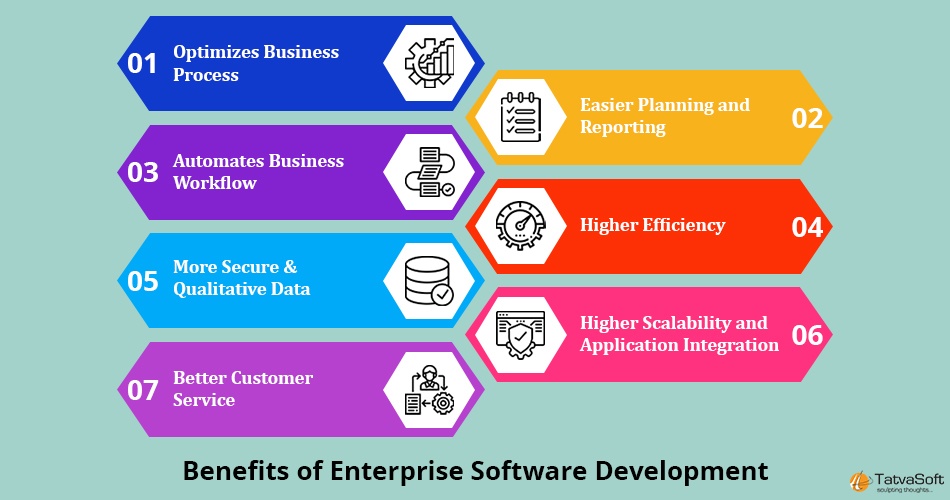 1. Enterprise Application Optimizes Business Process
The organization is augmenting its reach and upscale its business to go global. In the process of welcoming globalization, there are multiple tasks that add up to the usual operations. Thus, to drive growth for their business it is essential for a business to optimize their business process, promote growth and get updated with the latest trends. Enterprise Application integration to your business is a way to amplify the business processes, streamline the operations that allow you to simply focus on the core lines of business and strategize a better organization for the future.
All the organizations with forward-thinking business leaders have sketched a business technology roadmap that includes a new enterprise solution. This solution will advance your legacy system and convert it into modern enterprise applications that promise high performance and an edge to market competitiveness. You must optimize your business which will make it capable of standing out from others.
2. Easier Enterprise Resource Planning and Reporting
As your business grows there is a continuous increase in the data stored and managed. This unprecedented growth of data needs equal attention and meticulous management so as to process the right data and make informed decisions based on the outcome. Enterprise software is an asset to businesses if they know how to rightly utilize it in their business.
Better insight, in addition to increased visibility, is a significant benefit of ERP applications. When you implement an Enterprise suite across agencies, you get a single, centralized monitoring framework for all of the processes. An Enterprise framework can easily produce valuable reports and analytics at any time because it has a central source of facts. This software solution allows your business to seamlessly explore and compare features across many platforms.
3. Automates Business Workflow
The sole purpose of developing enterprise applications is to automate tedious and time-deterring tasks. Your business can easily automate the processes based on how much time and effort each one consumes. The major benefit of developing enterprise applications is to cut down on time so that businesses can focus on fundamental tasks. The Enterprise Application integration to your business will convert manual tasks into automated ones so that your business will be able to perform these functions and this is why enterprise software is different from other software.
Create approvals that are independent, driven by single or multi-department.
Flows can run in tandem or sequentially.
Reminders, personalized alerts, and time-outs can all be set up.
Allow users to keep track of their tasks' success.
To monitor results, create KPI dashboards and reports.
4. Higher Efficiency
Enterprise software will reduce the time and commitment taken by the employees to complete their everyday tasks, in addition to lowering IT infrastructure and training costs. An ERP approach, when properly executed, will significantly minimize or remove redundant manual operations, allowing team members to concentrate on revenue-generating activities. The method will also help with the implementation and application of best-practice procedures in the industry.
By integrating advanced technologies within the ERP system like analytics and AI-enabled solutions, RPA (robotic process automation), we can improve the efficiency of applications. Enterprise software complements the whole legacy system to offer automated and intelligent software solutions. This advanced functionality can handle tasks like demand forecasting, purchase management, order generation, and inventory monitoring for all orders from manufacturing to distribution in eCommerce development for web applications and mobile applications.
5. Enterprise Software Offers More Secure & Qualitative Data
Enterprise software will be used in almost all the processes of process management. This includes everything from a single process to managing finance, operations, and several other micro functions. Enterprise software contains all security parameters in advance. This will protect your business from any malicious virus entering the software and in managing data. With dedicated security resources distributed across multiple servers, businesses can easily work with confidence and without any risk of data leakage.
6. Higher Scalability and Enterprise Application Integration
One of the most important features of today's enterprise applications is the modular and flexible structure. Most software development companies offer a number of software that can be combined to meet specific market requirements. Here each program is configured to work independently and in conjunction with the rest of the suite. As a result, the developers will be able to choose the areas they want to expand and focus specifically on those components to perform. Some modern businesses would like to focus on mobile app development while others just focus on web and desktop functions or maybe just enhancing both web applications and mobile applications.
7. Better Customer Relationship Management Service
When you address all the growing problems of your business, your business doesn't have to work in the direction of customer satisfaction. Enterprise software is a key to effortless customer satisfaction. This software will take up all your business concerns and will offer a one-shot solution that will resolve different problems and exemplify customer services.
This centralized system will give you access to many complex customer queries by providing better access to customer information with faster response times. The availability and accessibility of customer data will be quick which will, in turn, enhance on-time delivery and improve order accuracy and business efficiency.
4. Do Enterprises Need to Know these Benefits, Why?
Enterprises around the globe are now sure on how to leverage the ability of a third-party company who expertise in delivering smart, high-performing, and intuitive applications. There are numerous software applications developed on the name of enterprise software but do not get trapped in it. Until it offers benefits of enterprise applications such as seamless integration, business optimization security, and impeccable customer service. The need of every business changes day by day but enterprise applications have the ability to capitalize on your investment. And offer seamless and smooth enterprise application integration and tech-enabled services in all fields from app development to maintenance.