Offshore software development has become the new normal today, However, many companies had to learn about offshore outsourcing the hard way. Since the number of businesses planning to outsource is just expanding, it is very important for businesses to have complete knowledge about offshore software development, what are its best practices and what benefits it offers to businesses. This blog will be insightful for all those who want to know how offshore app development benefits and how it can benefit your business.
1. Offshore Software Development
The process of performing offshore software development includes delegation of projects or other tasks to a dedicated team of software developers who work in a distant country, sometimes on the other side of the world, is known as offshore. Unlike offshoring, the term Onshoring includes when you delegate your project to workers in your country, and nearshoring, when you recruit engineers from adjacent countries, gives you access to a considerably larger pool of talent. For instance if we hire individuals from India, it would be termed offshore if you were based in the United States. Choosing this type of collaboration has advantages and disadvantages, so keep reading to learn more about the advantages and disadvantages of offshore software development.
2. Top Offshore Software Development Benefits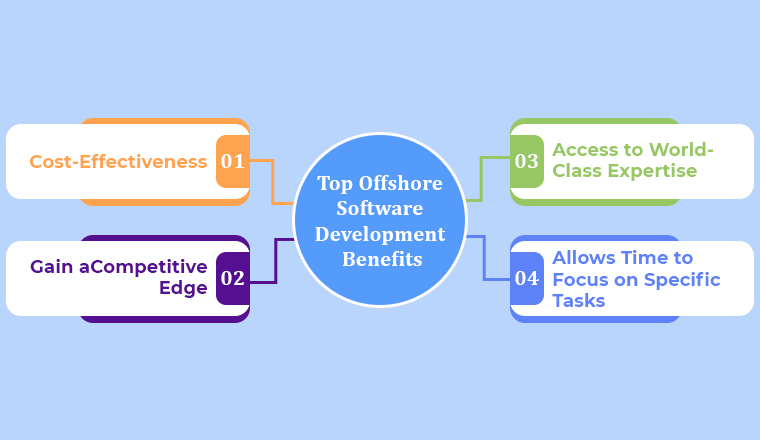 Conducting your first software development project overseas does come with some clear benefits or advantages. These do end up becoming the main motivation behind several industries opting for the concept. Let us unveil them one by one.
2.1 Cost-Effectiveness
The first and foremost advantage of choosing an offshore software development company is the reduced costs. According to the State of Global Outsourcing report, 24% of participating IT decision-makers feel that the most significant barrier to scaling operations is labour costs.
By choosing an offshore development team, one can decrease direct and indirect costs, such as recruitment, supervision, and compensation of in-house teams. While working with an offshore development company, organisations don't have to worry about infrastructure, Human Resource team, and recruiting-related other essential tasks. They pay to the dedicated development team only when the project assignment is under development. That surely makes the development process a smooth and cost-effective solution.
2.2 Gain a Competitive Edge
The use of innovative technologies has become more and more important for businesses these days. IT industry trends like BI, AI, ML, RPA, Blockchain, and many more have become a primary source of streamlining operations for businesses across the globe. However, the implementation of these technologies can be a tough nut to crack, which is why businesses often look for outsourcing their development projects to offshore software development companies companies with expertise in these software technologies and gaining a competitive edge in their domain.
2.3 Access to World-Class Expertise
One of the crucial advantages of choosing an offshore software development team is that you get a vast talent pool of programmers and software engineers. Your company may not always demand the same resources. I mean unlike the in-house development team, you don't just have to choose from a few software talented programmers (out of which some are amateurs or less experienced). With outsourcing development, you can get access to software developers with strong qualifications and competent skills in some specific areas to make them highly talented experts. Getting in touch with some professional offshore team is a bonus for your project and IT Team in itself. After all, these qualified specialists will have the ability to do the development related essential tasks better and within the given deadline.
2.4 Allows Time to Focus on Specific Tasks
Expert offshore development teams save you ample time. start-ups are always strapped for time. Firstly because they are struggling to make a mark for themselves in the industry and secondly because they are short on manpower.
Hiring a software development outsourcing company will deliver your start-up from the responsibility of recruiting, training, and housing staff to develop applications for your business. Your company will have immediate access to a high performing and expert offshore team of professionals and you will be able to focus on your core business functions. Their experience and expertise will help you achieve business goals.
So these were advantages of offshore software development, but that doesn't mean it doesn't have any fair share of controversies. Its time to see some of the major disadvantages of Offshore software outsourcing.
3. Offshore Software Development Risks
3.1 Lack of Communication
Communication is extremely important for the success or failure of any software project. This can be problematic since communication is crucial for determining and understanding the development progress of a venture.
It is easier to communicate with in-house developers than with offshore software companies mainly because they'll be working in the same office and timezone as you. With offshore developers, they're not physically present to respond to your problems and there could be huge time zone differences between the two of you.
Lack of communication can result in software companies losing their focus on your development project. But given the benefits of outsourcing, it isn't too much of a concern. These communications can be handled effectively if both parties' offshore development team as well as the client's involvement is clear about their expectations from each other right from the start.
3.2 Data Security
Outsourcing the software part is a complicated job. And one must always safeguard any sensitive data from offshore software development centres. They can do so through constant management checkups. A signed, trustworthy contract does not mean confidential data is safe. So it is always important to be wary of any personal data leaks or development abuses that may occur. According to several sources, the number of data breaches has gone down by 33% approx right in 2020 itself. So data privacy has become a critical matter for businesses as well as offshore software developers.
Working with an offshore development centre might include cloud data storage and remote team exchanging information via collaborative tools. While this looks like an opportunity for a data breach, SMEs and start-ups can apply preventative actions by requesting the following:
A Non Disclosure Agreement (NDA)
A Service Level Agreement (SLA)
Security Protocols
Right from data storage to storing different methods, development platforms, intellectual property, etc, all these are covered. After all, offshore outsourcing is here to help your business thrive.
3.3 Quality Issue
The quality of the application is at stake and you must know ways of improving it. When selecting an outsourcing company, there might be some significant discrepancies in the quality of work delivered. To save your business from that you must use resources that promise to deliver the right quality of work. Some businesses may offer a lesser price, but there's a chance they'll cut corners on quality. You can request code samples to ensure that they are doing high-quality work. And, before you sign a contract with them, look into their background and previous client records.
You can check out a few things to ensure the quality of the work, such as:-
Clients testimonials on their previous projects
Past successful projects
Number of years of experience
Technology expertise
Their work aptitude towards flaws, bugs and errors and how fast can they resolve it
4. Tips to Hire Offshore Software Development Company
Since we have covered it all, what is offshore software development, what are the advantages and disadvantages of choosing an offshore company and now it's time to consider how to choose the right offshore software development company. But before that do you know which places to consider when seeking for potential offshore developers? Some of the most preferred outsourcing destinations include Eastern Europe, Western Europe, Asian Countries, Latin America, Australia, South American countries and what not!
Further below we would like to mention certain tips and tricks to consider when hiring a reputable offshore software company.
4.1 Make Them Understand Your Business Goals
Hiring third-party services or an offshore development team is like considering a spare wheel for your car. It may not seem important all the time but once the car gets a puncture, the driver has to switch the original wheel with a spare one. Now here is a slight twist, your business doesn't get stopped or punctured but hiring a spare wheel,i.e.hiring offshore developers means they must be able to understand what your business is all about and how to make it run more smoothly and seamlessly with their services. Here's one tip, don't lay everything on them all at once. Try bifurcating your main objective into small portions or small achievable goals with the help of an MVP.
4.2 Be Well-Versed with the Budget
The Next thing to consider is the budget. Of course, here we aren't emphasizing on you becoming miser but there has to be a dedicated budget which is feasible to achieve. Not planning your money means you won't have specific notes regarding where you are spending the money and where you are saving it. Also, many times this leads to overspending and regretting things later on. Also, while planning on the budget for creative software solutions make sure you ask your offshore development service providers to state all the costs upfront without any hidden charges. This small step will not build transparency but also strengthen your bond with your offshore software development team to a great extent.
4.3 Effective Communication
No matter how lame or vague the point sounds, this is very important whether you are choosing offshore software development services for the first or fifth time. The success or failure of your venture totally depends on how effective/strong communication you carry with your offshore team. Fortunately, there is no chance of miscommunication since we have a wide range of tools such as Basecamp, Asana, Trello, Drive, Dropbox, Skype, Google hangout, Google meet, Zoom, Slack, telegram, where we can strengthen our rapport with not just the managers but with the entire offshore programming team. Also, with effective communication one can get rid of getting disheartened due to unmet expectations.
Overall, you must ensure:
Are they capable enough to help you in rising above your competitors? No matter the cultural difference or language barriers or even if there are huge time-zone differences, there are offshore software development companies who tend to work by going out of the way.
Do these offshore software companies understand your needs and requirements precisely? Don't even think of choosing an offshore development team who tends to nod their heads to whatever you say or who do not have the audacity to ask you a question twice or thrice if they are unable to understand your concept. Try to hire offshore developers who are pretty much proactive in regards to their working patterns. These people don't let the misunderstandings grow; it's better to get rid of them right at the beginning before it gets too late.
Knowledge is important but experience matters the most! See whether the development teams have worked on such projects earlier or not and what was the result. Did they succeed? What issues did they face back then and how were they able to solve them? These aspects can definitely assist your IT department in knowing their tech partner better.
5. In a Nutshell,
We hope that this blog gives you in-depth knowledge on the benefits and risks involved in going for an offshore development centre. Choosing an offshore company for your upcoming project can turn out to be a smart strategic move for your company. It does have its fair share of boons and banes. However, as long as you evaluate or go through the partnership carefully, outsourcing software projects will turn out as pure bliss for you.