Businesses around the world are making their way parallelly to the discoveries and innovations in IT. This clearly means that they are trying to adopt almost all types of innovations within their business. Nonetheless, the education domain is equally benefitting from the advancements of education sharing platforms with online and offline modes of imparting knowledge. As there are more and more educational software coming up to align with the individual as well as institutional demands for students and teachers. Using this app, you can provide an excellent and interactive user experience. For your knowledge, you must know that elearning software development comes with various advantages and the most notable of which is that it is a cost-effective option for all types of district schools and educational institutions. So, lets start to take a deeper look at list of different types of educational software.
Myriads of software applications contribute in making the educational fraternity improved and better for knowledge. Do you even know how much the educational sector on the whole expanded? You can explore on various types of learning software such as Tutorial Software Games through education software, assessment Software, Math problem solving software and many others. There is a designated software for each type of educational needs. This blog will act as a pathway for businesses who want to understand types of e-learning software available in the market and get the best ROI- return on investment from it.
For that, let us begin with what is educational software and what things you must know about it
1. Educational Software: What You Need To Know
To summarize the idea of education software, we can say that it is computer software that is designed primarily for teaching or self-learning. Computer software and hardware have been utilised in other sectors for training since many years now. But now the era is different. Education software is now a part of a school's identity since it can do all of the associated functions. At the moment, software even allows parents to get a bird's-eye perspective of their children's development in the classroom.
2. List of Different Types of Educational Software
The educational software features are not limited to just a portal that can offer online classes or help you access study materials. It has much more than that to offer. For each focused challenge, there is a specific feature. Suppose your users want seamless offline working, quick data transfer or synchronization, there are multiple unique features you can add and customize your educational software. Let us see some of the most popular types of educational software in depth.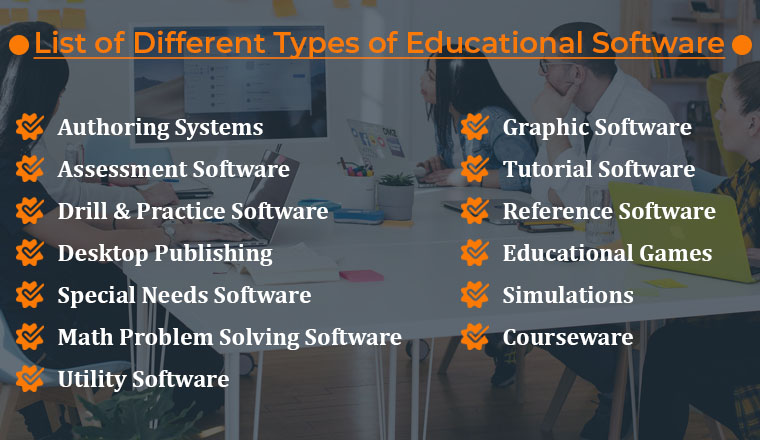 2.1 Authoring Systems
If you are not so familiar with the educational fraternity, then you might wonder what is authoring apps. To give you a brief, An authoring system assists teachers in creating their own educational software. This means that with this software, you can help and teach youngsters about certain ideas that cannot be done using books. Teachers can make use of electronic cards or index cards to show how it works. They can also develop multimedia material such as reviews, courses, and tutorials.
Consider online-based solutions as well, because web authoring technologies aid teachers in developing multimedia content for use on a website.
2.2 Graphics Software For Easier Concept Understanding
A picture is worth one thousand words. Similarly when you use graphics for understanding And for students and kids specifically, it is important to make them understand the right concept. Students might utilise graphic software to capture, create, and modify pictures from the web, the application itself, or online photos. It's very handy for creating online presentations. There are many applications that are already developed using this facility of graphically representing concepts. Just like there are some software for education that represent mathematical concepts on various topics such as complex numbers, vectors, linear equation probability or anything else. It can also be science theories as well that needs a sophisticated representation for clear understanding and clarity. Therefore for schools and Teachers such apps that enhance the way concepts are graphically represented.
2.3 Assessment/ Result Generating Software
Assessment software has become a priority for schools and institutions in an effort to decrease paper waste and the logistics problems that come with printing out for exams. This software is straightforward since it is just intended to conduct exams or quizzes, record answers, and score the results. Assessment software is also widely used by instructors since it provides a low-effort tool to manage report cards of students over their termly exams and of course over the school year.
Because evaluation software is simple in theory, there are numerous open-source and free solutions accessible to educators, therefore this isn't normally an area where significant investment is required. Such assessment software will save time for teachers and educational institutes so that they can put their effort into conceptualizing some vital syllabus and make this process a better way of educating.
2.4 Publishing Software for Desktops
We are sure that you must have seen those attention-grabbing mailings, fliers, and leaflets in regular day life. To your knowledge, it is created using desktop publishing software, these apps are known as DTP software. Some of the most common applications are Adobe PageMaker, CorelDRAW and Adobe Indesign.
It is beneficial to both teachers and students. It may be used by teachers or administrative personnel to create brochures highlighting future school programmes and events. Students, on the other hand, can use DTP to generate visually appealing communication for school tasks.
Aside from that, the DTP expertise is more valuable in the job market. Many businesses use this type of software to create effective marketing materials in-house, ranging from advertisements to reports.
2.5 Reference Software
Few examples of schools and institutions who are still employing proprietary software for reference reasons, have completely changed. There was reference software that has gone totally online. This is an unusual way of quick development, considering that classroom computers were equipped with dictionary and encyclopaedia software in the recent 2000s.
That is no longer the case, thanks to sites like Wikipedia, which have rendered such tools useless. Reference software is a bit outdated ever since there is an addition to general research sites such as Wikipedia, Google Scholar, and Lexis. But still there are businesses from different industry domains like education or medical facility or legal who use such software to understand their technical terms and have glossaries easily accessible. Also, the majority of medical and science publications now publish online. The internet has a significantly bigger wealth of knowledge than any one piece of reference software.
2.6 Drill and Practice Software
This type of software is for practice and assessment tests of students. This is a dummy software that helps students to take practice tests and mock rounds. Such software is extremely beneficial to teachers and institutions that are helping students to be well prepared for exams and other tests.
2.7 Special Software for Tutorials
Ever since there was a global pandemic, the business working and operations took a toll. Technology plays a vital role here, and we know how easy it is to become a virtual tutor to students and take classes online. All within a day changed and students teachers had to apply it in their regular day working. Also, providing tutorials became easier and teachers had multiple options to give lessons to students. They can use what suits them the most. During that time there were many inventions for tutorial based apps. This tutorial software encompasses all the information of students from all sections, their syllabus details, timings, schedule, report card, and other ways to evaluate their performance.
2.8 Numerous Educational Gaming Software
Here there shouldn't be a confusion between gaming software and such learning through games software. Both of them are different from each other in many aspects. The idea of games in education can improve the learning process by developing extra interest within students and enhance their way of grasping. Games have been an inseparable part from kids and youths. Learning meets pleasure with educational gaming software. It blends important learning ideas into games, making learning not only simple but also exciting. This sort of software is extremely beneficial for children and toddlers. Many people shows interest in educational games software, which may educate them about animals and alphabets as well as basic science, arithmetic, and geography ideas.
2.9 Simulation Software
The world has moved ahead of time and now you can experience the world of technology without changing physical locations. Yes, that's the power of simulation, it is powered by technologies like augmented reality and virtual reality. You can give your students an innovative way of learning by giving them real-time experience. This type of education software allows teachers to teach pupils using virtual reality. Students, for example, can use this program to get flight experience. Know and understand how a flight works, where are the controls and so on. Educational software companies are now moving towards making this a reality by building this type of software which will help teachers manage class virtually.
Additionally, there are classroom management software also contributing in making the process hassle-free for teachers. In the development of such software, there are simulators installed and they make this process of learning easier and effective.
2.10 Specific Need-Driven Software
Special software built for meeting the needs of a student with special needs that we can include in online education software. Such a system needs to be special and distinct from the regular software apps. The system is used in conjunction with assistive software to create an effective learning environment for kids with special needs. Speech synthesizers, computers and other applications that can help users to read text, and multimedia software. It also addresses specific learning difficulties are among examples.
2.11 Math Problem Solving Software
Math instructors may use this instructional software to help pupils improve their problem-solving abilities, critical thinking and science teachers can use it to perform science experiments. For many students, mathematics is a miserable subject. However, owing to advances in technology, there is now Math Problem Solving Software available to help kids and youngsters to solve their math problems. Math professors use this sort of software to assist pupils improve and refine their problem-solving skills. Along the way, the program manages multiple ways of solving a problem through distinct ways. These ways are unique but easily comprehensible by students and it simplifies the understanding for users.
2.12 Courseware
For many this can be a new term for you as you might not have heard about courseware before. In the start its definition originally says to include all additional educational content such as kits used by teachers and trainers or tutorials used by students via computers. The phrase has evolved over time, and it now refers to a whole course or additional content for a computer-formatted or online classroom.
There is no software that has a tendency to cover one course with several quizzes, classes, and everything else that the course requires for a student to grasp it. Courseware is accessible in a variety of formats, some of which are only available online, while others are free to download in the form of papers and PDFs.
Undoubtedly, there are other software also, such as utility software as well which will assist teachers and students in the process of understanding how the software works and how it will be helpful. There can definitely be many other software and different ways that have made it easier for businesses to manage and provide effective education.
3. Final Thoughts
By this, we have reached the end of the blog. Here we hope we have tried and take you a tour among all essential points of software development in the education sector. With this, we can at least claim that technology is an irreplaceable aspect in the modern day classroom with educational software being expanded from the past few decades. These software are easy, cost effective(some are even free), and most of them are hassle-free. There is a boost in this sector when it comes to going digital in the educational sector. Many businesses own instructional software and improve traditional teaching practices to a complete new ecosystem. This engages the students and helps teachers to make pace with educational technology too.