The academic industry has long been starved for technological advancements. The most recent trends in educational technology are a breath of fresh air. Since the pandemic shifted education from the school to the home, we've seen innovative approaches to education.
Advanced teaching technology developments provide an opportunity to meet expanding educational demands. Online classes enable lessons to continue, and trends such as augmented reality and interactive learning are critical for leveraging development and elevating the learning opportunity.
Because the pandemic necessitated remote learning, it gave an unprecedented chance to embrace digital trends that may be adapted and carried over to face-to-face training. Educational technology's growing themes emphasize connectedness, adaptability, and student-centered teaching. All of this introduced educational software development and companies into the picture.
1. What Is Educational Technology?
The trend of adopting new technology or digital tools in the classroom and improving the distance learning experience is the sole aim of educational technology.
Educators can use education technology to present knowledge in a way that is most beneficial for learning retention. Traditional teaching methods have been converted into a more engaging learning experience.
In educational technology, we've seen various new emerging trends, including IOT, cloud technology, blockchain technology, machine learning, and artificial intelligence. This engaging technology has made the learning experience more enjoyable for individuals while also assisting professors with tasks such as grading.
2. Why Does Educational Technology Matter?
If we were to simply put what is EdTech(Education Technology) then we can say that it is the practice of incorporating technology into the educational sector to improve teaching/learning experiences and thereby improve learning results.
There are numerous reasons why teachers have turned towards EdTech when compared to the traditional methods of teaching. Here we've compiled a list of some of the most prevalent reasons why you should use EdTech and what are its benefits that you can view right here
2.1 Improves Collaborative Teaching
With the advent of technology, it is easy to keep everyone in touch. New-edge technologies have offered students and teachers collaboration to interact, talk, share ideas, monitor student progress, and respond to situations. The process of collaborative learning has aided many students in developing interpersonal skills and making the connection between professors and students.
2.2 Innovative ways of Instruction And Immersive Learning
Education technology improves the way teachers teach, both online and offline. Students have the liberty to learn whenever and wherever they want, rather than having to attend a certain class at a specific time. EdTech allows students to learn more effectively while having more fun.
2.3 Learn Flexibly
With just a smartphone or desktop or any device, professionals can give access to study materials at any time and from any location. Training videos provide much-needed flexibility in our modern way of life.
2.4 Cost-Effectiveness
The use of films in corporate training can help save money. Businesses may convey information to a broad audience with just a few clicks. For huge global corporations, this is a lifeline. The use of training videos lowers instructor fees and other training costs. There will be no need to hire locations, travel, or make coworking bookings outside of the company.
3. Latest Trends In Educational Technology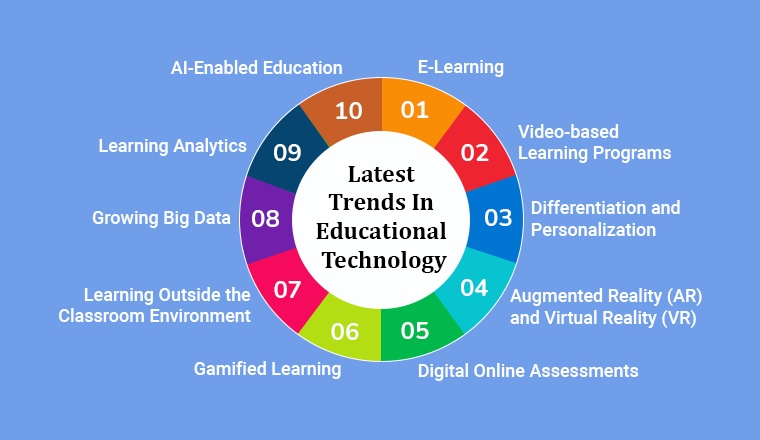 Let's take a look at the top educational technology trends and how it's beneficial for students and teachers.
3.1 E-Learning
One of the most prominent reasons why Educational technology is popular is because of e-learning. For a fact, the Edtech industry is also known as E-learning. Ever since there is a spike in demand for online educational platforms, the utilization is also increasing. The electronically provided education or training is referred to as eLearning.It could be slide-based online exercises or an online course that helps a corporation teach its employees in essential skills.
With Edtech and digital Learning, students can receive educational content through PCs, laptops, tablets, or cellphones. Not only will you save time, but you'll also have more opportunities for participatory learning. Learners have the option to choose whatever they wish to learn, regardless of where they are, rather than being in a passive learning experience. They can also learn by engaging directly with on-screen information, such as dragging stuff from one location to another.
3.2 Video-based Learning Programs
Video learning is another innovation in educational technology which uses movies, graphics, diagrams, and other visual modalities to make students use this technology related to e-learning. Instead of attending a live class, students can view these lecture recordings at their leisure.
The epidemic has upgraded people's needs and this brought them to a place where they need to upgrade their daily needs with the widespread use of e-learning apps. The video is not the same as "movie day," where teachers show instructive films to students and help them learn more about a subject. It's a much more delicate medium that's played a big role in distant learning.
The video-based learning process is an enhanced way of making students understand the concept and related theories from the past. There are more advanced features in Video-based learning which include 3D or AI/virtual-based learning.
3.3 Differentiation and Personalization
One of the most important aspects of the academic program is student evaluation. The sort of evaluation used determines how successful education is. Students have traditionally been evaluated mostly through theory examinations. On the basis of their theoretical knowledge, the pupils are evaluated. In most tests, students submit conceptual or descriptive answers, which are reviewed by teachers. Their ability to pass or fail is determined by their understanding of theoretical concepts.
3.4 Augmented Reality (AR) and Virtual Reality (VR)
The AR-VR concept is really interesting and used to explain complex concepts. When you use AR, you can use photos, videos, and interactive data to enhance real-world experiences. Portable equipment, like smartphones or smart glasses, helps in experiencing AR. Virtual reality (VR) delivers a fully manufactured immersive 3D experience. It gives consumers the impression that they are in the real world. In the digital environment, users can hear natural sounds and see beautiful graphics, which is also one of the audio features of AR-VR. There are VR headsets available that are essential for a virtual reality experience.
The ability of Virtual reality can turn academic concepts into real-life experiences. This is extremely beneficial to students. For example, Biology students can take a tour of the human body just by using virtual reality devices. This is one of the prime examples to understand AR-VR in the educational sector for experiential learning.
3.5 Digital Online Assessments
Big data is the one responsible for revealing many assumptions and converting them into insights. Digital data assessment helps students to comprehend the concepts taught in the curriculum and goes hand in hand with differentiation and personalization. In digital assessments, there is an adaptive new technology that can provide them with the additional training and practice they require.
In this advanced way, Students can easily make up for the lessons they missed when schools abruptly ended in the spring. There is the personalization of lessons for each student's needs, and EdTech can help you convert them into reality.
3.6 Gamified Learning
Gamified learning is the most relevant teaching technology trend. There is no reason why kids should not participate actively in classroom games. While participating in interesting game activities, students can learn and practice. Learners benefit from gaming features since they help you create fun as well as a positive learning environment.
Game-based learning is most commonly used in the KG to 12-grade students' education sector. The gaming sector is completely fun and interesting. That is why children are keenly into gaming videos or attempting to improve their game scores. This does not, however, undermine the importance of entertaining elements in higher education or corporate training in order to promote learner engagement.
3.7 Learning Outside the Classroom Environment
Well, this type of learning is taking over the world and there are many instances where learning from a distance has proved to be more fruitful than any other way. The digital world is already evolving and advancing with many education technologies. Learning and education have finally moved outside the classroom and the credit goes to mobile apps and software technologies. Students may learn at their own pace and time thanks to the popularity of mLearning and eLearning. The prediction of this trend will continue because it is a practical way to give and receive an education. Students can access their classes at any time and from any location by designing mobile-first responsive content.
Also, this facility offers offline reading capabilities which don't even need an internet connection. You can integrate many elements with eBooks or online material that helps students to learn more effectively. An online material offers additional flexibility in studying with annotation tools, bookmarks, hyperlinks, a dictionary, and a search option. The majority of educational institutions have included mobile learning in their learning ecosystems, which has benefited students and teachers alike.
3.8 Growing Big Data
The exponential growth of data is continuous even in pandemic shutdowns. Several educational institutions also follow the distant learning trend, which resulted in generating larger datasets than ever before. Also, there were many schools that started operating from a home, educational institutions had a unique chance to collect student data, such as levels of participation, attendance, interest, and many other types of data. The potential of data has dramatically increased in terms of the learning habits of students. But when it comes to data, it is quite understandable that the crucial information can't be found in the midst of the torrent. This is where big data really shines.
If you find useful information in the acquired data necessitates the use of specialized techniques. There are piles and piles of data available in the market to analyze and get insights on. The usage of this information is to illustrate the effectiveness of new strategies, as well as to change the plan or curriculum and even assess students' progress. Teachers can compare instructional strategies and procedures to students' performance, giving them the ability to determine which methods are most effective.
3.9 Learning Analytics
The analytics industry is continuously growing and specifically Learning analytics has grown significantly in recent years, particularly in higher education. Educators can use learning analytics to measure and report on student learning using only the internet. They will be able to comprehend and optimize learning as a result of this.
The analytics in the learning sector enables teachers to increase their students' knowledge and skills development by reading insights from their learning processes. Teachers, for example, can see which kind of material (text, images, infographics, or videos) students prefer and utilize that information more frequently in subsequent courses. Teachers can also see which elements of knowledge were not taught properly and improve them for the next time. Learning analytics also assists educators in identifying groups of pupils who may be experiencing academic or behavioral difficulties. Teachers could benefit from it just by understanding the logic and making the right predictions.
3.10 AI-Enabled Education
It is common to hear Artificial intelligence that is present in almost all industries. The benefits offered by the technology are incomparable. As we know, Artificial intelligence (AI) automates the procedure first and foremost. Learning becomes more enjoyable and time-saving thanks to AI. If you are thinking of what are all the other additional advantages?
AI offers advantages to both teachers and students and can benefit from artificial intelligence in education. In the latter case, AI features assist when teachers are unavailable. This makes teachers relieved of the burden of manually examining each student's profile and performance. They can receive notifications about new trends or developments. Teachers' aims and needs can be tailor-made by using AI-powered chatbot technology. It might be possible for students to verify their schedules this way.
4. Conclusion
Technology evolution has made the teaching and learning process better than ever before. This distance learning program is focused to ensure that there is maximum knowledge sharing, student engagement, and immersive learning. This collaborative learning approach using online learning platforms maximizes students' interests and promotes student-centered learning.