Education sector is in full throttle when technology amalgamates with it. This is not just a case with the educational sector but almost all industries are paving their paths to success with top-quality software or applications. But, here since we are talking about the Education sector, it has achieved a milestone by providing top-notch quality services, there is no looking back to traditional ways of classroom teaching. The discoveries in educational institutions have been swaying users by persuading them to become more inclined towards technology. In fact, many things have worked in favor organically like the pandemic. Yes, after this era is over, you will find more tech-savvy professionals and students who will be mature to use innovative online education software and apps. This indirectly says there is a boom to welcome for education software development companies.
If you are an institution or school willing to build an application then, you must first ensure you have the right skills and potential to develop that app. You understand the technology, know how it works and finally create a strategy to achieve that. For businesses who are not sure how to build an app can contract to a third party software development company or can even build it with inhouse talent. If they wish to build it on their own, then brace yourself, you will be taken through a full-fledged journey of knowing how to build and what features must be considered in this process of development.
So, let's dive deeper into the features of an educational software that will contribute to the growth and help you meet educational objectives.
1. Main Features of Educational Software
Everyone knows that there are different types of educational software, so when you design and prototype your application, you must know what all features you want to include in the application. When you decide to develop an educational software, there are some unavoidable aspects. The design of an educational software will help students at various levels of education. Some of the top-rated features of an educational software must be included in the instructional software for students to get clear idea for students as well as for students from any age group, course or background. All they expect from education app is
– The developed application should be friendly and interactive.
– It should be catering to all types of users- Teacher, students and other stakeholders
– It must be simple to use. The most significant aspect is that the pupil can readily utilize it. That is, to rapidly comprehend how to install it, save it, and operate it without assistance.
These are some of the inevitable features expected from an educational software but there are others too.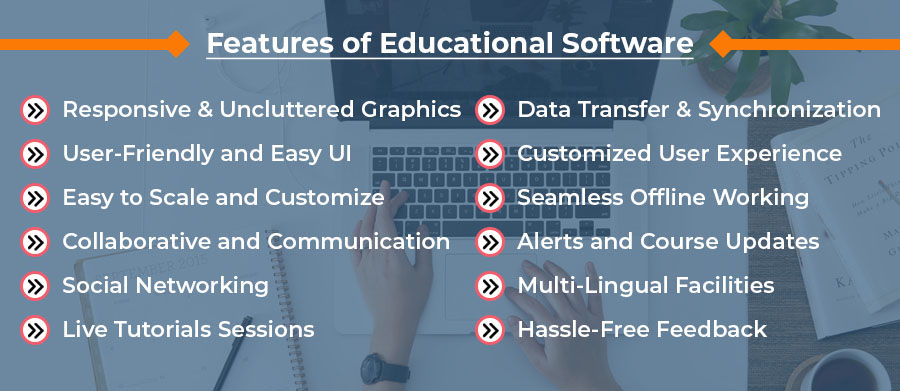 1.1 User-Friendly and Easy UI
Well, the first and foremost thing that any user looks forward to in an application is the Look and feel of the app. So, when you decide to develop an application you must focus on all the major screens. Go for the designs that are easy to use but well-designed. Students can understand the transition from one task to the another. The navigation and backend of the designed application must be seamless and smooth. The program navigation, icons and layout should be intuitive for learners at the grade level for which the software is developed.
1.2 Customized User Experience
The personalization of user experience in educational software is the most enticing feature that its users demand. This will help all the collaborators such as instructors, students, institutional administration, and others to experience the same. This feature is a highly recommended feature and should be included in each learning program. Each user may have dynamic activities, for example professors can upload lecture notes, quizzes, class scheduling, conducting lectures in live sessions and eventually recording them, and so on.
Students of each grade will have distinct features and experience. Students may attend class lectures online, read and download schedules for tests, quizzes, and assignment submission dates, and have their assignment scores displayed on their profile, among other things. A personalized experience with customization possibilities is capable of offering multiple advantages of educational apps and improving your overall learning experience.
1.3 Easy to Scale and Customize
For students and teachers, both of them have respective schedules but ultimately follow the same curriculum. Some students may be interested in courses other than those offered by some professors. For other stakeholders, if they want to see what type of courses are offered and which teachers are experts, everything is visible in a go. Even if there is a suggestion, it can be easily implemented if the app is scalable and flexible. So, it is always advisable to build a software that allows simple customising, allowing students and teachers to build profiles in which they may keep their present work and return to it later. Individual students will also be able to structure their learning tools based on their level and speed whether they are doing the same course as other students.
1.4 Responsive and Uncluttered Graphics
Graphics and design come to mind when thinking of effective technological applications for education. The way the program is organized allows for easier navigation for both students and professors, as well as for novice users. What is the point of your application if it is all cluttered and unclear for users. Applications developed for any industry must create a hassle-free and responsive application. Interactivity is one of the user-appealing aspects that people prefer since it demands user engagement to function. The interaction can be done through a CTA button or any other kind, such as information input, front-end interaction, managing customized personal information, altering data, adjusting customization priorities, and so on. There are many such factors that can bring a change.
You are free to use eye-catching graphical icons that allow additional versatility when integrating any software. But that should not make applications cluttered and clumsy. Because the users include learning students, the colorful user interface may pique the users' interest.
1.5 Seamless Offline Working
The internet connection is the primary source of energy for any app to function. It can be a source of anxiety at times, particularly in nations that are lagging behind on the Internet spectrum. As a result, the app must be able to provide an offline mode in which students may download the courses. This will keep their interest in your app alive, and the user will come back to the app to gain information in an offline mode as well. Each module they download will provide you with specific information on how successful the education application is and how many users have watched it or downloaded the tutorial. This also aids with course updates and app modifications.
1.6 Collaborative and Communication Platform
Collaboration is a key in any application and if you add that element to your app, you will find it already getting successful. Communication between teachers, students, and mentors is essential to promote learning cooperation. It is critical to know what promotes children's growth and performance, for the teachers especially in school. Thus to gain this benefit, it is essential to provide some education applications for communication that include a distinct app for mentors, while others notify mentors by text or email.
1.7 Alerts and Course Updates
When it comes to apps, they are meant to function in many ways. Similar is the case of Top quality educational apps, These apps are developed with an intention of not just helping students in their tutorials but also help them in reminding about schedules and other important dates like meetings or webinars. The app should have a solid notification mechanism that notifies users of any essential updates. It is a fantastic idea to break the monotony of learning and inform users about their course-related activities. In an activity forum, participants should be updated of the most recent occurrences connected to the course they are opting for.
1.8 Quick Data Transfer & Synchronization
Despite the fact that the transferring of data is dependent on a variety of elements, it will determine the efficiency of the system. Efficiency is the primary aspect that tells users how capable the system is to perform data transfer and synchronization. Transferring any data or information within the software program aids in keeping long-distance users connected. For students who are considering the platform with the only aim of learning, must get desired benefits. Another quality element that influences system performance is data synchronization. When data is efficiently delivered, the program reflects it on other devices at a remote place by syncing the data at the backend.
1.9 Social Networking
So many students feel inspired when they accomplish something in life. It is critical to keep their enthusiasm fueled by enabling them to talk about their achievements on social media. If you want to build an app that provides almost all the features, this one is also a must. This functionality is primarily intended for self-paced learners, applications, and platforms.
The most important thing to note down when you decide to develop this feature is that learners should be able to share their accomplishments in a very simplistic way through this app. This feature will not only increase learner engagement with your app, but it will also improve your app's branding automatically.
1.10 Multi-Lingual Facilities
The moment you decide to develop an app, the first thing you must decide is whom to cater? If your app only offers material in one language, then your target audience will be constrained. As a result, it is strongly advised that you design your software in several languages in order to enhance your user base and profit.
1.11 Live Tutorials and Interactive Sessions
There are a few types of kids who have an exceptional learning ability, aptitude to comprehend information. However, other students do it gradually and need time. This doesn't mean they are not as proficient and require assistance with some tough topics.
If you want your students to become hooked on any subject. To do this, provide a feature that allows your students to participate in live lectures and teaching sessions. Live tutorials are one way of doing it. These live interactive events allow students to clear up any misconceptions or obtain answers to any questions they may have about a given topic. Virtual classrooms with live lessons and tutor-to-student chat sessions elevate the learning experience to a whole new level.
1.12 Hassle-Free Feedback
One cannot grow if they do not accept feedback from the users. As a result, education software for learners has an excellent reviewing system. It enables teachers to monitor their students' performance and adjust their lesson plans accordingly. Students, too, can evaluate their own progress. Many software packages include bar graphs for this purpose.
2. Conclusion
EdTech is no longer just a word, the education sector has given it a meaning by combining it with technology. It is the era of tremendous growth and learning. There is so much to learn and grow and Edtech will offer all of these to your business. The students, teachers and management will equally be benefited if such apps are increasingly used. Ever since the pandemic took a toll, there were many apps that came into rescue and offered consistent help through a generic platform. Users have leveraged different educational apps such as math problem solving software, classroom management software , educational gaming software, reference software, desktop publishing software, language learning software and other educational technology apps. The best education software is capable of enhancing the learning process with one time investment and interactive learning sessions.