1. Introduction
The role of education is evolving from massive open online courses to in-classrooms with iPads and interactive projection displays, whiteboards, and other newer educational technological solutions. We are the living proofs that saw the education industry transform in leaps and bounds with the introduction of technology in its services. And, as learning from home became the norm in the pandemic-affected world, technology became the gateway to education. This gave rise to education software development. For now, the credit goes to the Edtech industry that is every day trying to conventionally change the educational foundation and learning management systems.
 This blog will be a revelation to all your users who know what is Edtech but have never utilized its potential.
2. What is EdTech?
EdTech is a combination of "Education" and "Technology" and it's sometimes known as learning technology or instructional technology.  Education technology is a term that refers to technology that is used to promote and facilitate access to education. This might include technology, software, and other ancillary objects that instructors and students utilize during the educational process. These technologies assist students in attending classes, collaborating, engaging with distant students, and learning in new ways, both within and beyond the classroom. EdTech is frequently used interchangeably with education technology.
Education technology as an industry is booming, estimated at almost 90 billion dollars in 2020 and anticipated to increase at a 20% annual pace until 2028. Industry analysts forecast ongoing growth in EdTech tools in the future years, as well as a surge in AI-powered, augmented reality-enhanced, and virtual reality-enhanced educational technology goods. Particularly in K-12, there has been a significant development in game-based learning that is based on EdTech, which is emerging in tandem with a shift toward more project-based learning in schools.
3. How Does EdTech Work?
Instructors and schools can incorporate educational technology into a classroom in multiple ways. Educational software, or computer-assisted learning, allows teachers/instructors to customize lessons depending on their needs. Furthermore, it provides various ways to enhance student's learning outcomes, especially in math. Gamifying problem-solving helps to boost engagement and make learning fun.
You can also get reminders for homework which can increase family involvement, and hybrid learning models that integrate online and in-person education can create accessible classrooms that students can access at any time. As a teacher, you can use EdTech to help with your daily activities/tasks, like automated grading for objective assignments.
4. Why is EdTech(Education Technology) Important?
Edtech is important because it makes significant advances with technology in the Education sector. The expectations of students are opening possibilities to new ways of learning and engaging with course content in the traditional academic realm. If employed for the right reasons and with the proper vision, technology and education may be a powerful combination. Educators, students, and parents now have access to a wide range of learning resources because of technological advancements.
Edtech is especially beneficial to persons who have full-time work and cannot find time to attend conventional university classes. EdTech has a clear and considerable benefit in terms of possible cost savings in education. Online e-learning costs a percent of what a large university or even a small community college would. Due to the obvious cheaper cost of online learning, obtaining a degree or additional professional certification is much more affordable for anyone interested in expanding their knowledge and skills. There are various profitable advantages of educational technology. Educators believe that children learn in different ways and at varying rates.
5. How Does Edtech Help Students & Teachers?
The consistent influx of Edtech(including software, hardware, and appropriate technological processes) tools is changing the face of physical classroom learning in a variety of ways. We see Edtech robots are assisting and helping teachers to provide grade assignments to students as a part of homework. Edtech allows you to use IoT devices hailing with the ability to create virtual  classrooms for students. Machine learning and blockchain tools are supporting teachers with grading systems and other online learning materials, whether they are physically in school, on the bus, or at home. 
5.1 For Students  – 
we see Edtech being extremely supportive in multiple ways such as
Edtech offers all types of material classes and training online at per the student's convenience. It also ensures that students get interactive and fun learning sessions that boost their interest in distance learning.
It automates the process which saves most of the time of students which is spent on traveling or streaming or notes writing or similar activities. They get everything ready on an app that helps them to easily and rapidly understand the concept.
Edtech takes a futuristic approach with the help of tools. It prepares students for the future by providing them with collaborative platforms to communicate and share knowledge.
It allows access to diversified information which is not just limited to textbooks. Students are not just dependent on textbooks, they can check videos, other study materials and grasp the concept easily at their own pace from the web/internet.
5.2 For Teachers –  
One of the most significant advantages of educational technology is automation.
The process of checking assignments and grade systems is automated. Teachers now can also easily verify whether the students comprehend each material delivered in class or not. The teacher is in charge of making sure the teachings are easy to follow and understand. 
Education Technology makes things easier for instructors by allowing them to plan ahead of time and incorporate fresh and inventive ideas into their lessons. 
With Edtech in place, access to students' information is easy. If a student has started a course, then study and ethical practice can help students accomplish what they want in their career.
Since this platform is made for students, they can make the best use of it. Teachers have all the rights to manage, track, extract details, information, courses, study materials, Youtube videos, and everything else based on student learning. 
6. Benefits of Utilizing Edtech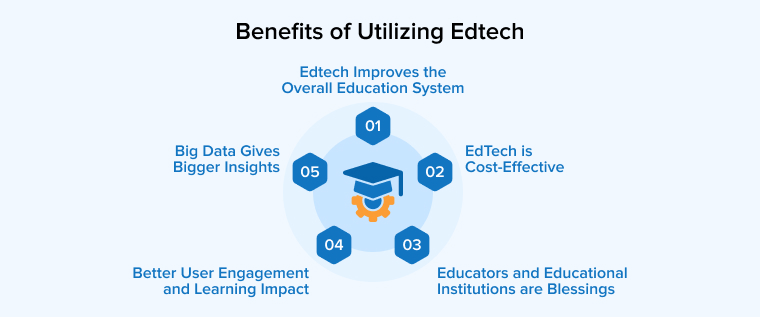 6.1 Edtech Improves the Overall Education System
As per reports by Statista- The whole market of educational technology is going to expedite at a much larger perspective than expected. In 2020, the market size was 2.8 billion and with the prediction of market expansion in specifically Edtech, it is estimated to grow to 10.2 billion. Such immense and fast growth shows how the market is utilizing the benefits of Edtech holistically. Perhaps Edtech is the optimum option introduced in the market with new applications or technology. While with classrooms this has been a laborious and tedious learning task that took hours. Instead of making teaching and learning easier, overall Edtech has made it efficient, fun, and worthy.
6.2 EdTech is Cost-Effective
Edtech by name is quite costly. But that's a myth and not true at all. Inherently,the traditional educational systems were costly. The correlation between increased education spending and improved educational outcomes is shaky. EdTech has a clear chance to lower the cost of traditional education delivery. This is especially true for e-learning approaches, which are credited with allowing one-to-many delivery on a whole new cost basis. Edtech is definitely cost-effective, it saves majorly on the cost of traveling, hiring resources, extra classes, and several other repetitive processes. 
6.3 Educators and Educational Institutions are Blessings
The brilliant brains in charge of developing the data-driven teaching-learning process and applications that enhance the learning experience may be adept at problem-solving, but they can't replace educational leaders when it comes to spreading knowledge.
Strong educators, on the other hand, aren't always qualified or eager to cope with all of the technological tools at their disposal and find ways to apply them to their field. They'll be the first to tell you that their day-to-day tasks are difficult enough without adding IT expertise to the mix.
6.4 Better User Engagement and Learning Impact
Since the advent of the internet, education is reaching every nook and corner. Saving money on educational or training expenditures with Edtech allows more money to be given to educational elements like smart learning software or customized lesson plans or new digital content like captivating video materials that will boost the results unpredictably.
Indeed, in this ever-growing spectrum of education technology solutions, user experience and engagement is another essential aspect becoming a major distinction.
Content is becoming increasingly immersive. The credit for it goes to platforms of integration that include multi-media, games, mobile casual, and informal learning apps, These are all geared to not only attract but also keep students interested – all the way through. For example, video learning through youtube videos is also accelerating the learning process and is a user-friendly format.
6.5 Big Data Gives Bigger Insights
The foundation of Edtech is primed on the pillars of data. This means both teachers, educators and everyone has rightful access to educational data. Analytics and adaptive learning are spurred by the arrival of data and its tools in education, where data is sent back into the system and it improves your learning programs and structures. Data can help you identify personalized learning programs and address knowledge gaps that may arise.
Since learning is now a lifetime requirement that we cannot leave to schools and colleges, it is becoming increasingly vital for school leavers and graduates to prepare for the job market.
7. Conclusion
Through this extensive blog on the introduction and importance of Edtech, we found that this online education industry is just beaming at an unmatched speed. There is no competition at all. The credit goes to the innovators of the Edtech industry. We lose our ability to train talented workers, gain competitive advantages as nations, and produce prosperity if we don't have it. To keep the knowledge economy growing, we must maintain a degree of innovation to improve the efficacy and efficiency of our learning system, just as we do in other areas. This is why EdTech is so important.