The biggest transformation ever occurred in the Education sector brought some substantial changes with Technology. Education sectors are incorporating emerging technologies like Artificial intelligence, Machine Learning, Big data, AR-VR(Augmented Reality – Virtual Reality), and similar others that are making a difference in the higher education process. The list has just expanded with time and there are many other technologies playing a pivotal role in higher education.
In order to leverage the most of it, the business sector must know the importance of technology in the education sector. Without much ado, let's dig deeper into which are the most emerging technologies and see advancements in eLearning software development and how is their ability trying to bring change.
1. Emerging Technologies In Education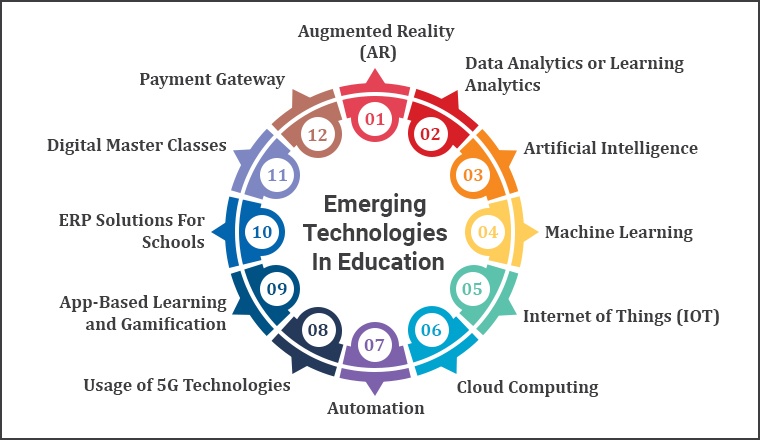 Emerging Technology that will Reshape the Education sector in 2022 has a long list, let us discuss the major ones in detail
1.1 Augmented Reality (AR)
Far away from reality, this term itself makes many of us excited about unique ways of learning. Integrating Augmented reality is one of the best innovations an industry can expect. In the area of graphics, Augmented Reality and Simulations have had an impact. Its widespread influence has now begun to influence how students study and collaborate with their teachers.
It is, nonetheless, regarded as one of the world's best-emerging technologies due to its ever-developing nature. According to studies on AR and education, it is anticipated that by 2022, it will have a stronger impact on how people think about education.
Augmented Reality and virtual reality are the different ways of engaging students and faculty.
Educational technology can engage students and the use of learning analytics will help to predict the best way to improve the education process among students. By 2022, it is expected to increase student engagement and assist them in making their imaginations come true with online programs in order to improve their learning process.
1.2 Data Analytics or Learning Analytics in Academics and Sports
There is no analytics without data and there is no data with analytics. Both these things go hand in hand. The application of data analytics in schools is a cutting-edge notion. Student data obtained from numerous sources such as application forms, admission forms, mark sheets, and other documents that provide a picture of their background, learning activities history, health difficulties, and other variables can be used to better understand and influence their future learning prospects. New technologies in the education sector brought by technology trends incorporate a hands-on learning environment and exceptional educational experience.
Data analytics or Learning Analytics will be able to map and measure each student's development in sports and academics, as well as construct individualized academic programs and work on significant issue areas. Sports can also benefit from data analytics. This type of data analysis is non-invasive, accurate, and highly interactive, and it records and archives games for later retrieval, making it the ideal tool for coaches to connect more effectively with students on their teams.
1.3 Artificial Intelligence
Artificial intelligence has the ability to speed up and simplify regular school administration processes, which is one of the most essential and impactful things it can do in the educational arena. Artificial intelligence can assist instructors and administrators with grading homework, analyzing essays, gauging student responses, and creating courses, among other things.
All of these methods take time, and they will eat up crucial one-on-one time with pupils from the teacher. Teachers and administrators, on the other hand, may simply carry out these activities with the help of artificial intelligence-controlled technology, which increases their productive time. AI aids with the identification of kids who are having academic difficulties and instructs teachers to offer that student extra attention. It can also help in the development of new educational materials to supplement existing ones.
1.4 Machine Learning
Everyone knows that Machine learning is an inseparable part of Artificial Intelligence (AI). It enables computer Algorithms to students for students to make intelligent decisions based on all past data. In the same arena of education, teachers can use machine learning to save time on non-classroom duties. Teachers can use virtual assistants who work from home for their kids. This type of aid can boost students' progress and accomplishment by enhancing their learning experience.
Many problems associated with a lack of personalization can be solved using machine learning applications in education. In today's LMS, the same premise applies. Introduce machine learning to create a one-of-a-kind experience for each customer/student. Machine learning allows you to simply evaluate data based on customer experience, smooth onboarding, and multiple other plans.
Machine learning in schooling can take up a whole new degree of personalization. Technology has the ability to assess all of the data supplied by the user and modify the system to match the needs of the consumer. This results in high motivation among students and there will be high retention rates.
1.5 Internet of Things (IoT)
In layman's words, the internet of things refers to linking all physical objects to the Internet, such as a lighting up bulb, starting a car, or any other material object. It can be done from a distance using IoT. Many of you are asking how the internet of things may be applied in the field of education. You may now be asking how the Internet of Things will benefit schooling. Let's take a look at some of the IoT's learning environment uses.
The Internet of Things (IoT) aids in the formation of a Good association & communication among teachers and students. This allows students and teachers to communicate with their peers all across the world. Another application is that it improves school security by installing RFID devices for student attendance, school bus GPS systems, and remotely controlled school surveillance systems, among other things.
1.6 Cloud Computing
The revenue share is predicted to increase to US$ 53,487.89 million by 2027! This increase is due to the widespread usage of cloud computing, with features such as ease of access, scalability, resource availability, and intellectual stimulation for all driving this expansion. Let's take a closer look at how cloud computing helps and is transforming the educational scene. The truth is that students are not always physically able to attend class.
Many institutions have made full or partial online learning a standard practice. The rise of eLearning is affecting all students' access to information. Likewise, sharing notes has never been simpler. Previously, notes were handwritten and then photocopied or manually copied. That's why the integration of cloud computing in the education sector became the biggest advantage like accessing documents at any time from anywhere, which also saves time and money.
1.7 Automation
Automation has been ruling the world and industries to a larger extent than what we live in. As engagement rises, business and economic sectors utilize the facility of automating the education process to better give enhanced and speedier experiences. The school sector will undoubtedly profit from the advantages of automation. Students have a better probability of obtaining lectures at precise times because of automation. You can arrange lectures digitally. Not to add, automation facilitates more effective implementation of artificial intelligence.
1.8 Usage of 5G Technologies in Education
The wireless technology has now seen its fifth Generation also known as 5G. Anyone who uses it can enjoy high performance and low latency wireless technology thanks to its upgraded upgrades. Students are more likely to benefit from this unique invention since it allows them to receive student materials and resources quickly and connect to more powerful networks.
1.9 App-Based Learning And Gamification
Much has already been said about this technology. Today, gamification is a notion whose proposal was made by a variety of businesses as a way to better manage people. Incorporating App-based learning and gamification into the classroom can benefit students in a variety of ways.
App-based learning allows students to access resources at any time and from any location, ensuring that their education is never interrupted. Gamification raises the stakes for students at all levels by providing rewards for innovation and making learning more enjoyable, engaging, and interactive. This strategy is helpful for kids who have a short attention span or who demand constant changes in their learning concepts.
1.10 ERP Solutions For Schools
Governing a school or university is a difficult endeavor that necessitates a huge staff. The correct ERP solution may make the process easier and more efficient. Here are three ways you could gain, as well as some of the potential drawbacks. Massive volumes of data, including student information, must be collected, stored, and analyzed by educational institutions. Many organizations have already gone paperless by digitizing their records. Your information management can be significantly more efficient with an ERP solution. ERP software facilitates the easy sharing of stored data across various departments. Teachers, students, and office staff can update information in real-time, and it can be viewed from anywhere.
When a school uses ERP software, it may provide students with the ease of collecting all the information and assignments online while avoiding many of the roadblocks and additional resources to manage the process. ERP software lets you keep track of inventory and resource consumption, as well as your finances, in real-time. Reporting is becoming more straightforward, and transparency is increasing. New educational ERP solutions can help a school or university optimize its operations while using less human resources, saving time and money that students can pass on later.
1.11 Digital Master Classes
With the advancement of digital technology, enrolling in classes taught by a team of experts from any corner of the globe has become quite simple. Digital Masterclasses allow users to learn from the finest from the comfort of their own smartphones or mobile devices. Digital Masterclasses are similar to other master classes but the only difference is that it takes place on a global level. This enables many benefits such as you can learn about global practices, and education patterns and even making stronger connections. This provides a lot of freedom and produces a lot of enthusiasm and motivation for increasing learners' skill sets in their chosen fields.
1.12 Payment Gateway
If you wonder why you need payment systems, it is because there are many Payment related problems in school, university, or course fees that take a lot of time and effort. Since students or their parents must go to educational institutions or centers and stand in lines to make payments. The time and money spent paying fees could be better spent elsewhere. Cash-based fee payments will be obsolete as a result of digital payments. Students will be able to pay at their leisure, remotely, and in smaller installments thanks to online and mobile payments.
2. Conclusion
Finally, several emerging technologies for teaching and learning are expected to disrupt education in significant ways. By investigating each of the following new technologies, students may make better use of them. Students can gain unique insights about how to get the most out of their usage by researching each one and this insightful blog has already made many revelations in favor which could help the education fraternity to enhance its roots and grow higher.