1. Introduction
In today's time, to grow your business, having a modern software application is essential. The ongoing advancements in application development technologies have confused business owners on which technology to go with. And choose the right tech stack is very important as it can give a better result for your objectives. Here, the most important factor is to select the best backend web development technology as it has the capability to handle the entire mechanism of the application.
For this, the perfect modern app development framework available in the market is Node.js. It is widely used and has been adopted by many giant companies as their backend tech stack. Companies like Twitter, Netflix, PayPal, and Uber are using Node backend technology for their applications, desktop apps and websites. And this has made Node.js rank as the 6th most popular technology in the Stack Overflow survey. Therefore, if you want to have a successful application, hiring a Node.js development company will be the best option.
To know more about Node for the backend, what is the purpose of using Node js? How does it work? What are its use cases? What are its pros and cons? and more. Let's go through this blog.
2. Node for Backend
2.1 What is the Purpose of Node.js?
Node.js is one of the most popular frameworks available in the market. The main aim of using this backend web development framework is that it offers speed as no other framework does. Be it data processing or client-server interaction, Node.js makes it all smooth. Besides, with Node.js, the app development process can also be carried out speedily (by reducing the development time). This is why Node.js is known as a framework that offers event-driven two-way connections between the server side and the client side by enabling both parties to start the conversation and data exchange process very smoothly and speedily.
Node.js still the most popular framework amongst developers. https://t.co/FQBpM9JPU1 pic.twitter.com/FKeCN9XI2F

— ◢ J◎e McCann (@joemccann) March 22, 2017
Node.js also offers a unique I/O approach that enables the professional developers to have real-time solutions to any kind of development issues. In addition to this, Node.js is a fast and lightweight framework and comes with the ability to employ JavaScript code on both the development sides, frontend and backend. This helps the developers to create efficient and cross-functional applications with flexibility and lower development expenses.
2.2 How is Node.js different from web JavaScript?
JavaScript is a popular scripting language that is used by developers for web browsers. While Node.js is a JavaScript interpreter that comes with multiple components and libraries. JavaScript is known as a single-defining programming language that can be used in any web browser by just using the default environment of the browser. And it is a very popular language that enables developers to create web applications for any type of verification. On the other hand, Node.js is a popular JavaScript-based framework that comes with a large number of JavaScript libraries . It is known as a promising environment that can help run any kind of JavaScript-based programs and assist the developers in performing non-blocking operations like obtaining OS-specific data such as hardware details or certificates information.
Basically, Node.js is an environment that allows the developers to use JavaScript in ways other than the browser and they are shell scripting, backend services, and more.
2.3 Explain the Working of Node.js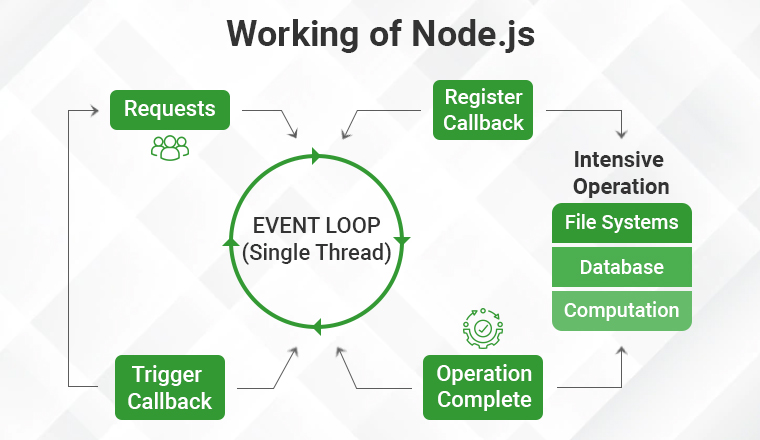 Node.js is a very popular, flexible, and scalable backend runtime environment where JavaScript works on the server side of the web and mobile applications. This is the main reason behind JavaScript being used on both the frontend and backend sides. Besides, the Node.js backend development environment runs on the chrome v8 engine that enables the conversion of JavaScript code into machine code. This makes Node.js a lightweight, highly scalable, data-intensive, and fast framework.
This minimalist web framework also has the capability to accept requests from clients and sends responses very smoothly and efficiently. Besides, to operate I/O operations, Node.js uses the concept of threads. Here, a thread means a sequence of instructions that are performed by the server. It runs parallel on the server side while it is providing information to various clients' incoming requests.
Besides this, Node.js has known for being the best event loop single-threaded language. This means that Node.js has the ability to handle concurrent requests with a single thread. And this is carried out without blocking it for any request. The two main concepts that Node.js works on are – Non-blocking I/O and Asynchronous.
Non-blocking I/o: Non-blocking I/O is a concept that means working with various requests without blocking any one of them. It basically interacts with external systems like relational databases or files. This is why Node.js is not used for CPU-intensive work as a single thread in Node.js cannot handle the tasks of a CPU.
I have got this answer on stackoverflow but it's too long. What to do?
Asynchronous: The other concept that Node.js works on is Asynchronous. It is a concept that executes a callback function. This means that the moment a user gets a response from the server or database, a callback function will be executed. The callback function is called when a task is finished and the main reason behind it is that Node.js works on an event-driven architecture.
Here is a brief explanation of how Asynchronous works in Node JS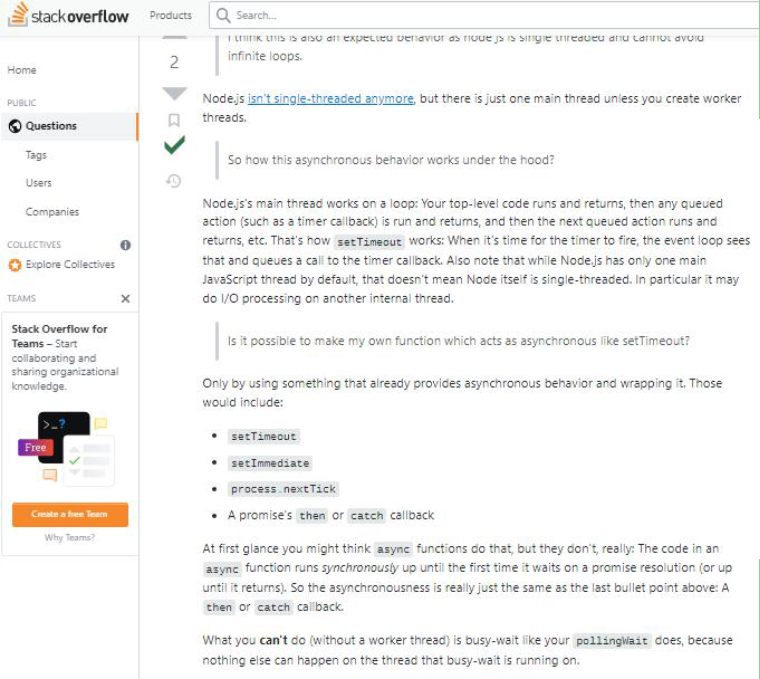 3. Pros and Cons of Node
3.1 Pros of Node.js
Here are some of the major benefits of using Node.js
Offers High Performance for Real-time Applications
Node.js is a popular JavaScript runtime environment that enables web applications to multitask. And this is very beneficial for the applications that are created for big firms that get multiple client requests. The reason behind Node.js offering such services is that it is a platform that follows single-threaded and event-driven architecture.
Besides, Node.js has the capability to effectively process several concurrent requests and this is carried out without blocking RAM. In addition to this, as it works on an event-loop and non-blocking I/O operations, Node.js allows synchronous code to be executed at a rate that improves the app's overall performance. After Google released the V8, Node.js set a new benchmark of offering quicker execution, better security patchwork, better compilers, and a good capacity to scale.
Offers Easy Scalability for Modern Applications
In today's time where modern applications are in high demand, Node.js is a cross-platform runtime environment that offers a cluster module which is known as the best cutting-edge technology characteristics. It enables load balancing. This means that Node.js makes it simple to achieve desired results using smaller modules across several CPU cores without damaging the RAM. Besides this, it also uses a non-blocking event-loop approach that enables scalability and quick responses.
Helps in Building Cross-Functional Teams
Node.js is used by developers to create cross-platform apps as it offers full-stack development capabilities. With Node.js it is possible to create a team that is focused on having a successful development cycle. It also enables the team members to quickly respond to the issues. This work environment increases the productivity level and enables the developers to resolve issues easily. This is why it is used to create cross-functional teams in the company.
Improves App Response Time and Boosts Performance
As Node.js comes with a single-threaded event-loop paradigm, it is possible to enable the developers to have a non-blocking asynchronous architecture for app development. This means that if there are fewer resources and fewer threads, this environment enables improving the responsiveness of the program by enabling the system to handle several concurrent users.
According to a Survey conducted by Nodejs.org, node has helped to increase the uptime of various business by 24% and has also increased the application performance by nearly 48%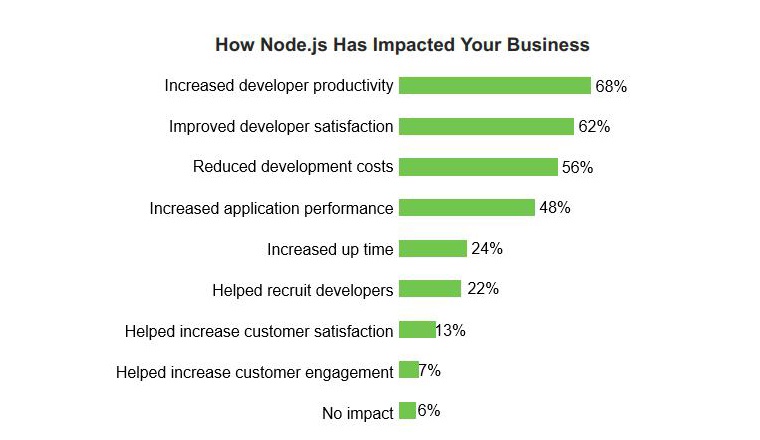 3.2 Cons of Node.js
Here are some of the cons of Node.js –
Unstable API
One of the biggest drawbacks of Node.js is that it lacks consistency. This means that the API for the Node.js environment changes regularly and the updates that the Node.js community offers are generally incompatible with previous versions. And because of this, the programmers developing software have to make changes to the old code base to make it compatible with the new version and this is an ongoing process.
High Demand With a Few Experienced Node.js Developers
When it comes to Node.js, the available resources are fewer. This is because the tech students who pass out from universities generally prefer to choose other trending technologies to work on. Basically, the students tune into the talent pool and prefer to choose the industry's trending demands. This makes very few techies choose Node.js as their career option which affects the market demand for Node.js developers. And the techies who are working with Node.js are generally hired by tech giants like LinkedIn, Amazon, and Facebook, which means that the demand for Node.js developers outpaces supply.
System Crashing
In Node.js-based applications, if an exception enters the event loop's core, it can crash the entire application with no recovery state. In such cases, the developers need to make use of external systems to solve this problem. For instance, modules like 'forever' can be used by the developers to create callback parameters that return the error caused to the caller.
Node.js Asynchronous Programming Model Makes It Difficult to Maintain Code
Node.js works on asynchronous code. This is its nature. Though this technology has the capability to respond quickly to callbacks, the functions only run after each task in the queue. This means that if there are numerous queued tasks, the process will continue for a long time in the background and this can create a callback hell. Callback hell means that a direct impact is created on the code's quality and performance which makes it more difficult for the developers to maintain the code.
4. Use cases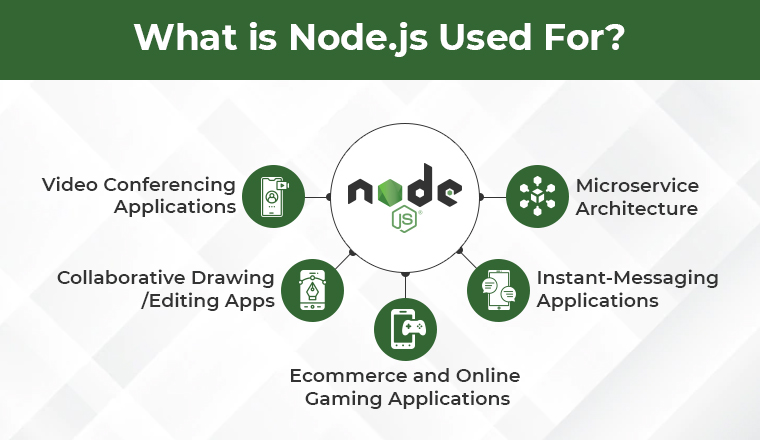 Node.js is a very popular, efficient, and robust JavaScript-based framework that is used for real-time app development. It facilitates handling various client requests, reusing packages of library code, and enables sharing of them. With Node.js the developers can easily sync the client data with the web server. Besides this, some of the major use cases of Node.js are –
Node.js is one of the most popular backend technologies that is used for creating video conferencing applications that work only with certain hardware of VoIP.
With Node.js, creating collaborative drawing/editing apps is easier and beneficial as multiple people will be using this app for editing and reviewing projects at the same time.
eCommerce and online gaming apps offer the best results when created using Node.js.
Minimum Viable Products can be created using Node.js as these are the products that start-ups create to validate their marketability without investing too much money in development. So, Node.js also helps in reducing development costs.
Developers use Node.js for creating live chat and instant-messaging applications where instant client-server interaction is necessary.
Node.js offers microservice architecture which is very popular amongst enterprise-level applications.
5. Node.js Frameworks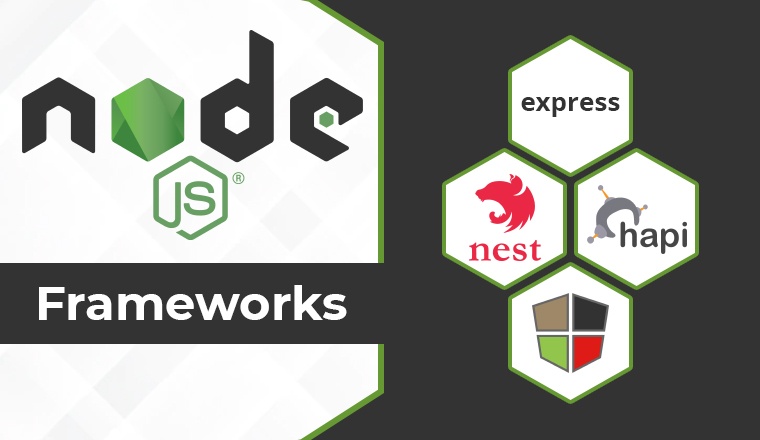 Here are some of the most popular Node.js frameworks available in the market –
5.1 Express.js
Express Framework is a lightweight framework that is minimally designed with a large set of HTTP requests. Developers use this framework when they want to create a simple and cost-effective software solution for the client. This framework is the best when it comes to developing mobile apps, APIs, and web applications. Allows to dynamically render HTML Pages based on passing arguments to templates.
5.2 NestJS
Another popular Node.js backend framework is Nest.js. It is a powerful framework that is used for constructing enterprise-level projects. This framework comes with a large number of libraries that implement technical approaches like Model-View-Presenter (MVP), Function-Point (FP), Typescript, Functional-Reactive-Programming (FRP) principles, and integrated Object-Oriented-Programming (OOP).
5.3 MEAN.JS
MEAN.JS is one of the best Node.js frameworks available in the market. It is a combination of open-source technologies that help developers in creating dynamic web applications from scratch. This framework helps the developers to create robust, secure, and maintainable production web applications with the use of technologies like Node.js, MongoDB, Angular.js, and more.
5.4 Hapi.js
Hapi.js, a Node.js framework, is open-source and stable. It is a constant Model-View-Controller MVC framework that helps in creating web apps, desktop apps, and services. This framework offers an effortless structuring of API servers, HTTP proxy applications, and websites. It comes with a robust plugin system. With this framework, the developer is able to add new features to the current applications easily, they can quickly fix bugs, and offer a proper running app in no time. Hapi.js has the capability to offer features for input/output validation, routing, and caching.
6. Comparison with other backend frameworks
Here, we will compare Node.js with other popular backend frameworks to see how distinct Node.js is.
6.1 Node.js vs Python
Python is one of the most popular programming languages that comes with a very simple syntax. It is used to create web apps and because of its easy usability, developers can learn this technology in no time which makes them create new projects in Python very easily. Besides, Python is an object-oriented language and though it is interpreted, it can be useful for consuming a large number of computing resources. It is used for areas like AI and math-heavy simulations, where Node.js lacks. But on the other hand, Node.js makes it easier for developers to create high-performing real-time applications.
6.2 Node.js vs Java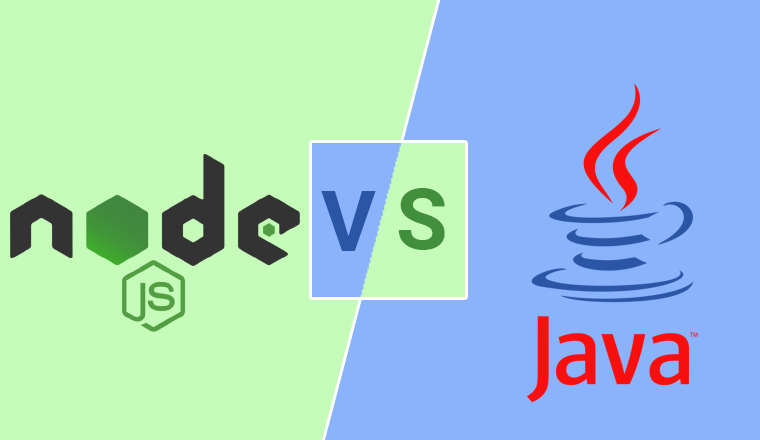 Node.js and Java run programs within their own runtime environment. But this is the only similarity between them. Java is a popular, compiled, object-oriented programming language that comes with a C++ kind of syntax. It is used to create large apps. While on the other hand, Node.js is a lightweight framework that is based on JavaScript. So, Node.js is suited for I/O applications. Besides, Node.js comes with an event loop approach which makes it more efficient for I/O applications, but Java has a thread pool which is more powerful when it comes to handling complex operations.
7. Conclusion
As seen in this blog, Node.js is one of the best tools for creating high-performance, robust, and scalable online applications. This technology only offers the best services but also enables an increase in productivity and developer efficiency levels. It is used to create critical web development projects that are a perfect blend of performance, speed, and size. Node.js comes with features that enable developers to create eCommerce, online gaming, instant messaging, and enterprise-level apps. Basically, Node.js is the best environment for backend development.