As the global need for software development rises, the number of offshore software development centers has grown steadily in consecutive times. If you are employed in the IT sector, the phrase "offshore software development center" is likely not foreign to you.
As a result of the benefits they provide, these offshore development centers are favored by many brands. Let us discuss everything in brief!
1. What is an Offshore Development Center?
An Offshore Development Center (ODC) is a development premise that is located in a foreign country. The dedicated team of developers will function as an extension of your IT department and expedite your development process. The company which is providing offshore development centers is responsible for recruiting, training, and maintaining high resources for optimal performance.
The offshore development center is also known as Offshore delivery center, Offshore IT development center, and many more. Due to its advantages, offshore development centers are becoming full-fledged foreign business entities in 2022.
2. What is the Difference Between ODC and Outsourcing?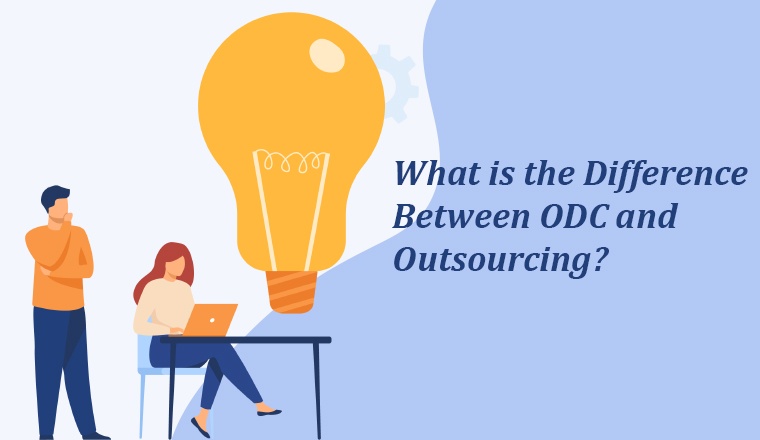 When a corporation has a severe scarcity of software engineers or desires to cut development expenses, outsourcing might be of assistance. The worldwide outsourcing industry exceeded $90 billion in 2019 and has continued to grow since then.
There are a variety of options to explore under the traditional outsourcing strategy. When a business has established the project's needs, scale, and criteria, a fixed-price software outsourcing model is an excellent option.
If the specifications are ambiguous or the project requires long-term, continuing offshore assistance, the offshore development center may design your software development project from scratch.
In addition, a dedicated offshore development center provides solutions from different regions of the globe, whereas outsourcing provides the same product, but geography is not the determining factor.
Nevertheless, there are further important distinctions that might be deciding considerations when picking between different recruiting methods.
We establish six fundamental characteristics that distinguish ODC from outsourcing. These include:
2.1 Project Duration
In contrast to outsourcing, which is applicable to tasks of any scale, offshore development centers specialize in difficult endeavors that need consistent assistance.
2.2 Commitment
On this front, the offshore development center (ODC) approach relates favorably to outsourcing. Since the latter requires a staff committed to one customer, your task will receive the uninterrupted attention of contracted professionals.
2.3 Team Size
Although outsourcing enables you to hire a single developer to solve your technological deficiencies, the ODC strategy provides an entire development team of experts.
2.4 Hiring Method
When hiring software developers for your ODC team, your tech provider conducts a stringent assessment. All the workers are hand-selected to match your specific needs.
2.5 Support
In the conventional outsourcing approach, the administrator resides in the workplace of the provider. In contrast, the ODC method enables you to assemble an entire dedicated team, involving your own accountants, project manager, and HR personnel.
2.6 Scaling Perspectives
When building an ODC, you may anticipate endless scalability, while outsourcing allows you to expand your workforce for a limited time.
3. Advantages of Offshore Software Development Center
Developing a business relationship with a dedicated offshore development center offers several advantages for your firm. These are the benefits of possessing an ODC team:
3.1 Reduce Infrastructure Expenses
The offshore company has already established the essential technology, so you do not need to invest money in office space and technology, connectivity and IT infrastructure, and electricity. In contrast to beginning from zero, the supplier may concentrate on recruiting the offshore team members, allowing for a far quicker project launch.
3.2 Autoscaling Your IT Department
Autoscaling is the technique of distributing assets periodically to meet operational demands. Depending on the objectives of certain projects, the quantity of personnel that your organization needs may vary. There are moments when enterprises demand a high level of assets and times when they demand a small level of assets.
When these occurrences occur, you may be required to move and reduce assets or duties inside your internal team, which may necessitate a complex procedure for resource management. With an ODC, resource allocation will be simplified because the offshore team may assume the functions and responsibilities of the in-house team.
3.3 Reliable Operations
To lure customers into a marketplace, the processes of leading ODCs are quick, lean, and trustworthy. To be responsible and honest with their clients, offshore companies employ effective assessment and reporting methods. You will be able to evaluate and track the development of their initiatives in real-time. Depending on the terms of your agreement with the offshore development center, you may request a redo of the project at no additional expense if you are unsatisfied with its outcome.
3.4 Timely Delivery of Projects
An ODC works in optimal surroundings and employs streamlined business processes to ensure the timely completion of your tasks. From project strategy, design, programming, training, and delivery, they closely adhere to the deadlines that you establish. The continuous coordination between the in-house and offshore team members enables the project lifecycle to be completed in less time.
3.5 Technical Support and Knowledge Retention
As part of their client satisfaction, ODCs provide continuous technical assistance throughout the whole project lifetime. Their method to information skills is keeping all information acquired over the lifespan of a project. The remembered information may be enhanced and modified so that it can be used for different tasks.
3.6 Access to the Best Skills and Technology
The finest ODCs hire highly trained IT specialists with expertise in designing unique applications for your prospective clients. Their offshore development teams have decades of work expertise, great competence, and proficiency in several domains. They regularly spend on training and skill enhancement for their staff. This guarantees that you receive a satisfactory bang for the buck in an offshore software development center.
4. Different Models of Offshore Development Center
4.1 Product Engineering
The Product Engineering model is an offshore development center model appropriate for firms seeking the addition to their in-house team and assistance with work progress. This may be the only product development team with inside skilled management.
This is often a brief commitment with an urgent need for a team.
Although the team performs effectively under your direction, the contracted ODC is responsible for establishing infrastructure, administration, and HR processes.
In this approach, the offshore development team often consists of technical resources such as engineers, programmers, etc., and has less than 10 individuals.
This strategy is ideal for small enterprises and entrepreneurs who are outsourcing a job for the very first time.
4.2 Build-Operate-Transfer Model
Build-operate-transfer (BOT) is a more comprehensive method that is deeply related to the ODC approach to offshore software development. It advises that you get into a deal with a local company that will construct, run, and subsequently hand over a software development center to you. In its later phases, BOT faces several dangers surrounding the transfer of knowledge and personnel.
5. Steps to Set up an Offshore Development Center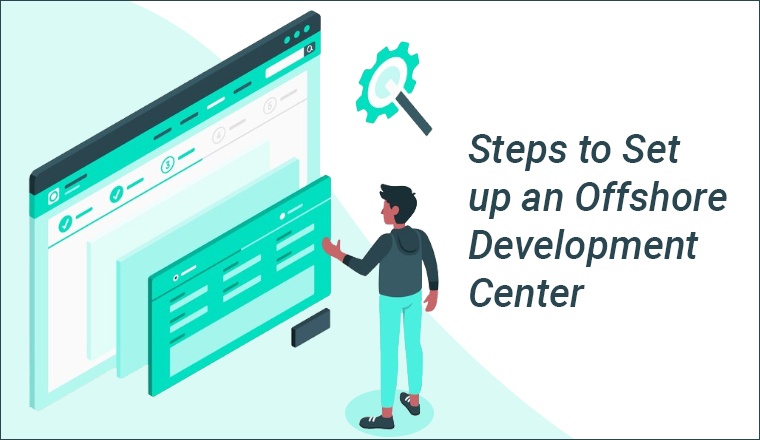 Follow the below-mentioned steps to set up your own offshore development center:
5.1 Determine the Location
Several outsourcing countries in Eastern Europe and Asia are economically attractive to IT enterprises. In addition to cheaper operating and personnel expenses, firms should also consider the technical skills and cultural nuances of the countries. This is essential for effective remote team management and communication in order to minimize cultural differences and work ethic concerns.
5.2 Vendor Selection
Choosing a provider is a complex endeavor requiring many studies.
In addition to typical screening techniques such as reviewing a vendor's profile and prior projects, there is a multitude of other signs that reflect the partner's dependability.
5.3 ODC Model Selection
As with the majority of approaches, there is no single ODC (offshore development center) model that is ideal for all businesses.
Before making this decision, you should be informed of your existing situation and have a distinct business purpose.
5.4 Start Recruiting
When you ultimately decide to engage with a service provider, begin the recruitment procedure. At this stage, experts will begin assessing the existing labor market and selecting the initial pool of qualified individuals. Additionally, they will give the customer analytical studies regarding compensation scales. For example, they may provide information on the typical software engineer's salary.
5.5 Rent the New Office
While recruiters are hand-selecting technical talent to build an offshore development center, begin looking for a separate office where the crew will operate.
Recommend consulting property managers in order to select an ideal location with ample parking, a surveillance system, and other facilities, or else, assign it to your provider if a separate office is being considered.
5.6 Legal Assistance
To execute a lease agreement, you must speak with attorneys. They will ensure that you receive the most advantageous deal terms. However, this procedure necessitates an in-depth knowledge of national legislation and exceptional bargaining abilities.
5.7 Hire New People
At this level, you are prepared to send out job offers. First, employees begin working, and the offshore development center is already operational! In particular, it entails the training of new employees, which is frequently followed by meetings at the headquarters.
5.8 Start the Project
Once you delegate tasks and duties, your newly-hired employees will go to work.
6. Conclusion
The establishment of an offshore development center has shown to be one of the most profitable expenditures for driving digitalization inside your organization. The ODC is the most efficient business model that helps to extend a company's market presence in a foreign nation, improve access to tech talent, and reduce upfront and infrastructure expenses.
As the trend of offshore software development continues to grow, an increasing number of outsourcing destinations have started providing offshore development center services.
However, the Indian IT industry is renowned for being the leading offshore development center located in Europe, exceeding other locations in terms of skill and competence. In addition, you'll need an ODC supplier of the caliber of Tatvasoft for all of these benefits to function properly.