Over these years offshore software development companies are seen mushrooming everywhere claiming big. In fact, the IT industry seems to be at its peak growing rapidly and unavoidably. And a lot of offshore developers are seen jumping on the bandwagon to cash in on this lucrative field.
Now since the digital era is blooming and resulting in the severe transformation of businesses. You will need some proficient tech partners, software development companies or software development service providers. Also, make sure that they not just carry expertise in their respective jobs but also excel to the smallest details.
If we talk about the situation before the pandemic, We are sure that many of you would recommend choosing an in-house development team for your project. But after the massive COVID Hit, that's just not the case! It seems many doors have been opened – and there is much more out-ness now!
Table of Content
What is in-house software development? You may ask! An IT company decides to create its digital product by including its team of software developers (called in-house developers) to develop the system. Here they need to conduct a hiring procedure to pick up the development team the project requires.
Some of the best companies who have already made their choice and opted for in-house development include Amazon, Paypal, Salesforce.
This was in-house but after the pandemic, things have become extremely tricky especially in regards to geographic limitations. As a result, many businesses consider offshore software development services. Do you know why? All due to the indisputable low costs of such an approach. Building a new digital product (a website, an app, a chatbot, an inventory management system, etc.) is easier said than actually bringing it to shape and launching it. When you plan to create a new product, there are a zillion things to take care of, like team management, deadlines, technical details.
And looking at today's crucial times, offshore development turns out to be the best bet considering delegating all the responsibilities to specialists. In simple words, there is no need for heavy focus on project management and other things.
1. What is Offshore Software Development?
Offshore software development is the process of utilizing the services of a team located in a remote location to develop quality software products software for use in your home country. Trust me, today the concept of offshore software development is spreading like a fire. According to sources, around 80% of the largest global companies are preferring offshore development services just because of the plethora of benefits/services it offers.
Customized solutions as per the organization's needs and scope
Streamlines the entire business process by making it more efficient
Innovation is applicable depending on the target market.
Global Outsourcing Market Size – 92.5bn USD
ITO Contract Value Worldwide – 66.5bn USD
BPO Total Contract Value WorldWide – 26bn USD
You have created this empire, you exactly know how frustrating and overwhelming the drill can be. However, when it comes to building an IT team, things get a lot more complicated for smaller businesses with their relatively limited resources. On the other hand, many businesses need a tailor-made computing environment complete with customised software solutions designed to meet a very specific set of goals.
So what to do? Well, this is one of the toughest decisions to choose between offshoring software development or keeping it on-premise. Here at TatvaSoft, we do both so for starters, let's look at which solution is best for you!
2. Why Offshore Development Instead of an In-House Development Company?
2.1 In-House Software Development
With In-house Development teams you are far less likely to run into communication issues. In fact, here you have a higher degree of control over how your development projects are handled. And where the rest of your team will be in a better position to retain some of the knowledge acquired during the process. Having an in-house software development team at service means you are indulging in long-term investment with the most consistent results.
However, when you hire developers from scratch, you will have to pay them full salaries which might become very expensive. Further below we would like to emphasize certain pros and cons of expanding your in-house software development team.
2.2 Pros of In-House Software Development
Accessibility – The best advantage of working with an in-house team is that they are working in the same time zone as you may be in the same office spaces. They speak the same language and you will be able to see real development happening in front of you. This is beneficial in many ways, as it makes planning your project, implementing changes. And this makes the overall software development process relatively simple and quick.
Quality Control – Next benefit obtained when working closely with an in-house software development team is that you have entire control over the project unlike choosing an offshore software development/outsourcing. As you see the development process closely, you can be assured to get the final product as just you have expected that meets your standards.
Full Transparency – Well, this one cannot be ignored at any rate! When you have an in-house development team working for you. What happens is that you get to monitor as well as leverage transparency to a great extent. After all, your team will be working in front of you. Moreover, you can evaluate your work progress and can keep track of all the development cycle stages involved in your project.
Security – You know security has always remained one of the top concerns for most businesses these days. With an in-house software development team, there is less chance the information is leaking outside of the company. You have more control over what your employees do than IT experts thousands and thousands of miles away. You can also run a background check before every hire, which reduces the chance of information leakage. This is vital especially if your company relies heavily on being the first in the market to succeed.
2.3 Cons of In-House Software Development
Expensive – First and foremost, hiring an in-house software development team means you might have to invest a huge amount in the recruitment process. You would also need a dedicated space or even rent/buy a new office because of team extension. And try to equip them with systems and software. Also, you will have to pay high salaries as much as $80,342 per year to your developers even when your project will end. Other than that you will have to bear additional expenses including sick pay, vacation, company perks, etc. Are you prepared for all this? In addition, you may also have to bear additional costs for licenses for tools, code, and software.
Limited expertise – Another disadvantage here is that, unlike offshore software developers , in-house ones always give you limited expertise and among so many developers out there in the market, it is hard to find the best ones and find exactly who you're looking for. Whereas offshore development companies give you a chance to choose from a wide pool of talent. Here you can hire the developers who are the best fit for your complex project.
Bear the expenses if Absent – Last but certainly not least if some of the team members become sick or leave, you will have to spend time and money on new hiring or endure project pauses. This is certainly not the case when you choose to go with the offshore development or outsourcing model.
2.4 Offshore Software Development
Moving on! outsourcing or offshore software development turns out to be an obvious choice when you do need software. But do you think this should happen and at the cost of a hefty budget? Of course, not! With the rise in online collaboration platforms and widespread internet access, offshore development has become a better and affordable alternative to hiring in-house talent.
Offshore software development can considerably cut down your expenses. This enables you to find talented developers in other countries that charge much less than the price of local developers. Further below we would like to mention certain pros and cons of choosing offshore software development company instead of in-house software development. Let's begin!
2.5 Pros of Offshore Software Development
Cost-effective – Unlike in-house software development teams, your offshore software development team will save you tons and tons of money as most of the offshore development teams charge a mere 25% of that of onshore developers. When outsourcing, you don't have to hire developers and pay them a heavy salary. When you hire one of the top offshore software development companies from countries like India it may only cost you $18-$20 per hour. There is no need to spend money on hiring, onboarding, infrastructure, equipping your workplace, and paying salaries, once your project is complete. Outsourcing is substantially cheaper than adding another member to your IT team.
Fixed Costs – As per an offshore software development company, you get to discuss your project requirements and they will give you the exact figure or fixed developer cost that you would need to spend. As a result, you will have a tentative budget in your mind before commencing your project. This, however, is not the case with in-house development teams, as many unexpected expenses may arise while working on a project.
Focus on core business functions – Most businesses are often seen complaining that conducting a software development project doesn't allow them to focus on their core businesses. By choosing an offshore development firm, you won't be just able to focus on your core business activities but also relocate resources accordingly. This will also imply that your current team can focus on other activities of your business. At the same time, your product will be offered by an offshore outsourcing company. They are right here to look after your project.
2.6 Cons of Offshore Software Development
Communication – It doesn't matter whether you are conducting a development project offshore for the first time or fifth time, not maintaining a single point of contact for all your communications could be quite dangerous. Here communicating with on-shore is far easier. In offshore development, communication might turn out daunting. After all your team is located in a different space timezone and can also have cultural differences, what if it doesn't have a reliable internet connection. How will you conduct a successful software development project?
Lack of full control – This is one of the most reported concerns in the software development space. Several factors such as lack of proper understanding by the offshore team. Moreover, not being a good listener and competitive can result in a significant loss. However, such issues are taken care of by offshore development company through documenting all your requirements, creating milestones and project charter. This way you can keep track of the work. In case things go wrong, it will help you to easily find out the whereabouts of the same.
2.7 Difference Between Onshore, Offshore and Nearshore Development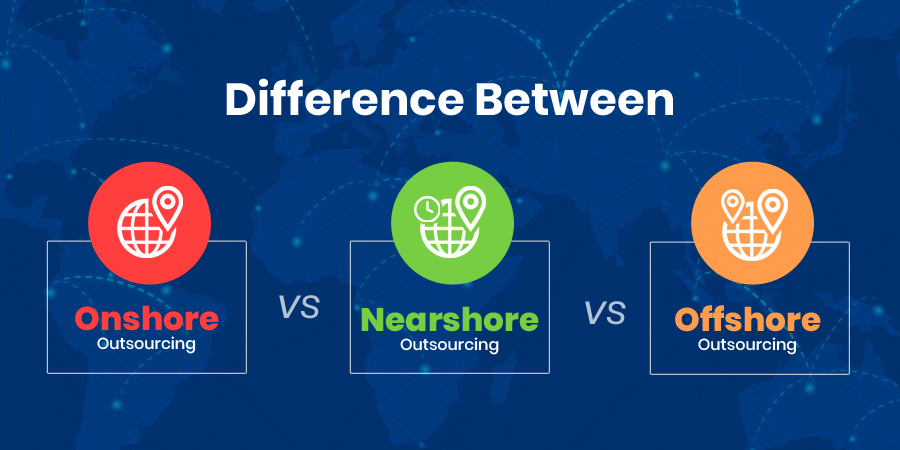 Many times I have been asked this question, what is the difference between offshore, onshore and nearshore in the software development space? Well, all three are of a kind! For example, onshore outsourcing is when you decide to hire software developers within your country. Most companies find this option convenient and approachable. Whereas nearshore development is when you decide to outsource to developers from countries with a similar time zone. Typically, customers count on geographic proximity and cultural similarities.
Last but certainly not least, offshore is when a company of a service provider is located in a different country from yours. The chosen outsourcing company can even be in a different continent with a notable time zone difference.
3. How are Offshore Software Development Services Beneficial for Your Business?
No matter how good you cook at home can you be the chef at your own restaurant? Obviously Not! You do need a team of chefs or professionals right? Similarly, even if you are a techie, you require professionals when it comes to conducting your first offshore software development project especially offshore. Still, the prospect worries you? By now, it shouldn't!
Further below we would like to mention how choosing an offshore software development company can benefit your business.
3.1 High-Profit Margins
Whether it is onshore or offshore, cost does play a crucial role or one of the deciding factors. Imagine you have hired a 5-person software development team in the USA and along with that, you have a 5-person offshore development team somewhere in India. So what will happen is, even if both the teams are equally qualified, skilled and experienced, the salary difference will be substantial (approx 3-4 times cheaper).
Another aspect to think about when considering offshore software outsourcing is, the Total cost: For our average software development partner, the total cost of doing business here (including premises, administrative staff, legal work, payroll, developer salaries, insurance – the works) typically comes in at 50% the cost of your at-home developers' salaries.
3.2 Access to a Wide Pool of Software Development Professionals
Another benefit of conducting outsource development for your business is that you get a wide pool of professionals in your space to choose from the best software development companies. Think about it, when looking for a development programmer, it will take ten weeks or even longer. So If we calculate precisely, around 2-3 months of wasted time and money. The demand for specialized programmers is high, but finding local talent is a complex task of its own.
Here you aren't restricted to location anymore, this surely means you can access the world-class offshore software development services with technical expertise at your fingertips.
3.3 Business Gets Scaled Up!
Of course, scaling your business or expanding it to a great extent must have always been your concern. Now when you hire an offshore development team, development team offshore what happens is, it will help your business to scale up according to requirements.
You can have a dedicated offshore team who is ready to help you realize, exactly what technologies one must invest in. Also with business analysis, how can one remain competitive and how you can improve your marketing and engagement strategies. And since this is your offshore programming team and not just freelancers, they will be there to help you with everything you need at any time.
Naturally, you can always contact the team's offshore software development company and ask for more staff, so all your needs are met. It's pretty clear now why companies hire offshore, right?
Before accessing or taking a leap in hiring the best offshore developers, you must consider a few things. More or less these factors can be considered as best practices to conduct your very first offshore software development outsourcing project.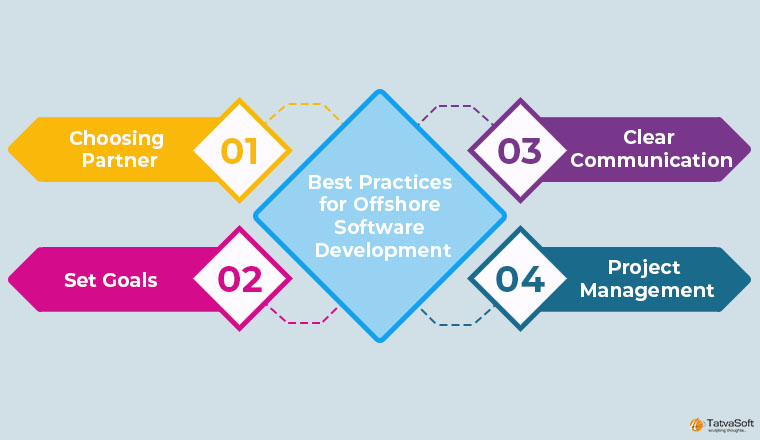 3.4 How do Offshore Teams Work? – Learn the Basic Dynamics of the Development Space
Fortunately, here you have two options for choosing your future tech team. The first and foremost one is to find freelancers and connect them into one team. Initially, you may find this your best but it's actually not unless you are a product management enthusiast.
Try to take full control over the development progress and keep your remote workers in touch with one another. Another alternative is to keep looking for an already formed offshore team that works well on behalf of a registered company. In this case, you won't have to worry about finding the person to manage the working processes or go gaga when a development team member quits/falls sick/disappears. All these issues and many more will be solved by the outsourcing companies instead.
4. Key Factors Factors Responsible for the Success of Your Development Project
4.1 Skilled Software Development Programmers
It all starts with and ends with people. It doesn't matter how well you define your requirements or how solid the process of your third party vendor look: you need to have the right person doing the right things in your complex projects. To become a strong dedicated team that eventually produce some crucial results in the long term for you, it is crucial to have an influence on the selection of your team members. Ideally, you co-develop a recruitment process together with outsourcing providers, where you can hold interviews, tests or any other screening method.
4.2 Planning the Entire Software Development Project
Whether you are working on a development project for the first time or for the very fifth time it is very crucial to plan throughout. If not done in the right manner, it can easily end up eating into your development time. Also, planning can help you build products full of quality and evade defects or find them earlier results in faster time-to-market and ensures predictable project delivery.
While planning a development project, do make sure to put the testing aspect right from the beginning and not an afterthought. After all, a well-tested strategy and plan can ensure a high-quality product throughout its development. Also, checking for process certifications when opting for an offshore company can determine the fate of your project.
4.3 Software Development Performance
Last but certainly not least is performance analysis, a development company should analyze each and every aspect of the performance review to identify the possible outcomes. Do you know what is the most amazing thing about outsourcing? It is when a professional outsourcing companies take over each and every minutest detail of your project and deliver a superior quality end-product, by making use of the experience from past projects, latest technology, automation/ tools associated with the software development process.
5. Latest Trends to Follow While Conducting Development
You see there is no denying the fact that software development process involves a complex bunch of steps and software development tasks. Further, we would like to mention certain trends happening in the development space contributing towards digital transformation.
5.1 Automation
Automation plays an important role in reducing human dependency, risks associated with manual labour, and costs. Apart from innovation and faster responses to changing business environments, technologies such as RPA contribute heavily for reducing administrative overheads and delivering custom solutions.
5.2 Cloud Computing
Cloud computing is another interesting technology that offers scalability and flexibility and plays a vital role in offshore custom software development. More and more IT Companies are realizing the benefits and possibilities of cloud computing and how it can be leveraged for development purposes. cloud-based applications and cloud infrastructure are here to address the growing needs of businesses.
5.3 Artificial Intelligence
AI is taking the world by storm and software development is no exception. AI mainly improves the quality of code development and testing. Developers can combine AI technologies such as natural language processing, machine learning and business rules to build and deliver better software solution in a short period.
6. Conclusion – Are You Ready to Lead Your First Development Project?
So that's all for now! We hope you enjoyed reading the post. the concept of offshore software development will keep surging as organizations want to optimize their business processes and align their strategic planning with their operational strategies. In case, if you have already moved your development offshore, do let me know how's that working for you in the comment section below.