Payment gateways enable online retailers to provide safe credit card and digital wallet payment options to users. As technologies create new payment methods in markets, eCommerce payment gateways are crucial to the expansion of enterprises.
Consumers are driving the desire for secure, trouble-free purchasing nowadays. eCommerce development services like payment gateways have undoubtedly secured their position in this digital world simultaneously aiding consumers' demands of shopping everything online.
Hence, in this article, we have picked and evaluated the top 10 eCommerce payment gateway providers or merchant account providers depending on their payment kinds, cost, features, and other factors for you to choose the best. Let us start!
1. What is a Payment Gateway?
Payment gateways are tech solutions that allow businesses to accept payments from their customers. Typically, they are third-party financial gateways that may be utilized in physical businesses and online markets. Amazon pay, Skrill, Stripe, PayPal, and 2Checkout are examples of common online payment gateway providers.
With the help of Payment gateways, you can use your choice of payment options like a credit card, online banking, or any other way of payment. Once you enter the details of your account, payment will be debited from your account and will be credited into the merchant's account after deducting some additional fees.  
2. Top Ecommerce Payment Gateways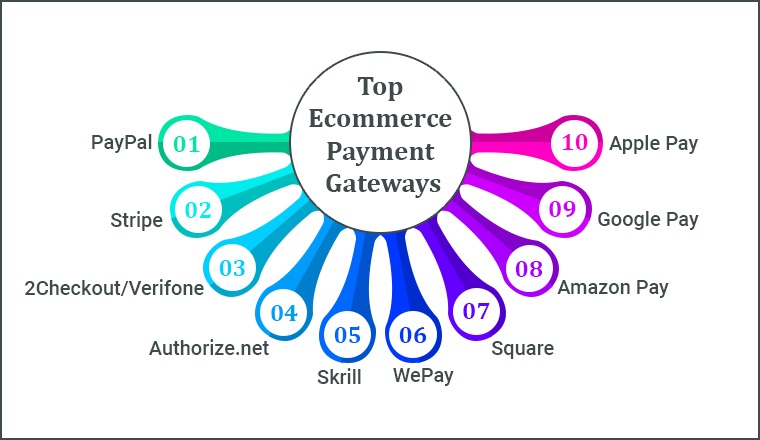 Below is the compiled list of the most popular eCommerce payment gateways used by online sellers. From there, you can determine their reliability and respective transaction fees.
2.1 PayPal
PayPal, which was founded as a wallet app in 1999 and bought by eBay in 2002, is now one of the most adaptable and well-known digital payment platforms like all of the best credit card processing companies. Paypal can be picked as the finest solution for online businesses since it allows clients to pay using PayPal at cheap prices.
PayPal asserts that giving their services as a form of payment to clients may enhance checkout rates by 44%. This is owing to PayPal's reputable brand and extensive usage. Incorporating PayPal as a payment alternative is likewise a straightforward process. Simply establish a profile and add the "Pay with PayPal" button to your website.
PayPal Payments Pro registration is required for those who wish to access PayPal's premium transaction and checkout services. They accept payments from American Express, Visa, Mastercard, Discover, and PayPal Credit payments; interact with key e-commerce platforms such as Shopify, Squarespace, BigCommerce, and WooCommerce; and provide mobile credit card payments, digital invoices, and in-person payouts.
Paypal payments fee: 3.49% + $0.49 (fixed)
Key features include PCI compliance, simple payment methods, online invoicing, and stock control.
2.2 Stripe
Stripe is regarded as a formidable competitor and a rapidly expanding startup that may soon surpass PayPal. Stripe, which was founded in 2010, has been valued at about $20 billion in a brief time frame. The Stripe trial period features stalled payments. There are no costs for refunds. Web developers believe it to be among the simplest to install, connect, and operate. In contrast to PayPal, the Stripe payment gateway enables users to make online payments without being transferred to the payment gateway page, therefore delivering a smooth customer experience. In contrast to being interoperable with the majority of payment options, it also takes Bitcoin and other cryptocurrencies. As it continues to expand, Stripe is presently accessible in 21 countries.
Fee: 2.9% + $0.30 per successful transaction
Principal features include adaptive 3D security, multi-currency payments, and 24/7 customer service.
2.3 2Checkout/Verifone
Verifone bought the business in September of 2020. It may be the most optimal platform for foreign sales because it provides localized purchasing perspectives for consumers in over 200 nations as well as provinces and endorses nearly 100 currencies.
2Checkout provides a payment gateway named 2Sell that takes all major credit card transactions and payment methods, such as MasterCard, Visa, American Express, JCB, and PayPal. Additionally, it facilitates transactions in roughly 100 currencies. Users are able to create their own product pages, configure recurring transactions, produce payment history records, and combine the system with a variety of online shops, eCommerce carts, and billing platforms.
In addition to allowing businesses to offer services, digital items, physical products, and memberships. 2Checkout includes an account updater to maintain accurate client information. It also provides worldwide clients with mobile-friendly, localized purchasing experiences, discounts, and promotions, as well as online store templates and conversion-enhancing features. Additionally, 2Checkout provides customers with a commercial dashboard that provides immediate information on revenues and other client key metrics.
Fee: 2Checkout offers three payment processing options. Their names and transaction fees are shown below:

2 Sell: 3.5% + $0.35
2 Subscribe: 4.5% + $0.45
2 Monetize: 6.0% + $0.6

PCI compliance, multi-currency payments, and multi-language access are key features.
2.4 Authorize.net
Authorize is well-known for its programmer-friendly API and its ability to create a personalized, pleasant user experience. It is regarded as very secure, and its sophisticated fraud detection system prevents refunds and financial fraud. It does not impose a monetary restriction on transactions, allowing for rapid transactions and instantaneous cash transfers. This payment gateway offers several add-on services, such as fraud prevention and a straightforward checkout process. Also, most merchant account providers have partnerships with Authorize.Net. The only variation in pricing is the addition of set monthly fees to the transaction cost.
Fee: 2.9% + $0.30 each transaction that is completed. If you currently have a seller profile, you can enroll in the "Payment Gateway Only Plan" at a cost of $0.10 per payment and $0.10 for each daily lot.
Comprehensive fraud prevention, easy checkout, and digital billing are essential features.
2.5 Skrill
Skrill is a payment gateway that accepts payments from over 40 countries. There are checkout transfer costs of 1.9%. It also provides an official plugin for connectivity with selling stores powered by WooCommerce.
Based on the payment type employed, the payment processing cost ranges from 0% to 5%. Visa, Mastercard, JCB, and Diners Club International are accepted free of charge.
Chargeback and fraud prevention, simple integration, and PCI compliance are the key features.
2.6 WePay
WePay provides Chase Merchant Services integrated into the business account option. It may be your best solution for various streams since it makes it simple for businesses to process complicated payment transactions across a range of online platforms.
As with the majority of payment gateways, WePay supports all major credit cards and debit card payments, Chase Pay, and ACH payments and can process complicated payment requests, such as those involving multiple buyers and Kickstarter campaigns. Businesses may set it up with just an email id and quickly begin receiving payments.
WePay's customization capabilities make it especially advantageous for multichannel marketing. Merchants may design checkout processes that accommodate in-person, digital payments, and reimbursements.
Fee: 2.9% + $0.30 each transaction that is completed.
Key features include compatibility with Apple pay and Android pay, PCI compliance, and direct bank account transactions.
2.7 Square
A Square is ideal for establishments with a physical location. They consolidate finances, programming, and hardware provisioning, which are all required for online and offline sales. Square focuses primarily on its virtual terminal, which allows you to receive money from any platform, thereby attracting businesses that do not require an internet shop but do have to process funds on-site via portable devices. Square takes the user's payment data at the time of sale and routes transactions straight via cards since they also accept credit cards.
Fee: Free POS app
Free magstripe reader
2.6% + $0.10 in-person or e-commerce transaction
2.8 Amazon Pay
Amazon Pay is gradually becoming the go-to choice for Micro and Medium Businesses to operate payment gateways, backed by its massive brand recognition. The Amazon Pay merchant account provides access to an advanced fraud prevention solution. It enables an in-store checkout alternative, hence enhancing the consumer experience. Amazon Pay is a basic API that has offered various e-commerce solution providers with free plugins. Amazon enables the usage of Alexa to connect your customers by giving more suggestions and enhancing customer service.
2.9 Google Pay
Google Pay is another excellent choice for western online merchants. Many Americans and Europeans use Google wallets to store their money. Since customers purchase online, the Google checkout feature makes payment simple. This method is not just quicker than other selling gateways, but also considerably more dependable. Because the payment owner also functions as a bank account, Google checkout pays back the lowest amount.
The cost of payment processing fees varies on the transaction amount.

2.9 % + $0.30 for purchases under $3000.
2.5% + $0.30 for purchases between $3,000 and $9,999.99
2.2% + $0.30 for purchases between $10,000 and $99,999.99
1.9% + $0.30 for purchases above $100,000

Key features include quick online integration and security from fraudulent activity.
2.10 Apple Pay
Apple Pay is among the industry's most popular cashless payment channels. Therefore, you may need it for your Shopify store as well. Apple Pay enables users to pay with the press of a button. They also approve digital payments through Visa, American Express, QUICPay, Master Card, Union Pay, and Suica.
Fee: 1.5% + $0.25 to $15 varies on the amount.
Secured transactions, electronic transfers, and simple checkout alternatives are key features.
3. Which Payment Gateway Suits Your Business?
A payment gateway is required for each online firm. However, locating the ideal candidate is difficult. Therefore, try several top payment gateways and select the most effective one.
Here are key takeaways from some of the best payment gateways for your eCommerce platform.
Authorize.Net Provides the Best Links to Business Account Holders.
The Hottest New Gateway seems to be Stripe.
PayPal is the best for e-commerce transactions.
2Checkout is ideal for Global Marketing.
Apple Pay is best for security purposes.
Google Pay is the fastest payment processor.
Skrill is the best option for cryptocurrency investments.
WePay is the Finest Personalization Option.
Depending on your business work area and requirements, you can choose your getaway partner that suits you the best!
4. Conclusion
We examined the top 10 online eCommerce payment gateway options for this article. We weighed the costs and benefits of various features, as not all businesses are obliged to offer every form of payment option to their clients.
In this post, we suggested software that would be compatible with the most popular e-commerce and POS platforms. Due to the fact that the benefits a payment gateway delivers to a business are nullified if a client does not feel secure revealing their payment information. Payment gateways will give the safety and advantages required by both users and companies as they seek more convenient payment and selling methods.