If there is a business that is flourishing even in the pandemic then it is none other than an eCommerce business that offers worldwide online shopping options. This becomes one of the most prominent reasons why electronic commerce businesses are preferred because it has the ability to cater to all types of consumers at once through their online store. Now the main question is, how does eCommerce work?
The basics of an online store business are similar to those of an offline retail store. The process is not different, you do the same things on an ecommerce website as well as in shops. On a larger scale, the entire eCommerce process may be divided into three key processes. One is receiving the order, processing the order, and then shipping the order. Isn't this the game of every business? Then what makes eCommerce business models different from others in the race. We must find out what makes eCommerce businesses function differently from other businesses. Also, this blog piece will give you an elaborate idea of what perks you as a business can extract from online eCommerce businesses and what the eCommerce industry can offer to its customers.
1. What is E-Commerce?
The practice of purchasing and selling things or services, exchanging money, and transmitting data through an electronic medium is referred to as eCommerce (also known as electronic commerce). This network enables users to do business regardless of location or time constraints.
Ecommerce, according to Amazon, is a brick-and-mortar business that has been converted into an online store front for the purpose of trading products and services over the internet. It states that depending on the plan, it can be a business model or a distribution channel. It enables companies to contact clients all over the world. There are a bunch of eCommerce development companies that offer multiple services for development and enhancement of eCommerce business.
There is always confusion between eCommerce and ebusiness, hence it is very important to understand the difference between the two. The term "eCommerce" refers to a subset of the term "e-business." It refers to online sales and purchases, whereas e-business refers to any online business activity, such as sales calls, material procurement, contract signing, and so on.
Now that we have had a rough idea of how an eCommerce platform differs from other online businesses, we must delve deep to understand how eCommerce works. Let us start with that.
2. How Does Ecommerce Work?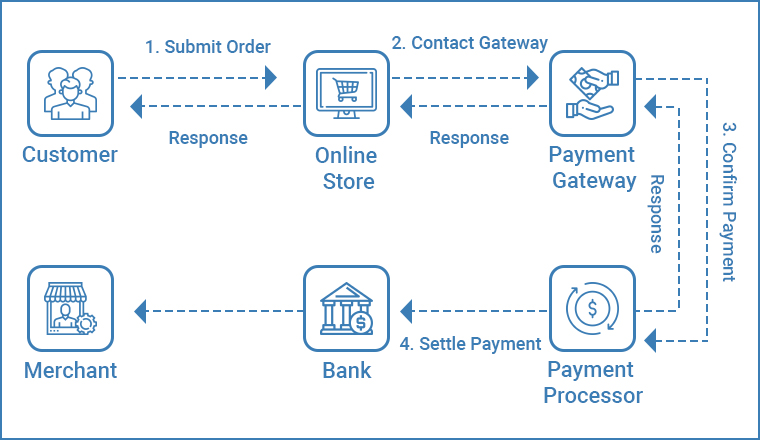 The basics of e-commerce are similar to any physical store. Customers visit your ecommerce store, look around, and then buy something if they like. The main distinction is that they don't have to own space, they can look for all the products by staying home, and also do purchases from home. Also your consumer base isn't restricted to a single geographic location or region. This becomes the added benefit of going online.
The basic functioning of eCommerce will be clearly explained in the upcoming section. It will also help you to manage an e-commerce website, though the method is the same whether you're selling running shoes or any other household things. The process and important factors of consideration will differ. For now,what are the three basic functional stages of any ecommerce business?
Order received / Order Accepted
The first step is to accept order. On your eCommerce website or ecommerce platform, a consumer makes a purchase. When someone places the order, you will receive a notification.
The order should be processed. Following that, the payment is processed, the sale is recorded, and the order is completed. Payment gateways are used to process payment transactions.
Here once the order is ready, it will be ready to get shipped in your desired locations within the estimated days.
There are other essential factors too in this process of how eCommerce works. Some of the vital factors of consideration include business bank accounts, order fulfillment, shipping information, Payment gateways, SSL certificate, shopping cart info and others too. Let us see each one of this in detail.
2.1 Domain Name
Your ecommerce website's domain name is how customers will find it. It should be simple to recall and spell. To keep things easy, many organizations use their company name as the domain name. Depending on whatever solution you select to start your commerce business with, your domain name may be included for the first year.
2.2 Secure Socket Layer (SSL) Certification
Once you install an SSL certificate from your hosting provider. SSL certificate gets easily activated when a website visitor arrives at your site. In between your website server and the visitor's browser, this SSL technology can easily encrypt personal data. If you have an SSL certificate it is possible to send credit card details over the internet in a safe manner. It provides consumers with a sense of security while making online transactions. It also protects vendors by assuring them that client transaction data is safe.
2.3 Payment Process
Often when you hear about payment gateways and payment methods, there is one thing that is replaceable and that is payment processors. To understand the difference between the two, we must know what each means. Payment processing is a process which starts when the customer issues a payment request to the bank and then requests it to the machine. The machine then generates an OTP and processes the request. This whole process is called payment processing.
Whereas payment gateway acts like middlemen, it is actually a software that sends the online payment information to the processor. It allows the transaction to proceed between two persons and also the payments to be made in "cardless" scenarios as well.
Payment processors play a vital role in facilitating transactions.The payment gateway informs you if your transaction has been accepted or denied. Fortunately, many ecommerce platforms provide built-in payment gateways and processors, so you won't have to bother about this.
2.4 Shipping Details
Shipping a product from the client's warehouse to the customer's location is a specific path. This means whenever you order something there is a specific shipping location for your products as well as the client's warehouse is registered to back track all the necessary information. This process is fixed and shipping details are registered at a single point for users as well as e-commerce companies.
2.5 Transaction Information
When the payment gateway completes the transaction, your ecommerce platform will send an email and SMS to the customer. This email and SMS certifies that your ecommerce site received the order. It normally suggests that once the order has been finished, you will send a follow-up email. In this way, the customer will always have access to their order tracking information.
2.6 Linked Merchant Account
The title makes it quite clear that it means the attached merchant account where all the money gets deposited. All the funds that are collected gets deposited on the customer's account from the credit or debit card of the customer. The merchant will approve the transaction and then it will automatically move to this account in specific business days.
2.7 Order Fulfillment
You have several alternatives when it comes to order fulfillment. You can do it yourself if you keep inventory in your house or workplace. When a customer orders something, you pull it, pack it, and ship it, then send the tracking information.
You may enter the tracking information and change the status in your ecommerce platform's inventory management system, and the email will be sent to the client automatically. Many small ecommerce companies that are just getting started find this to be a pain.
2.8 Official Business Account
The money also has a specific route to transact like, it first goes through the gateway then into the merchant's account. This will later be transferred into the official business account. For easier transaction of sales, such business accounts are kept to make business calculations on the profit of your eCommerce easily.
3. Types of E-Commerce Business Models
Undoubtedly, there are many ways eCommerce businesses operate, and in e-commerce terminology, it is known as e-commerce business models. The maximum eCommerce business are B2C retailers on the internet. However, there are several other types of eCommerce websites too. Majorly there are six types of e-commerce business models available globally.
3.1 B2B (Business To Business)
Here, in this type sometimes it can be e-Commerce companies that would be most likely to sell their product or service to another business. The buyer is sometimes the ultimate user, although most of the time the buyer resells to the consumer.
B2B(Business To Business) transactions are assumed to have a big and elongated sales cycle, but the order values might differ and there can be more repetitive orders.
3.2 B2C (Business To Consumer)
The end-user is the focus of B2C companies. Because the B2C business model is the most frequent, it encompasses a wide range of options. A B2C(Business To Consumer) transaction is when you buy anything like clothes, home goods, fashion or even entertainment as a consumer from an online retailer.
3.3 C2C (Consumer To Consumer)
A consumer-to-consumer (C2C) firm, is also an online marketplace, connects people to trade items and services as well as conducts business through transactions and the listing of possible charges.
3.4 C2B (Consumer To Business)
As individuals, they can sell products or even services to businesses through such C2B firms. A website might allow clients to publish jobs they need to get done and have businesses compete for the assignment under this eCommerce strategy.
3.5 B2A (Business To Public Administrations)
If a business wants to sell its product to government agencies or government-owned entities, then using an online platform can be done easily.
3.6 C2A (Consumer To Public Administrations)
Similar to what we have discussed for B2A, it is the same for consumers too. They can also earn through selling directly to government officials or agencies that are publicly owned. The government seldom purchases goods or services from residents, however they do so often in the following areas like social security, education, tax filing, and more.
4. Advantages of E-Commerce
The key benefit of an eCommerce business is that it allows you to run your company in a flexible manner while also allowing you to reach a wide range of target consumers within seconds.
4.1 Availability
Apart from regular maintenance or downtime periods, the e-commerce websites are always accessible 24 hours a day, seven days a week. They also allow users to explore and purchase whenever they choose. Accessibility
While crowds can impede customers in a physical store, ecommerce sites are free to operate anytime and the response time is also rapid. Other than cases of computation or bandwidth constraints, they are both accessed in the consumer device and the e-commerce website. Product pages and shopping basket pages are loaded in a matter of seconds.
4.2 Scalable Solutions
Your company has the ability to scale up and down as needed. When operating a brick-and-mortar store business, there are practical limitations to how many things you can carry in other words shelf space is limited. When it comes to ecommerce platforms, there are no such restrictions; you may add and delete things whenever you want.
4.3 Higher Customer Reach
You will be able to reach out to larger troops of people. It doesn't matter if you reside in a big metropolis or a tiny village in the country; e-commerce allows you to sell to a wide range of customers.
4.4 Consumer Data in Hands
The eCommerce business has allowed consumers to come and checkout the website. The website visitors with their consent submit some of the data. This data becomes a useful asset for other businesses. They can use it in email marketing or target customers who are loyal to you with promotional offers and discount ranges.
5. Disadvantages E-Commerce Company
E-commerce offers numerous advantages, but it is not without its drawbacks. Here are some factors to think about before deciding whether or not an e-commerce business is suited for you.
5.1 Financial Data and Credit Card Frauds
The potential of fraud is one of the most serious issues with e-commerce. Identity theft and credit card fraud are routine, impacting hundreds and millions of people every year. If hackers get access to your network and steal important consumer information, the consequences might be horrendous.
5.2 Unbothered Carts
Often customers leave their online shopping carts unattended. E-commerce facilitates window shopping by clients who have no intention to buy an item. A large percentage of online purchases are lost due to abandoning their shopping carts.
6. Conclusion
Ecommerce business has made its way to the top in every business online. It has become one of the successful online stores to offer all types of services online. Their online marketplaces are simpler to understand and it adds convenience as you can use it from mobile devices as well. The online retailers whether small businesses or enterprise level companies; everyone can reap benefits and bring value to their business. We saw several advantages that make more and more businesses take this type of selling online. Online stores also have advantage of social media marketing in comparison to brick and mortar businesses and improve your online business performance.