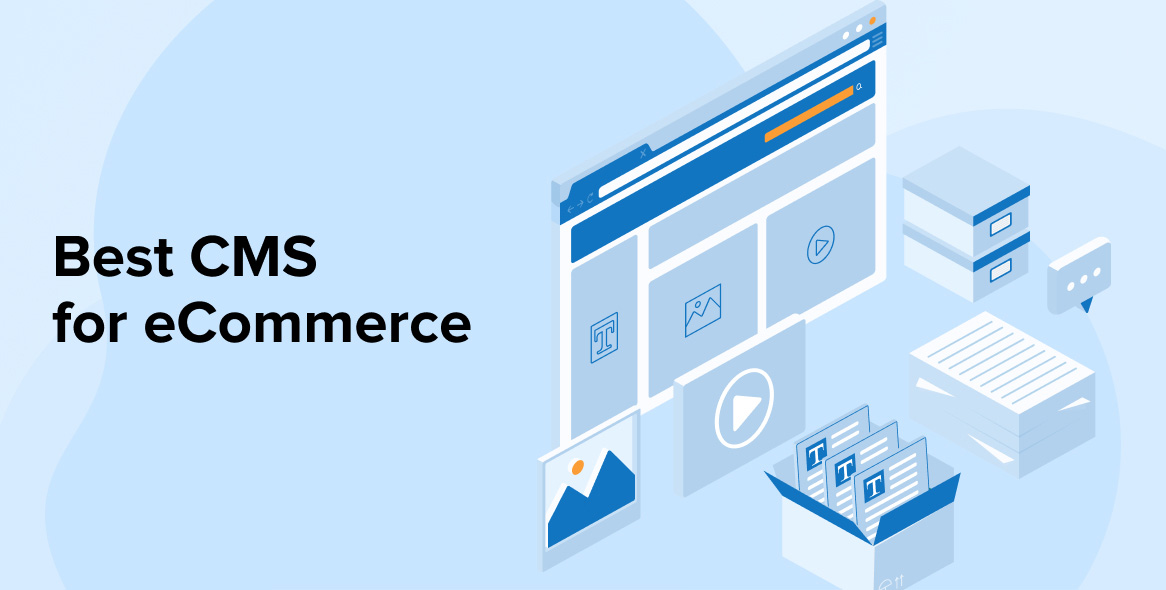 Despite widespread fears about the global economy, online retail sales keep rising. Are you aware that by 2024, the proportion of retail sales generated via electronic channels is predicted to increase to 21.9% globally?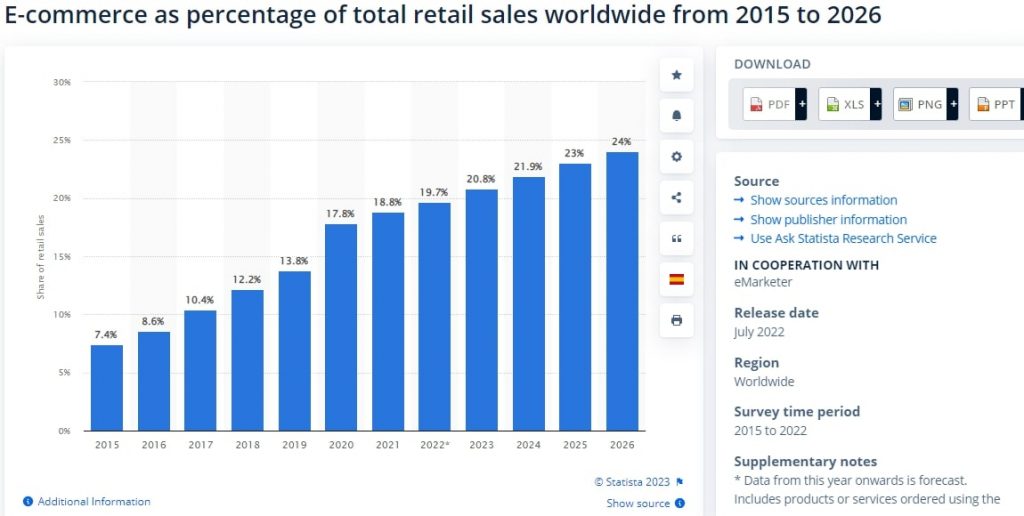 Online shopping is growing, thanks to eCommerce development services. A firm grounding in CMS for e-commerce is essential as companies go into the online retail space to build a presence.
This article is meant to serve as a full reference on the best CMS for eCommerce platforms. Look out!
1. What is an E-commerce CMS?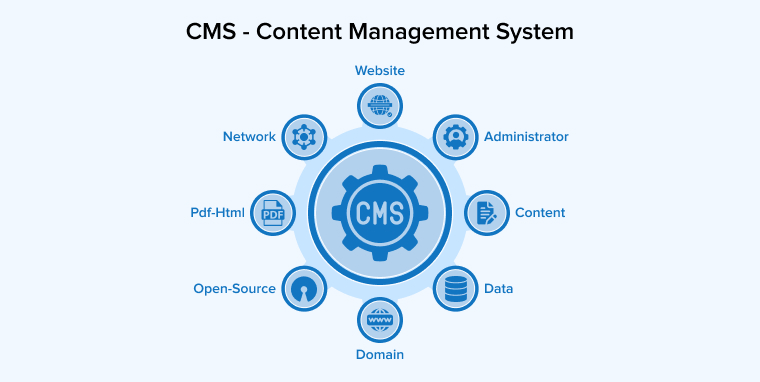 With the help of a content management system (CMS), online merchants may update their ecommerce websites' text and images without learning HTML or CSS. Customers may customize the look of the online store in a variety of ways, including the placement of products on individual pages, the visibility of promotional banners, and the rate at which further promotional content is posted to the site.
You can manage your inventory and accept orders from customers right on your eCommerce website with the help of an eCommerce platform. Some online storefront software also functions as a cms platform. Simply said, it's a system that allows for easy administration of an online store's backend.
2. Essential Features of an Ecommerce CMS Platform
2.1 SEO-friendly
Understanding the optimal placement of keywords is the crux of on-page SEO for online stores. It's a method of exchanging information with web spiders for better search engine rankings. Even if you aren't an SEO expert, any best eCommerce CMS platform will assist you in optimizing your product pages for search engines.
Here are some of the features you must consider:
Page URLs of online stores – The overall efficiency of your website will improve if you can get rid of any unneeded subfolders in your URL structure.
Page titles and meta descriptions – Meta Description is the first thing people see when they click on a search result. Therefore, it needs to be well-optimized for keywords.
Social sharing buttons – Sharing buttons not only allows your consumers to spread the word about their favourite products but also boosts your brand's exposure in front of new customers who may have been interested in what you're selling.
2.2 Optimize for UX
Shoppers today have high standards for ecommerce websites. If you don't offer a good user experience, people won't stick around to buy anything. And what's more terrible is that they'll never return.
Therefore, one of the things to consider is flexible design options.
Optimized Content for Mobile
It's now quite clear that mobile commerce will quickly eclipse desktop commerce. By 2025, it is projected to generate $710 billion in revenue for the online retail industry of the United States. If you don't want to fall behind in the mobile commerce race, optimizing your shop and content for smartphones should be at the front of your UX priority. Optimize your mobile site speed with Google Cloud Platform infrastructure.
In practice, this means giving extra care to the download speeds, mobile routing, mobile check-out procedure, aesthetics, and other UX factors that affect the mobile user experience. Further, the eCommerce CMS you use should automate a number of optimization procedures to assist you to increase conversion rates without resorting to costly, time-consuming, and error-prone bespoke coding.
2.3 Easy to Use
The primary function of an eCommerce CMS is to ease the burden of maintaining online stores for businesses; as such, it should not increase the amount of labor required to run the system. To save money and keep costs down, small and medium-sized businesses should investigate user-friendly eCommerce CMS solutions.
The dashboard of the platform should be intuitive, allowing you to easily do things like updating the material, optimizing for search engines, and modifying the layout. It has to be adaptable so that you can try new ideas and see what works best to enhance the user experience.
2.4 Plentiful Integrations
As a result, it is necessary to use supplemental modules and extensions developed by other parties because no CMS is flawless. Consider the number of available extensions and how readily the system interfaces with other tools before settling on a CMS. There are a plethora of extensions available for major cms platforms like Magento, Shopify, and WooCommerce that may be incorporated to improve the functionality of your website. The number of integrations is a good indicator of how well-liked and API-friendly a platform is.
3. Best CMS for eCommerce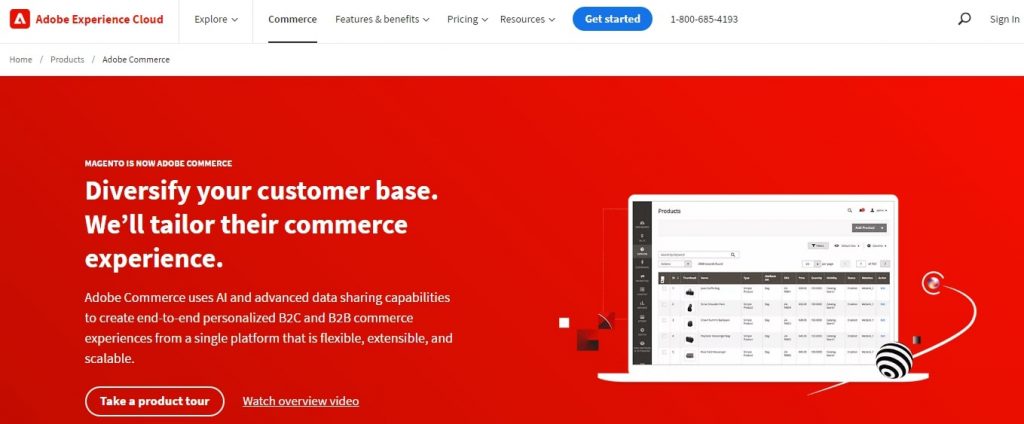 Magento is a PHP-based, freely available online storefront management system. Formed in 2008, it now serves as the backbone for over 250,000 websites.
To accommodate enterprises of varying sizes, the platform has two pricing tiers (Open Source and Commerce edition). Magento is backed by great community support. Here's data showing the numbers of countries utilizing Magento from 2009 to 2023.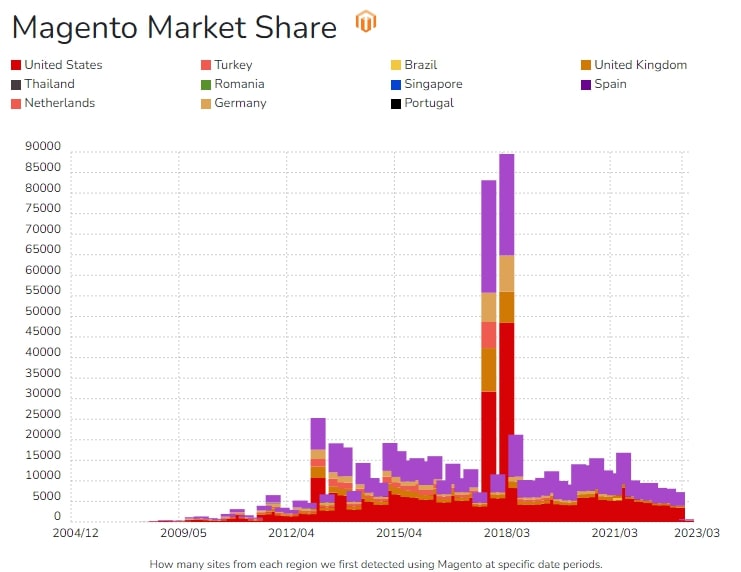 Magento has a big customer base among corporations because it offers advanced capabilities right out of the box, including B2B capabilities, omnichannel marketing, multi-store support, and more. Magento is well-known for its adaptability, which is crucial for organizations that need extensive customization.
Additionally, the Magento extension marketplace is rather extensive, allowing for seamless interfaces with e-commerce business-level applications like customer relationship management (CRM), enterprise resource planning (ERP), chatbots, and more. There is a good probability that an extension will exist for any functionality that you want out of the box but Magento does not provide.
Key Features of Magento:
A strong system with a wide variety of helpful options.
Incorporating mobile-friendliness to aid with international sales.
Purchase, payment, and delivery all consolidated.
Managing a catalog.
Modifications that provide more value.
Obtainable instantaneously.
Capability for business-to-business exchange.
State-of-the-art advertising resources.
Page builder.
Pros:
The Magento platform is robust and capable.
SEO-friendly and quick to load, Magento is a great platform for websites.
Magento stores provide for nearly infinite user-defined functionality.
Several sophisticated reporting options make it possible for store managers to obtain details on orders, customers, and inventory.
Magento's solutions are designed to grow alongside its customers' businesses.
Almost 360,000 people are active on the Magento forums. Tips, frequently asked questions, documentation, and anything else you need to know to operate this system are all available.
Cons:
Magento's complexity makes it challenging to utilize for those who aren't technically savvy.
As contrasted to other solutions, Magento's pricing structure is prohibitive.
Hosting is essential for Magento websites.
Pricing of Magento:
Price of Open Source Software: $22,000 per year (for business use)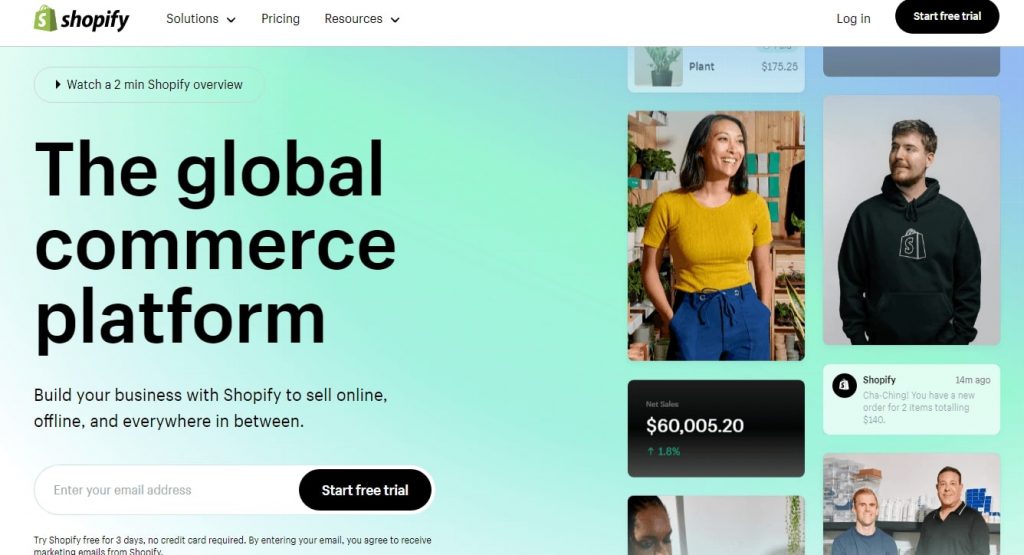 For selling products online, this is among the leading ecommerce solutions since it is widely used by companies all over the globe. Gross merchandise volume (GMV) for Shopify in the United States is projected by Statista to exceed US$145 billion until 2024. In 2020, Shopify generated 62.88 billion USD in GMV, which was much less than Amazon.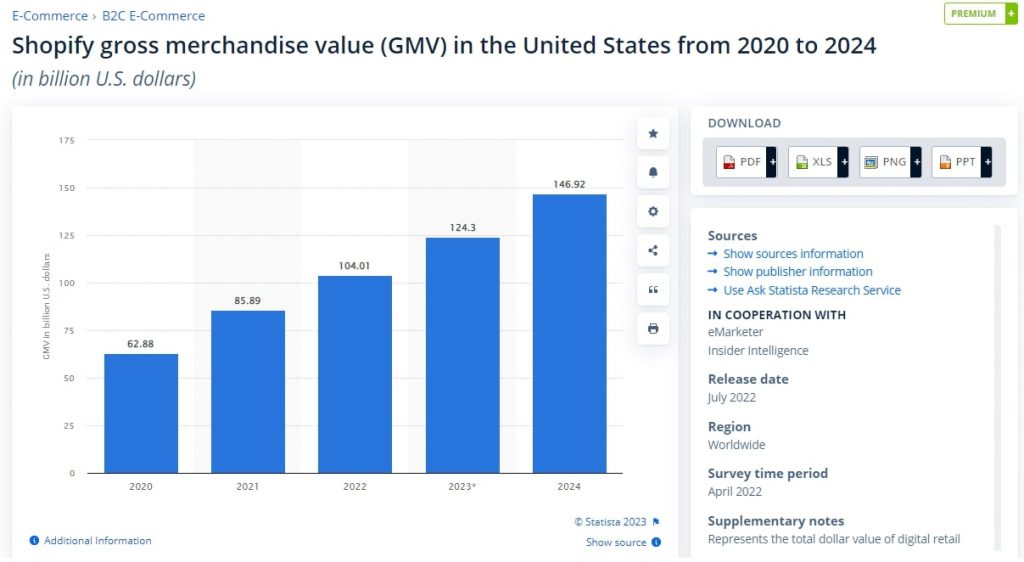 To date, more than 2.2 million websites call Shopify their home. Even a complete novice can rapidly learn to utilize Shopify's numerous beneficial features to operate their online store easily, which is why it is the platform of choice for so many online retailers. For this reason, it has found widespread adoption among new enterprises. This doesn't rule out the possibility that major brands would choose to do so. Companies of Hasbro's, BBC's, Red Bull's, Heinz's, and similar sizes might find the platform well-suited to their needs.
The path ahead. pic.twitter.com/jbk4eWbD1T

— Brian Roemmele (@BrianRoemmele) January 27, 2023
Key Features of Shopify:
Simple to alter the storefront.
Cart for mobile commerce that is built in.
Created sitemap.xml.
Inventory management.
Take control of your shop even when you're not there.
Pros:
Several online retailers find Shopify to be the most user-friendly platform available.
Offers a variety of tasteful, expert, and mobile-friendly templates to choose from.
Apps for sales, bookkeeping, stock control, shipment, and more is readily available to users.
Shopify has round-the-clock customer service.
Cons:
Shopify lacks the versatility of other self-hosted systems, so your store will be limited to the features it provides.
There are a lot of paid Shopify themes available.
Extensive modifications to the theme may necessitate the assistance of a professional.
The beneficial Accelerated Mobile Pages (AMP) functionality is locked behind a paywall.
Pricing of Shopify:
The monthly fee for Basic Shopify is $29.
Shopify is $79/month.
The monthly fee for Advanced Shopify is $299.
Shopify Plus is $2,000/month.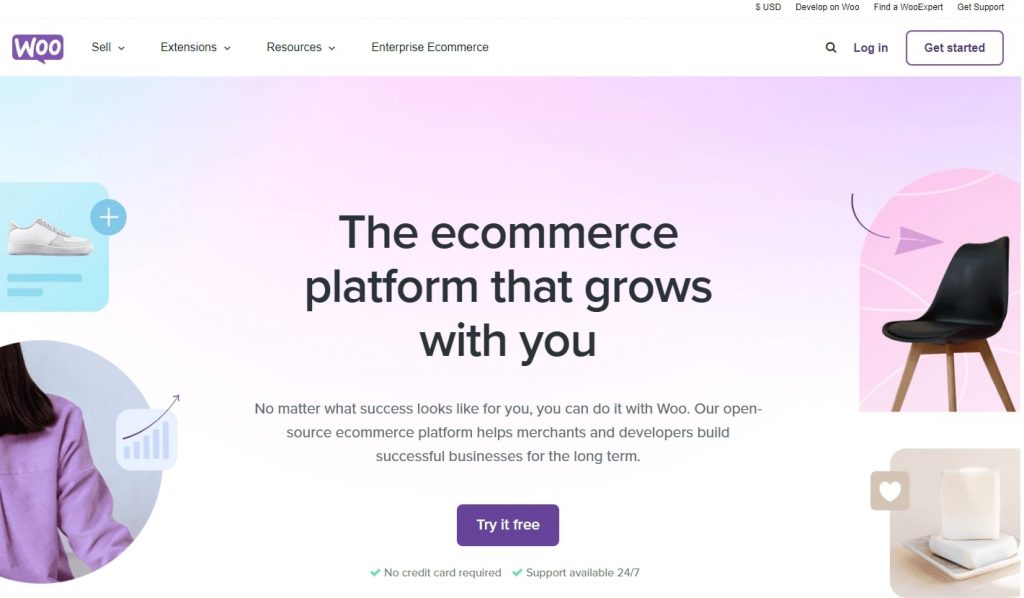 According to Statista, WooCommerce held a 38.74% worldwide market share as of July 2022, making it the most powerful eCommerce platform in the world.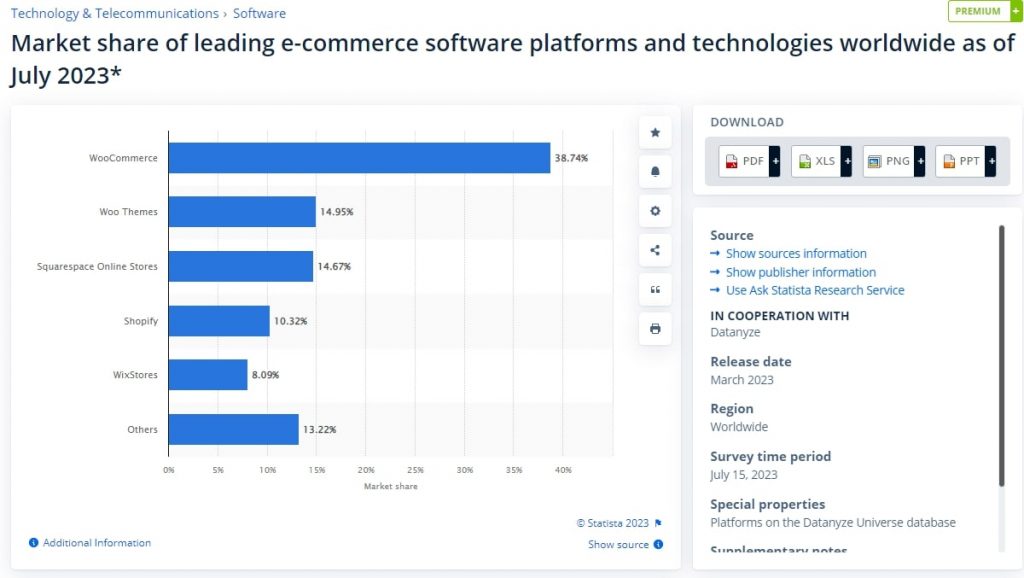 In reality, WooCommerce is a plugin that converts a WordPress site into a shopping cart. It's an appealing option for those looking to open an online store because of the abundance of available free plugins and skins. More so, these may be incorporated simply and quickly, with just a single click, to activate various functions.
One of this eCommerce platform's strongest points is its ease of use. It's a breeze to set up and start using. In addition, the many resources available to you as a WordPress user community are invaluable. Since WordPress is freely accessible, its source code may be altered to suit the needs of the business.
Key Features of Woocommerce:
Accepts Payments from 140+ Regional Payment Processors.
Provides a number of free SEO add-ons.
With over a thousand different options, WooCommerce has something for everyone.
Useful for a variety of retail settings
Pros:
Add many useful features to WooCommerce at no cost.
WooCommerce is an open-source plugin for WordPress.
WooCommerce is a straightforward alternative to more complex content management systems.
Theme modification is a breeze.
WooCommerce stores load quickly and have all the necessary functionality at the ready.
Products without limits.
Provide a lot of add-ons to work with.
SEO-friendly.
Complete editorial freedom.
well-known to those who use WordPress.
Cons:
You will need to make sure your store's administrator is familiar with WordPress and WooCommerce inside and out.
Some add-ons require a fee to be paid before they may be installed.
Hosting and domain registration costs are the exclusive responsibility of the user.
The WooCommerce plugin frequently falls behind the latest version of WordPress.
WordPress themes are required for use on the platform.
Pricing of WooCommerce:
WooCommerce is free, and there is no cost to download or set up.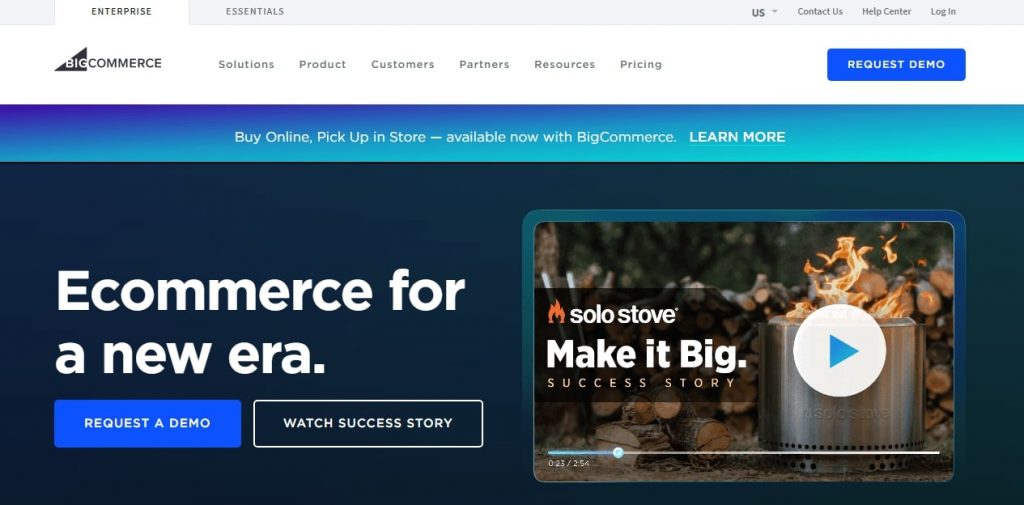 BigCommerce is a software-as-a-service (SaaS) eCommerce platform that facilitates website creation, administration, and upkeep for online retailers. Famous companies like Toyota, Burrow, and Skullcandy all use it as their eCommerce cms. Here's a graph showing the different sites having BigCommerce Market Share from 2010 to 2022.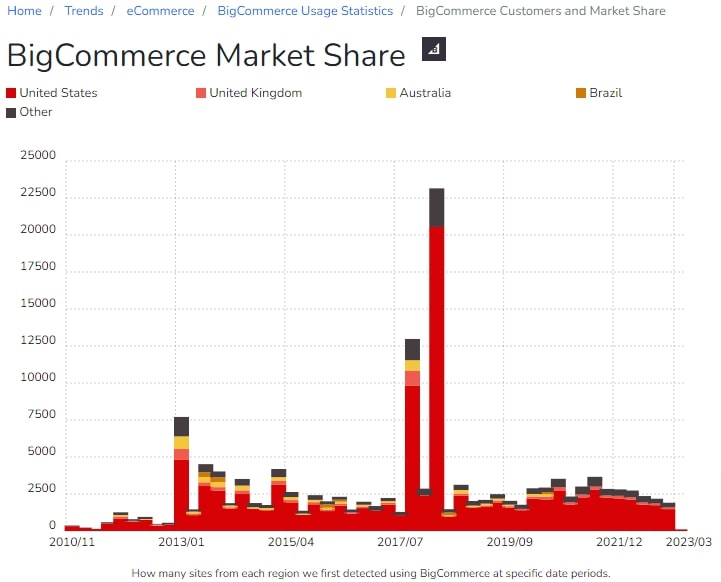 Among numerous eCommerce software suppliers, BigCommerce has drawn big names in the business because of the robustness and adaptability of their website editor. You may use their editable templates, and you can also modify the HTML and CSS code.
Given this, BigCommerce is a solid option for online businesses of all sizes, from startups in need of a rapid website to established brands with the means to employ developers to create custom e-commerce solutions.
BigCommerce's content management system (CMS) is also compatible with a wide range of useful e-commerce add-ons. Features like comprehensive search engine optimization, sales metrics, and a range of social media-centric advertising tools are all included.
Key Features of BigCommerce:
Web hosting is a breeze with BigCommerce.
The use of external programs and add-ons is possible.
Simple and straightforward website creation tool.
Provides solid backing for blog creation.
A selection of 12 starter layouts.
Many other online payment options are available, including PayPal.
Corporate customers get access to their development services.
Pros:
Great usability and simplicity.
Rapidly loaded online storefront.
Several different templates to choose from.
Effective for search engine optimization and natural rankings.
Friendlier service to the customers.
Compatible out-of-the-box with a wide variety of add-ons and software.
Pre-assembled weblog format.
Simple editable fields.
Staff accounts are unlimited.
Cons:
BigCommerce's prices are higher than those of competing platforms.
Online sales are capped annually, and if you want more you'll have to pay for a more expensive subscription.
The integrated blog does not support RSS feeds.
Pricing of BigCommerce:
Standard: The norm is $29.95 each month.
Plus: $79.95 per month
Pro: It's only $299.95 a month
Enterprise: individual quotes.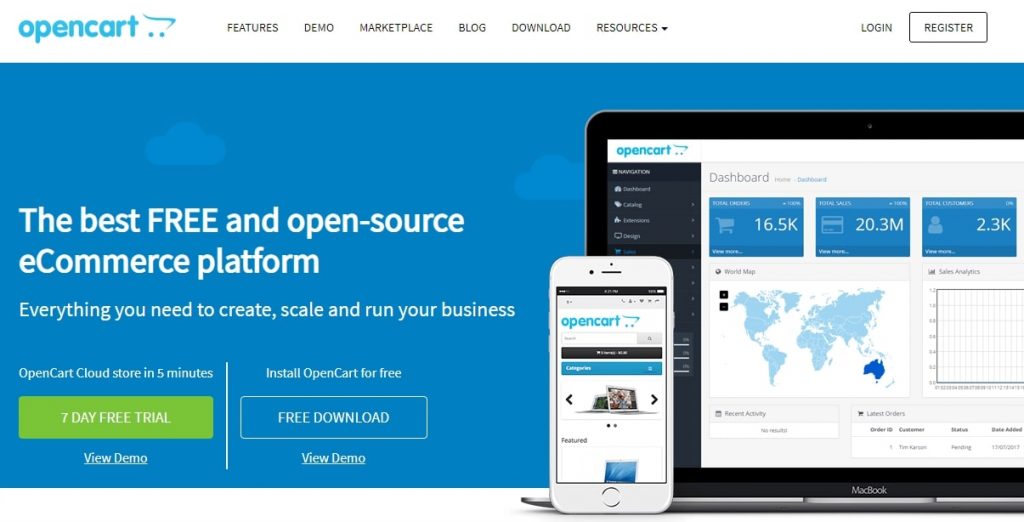 OpenCart is an open-source shopping cart that anybody may use for free. In 2022, Opencart held 2.96% of the platform wise eCommerce market shares.
The platform has many useful features and is simple to implement and use. It features a booming bazaar with over 13000 extensions, and it has a wide selection of e-commerce designs. Additionally, the platform supports the seven most popular payment methods and 36 other gateways. OpenCart is an excellent option for ecommerce businesses with few resources who want to enter the e-commerce market.
Key Features of OpenCart:
A centralized administrative interface displaying summaries of orders, sales, and customers.
Device-agnostic and swift to respond.
Keep track of everything for all of your shops with just one login.
Incorporate a wide range of customization options and product characteristics.
Easily make an infinite number of product types and listings.
Promotional coupons and discounts.
Pros:
No cost for the core features.
OpenCart's extension system provides easy access to cutting-edge e-commerce tools.
Very adaptable if you know PHP.
Cons:
Some of the themes lack the cutting-edge appeal of newer SaaS content management system (CMS) e-commerce sites.
You'll have to shell out money for services like hosting and security certifications.
Pricing of OpenCart:

According to W3Techs, PrestaShop is used by 1.1% of all the websites whose content management system.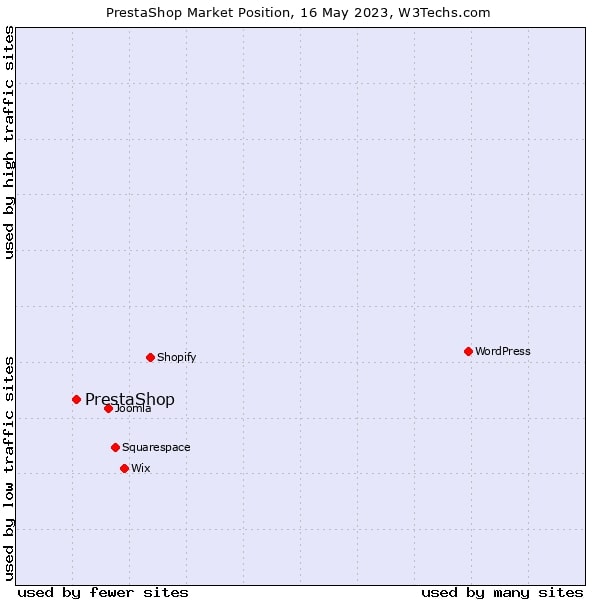 PrestaShop is a content management system (CMS) that is both lightweight and simple while providing users with extensive freedom in setting up and managing their online stores.
In keeping with the 'freemium' open-source business model, the bare-bones software is available at no cost, while additional functionality is offered for a fee. If you want your own website, you'll have to pay for it.
A web developer can modify any part of the PrestaShop code on your behalf. This can inspire creative approaches to e-commerce website development.
After the framework is in place, you may add functionality-enhancing modules to your online shop. Using extensions, you may enhance your SEO efforts or increase your Facebook and Instagram sales, for example.
Key Features of PrestaShop:
Simple format editor for making new layouts.
Connects smoothly to several social networks.
A lead-generating advertising add-on is available.
You may integrate eCommerce payment gateways in a number of ways.
In addition to the paid version, the free one is safe.
Pros:
Simple in both setup and use.
The open-source shopping cart PrestaShop costs nothing to use.
The layout of PrestaShop makes it simple even for non-technical people to utilize.
Modifications are simple to make.
Allow only safe and secure payment methods, such as PayPal and Google Pay.
Cons:
Due to its restricted scalability, PrestaShop is best suited for small to medium-sized shops.
Rather than having an internal support staff, PrestaShop relies on third-party vendors for assistance.
PrestaShop's layout is not optimal for a dynamic retail establishment.
The cost of extras might add up.
Pricing of PrestaShop:
While PrestaShop itself has no cost, hosting and additional modules will incur fees.
Other CMS Having Capabilities of eCommerce: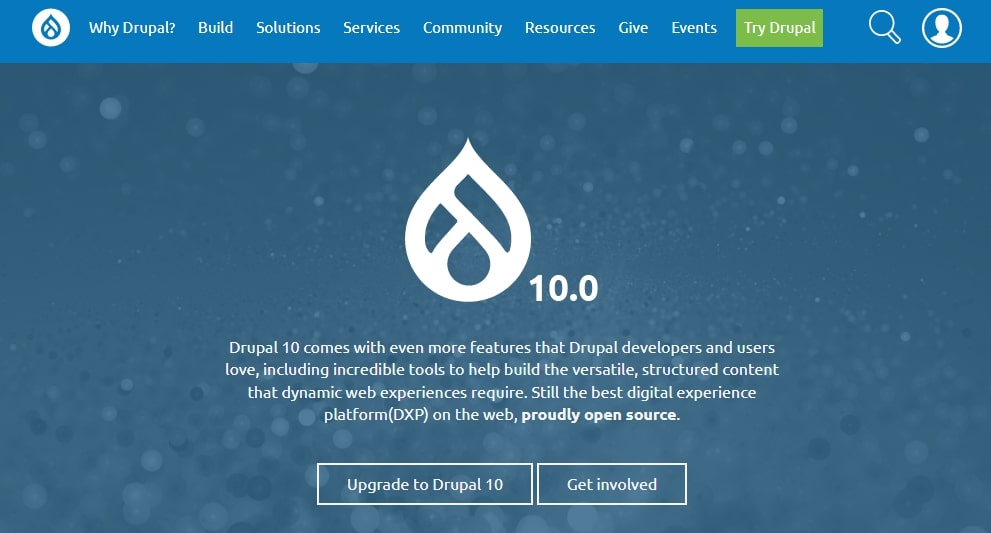 There are many websites that utilize Drupal since it is free and open-source. In spite of this, it is possible to add eCommerce functionality via plugins, despite the fact that it is not an eCommerce-focused platform on its own. Plugins can be used to accomplish fundamental facets of an ecommerce platform, such as order administration, a shopping cart, and the ability to accept payments. However, the platform is not necessarily user-friendly for those who lack programming experience.
Here's data of different sites using Drupal on the interrent. The comparison is shown between 10k sites, 100k sites and 1M sites.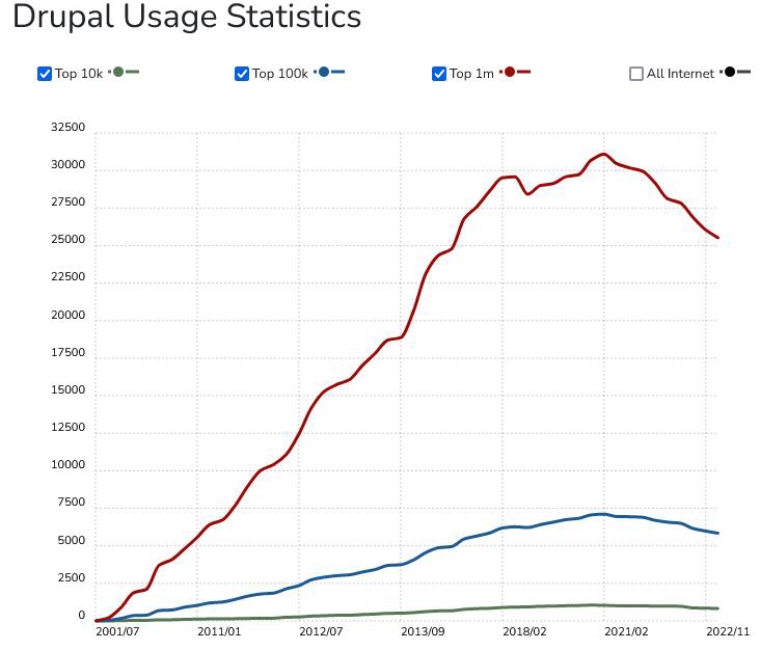 Key Features of Drupal:
Integrated process workflow.
Adaptable and modular.
Language support is extensive.
Pros:
You are not tied down to any one SaaS ecommerce CMS when you utilize Drupal to build your ecommerce marketplace.
Drupal allows you to effortlessly develop content and publish it whenever you wish thanks to its back-end and front-end separation.
Cons:
Complicated Use and Reliance on Online Forums for Help.
Not as extensive a collection of add-ons and extensions as WordPress.
Pricing of Drupal:
Pricing is free, and there is no cost to download or set up.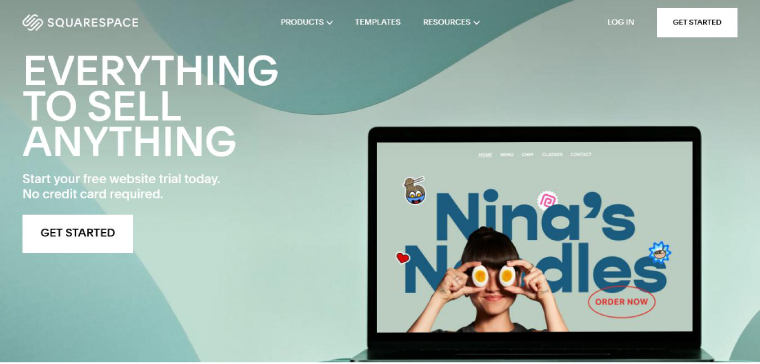 Squarespace is another best ecommerce cms solution because it provides everything a store needs in a single, user-friendly package. The Squarespace Commerce feature makes it possible to create online shops on the content-focused Squarespace platform. It's a one-stop shop for web hosting, domain name registration, weblogs, and e-commerce.
Squarespace's eCommerce website construction capabilities, which include a drag-and-drop editor and pre-made designs from professional web designers, are ideal for beginners. It works with every major social media site, allowing you to maximize your social media marketing efforts and, ultimately, your social media sales.
Squarespace's market share is 3% among all websites on the internet, according to BuiltWith.com. From 2021 to 2022 they've grown their market share by 17%. Their biggest competitor Wix currently captures 3.6% of the market.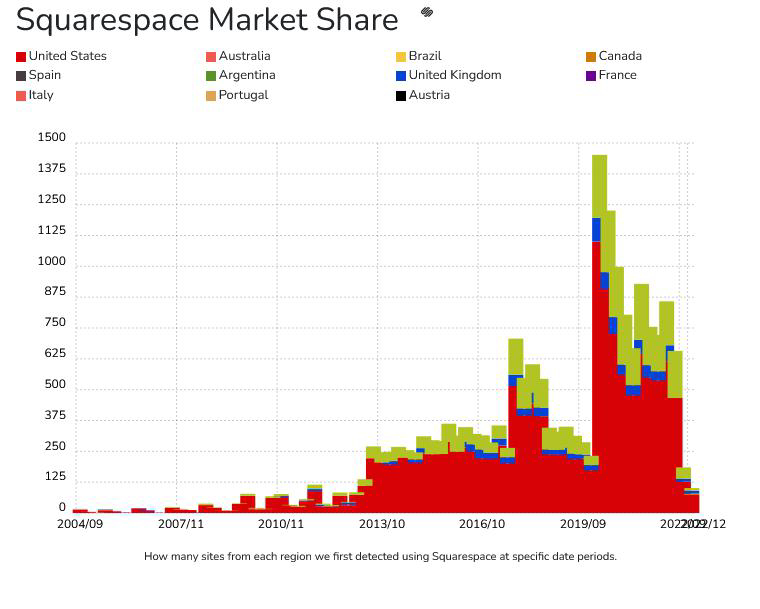 Key Features of Squarespace:
Use Squarespace analytics to monitor your site's success.
Tools integrated for instantaneous tax computations.
Facilitates the marketing of subscriptions
Control your stock completely using an API, alerts, and a dedicated control panel.
Pros:
A wonderful mix of no limits on purchases and no hidden costs.
A plethora of excellent selections for templates.
It's quite simple to use.
Cons:
There is no telephone assistance, however a live chat feature is available around the clock.
Pricing of Squarespace:
The monthly fee of the Basic Commerce plan is $26.
The monthly fee of the Advanced Commerce plan is $40.

According to W3Techs, Wix is used by 3.6% of all the websites whose content management system. Wix may be used as both a generic website builder and a content management system for online stores. In order to use their ecommerce cms platforms , you will need to subscribe to one of its "Business & E-commerce Plans."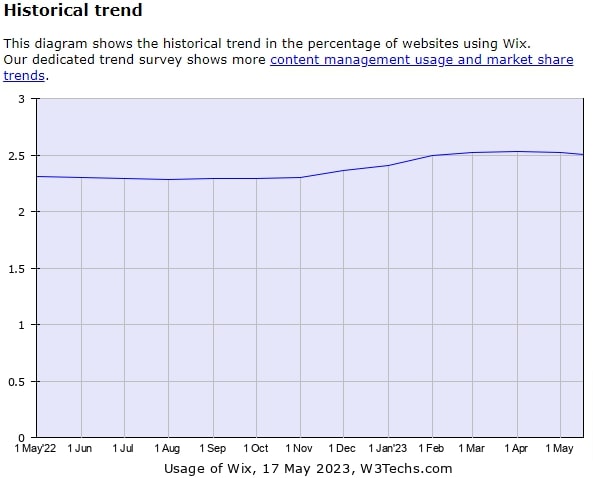 Wix's ecommerce CMS sacrifices some degree of customization for the sake of simplicity and convenience. Wix's out-of-the-box e-commerce solutions may not have as much design flexibility as those offered by competing SaaS ecommerce platforms, but they look excellent.
There are more than 500 different designs to pick from, so you won't feel hemmed in.
When compared to other website builders, Wix lacks some of the more complex tools necessary for running an effective online business. Wix's eCommerce content management system solutions may not provide all of the features you want, such as the ability to tailor your site to individual visitors, implement various types of discounts, or analyze user behavior.
Key Features of Wix:
Wix offers a wide variety of high-quality e-commerce free and paid themes.
Quickly installed, user-friendly software.
Superior choices for mobile shopping.
The blogging platform is included inside the CMS.
Easily manages stock with no effort.
Pros:
Wix ecommerce offers great value.
No commissions.
Templates are abundant.
Cons:
Several features require premium subscriptions.
Site customization is limited.
Pricing of Wix:
The monthly fee of the Business Basic plan is $17.
Business Unlimited plan is $25/month.
The monthly fee of the Business VIP plan is $35.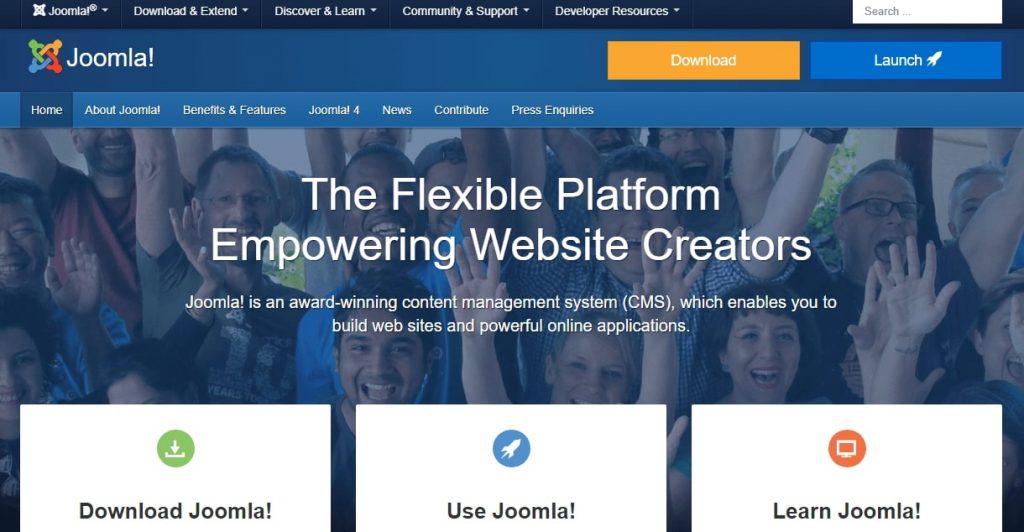 In the same way that WordPress and Drupal both support eCommerce through plugins, Joomla does as well. By installing one of the many free extensions for Joomla, any website may be turned into an online store. According to W3Techs, Joomla's market share among content management systems is 2.7%.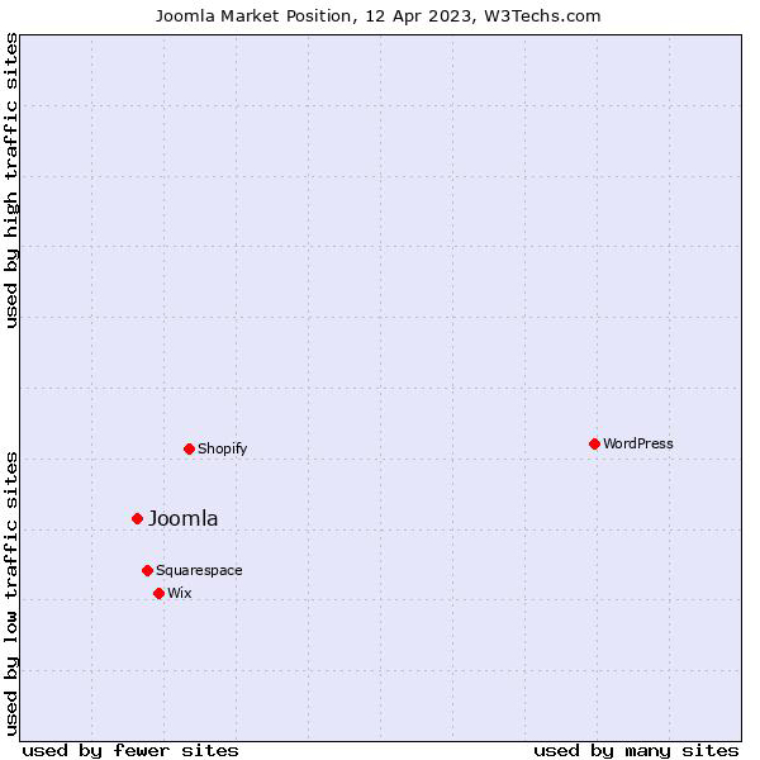 The store's look, feel, and features may all be altered to meet individual needs. It's a handy tool for making malleable online storefronts since it assists with everything from setting up an online store to displaying products for sale.
Key Features of Joomla:
Multiple options for design.
Wide variety of add ons.
Provides access to fundamental tools for improving search engine rankings.
Pros:
It is open-source.
Users may add anything since the source code is editable.
Joomla has been proven as one of the best eCommerce CMS because of its active community. Joomla's forum offers professional store owners' tips, methods, and guidance.
Cons:
Joomla's subscription fees are quite more for an open-source eCommerce CMSs.
Design and upkeep cost about $2000 each month, in addition to domain and hosting fees. Joomla users must pay development fees since they cannot get guidance from large communities like WordPress.
Pricing of Joomla:
It's free to use and set up, with no cost involved.
4. Conclusion
Every day, the landscape of online business seems to transform into something new. That's why it's so challenging to settle on a solid content management system for online stores; there are so many factors to take into account, from marketing and design to technological capacities and even the company's long-term goals.
Whether you prefer to emphasize e-commerce or advertising, keep in mind that consumers have grown to expect strong user experience, inventive product presentations, and compelling brand objectives from companies of all sizes. Adding a compelling story to your sales pitch might boost your success rate.