1. Introduction
Whether you're unfamiliar with online shopping, want to enter an eCommerce business for the first time, want to start selling online, or want to hire eCommerce development services, there may be a significant amount of information you may need to understand. What is necessary to develop a new internet business from the drawing board to production is not immediately apparent.
According to statista, retail eCommerce sales across the world from 2014 to 2026, have a look: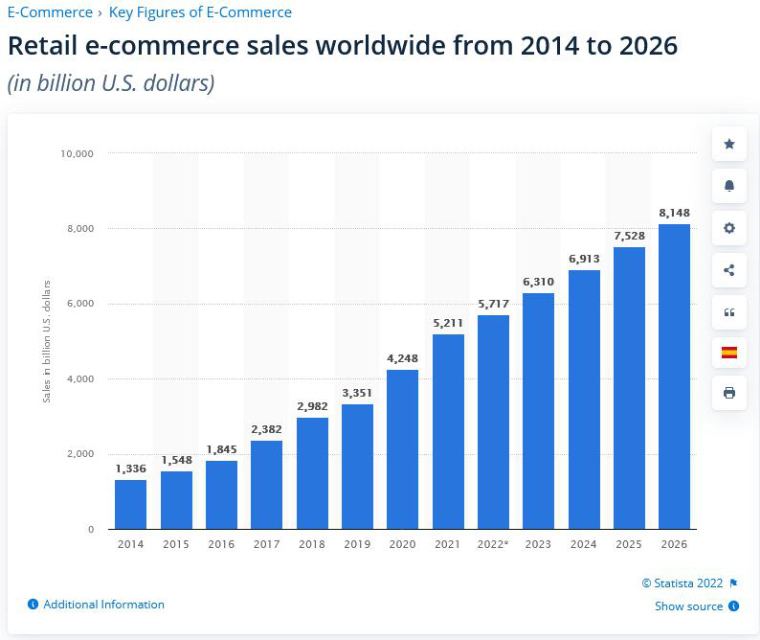 When creating a brand-new eCommerce site, there are nine fundamental procedures to take into account. So, in case you're wondering how to build an eCommerce website, read the article till the end!
2. Essential Steps to Build an Ecommerce Website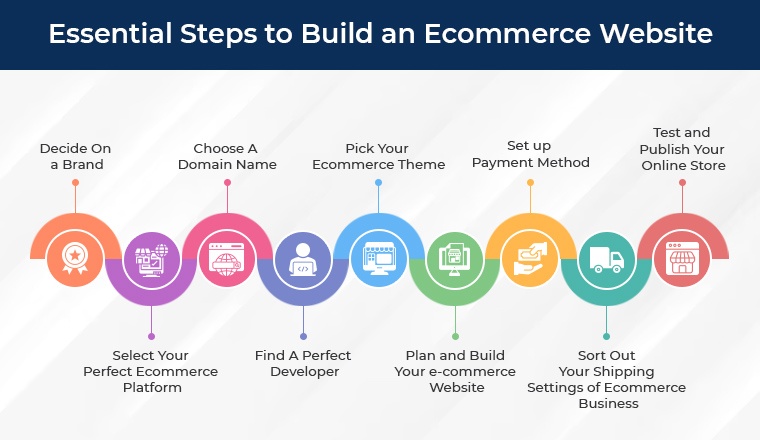 2.1 Decide on a Brand
Before commencing your eCommerce store, you will need to choose a brand name. The domain name you pick and register for your eCommerce site will represent the business. Proper research should be carried out.
Here are some simple methods that can assist you in developing your online businesses:
Perform a study on the current market scenario as well as know your target audience and recognize your primary rivals.
Determine your purpose and approach.
Select the company name.
Build a brand guarantee.
Develop the brand's visual identity (logo, colors, font)
Implement your brand throughout your digital properties.
2.2 Select Your Perfect Ecommerce Platform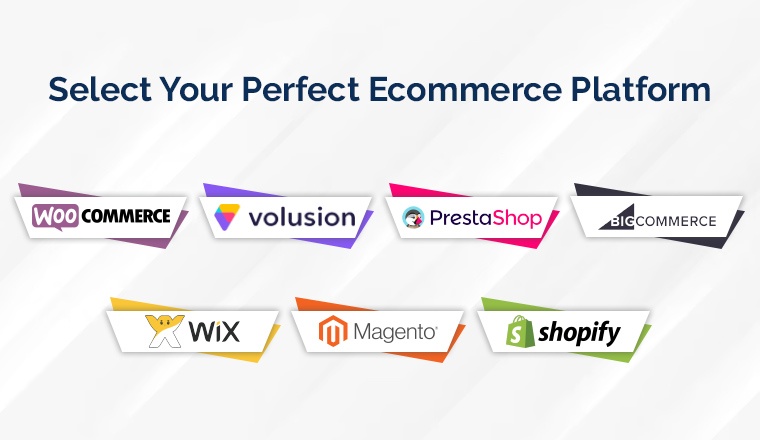 There are three primary categories of eCommerce platforms to select from, each of which is suited to a certain sort of business and offers unique features.
Open source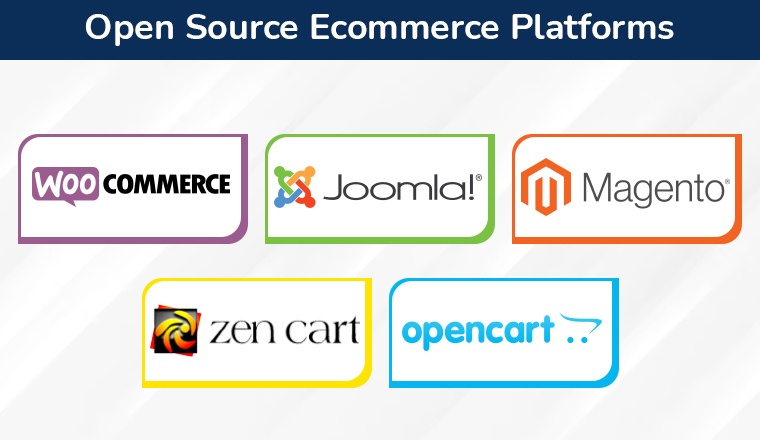 Open-source systems, as their title suggests, make their source code available to anybody who wishes to use it. It is ready to implement and infinitely configurable. Nevertheless, open-source platforms typically need sophisticated coding skills for optimal operation. Additionally, data breaches are a problem, and customers frequently need to pay security specialists, which might cost as much as a membership to an alternative platform.
SaaS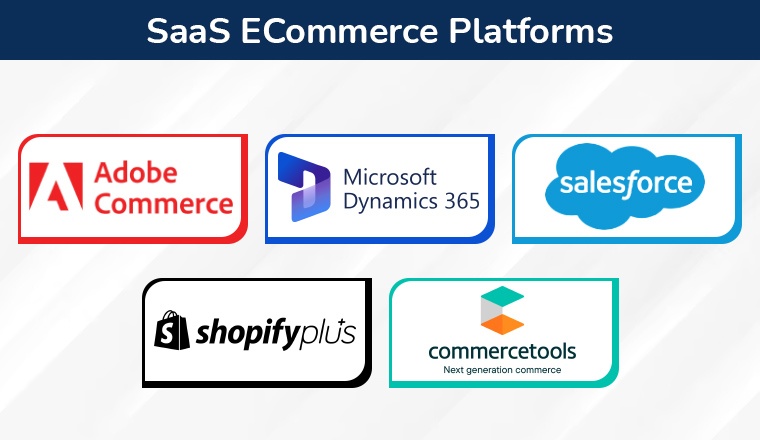 Software as a Service or SaaS is an eCommerce platform supplied as a subscription service. In general, these platforms are user-friendly, accessible, and secure. Due to their eCommerce-specific architecture, they can manage logistical activities such as registration and transaction processing.
There are monthly membership costs, transaction fees, and expenditures for plug-in applications associated with SaaS. Some companies may also have trademark restrictions, limiting your design inventiveness. Sites produced on Wix, for instance, feature "powered by Wix" at the bottom of the page, so you're not only advertising your business, but also Wix. Premium services often provide you with a free domain and greater freedom to design an appearance that is unique to your company.
Headless commerce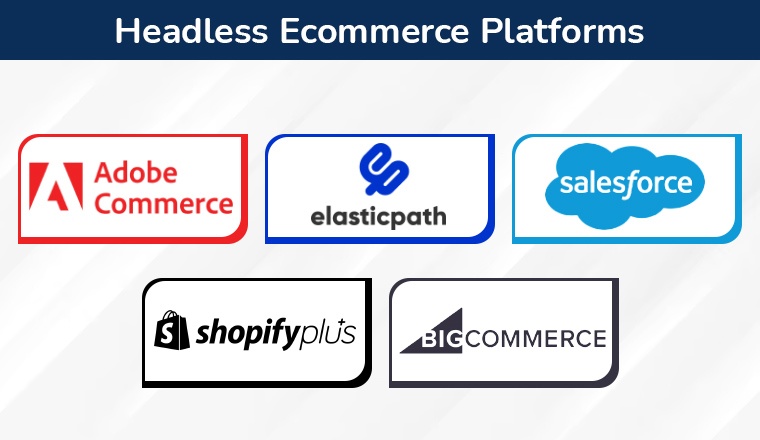 Headless commerce separates the shopping cart and presentation layer of eCommerce websites. This implies that you may use digital technologies such as CMS(Content Management System), DXP(Digital Experience Platform), PWA(Progressive Web App), etc for data management on the front, and an eCommerce system on the server side.
Headless commerce permits rapid modifications to the customer-facing interface and provides firms with a great deal of creative freedom. It also enables firms to reach the market sooner, at a cheaper total cost, and to have greater store management while outsourcing encryption and PCI compliance.
2.3 Choose A Domain Name
If you own an existing website, you may move it to your eCommerce website builder. If you do not have one, ensure that it adheres to the recommended practices listed below.
Minimize unusual spellings
A domain name ought to be memorable and easy to type, therefore avoid innovative spellings. It is not required to pass a grammar exam; after all, Google developed the term "google"; but, it has to be easy to pronounce. Make sure it's simple to say since you want buyers to recommend it to their peers about your product. Avoid using hyphens and numerals, as this makes it more difficult for individuals to share the site URL (Web Address).
Eliminate random names
Visitors will lose the name, or they will visit a similarly-named business with a higher search engine optimization (SEO) rating. Ensure that your domain name is distinct; a brandable name is remembered.
The more precise, the better
Set an aim for six to fourteen characters for your domain name and keep it simpler for customers to memorize. Concise names are also easier to employ in advertising, which results in more consumers, even if individuals are using a search engine to locate you.
2.4 Find A Perfect Developer
This is essential to the launch of your eCommerce website. If you want to create your eCommerce website in a reasonably short amount of time and a respectable manner, you must perform due diligence before choosing a developer. Find out what other eCommerce projects the developer has created. Obtain an estimate of time-to-market from your developer. Ensure they have expertise in graphic design so they can match photos with your website. Be careful to inquire if the developer has built websites using the eCommerce platform you've chosen.
Too frequently, businesses move ahead with a developer without conducting adequate research. This might prevent you from launching your ecommerce website.
Read More  Best eCommerce Payment Gateways
2.5 Pick Your Ecommerce Theme
Templates, also known as themes, are pre-designed web pages that you can modify to match your business and make your website appear attractive without any design or coding knowledge. Consider the following factors while choosing a template:
Customer navigation system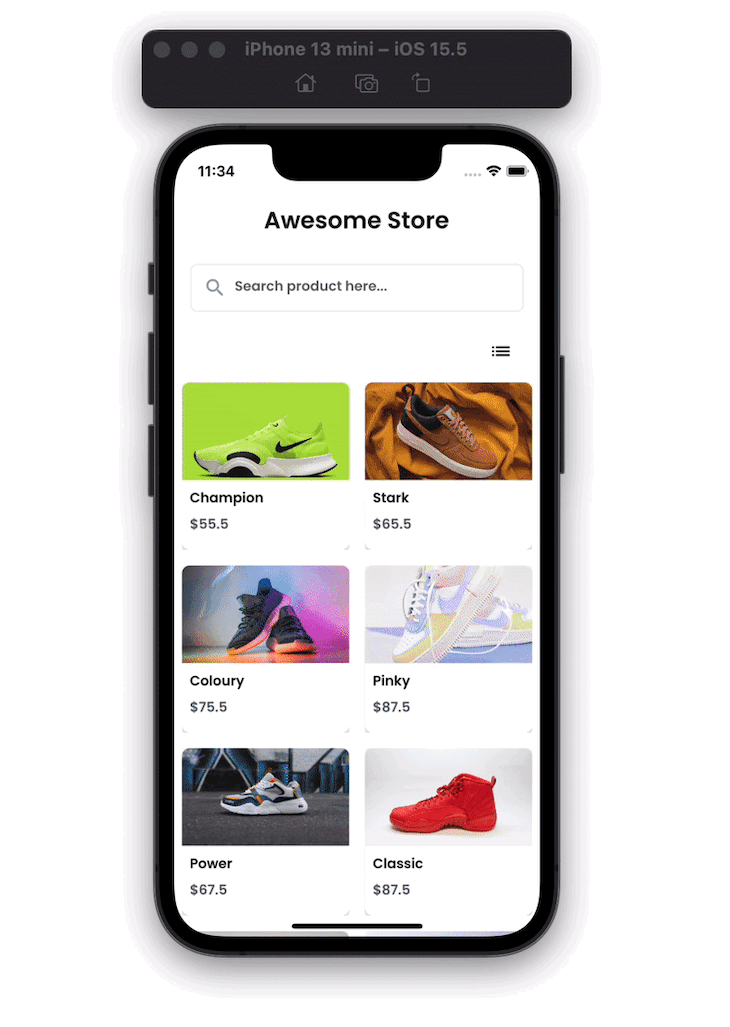 Smooth navigation is crucial for delivering an exceptional client experience. If a consumer doesn't find your products worthy and attractive, they will immediately close your eCommerce site and shop elsewhere. Customers often browse from left to right, thus a navigation bar should be placed on the left half of the page.
The design of the homepage
The homepage of the template represents your brand, so there must be sections including photographs, slides, and clips. Besides, there should be room for you to tell your story to the eCommerce website viewers. A consumer must be able to determine the nature of your firm at a glance, so ensure that the template conveys all the necessary information effectively.
Customization possibilities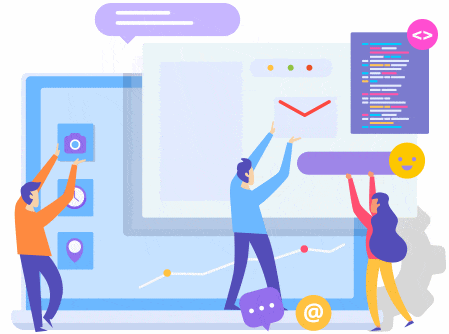 Which portions of the ecommerce site can be modified? Is there a typeface and specific theme that represents your idea? How many photos are allowed? How are items exhibited, and can their presentation be altered? Assess how many applications you will need to interface with the template, as most website builders employ apps to add non-standard functionality.
2.6 Plan and Build Your E-Commerce Website
You'll require the key pieces and details to construct an eCommerce website as follows:
Logo and brand visuals
Product images, descriptions, and data
Consider the following checklist of facts to put on your eCommerce site, along with a few marketing tips:
1. Great product photos: With a little imagination and a camera, you can create excellent product photography. Shoot pictures from many angles and, if feasible, show your product in use.
2. Product videos: Genuine, real-world clips are effective sales aids, and they can be captured on a smartphone.
3. Detailed product descriptions: Create excellent product information that includes all relevant information. Provide product dimensions, size, and composition, as well as responses to common questions. Use related keywords in item titles and descriptions to improve search engine rankings.
4. Product options: You can keep variables such as shape, thickness, etc, and e-commerce systems will let you put up the available variables such as various lengths, dyes, etc.
5. Product SKUs: Ensure you have your own inventory control units or SKUs, as well as any retailer's codes. Occasionally, purchasers will seek to use a retailer's code, thus it is important to include this information in the product information.
6. Product pricing: Numerous e-commerce systems include single-item and group price options, in addition to sale and discount selling.
7. Item size and weight: The size and weight of the item are used by e-commerce platforms to compute real-time delivery charges and generate tags. This is optional, however, it can streamline your shipping procedure and save you effort.
8. Inventory: Enter a stock availability for every product, and the e-commerce system will monitor your stock levels when items are sold.
9. Your story: Create the "About Us" part of your site to reach out to potential customers. Share your own narrative, enhance it with images and videos, and make it fun and engaging to maintain consumer interest.
10. Customer support pages: Utilize the client service page of your e-commerce business to create reasonable goals, since this will encourage repeat business.
11. Shipping rates and times: Indicate your normal shipment turnaround time, the prices you ask for shipping, and the mean delivery date.
12. Returns and exchanges: It specifies who is responsible for return delivery charges and other terms and conditions.
13. Privacy policy: You are required by law to include a guideline on your site, and the majority of e-commerce platforms supply a generic declaration that you may enter.
14. User-friendly navigation: The categories on your e-commerce website facilitate the navigation of your site's content. The majority of systems let the creation of a primary menu bar, footer menus, and often column menus. Explore to determine the optimal mix for your merchandise collection and material.
2.7 Set up Payment Method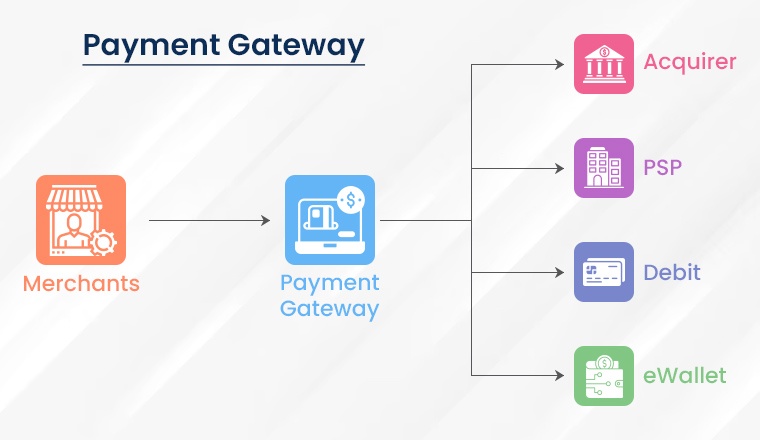 Once you're ready to sell online, you may go through three sorts of payment options, each with its own advantages and disadvantages. When selecting a gateway, consider the measures necessary to keep transactions and data safe.
Redirects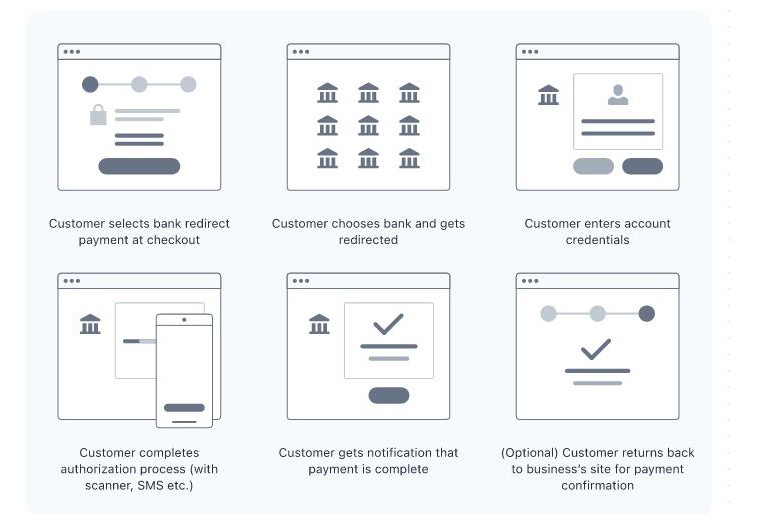 A redirect sends the consumer to a separate site for payment processing. PayPal is the most regularly used instance. This is a straightforward option for merchants that transfers security worries to a third party, but it adds an additional step for users that might deter some.
On-site check-out, off-site payment
This option hosts the payment's front end, covering data collection, but the payment itself is performed off-site. Stripe is a well-known provider of this service. It eliminates needless processes for clients, but you must guarantee that your site is properly protected so that information is delivered to the payment processor securely.
On-site payments
On-site payments are processed on your website, giving you total control and accountability. Big organizations that receive a large number of payments can afford to maintain it safe and operational.
Read -More Best eCommerce Payment Gateways
2.8 Sort Out Your Shipping Settings of Ecommerce Business
Shipping is an essential aspect of e-commerce. Customers desire rapid delivery, so select your shipping options with care.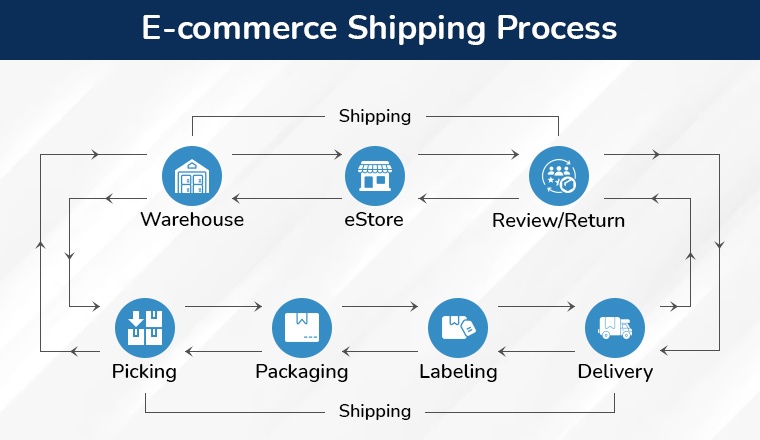 Determine your shipment procedures
Make sure consumers get proper information whether you provide free delivery, a set charge, or a variable fee and your shipping partners. Also, examine whether you want to ship worldwide, and if you do not, ensure that information is clearly accessible so that foreign consumers are not dissatisfied throughout the checkout process.
Determine eCommerce shipping options
Determine your shipping solution method such as whether you will be performing the packing, or will it be done for you. Shipping software that integrates smoothly with the rest of your process takes care of such things and eventually leads you to prioritize other issues better.
2.9 Test and Publish Your Online Store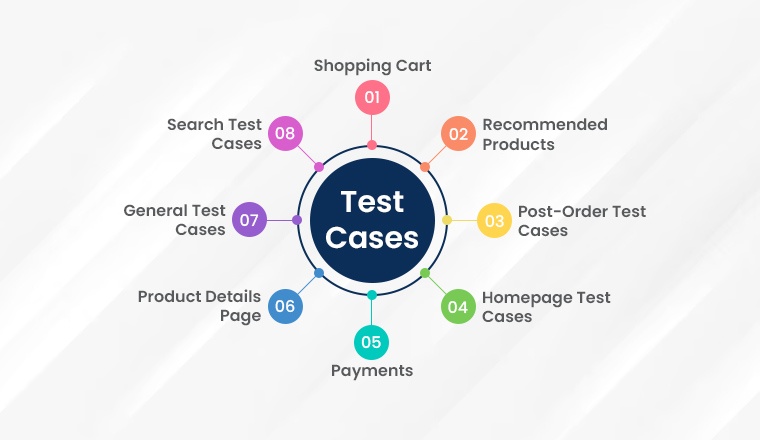 The final phase in the construction of your e-commerce website is to handle a few test purchases. Every e-commerce platform conducts trials uniquely, but all allow you to process a few test orders before release. These orders communicate with your payment gateway service, but the setup will not charge the payment. Once you have effectively processed a few test orders or discovered and eliminated any issues when browsing your e-commerce website, you are set to launch for business.
Remember that opening your e-commerce website does not immediately result in profits. It requires a while for search engines to discover your latest online store and process it. You may accelerate this process by authenticating your new shop in Google's Search Engine and by providing an XML sitemap that e-commerce systems offer for this reason.
In the interim, you may also utilize social media and Google Adwords to spread the news that your online business is up.
3. Conclusion
A successful eCommerce website is more than simply an online store. It's where a company can build an environment that reinforces its brand, attracts new consumers, and transforms indifferent buyers into brand advocates. Selecting the appropriate eCommerce platform and implementing a marketing plan to build a profitable online shop may offer you a decent boost in the eCommerce industry.