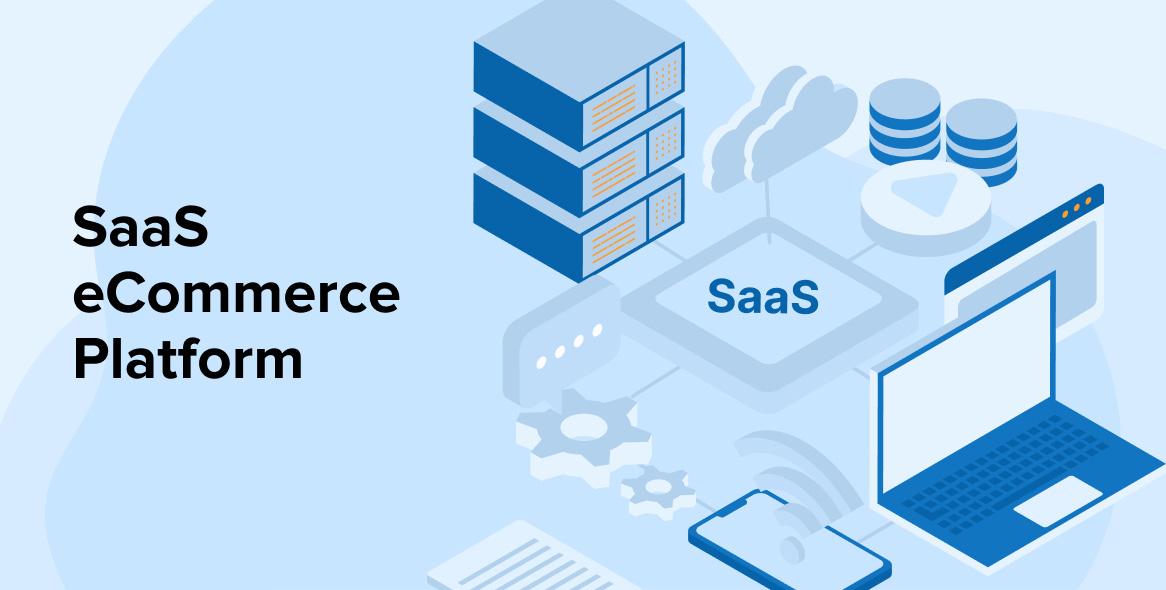 SaaS eCommerce is a powerful platform that helps you establish an online shop, providing you with a quick, dependable, and inexpensive choice that fits in with your website's development, operation, and all designing needs. It also provides a Content Management System (CMS) that may be tailored with the help of an ecommerce development service to the specific needs of your small or medium-sized ecommerce business. SaaS solutions are the most cutting-edge choice in today's hyper-connected digital world since they are both quick and efficient. In this post, we'll go through the fundamentals of SaaS eCommerce and the leading SaaS eCommerce platforms to keep an eye on in 2023.
1. What is a SaaS eCommerce Platform?
Software-as-a-service ecommerce is a digital approach of delivering ecommerce software, which includes any platform or application that helps small-big businesses sell things online globally, without requiring customers to first download their app. The SaaS provider develops and controls the software, generally hosts it in the cloud, and sells licenses to other businesses.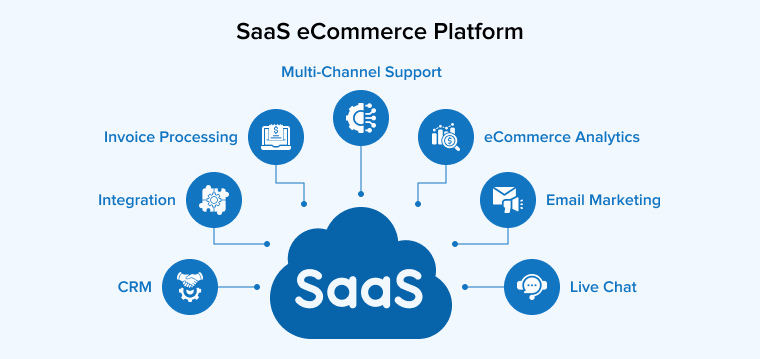 The monthly pricing for utilizing SaaS ecommerce software often varies from provider to provider and is based on factors such as the number of users and the number of advanced features required by the business.
Software as a service (SaaS) ecommerce platforms are hosted in the cloud and may be accessed from any device using an internet connection.
SaaS:

– Build in a weekend
– Duplicate at zero cost
– Can cold email to $10k/mo
– No manufacturing

eCommerce:

– Months of planning
– Every item has a cost
– Few low-cost ad channels
– Reliance on manufacturing

All business models can work, but I'm taking SaaS every time.

— Will Cannon (@iamwillcannon) December 14, 2022
By far, the most appealing feature of software as a service (SaaS) platform is that they don't necessitate any installation or upkeep on the part of the customer. Instead, the SaaS eCommerce providers host the servers on which your eCommerce site operates. Your outsourcing partner ensures the safety, upkeep, and operation of several apps on their end.
According to the terms of their membership, users get access to licensed SaaS apps. They pay a membership fee on a monthly basis to access the service. Users will pay more money if they want more features or a higher quality of service or support. SaaS eCommerce platforms offer license structure, merchants may run their online business from any location at any time without compromising security.
2. How does SaaS eCommerce Work?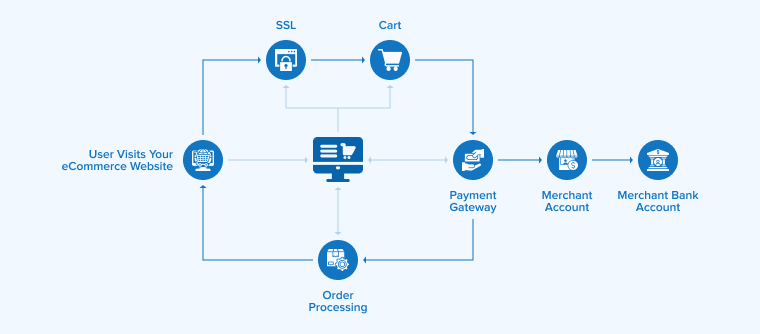 Simply put, SaaS ecommerce companies possess some sort of eCommerce software, which they give license to customers in exchange for some sort of regular membership or monthly subscription fee. They might have a starter package that's ideal for startups with simple needs, a professional plan with more robust features and support, and a powerful enterprise package for established organizations.
3. Top SaaS eCommerce Platforms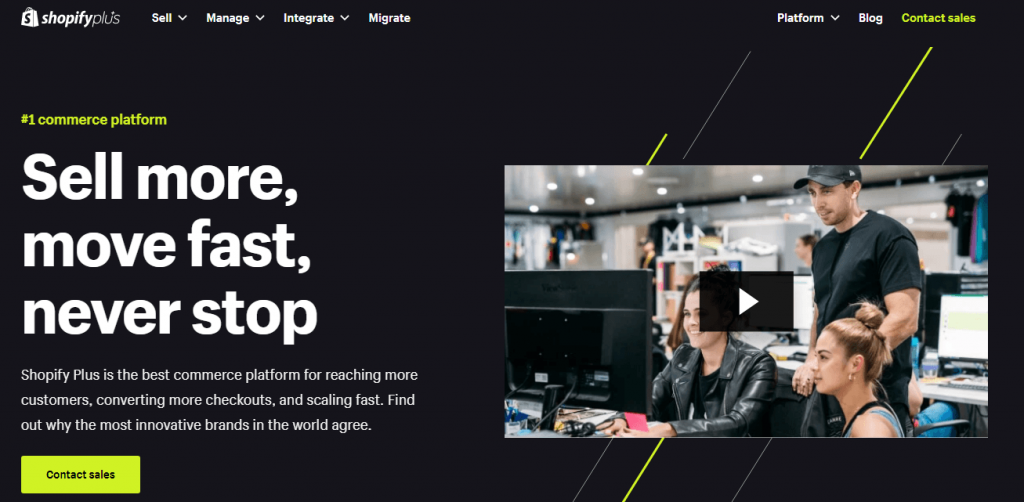 When compared to all other eCommerce SaaS platforms , Shopify is around seven times more attractive, and it is also the biggest and best SaaS eCommerce platform on the market. Shopify's user interface is intuitive, and the platform's tools for adding products and customizing the online store design save time and effort. It's extremely simple to switch over to Shopify if you're coming from another SaaS eCommerce platform, and you can transfer your existing shop and items with no trouble.
It's not too difficult to add new items because all of the necessary information (product names, descriptions, pricing, discounts, etc.) may be entered into the appropriate areas and then saved. Each field clearly states what information is needed and how it will be used, making it easy to fill out correctly without making any mistakes.
The same level of ease is available for managing customers, seeing purchase details, analyzing store statistics, etc. There are no hidden alternatives or difficult-to-find locations for any of the online stores sections or fields; everything is front and centre in the menus.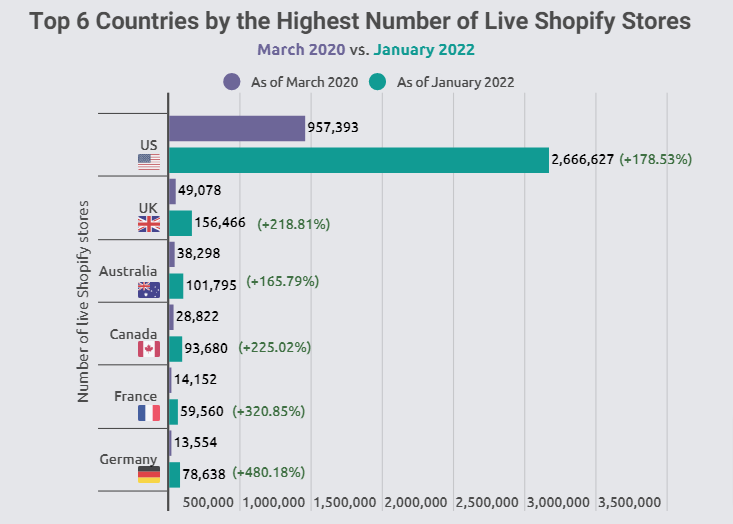 Take a quick look at this Quora post describing some of the most handful benefits of using Shopify Plus: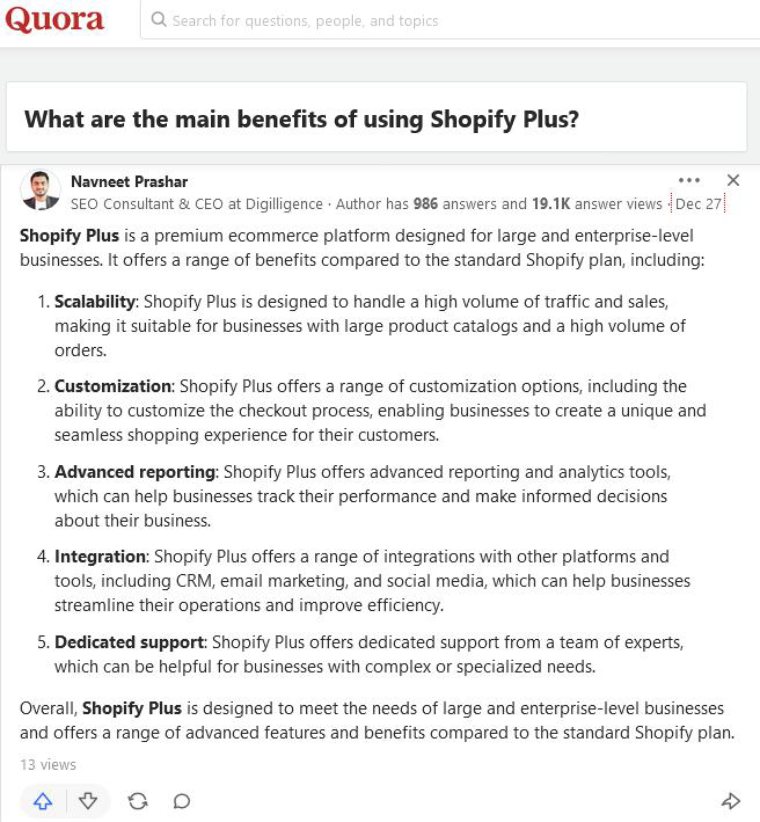 Features:
Infinite quantities of orders, goods, etc.
Support for both customers and developers is available around the clock.
Commerce that may be done via a mobile device.
Self-use of a specialized web address.
A free SSL certificate.
More than a hundred different payment processors and credit cards are welcome.
Reduced delivery costs from major carriers.
Calculation of taxes mechanically.
Optional drag-and-drop website construction.
A website dedicated solely to blogging.
It's accessible in a number of different languages.
Shopify Optimization for search engines.
There are evaluations of the product on the market.
Gift card options.
Full incorporation of social media.
Simple stock control.
Modernized recordings
Pricing:
Shopify's most affordable monthly plan costs $29 USD. There is also a 14-day free tryout that doesn't necessitate a credit card.
It's easy to see why Shopify has become one of the best SaaS eCommerce platforms; it's loaded with helpful tools and features that can help different business models succeed.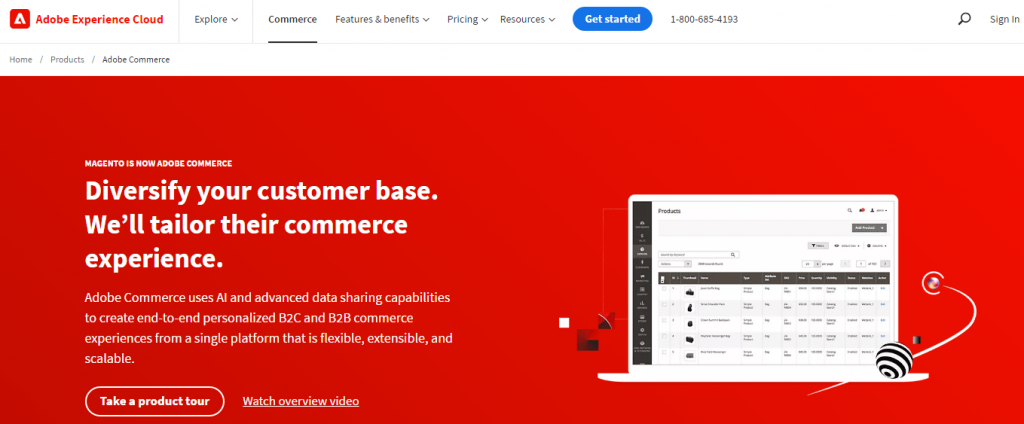 Many companies and business owners have found success with Adobe commerce (formerly Magento) as their eCommerce platform. It's packed with useful tools, and its active community of developers which help you to tailor your company's needs with a wide range of skins and extensions. While the basic version is available for free, there is a more advanced one that requires ecommerce payment gateways.
Magento web businesses have the ability to send out notifications to keep their user and buyer base informed of any new releases, etc. , in addition to having access to standard eCommerce features like payment, purchase, shipping, promotion, and tracking. This eCommerce platform's ability to accommodate several languages is a huge selling point; you can cater to clients anywhere in the world by creating web pages in their native tongue.
Magento's products, including the Dashboard, are extremely configurable, with a number of predefined choices for when a user doesn't feel like tinkering and just wants to get their own ecommerce website up and running. So, for the cost, Adobe Commerce provides a lot, plus there are additional benefits that become second nature to regular users.
Nonetheless, there is a disadvantage to this platform: it may be rather pricey for those who want to create a spectacular website that stands out from the crowd. One reason is that such a user would likely seek out additional features, plugins, and domains, which may get rather pricey, perhaps making the service unaffordable.
If you're wondering, why Adobe Commerce Cloud is the talk of the developers, here's a brief answer from Quora: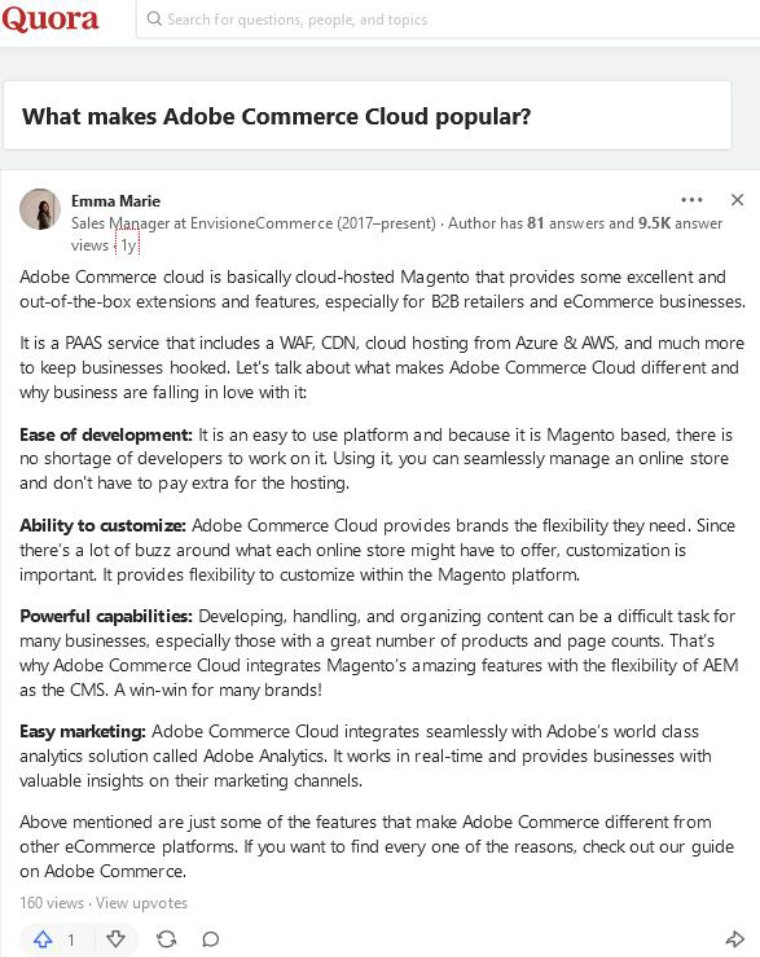 Features:
It has a useful assortment of pre-made layouts for eCommerce websites and blogs.
Inventory management.
Provides enhanced efficiency in both the front and rear ends.
Allows for immediate use of new features and fixes.
Pricing:
Its monthly minimums begin at $1,999 and fluctuates with GMV.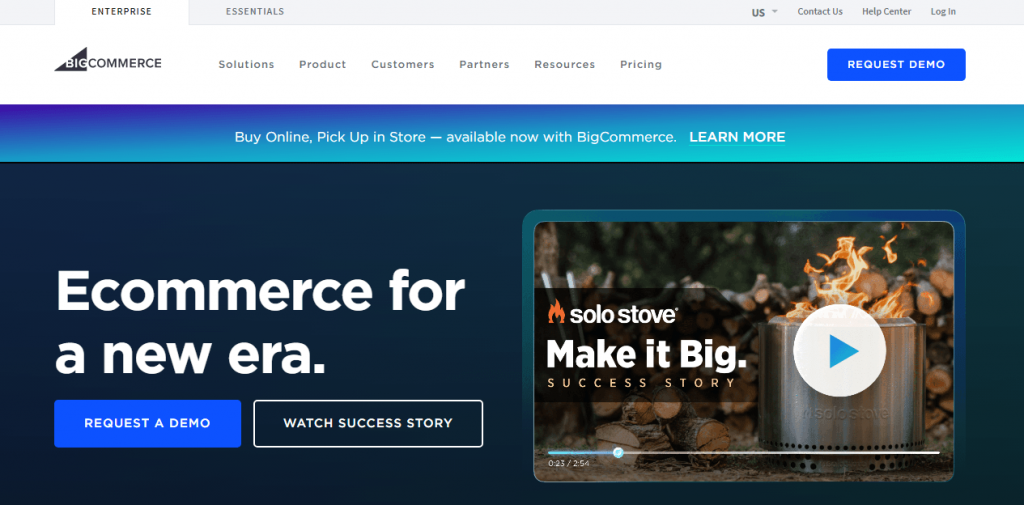 One of the most developed eCommerce platforms, BigCommerce stands out for its streamlined interface, simple navigation, and clear instructions. BigCommerce's finest feature is its ability to speed up the process of launching an ecommerce site.
When it comes to ecommerce solutions, BigCommerce is among the best because of its flexibility in terms of customization, the abundance of pre-installed tools, functionalities, and components, the availability of 24/7. BigCommerce support services, the variety of payment channels it facilitates, and the robust security it provides. In fact, these options may be quickly accessed via menus and sidebars.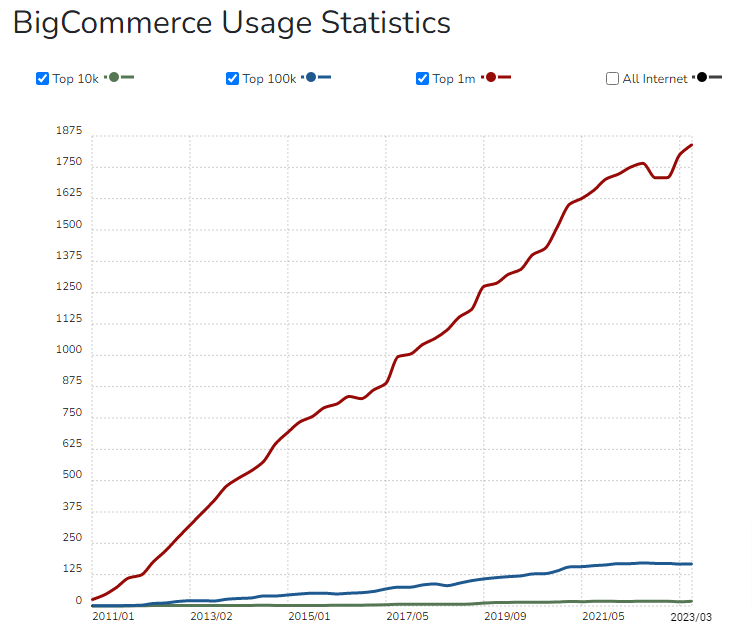 Features:
Products, sales, capacity, and everything else are limitless.
Support through online chat is available at all hours.
Your shop's move and product importing.
Payment methods included but are not limited to the aforementioned.
Controlling stock and taking orders.
Marketplaces like Facebook, Pinterest, eBay, Amazon, etc.
Several promotional options.
Hosting and protection for your website that comes standard.
Marketing via email that actually works.
Advantages of Search Engine Optimization.
Pricing:
BigCommerce's premium plans start at $29.95 per month, and there's even an initial free trial offered. PayPal, Apple Pay, Amazon Pay, Stripe, Square, and Adyen are just some of the payment and delivery services that may be integrated with the platform.
With so many options for both functionality and pricing, the web design firm BigCommerce can accommodate businesses of all sizes.
The global technology market includes Salesforce, one of the major businesses in the sector. The company's primary focus is on sales and customer management solutions, but they maintain many SaaS software products.
The company's ecommerce platform is called Salesforce Commerce Cloud. CMS for eCommerce(Content Management System), CRM(Customer Relationship Management), and headless features of the platform all work together to provide a comprehensive user experience. Solutions for Salesforce's plans comprise Salesforce B2B Commerce, Salesforce B2C Commerce, and a unified SaaS eCommerce solution.
Features:
Resources for managing content and customer relationships.
Social media integration.
Headless options.
Handling the logistics of fulfillment.
Order processing.
Managing monetary transactions.
The compliance with PCI standards.
A site that adapts to mobile devices.
Pricing:
Pricing information for both B2C and B2B Commerce Clouds is available upon inquiry.
The annual cost of quick-start solutions is $90 – $390,000. This cost includes all necessary setup and maintenance.

Customers who are creating an online store have praised Volusion as a popular eCommerce SaaS platform, praising its user-friendliness and the organization of its dashboard. With this control panel's wizard and detailed instructions, even a complete novice may effectively establish an online shop.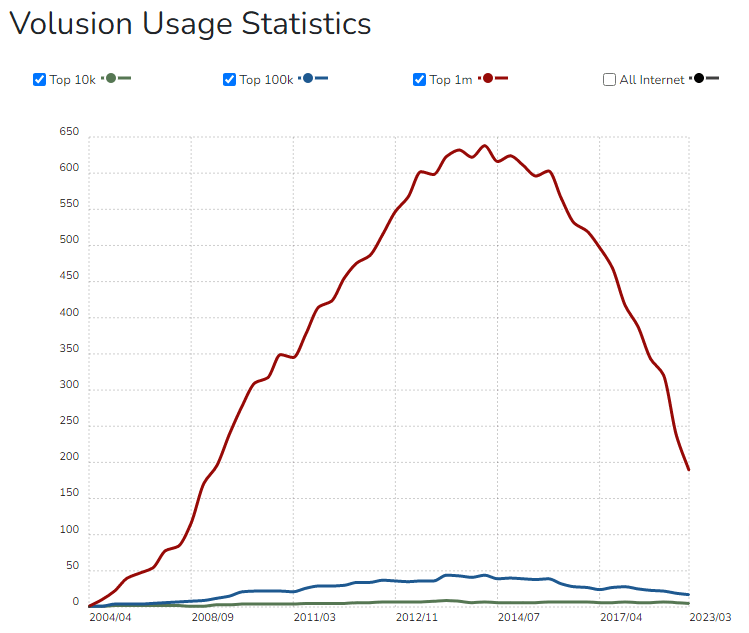 Each and every one of the site's many features, categories, and submenus may be found on the main navigation bar at the very top. Volusion has several useful features, including the following:
Features:
Possibility of selling an infinite number of items.
An infinite capacity for purchases and document storage.
Monthly bandwidth: 1 GB – 35 GB.
Always-available email, chat, and phone assistance.
Visual website builder.
Credit card payments accepted.
There is an option to leave feedback and ratings.
Publication and distribution of newsletters to clients are possible.
Trade between countries is simplified.
Integrated Search Engine Optimization and marketing tools.
Easily accessible reports are offered.
Powerful instruments for social networking.
Payment gateway methods like Stripe, PayPal, Amazon, and more are accepted.
Shipping costs are calculated automatically.
Simple synchronization with Amazon and eBay.
Additional processing options for orders include batch processing.
Pricing:
Volusion provides 3 models. Personal starts at 35 USD/month, professional starts at 79 USD/month and business model starts at 299 USD/month. If you buy annually then you'll be able to save 10% of the monthly costs.
As you may notice, Volusion is a fantastic place to begin and a solid platform to build on, especially since it keeps expenses low and works well with smaller sellers that don't have hundreds of things to offer.
4. How to Choose a SaaS eCommerce Platform for Business?
In the face of so many powerful options, it's natural for merchants to be daunted by the prospect of selecting a suitable SaaS eCommerce platform. Online retail is the core of any successful eCommerce business. Its effectiveness, however, may be attributed to its various back-end processes and features. Included in this category are stocking, secure payment choices, storage, inventory management, order fulfillment, and much more. The most common error made by new businesses is using the wrong platform for their online store. Following are a few carefully selected considerations to help you avoid making the same mistakes others have.
4.1 Business Objective
It is important for business owners to take stock of their company and determine its specific requirements.
The following questions need to be considered:
The scale of the company is a major concern.
You need to know who you are marketing to.
For how much can you expect to see returns on an online storefront?
Are there limits to how big the eCommerce platform can get?
Will you be able to utilize the SaaS eCommerce platform without any prior experience with eCommerce software?
You may narrow down your search for a suitable SaaS eCommerce platform by considering the answers to these questions, which will help you better understand your business's needs.
4.2 Design
It takes a lot of legwork to set up an internet shop from the beginning. Using a SaaS eCommerce platform, you can have your online shop up and operate in a matter of hours. Nevertheless, not all of them give the same level of ease while creating your store's layout and functionality. In order to modify addons, themes, and the general site structure, certain SaaS eCommerce platforms need technical expertise. Choose a SaaS ecommerce platform that caters to mobile users with a layout that adapts to their devices. Your company's success and growth will skyrocket as a result.
4.3 Budget
There isn't one universal subscription fee for e-commerce sites. On the other hand, the majority of them include a free or low-cost starter plan that may be used to familiarize yourself with how the service operates. Purchasing a SaaS eCommerce platform is an investment, therefore, it's important to do as much homework as possible before settling on a provider. In addition to the obvious, don't forget to consider costs like service charges, security fees, transaction costs, web hosting charges, consultancy fees, and so on. If you're looking to save money on upkeep, management, and hosting fees for your eCommerce solution website, a self-hosted SaaS solution is the way to go.
4.4 Self-hosted or Cloud-based
It is one of your key responsibilities to decide whether your company will use a self-hosted eCommerce platform or a hosted/cloud-based platform. With a self-hosted platform, you're in charge of everything from server upkeep to content administration. If you want to run a self-hosted site like WooCommerce or Magento, you'll need to have some knowledge of technology and software.
Some benefits of using self-hosted platforms include:
You have full authority over the look and feel of the site.
Your site's functionality is separate from any other sources, so you may create, administer, and style it anyway you choose.
Cloud-based and easy-to-use, hosted eCommerce solutions may be found in tropical locations like the cloud. You can only add new features and updates as fast as the program allows. With Wix, BigCommerce, and Shopify, you don't need any coding experience to open your shop.
The benefits of picking them are:
Neither the upkeep nor the enhancement of servers is the responsibility of the merchant.
A fantastic choice for consumers with minimal technical experience because of its ease of use.
5. Conclusion
The popularity of software as a service (SaaS) eCommerce platforms has grown rapidly in recent years because of their many advantages, including low startup costs, a large client base that can be targeted, an intuitive interface, and a wide range of available features and customization options for store owners.
All of the future anticipates this. It's no surprise that SaaS eCommerce platforms providers and their solutions are already hard at work on future-proofing cloud computing and customer/store management. Further, many of these systems also feature a mobile application and interface, so individuals can work for their shops even when they aren't near their desks.
IT specialists all around the world are now updating some of the best SaaS eCommerce systems, making them even more attractive and promising. While Open Source eCommerce platforms would also be in demand, it makes more financial sense to utilize a SaaS platform due to the abundance of features and capabilities it provides at a low monthly fee.