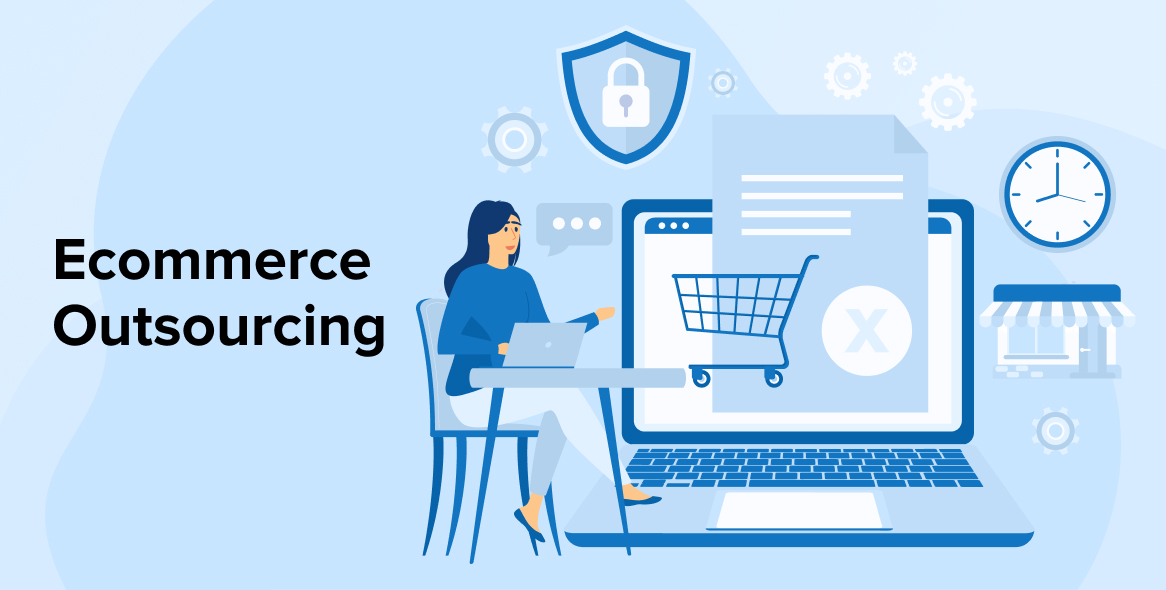 Since the Covid-19 epidemic, online shopping has become increasingly popular. E-commerce outsourcing is one way to reduce costs and keep up with customer demand. With so much competition in the eCommerce industry today, businesses need to concentrate on what they do best while outsourcing development and operations with eCommerce development service providers. Do you run an online business? Have you been thinking about outsourcing but weren't sure where to start? Use this guide as a resource.
1. What is eCommerce Outsourcing?
The term "eCommerce outsourcing" refers to the process of contracting out the production and provision of services and products to external parties. This encompasses all aspects of running an online store, from eCommerce website development. designing, customer service, and advertising.
"Outsourcing" simply means hiring out work from an eCommerce development company that would otherwise be done internally. Outsourcing certain e-commerce functions of your eCommerce firm to a third party is known as "eCommerce outsourcing." Order processing, transport, client care, and advertising are all examples of such services.
2. Why Outsource eCommerce Business?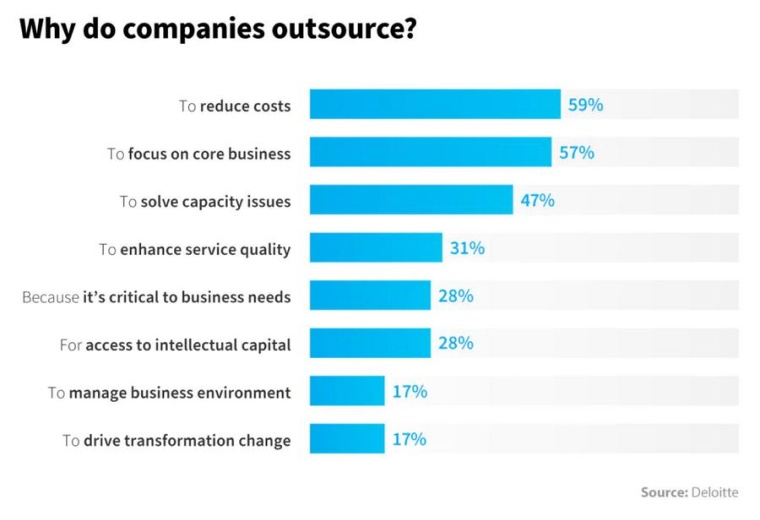 2.1 Cost-effectiveness
You can prevent spending money on things like staff salaries, benefits, and training as well as costly tools like inventory management software by using outsourced eCommerce services.
Cost-effective eCommerce Website development, order fulfillment and handling, customer support, and delivery are just some of the services that eCommerce outsourcing firms offer. Typically, the only cost associated with these conveniences is a nominal monthly charge.
2.2 Talent Pool
Working with a group of skilled experts will allow you to put your energy into other aspects of your company. As professionals, they will also be able to advise you on how to keep up with the most recent developments in the eCommerce industry.
If you're feeling overworked, hire an eCommerce expert to assist you in making tough decisions like selecting the best product mix for your business, eCommerce web development, optimizing your website for search engines, launching effective advertising initiatives, etc.
2.3 Efficacy in the Market
The variation in labour prices between countries is especially noticeable in the global eCommerce sector. E-commerce enterprises in countries with high labour costs can only compete with those in countries with low labour costs by outsourcing as many ordinary business functions as possible to keep down the cost of labour.
2.4 Reduce Risk
If you choose to outsource your eCommerce needs, you may spread your resources more evenly. Your eCommerce partner will be available to assist you to correct the issue and get back on schedule if anything goes wrong. You can keep your business going smoothly even if anything unforeseen strikes you by using the services of an eCommerce outsourcing provider.
2.5 Modularity
Only firms that are flexible enough to expand or contract in response to shifts in the global eCommerce industry can hope to stay competitive and succeed in the long run. Only via outsourcing can such adaptability be attained.
3. When to Outsource eCommerce Business?
The following are examples of why an online retailer might choose to hire eCommerce outsourcing services: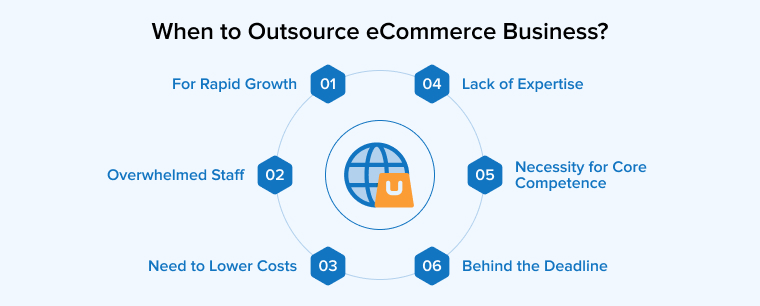 3.1 Rapid Growth
If an online store begins to experience sustained growth, the owner may look for critical ways to boost capacity across the board. It's time to outsource since it will allow you to shrink back without wasting resources.
3.2 Overwhelmed Staff
In-house teams who are overburdened and falling behind can benefit greatly from outsourcing tasks that aren't vital to the company's operations.
3.3 Need to Lower Costs
When times are tough, it's necessary to cut back on operations and save money. Using an outsourcing service allows you to cost savings without firing off employees and increase capacity as needed without increasing overhead.
3.4 Lack of Expertise
Outsourcing can be helpful when you don't have the in-house skills or resources to finish a job. This is especially true for difficult or technological endeavors like building an eCommerce website.
3.5 When a Necessity for Core Competence
The time and money required to keep a team together to work on something that isn't primary expertise can be prohibitive to expansion. A vendor can zero down on what they do best by outsourcing non-essential tasks.
3.6 Behind the Deadline
Outsourcing a portion of a work rather than the whole thing can help you reach a deadline without letting go of your core expertise if your in-house team is falling behind on it.
4. What Kind of Services can be Outsourced?
Every profitable eCommerce firm should think of outsourcing the following typical services: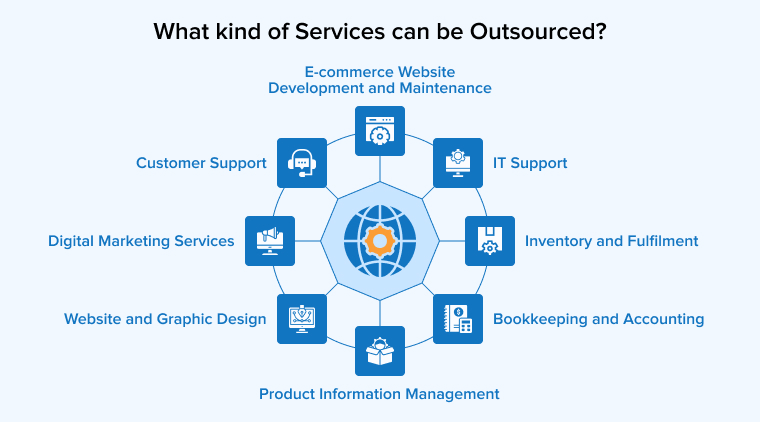 4.1 E-commerce Website Development and Maintenance
It's important to have well-designed sites regardless of whether you're using an eCommerce platform or not. You don't want visitors to give up on your site because they can't find certain stuff.
Ecommercedevelopment outsourcing can assist you in overcoming this difficulty. If you want a more polished customer experience, you should definitely hire an eCommerce development company to create and update your sites.
4.2 Website and Graphic Design
Designing an e-commerce business site with both visual and emotional appeal is possible. Visitors will have greater faith in a professionally designed website as a consequence.
In contrast, outsourced graphic design encompasses more than just the visual aspects of a website such as:
Making a Banner for a Website
HTML Email Layout
Image Retouching for Products
Creating a landing page
4.3 Digital Marketing Services
In order to publicize, advertise, and expand your brand, digital marketers use digital tools and internet platforms. Without it, managing an online storefront may be quite difficult.
Because of these differences, every company needs its own individual digital strategy. If you want to make sure your tactics pan out for your organization, hiring an E-commerce services provider is a good idea. Among the many forms of digital marketing they can assist you with are:
Search engine optimization
Advertisements on social media and marketing campaigns
Marketing using search engines and emails
4.4 Product Information Management
Among the most important product marketing guidelines for a successful eCommerce business is writing product descriptions that convince clients to make a purchase. While writing these descriptions, keep SEO in mind to increase traffic and ultimately, revenues.
You can add all there is to know about your items such as:
Crafting Product Descriptions
Entering Product Data
Purifying Product Information
Managing Products in a Catalogue
4.5 Bookkeeping and Accounting
Professionals in outsourced accounting and bookkeeping give you up-to-date reports on your company's financial standing, allowing you to make informed decisions. They also contribute to the security of your company's financial situation.
4.6 Inventory and Fulfillment
Managing your inventory helps your team know exactly how many items are in stock at any time. While it may be a pain to keep track of purchases, doing so is essential for keeping popular products in stock.
With the aid of an outside company, you can determine what products sell best at what times of day.
4.7 Customer Support
When compared to in-person or telephone interactions, the number of available channels for contacting an online company's customer support is far larger.
Voice help is still an option for e-commerce customer service, although other channels such as chat, email, and omnichannel are also available.
When it comes to customer care, hiring eCommerce customer service may help you save time and money while providing a better experience for your customers. They can handle the stress of round-the-clock coverage, allowing you to respond to emergencies more quickly.
4.8 IT Support
When it comes to website and server crashes, malware assaults, and compromised data, company size is irrelevant. Within normal business hours, these are the kinds of technical problems that can be solved by an IT support staff alone.
eCommerce outsourcing companies that offer IT assistance also help with things like website plugin improvements and security issues.
5. Best Practices for eCommerce Outsourcing
Now that we know the big picture of eCommerce outsourcing, we can continue next to the best practices.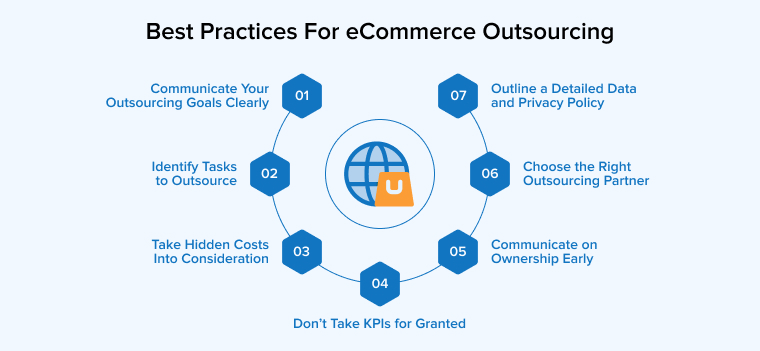 5.1 Communicate Your Outsourcing Goals Clearly
Having clear E-commerce business objectives and sharing them with your outsourcing partner comes first on the list of eCommerce best practices. To achieve anything, it helps to have a clear idea of what you want. Saving money and providing better service to customers are both essential goals. Knowing your end goal in advance can help you zoom in on the most suitable service provider.
Many types of services are available to companies as potential candidates for outsourcing. After you have settled on your business needs and objectives, it is time to spell out what you anticipate from your service provider. Make sure there is no confusion regarding your goals and expectations from the outsourcing partnership.
5.2 Identify Tasks to Outsource
It's time to take stock of your company's operations and evaluate the whole procedure as well as the current state of affairs to determine what may be outsourced immediately. You'll be able to see clearly which facets of your core business require your undivided attention and which may be delegated to a third-party company. Create a list of time-consuming activities that would be better outsourced to a professional.
5.3 Take Hidden Costs Into Consideration
Inquire about any extra expenses, such as those for software updates or technical assistance before accepting a contract for call center outsourcing services. Make sure you're getting billed per hour to avoid any unpleasant surprises. If some services aren't required, they shouldn't be charged for them. Most importantly, this requires an awareness of the invoicing structure, since this will help to prevent any future confusion about your financial obligations.
5.4 Don't Take KPIs for Granted
Key performance indicators (KPIs) monitor and evaluate your outsourced partnership's progress. When assessing key performance indicators for a certain project, it's crucial to be as explicit as possible. For instance, you may ask your outsourcer to improve customer satisfaction and service call resolution rates by 20% or reduce order processing times by 20%.
Which Key Performance Indicators (KPIs) you choose to monitor should be based on the specific duties you are outsourcing. However, there are certain common KPIs used in outsourcing generally:
Cost estimates and allocations
The standard of assistance provided
Provided services in a timely manner
SLAs were either met or not
Before contracting out your work, be sure you've figured out which key performance indicators would be most helpful. You may monitor the progress of the outsourced job in this way.
5.5 Communicate on Ownership Early
Prior to commencing any commercial outsourcing relationship, it is crucial to determine who will own what. Without a clear understanding of ownership, one side may end up receiving all the credit for the venture's success.
Some solutions are as follows:
Work-for-hire: All work performed by the outsourcer is regarded to be the intellectual property of the hiring business.
Transfer of Ownership of Intellectual Property: All Intellectual Property rights developed by the outsourcer are transferred to the hiring business.
Reservation of Rights: Your outsourcer is obligated to keep the results of their labour within the bounds of the contract between the two of you; if they wish to use the work for something else, they'll need to get your permission first.
5.6 Choose the Right Outsourcing Partner
The procedure of outsourcing employees cannot be hurried. If you make hasty hiring decisions, you risk missing out on talented individuals. The most difficult part of outsourcing is always hiring the best individual for the job. There will be a plethora of alternatives to consider, but even a seemingly insignificant choice might have far-reaching consequences for your business. Therefore, use caution while judging potential outsourced employees.
Finding a reliable outsourcing company might take some time. Do not wait for opportunities to present yourself; instead, actively seek them out by visiting expert recruiting sites and forums.
5.7 Outline a Detailed Data and Privacy Policy
A data and privacy policy is an essential tool for any business. The agreement between the two parties should detail the treatment of any and all data collected throughout the course of the partnership.
BPO companies run the risk of improperly handling customer data in the absence of appropriate rules. They might also face accusations of carelessness in the event of a data breach or other privacy issues. It's not necessary for policies to be too convoluted or hard to follow. They need not be complex at all so long as they address every angle.
Make use of a non-disclosure agreement (NDA) before disclosing sensitive information to your outsourcer. In this way, your privacy will be preserved and your data will be safe.
6. Challenges in eCommerce Outsourcing
I see too many eCommerce brand owners trying to outsource everything.

In concept, this is a good step.

But the reality is, you need to be able to do that task first.

Not knowing something and outsourcing it directly leads to big problems.

Learn. And then outsource.

— Shri Kanase (@EcomShri) June 12, 2023
6.1 Lose Some Control
There will be an overall reduction in oversight and quality control over an outsourced business function. If you have faith in the service provider, though, this won't be a problem.
6.2 Lost Transmission
You run the risk of miscommunication with your outsourced workers if you don't see them face-to-face.
6.3 Data Security Risks
If you own an online store, the details of your company are very precious. When you outsource, you must disclose this information to your service provider. Therefore, select a collaborator who can ensure the safety of your data.
6.4 Community Barrier
The ethical challenge of outsourcing is that it prevents jobs from being created in the local community. However, because most of your company is conducted online, this shouldn't be too much of a problem.
7. Conclusion
Most online businesses today outsource some of their processes. Careful deliberation is required to determine if this is the best option for your business. The economic benefit of outsourcing can be estimated by navigating through the many different activities you may already be outsourcing.
Now that you know what kinds of work you want to delegate, you can look into how much that will cost. Carefully pick your Outsourcing partner and prioritize enlisting the services of reputable outsourcers.