Enterprises that are searching for new approaches to selling items to clients may profit from mobile commerce, which provides a variety of opportunities to both businesses and consumers.
As mobile phones and high-speed internet technology mature, customers are facing yet another revolution in online purchasing as well which is motivating businesses to hire more eCommerce development services to provide effectively.
However, what specifically are eCommerce and m-commerce? How are they distinct from each other? Continue reading to learn more about who wins the m-commerce vs e-commerce debate.
1. What Is Electronic Commerce?
E-commerce refers to the online buying and retailing of goods and services online. It is thought that e-commerce was born in 1994 when the first online transaction was made in Philadelphia. In general, e-commerce refers to computer and laptop-based internet purchasing operations.
While Amazon pops up in my head whenever talking about e-commerce, the items available online are not limited to only physical products. Internet-based transactions involving digital goods, subscriptions, or services are also considered in e-commerce. In recent times, mobile phones have replaced desktops as the favored device for online purchasing.
2. What Is Mobile Commerce?
M-commerce corresponds to mobile device-facilitated online payment processes. The growth of mobile connection, cybersecurity, and applications has prompted merchants to offer solutions, services, and business transactions via mobile devices. Increasing smartphone ownership also contributes to m-commerce app development.
Over the past few years, m-commerce-driven internet revenue in the US has climbed steadily. In 2022, mobile transactions are projected to generate a sales income of $423.24 million. The favorable trend will result in more shops competing for space on the smartphones of users.
3. Key Differences Between E-Commerce and M-Commerce
If you run an online business, you should understand the differences between m-commerce and e-commerce. Recognizing the distinctions allows you to remain competitive and gain greater exposure to your target audiences. You should not maintain the status quo in a decreasing market as technology evolves. Major key differences between eCommerce and mCommerce are as follows:
3.1 Mobility
Internet-connected PCs and laptops facilitate electronic commerce. Such innovations were previously awe-inspiring, but now that customers prefer mobile phones, PCs suffer mobility significantly.
Opening your laptop only to get a pair of shoes online is annoying. Nevertheless, m-commerce apps make it simple for consumers to search for the proper items on their mobile devices.
With the development of mobile wallets such as Apple Pay and Android Pay, mobile phone consumers have additional options for conducting immediate online transactions.
3.2 Push Notification
The usage of push notifications on mobile devices is an additional advantage of m-commerce over e-commerce. Push alerts are considered as less obtrusive than sending mass promotional emails to a mailing list.
From the retailer's perspective, push notifications are more efficient. Promotional emails run the danger of being sent to the spam box or disregarded by recipients. On the other extreme, push notifications are provided instantaneously to the user's mobile device.
Presently, push notifications may also feature nicely produced photos of items, which direct customers with a simple tap to the m-commerce application. With an aggregate opt-in ratio of 67.5%, push notifications to have a good chance of catching the eye of consumers.
3.3 Location Tracking
Due to the immobility of gadgets, eCommerce has limited location monitoring capabilities. Nonetheless, m-commerce applications may monitor and recognize user whereabouts via GPS, Wi-Fi, and other technologies. Consequently, m-commerce offers location-specific data and individualized suggestions. Notifications can allow local companies to give customized discounts to specific clients in a certain place, for instance.
3.4 Security
Business transactions with internet connectivity need a high level of security. Credit cards are one of the prevalent methods of payment in e-commerce. Nevertheless, people are still relatively hesitant to transmit their credit card information online. Research indicates that Americans are extremely concerned with internet security and privacy and this presents a difficulty for eCommerce.
The security features of mobile commerce are rather more robust. Mcommerce can enable biometric authentication in contrast to standard security features such as two-factor identification and multi-level verification, which are prevalent in eCommerce.
3.5 Omnichannel
In the internet commerce sector, there is a move from multi-channel to omnichannel. Instead of targeting distinct audiences with distinct messaging, brands are supposed to create a streamlined purchasing experience.
E-commerce, which relies heavily on computers, is restricted in the notion that it is less mobile. In the meantime, m-commerce has positioned itself to bridge the gap across brands and customers.
Mobile app technology has improved businesses' and consumers' interactions. It will enable user-specific customization and a personalized buying experience. Additionally, merchants are able to rapidly react to a shopper's demands and make suggestions, resulting in a greater conversion rate.
4. M-commerce vs E-commerce
| | | |
| --- | --- | --- |
| Differences | mCommerce | eCommerce |
| Device support | mobiles/tablets | PCs/laptops |
| Agility | Strong: Users may conduct transactions anytime with good internet connections. | Weak: Users with restricted mobility can do purchases on their desktops and laptops. |
| Ease of use | Customer Experience on portable devices is intended for as few taps-on-screen per sale as feasible. | Desktop eCommerce stores are more difficult to browse. |
| Supported platforms | Web and native apps | Web apps |
| Payment medium support | Almost all credit/debit cards and mobile banking support. | Same |
| Location tracking | positive | negative |
| Security | Depend on internet security mixed with built-in mobile security. | Depend mostly on web security. |
5. Benefits Of M-commerce For Businesses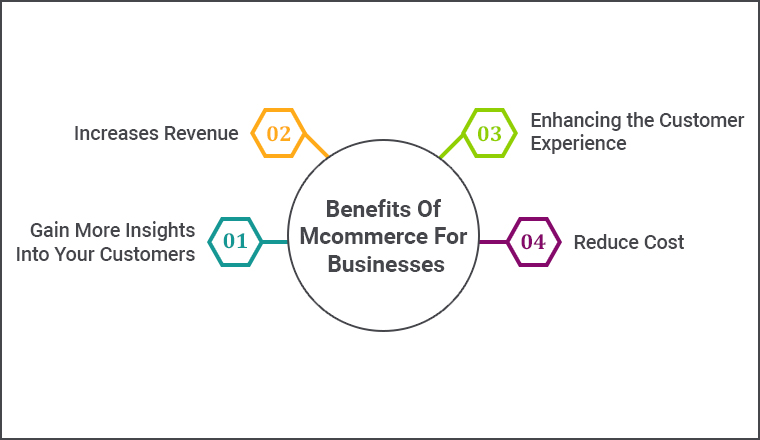 5.1 Gain more Insights Into Your Customers
Retailers may communicate with consumers in a more customized manner with mobile apps. Mobile apps that integrate beacon technology and analytics, for example, enable businesses to connect with consumers directly while they are in-store. Beacons are detectors affixed to racks, product placement, and signage that communicate with surrounding mobile devices.
They provide an essentially individualized buying experience. Signals give personalized discounts and offer as well as they can integrate the worlds of online and offline buying. These signals can also alert clients to the arrival of potentially appealing new items.
The technology enables merchants to adapt their in-store strategies and operations to shoppers' interests and behaviors, therefore increasing consumer loyalty.
5.2 Increases Revenue
When m-commerce is utilized properly, the data speak to the possibility of a revenue gain. As per Oberlo, worldwide m-commerce revenue was projected to reach $2.91 trillion in 2020, a staggering growth of 25.4% over the preceding year.
Web users are investing more energy in mobile devices, and buying is as simple as a few taps. In addition, push notifications with customized promotions attract customers' attention and increase conversion rates.
Additionally, M-commerce stimulates purchasing. A few taps on the screen are sufficient for consumers to finish the checkout procedure. Obviously, this would result in increased sales and fewer abandoned online shopping carts.
5.3 Enhancing the Customer Experience
By offering the appropriate service, shops may more readily attract the attention of customers who frequently keep their mobile devices nearby. Amazon Go is an excellent illustration of how complementary marketing channels may be implemented.
Leveraging chatbots and messaging applications, which make it simpler for businesses to communicate with their consumers via applications and products that consumers already like, is another approach to consider. AI connections may be utilized to offer more tailored retail solutions, more effective customer engagements, and fraud prevention. Additionally, they can handle picture searches.
Many organizations, like Alibaba or eBay, are now developing chatbots with Al. For instance, the ubiquitous Amazon Echo enables AI-assisted shopping with ease. Meanwhile, merchants will continue to use AI (Artificial Intelligence) and IoT (Internet of Things) and their expenditures on this innovation are likely to expand.
5.4 Reduce Cost
With m-commerce, targeted advertising expenses, both physical and virtual are minimized. The most recent products and communications may be communicated directly to clients via the smartphone app or messaging service.
The expense of app development has fallen as a result of the availability of developing technologies that streamline the process. With a decreased advertising budget, firms may acquire and keep consumers at a reduced cost.
6. The Future of Mobile commerce
Using a mobile payment alternative to complete a purchase has resulted in a favor of smartphones over desktops over time.
As per data provided by Accenture and Forrester in 2014, over 56% of purchasers use their mobile devices at all times, irrespective of location. The proportion of persons that own a cellphone is expected to climb by 25 % every year within the next 5 years.
Progressive Web Apps combine the functionality of native apps with the interoperability of standard web apps; they are a prevalent mobile commerce trend. Companies can save expenses by avoiding the development of mobile shopping applications that are dependent on various operating system types and whether or not they are upgraded to the most recent version.
By storing users' confidential info in a smartphone app with their consent, it is possible to save their time and enable one-click purchasing. Customer engagement, which relates to sales and payments made on social media as a result of adverts put on "shoppable" posts and websites is thriving.
7. Conclusion
The value and importance of m-commerce are developing as a result of the growing number of individuals who utilize e-commerce sites via their portable devices. Mobile commerce is a fast-expanding industry due to its distinctive qualities and the numerous benefits it offers, such as mobility, availability, and connection.
The transition from online to mobile commerce is inevitable. Businesses that refuse to join the bandwagon will be on the losing side. M-commerce provides enhanced connectivity, interaction, and customization. It implies better profits, stronger branding, and gratifying engagements with consumers for businesses.