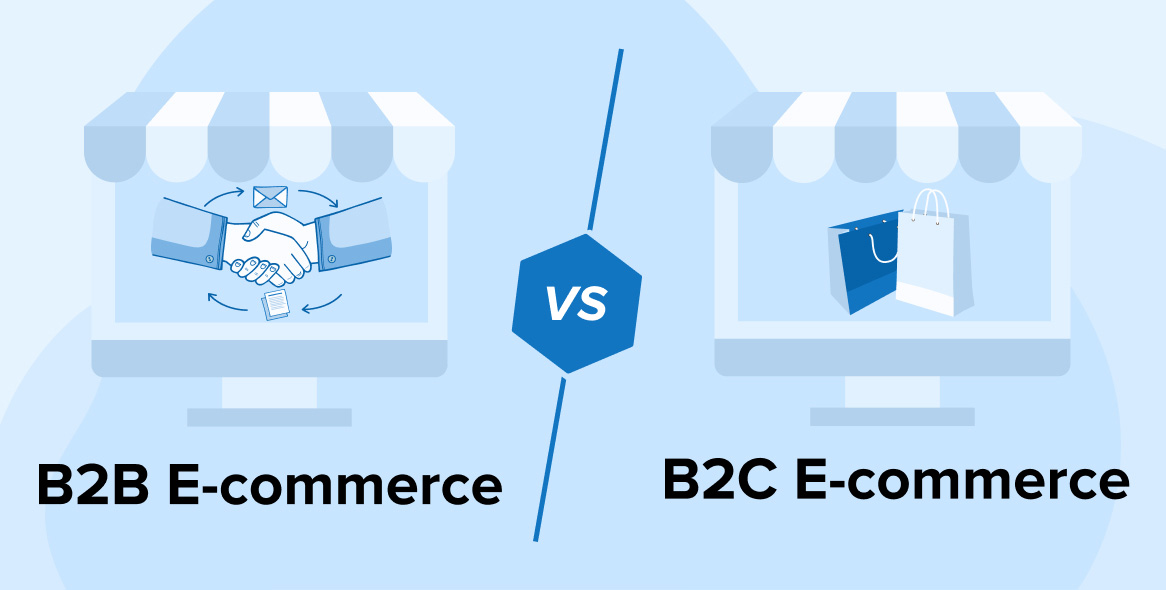 eCommerce has undergone a radical transformation, with many businesses now developing strategies to sell products to both consumers and other businesses, thanks to innovative eCommerce development services.
The B2B e-commerce process is typically more intricate than the B2C one. Buying is more research-intensive, more needs-based, and less influenced by marketing. Many businesses have tight budgetary constraints that limit the kind of products they may acquire. This means that the influence of add-ons and other traditionally used methods of increasing sales is diminished. In the past, there wasn't much incentive for B2B companies to optimize their customer journey, but the current environment has changed this.
Hence, let us have a debate on the B2B vs B2C eCommerce scenario!
1. What is B2B eCommerce?
B2B refers to sales to other enterprises. There are many different people who have an investment in a business, as well as regulations and other things that make selling more difficult. The sales cycle is lengthier and is based on logic and reason.
2. What is B2C eCommerce?
The term "business-to-consumer," or "B2C" for short, is used to characterize a commercial exchange between a company and a final customer. One definition of "direct sales" is "selling to end consumers," which has often been understood to relate to consumer activities like going to a store or restaurant and making a direct purchase. These days, it's used to define the interactions between internet merchants and their clients.
3. B2B vs B2C eCommerce
While the business-to-consumer (or B2C) eCommerce model refers to the practice of selling to consumers directly, business-to-business (or B2B) eCommerce refers to the practice of selling to other businesses.
A business-to-business company is one whose major customers are other companies, such as a chip manufacturer that sells its product to a mobile manufacturer. In addition to facilitating sales between retailers and wholesalers, either between producers and distributors, B2B eCommerce is often a more involved procedure.
B2C transactions include, but are not limited to, the purchase of products online or the reservation of a pet hotel room. It's probably the standard by which most people judge another business model.
It's not uncommon for enterprises to serve both the B2B and B2C markets. For instance, a company that specializes in events management may not only help other businesses with their conferences but also organize weddings.
3.1 Customers
Since B2Bs are businesses making big sales, B2B clients are often more complicated than B2C consumers. Many business-to-business (B2B) clients have multiple accounts and demand that goods be sent from various distribution centers.
Most business-to-consumer (B2C) exchanges include a single purchase made by the consumer directly to the seller. As compared to a business-to-business customer, who may have to investigate the goods, handle shipments, and think about many ship-to and bill-to combinations, this is a far less complicated procedure.
As a result, a B2B eCommerce CMS platform must be adaptable to the unique needs and difficulties of business-to-business transactions.
3.2 Decision Making Process
In business-to-consumer transactions, customers rarely thoroughly investigate bargain purchases. Since B2C transactions are less expensive, many consumers will buy things they don't really need. Retailers may increase the likelihood of impulse buys by providing convenient checkout, upselling, and cross-selling options. Consider how Amazon's website designs its user interface to promote impulse buying.
However, making a purchasing choice in the B2B sector is more involved. Seven people will often have to provide their stamp of approval for a deal to go through. That is to say, the decision-making procedure will comprise more than one person. Under a strict organizational framework, employees are less likely to make sudden, costly purchases on a whim.
For the most part, a unified set of principles governs the decision-making procedure in high-priced B2B operations centered on return on investment (ROI). This is why the buying cycle in a firm is so much longer. It might entail anything from a few days to a few months, based on the scope of the deal.
3.3 Pricing
Since B2C ecommerce brands usually sell at a lesser pace, they may need to connect and sell to tens of thousands of customers to breach the first million in eCommerce sales. It is not uncommon for B2B ecommerce firms to have a few hundred clients yet still make millions or even billions of dollars annually.
One reason B2B is thriving is because of the high average order value. According to Po Campo founder and CEO Maria Boustead, "most consumers merely buy one or two pieces. Most B2B transactions involve fewer than 30 products, with the average order size being between 15 and 25.
There will always be products that go beyond the norm, such as $20 B2B items or $15,000 B2C items. However, in most sectors, the prices of B2B ecommerce transactions are significantly higher.
Unlike with consumers, who must pay the full dollar amount displayed on your consumer-facing website, businesses can negotiate prices for their online transactions. Large orders from businesses can be used as leverage in price negotiations. Costs are reduced per unit for wholesalers. The more quantity they purchase, the lower their unit cost will be.
3.4 Products
In B2B, Products sold to businesses are typically far more complex than those in B2C where they're sold to consumers. Products might be as basic as consumables or as complex as highly technological and adaptable systems. The final consumer does not always purchase a product. It's not uncommon for there to be a wide range of available sizes and dimensions when selling a component that's used in the construction of a larger product or system.
To make an educated decision, the consumer requires easy access to data like bundles, measurements, supplementary accessories, technical details, product liability, and much more.
3.5 Marketing Strategies
A company's marketing efforts must be congruent with the way its target demographic makes purchasing decisions. Let's take a peek at the specific market segments taken by B2B and B2C e-commerce websites and see what sets them apart.
Top of the Funnel
Top Of The Funnel activities (TOFU) are those that get the customer's attention and get them interested. For both business-to-business and consumer-facing websites, content marketing is the key to building brand recognition and engaging new customers online. The goal of TOFU is to boost the site's visibility to potential customers by improving its position in organic search results.
Landing webpages, squeeze pages, social media material, blog posts, and more are all tools used by B2C enterprises to attract visitors and convert them into leads. Besides investing in radio and newspaper ads, many business-to-consumer online retailers also use television. The Amazon TV commercials are a fantastic illustration of this.
Social media marketing, blog posts, podcast launches, and online reviews are just a few of the various methods utilized by B2B companies to raise brand recognition with the help of marketing teams. However, trade shows, traditional advertising, and live product demonstrations are more likely to play a role in B2B companies' efforts to increase exposure and interest in their offerings.
Middle of the Funnel
Middle Of The Funnel (MOFU) actions are what get customers thinking about your business. The client lifecycle is the primary dividing line between business-to-consumer and business-to-business MOFU activities. Some examples of MOFU material for a business-to-consumer client are testimonials, peer recommendations, and website visits. Customers place a lot of weight on how quickly and smoothly a website loads and functions, therefore it's important to keep tabs on both of these metrics.
MOFU often entails researching alternatives, haggling over pricing, consulting with internal stakeholders, and experiencing product demonstrations for B2B clients. Many people prefer to do their research and negotiations for costly items away from the internet. Salespeople are a possible resource for gathering further information about a product.
Bottom of the Funnel
The Bottom Of The Funnel (BOFU) activities refer to the actions taken at the very bottom of the sales funnel, when the focus is on making a sale. Customer service, ease of purchase, and prompt shipment are all crucial for business-to-consumer transactions.
This may be a lengthy procedure for B2B clients who are deciding on substantial purchases. Contracting might entail writing or examining a variety of legal documents, such as a service agreement, a company proposal, or a set of payment conditions. The BOFU phase is also significantly lengthier for B2B transactions due to the need for several parties to approve contracts and service agreements.
3.6 Order and Shipping Process
There is a lot of overlap between the order processing and delivery methods when you run a business online. Ideally, any end consumer would have their items delivered quickly, dependably, and affordably.
However, individual consumers often have a far lower tolerance for delivery delays than businesses do. Amazon now offers next-day shipping on a wide variety of items. Consumer shipping expectations are evolving.
If an online retailer wants to compete with Amazon, it needs to offer shipping methods that are just as reliable as Amazon's ecommerce platforms. Amazon Prime members receive free standard shipping, which is a major perk for many shoppers (and, for many products, to all buyers).
Amazon's influence extends beyond the consumer goods sector to the business-to-business market. In the retail industry, for instance, stock orders often arrive within five to seven days. In contrast, while making a more substantial purchase, the priority may shift from shipment speed to price.
4. B2B vs B2C eCommerce Examples
Here are the different examples of B2B and B2C ecommerce,
4.1 Business-to-Consumer eCommerce Examples
1. Netflix
Among the many online streaming service providers, Netflix is among the largest, with a subscriber base that continues to grow by the millions. This company provides access to a wide variety of shows, so users may watch the shows of their choice whenever they want, wherever they are. And this is a perfect example of B2C ecommerce with a large audience base.
2. Tesco
Tesco is a major international grocery store chain. It sells everything a person may want or need, including food, drinks, fast moving consumer goods, and more. This company's revenue has gone up thanks to the developments in technologies including AR, big data, and mobile payment processing. It hopes to do this by making Tesco a multi-channel provider, which will be essential for future distribution.
3. Lay's
It's a household name in the business-to-consumer online retail sector. Among the many available crunchy crackers, Lay's may have the most traditional flavor profile. There's no denying that Lay's knows what it takes to maintain its brand's popularity and successfully refresh its image. The company sponsors a digital contest every year to determine which of three potential new flavors will they add to the lineup of Lay's potato chips. The three tastes are only sold at certain places nationwide throughout the year. And the best part is that sales of the product always spike during this annual event.
4.2 Business-to-Business eCommerce examples
1. Mailchimp
Mailchimp, the top marketing automation platform in the globe, is a fantastic illustration of a business-to-business (B2B) e-commerce firm. The key is mailing services, which facilitate the execution of email marketing campaigns by companies of varying sizes, resulting in the daily delivery of something in the neighborhood of one billion emails.
MailChimp is an integrated marketing solution that facilitates the development of marketing campaigns, the improvement of mail delivery to a specified audience, the establishment of two-way communication with customers, and the promotion of a business's brand.
2. Alibaba
Alibaba is a pioneer in the business-to-business (B2B) sector of the online retail industry. The company was successful because it always prioritized the needs of its customers. This approach is similar to Amazon's. However, it caters to businesses rather than individuals by providing the same items to each B2B market it enters with little modifications.
Also, there is no cost for any of this. Advertisements and commissions are how Alibaba turns a profit from bringing together buyers and sellers. The brand's success and dedication to the customer, enabled in large part by the website, has migrated to the digital realm.
3. Medline
The Medline website is among the best in the medical equipment and supplies business. The company itself is a frontrunner among private manufacturers and distributors.
It offers 350k products, all of which may be accessed through the internet. In order to quickly locate the data you need, you may take use of the available interactive functionalities. This company's goal is to provide you with the customized experience on Medline that you deserve as a customer. Depending on your needs, decide and choose the many classifications available.
5. Conclusion
The overall distinction between B2B vs B2C eCommerce have been discussed. Although commercial purchases differ greatly from consumer ones, the motivations behind them are very consistent. Most people and companies want to spend as little money as possible on products that meets or exceeds their needs. Companies, like people, often think carefully about major purchases for quite some time. In addition, a process is in place to gain approval for acquisitions.
The challenge faced by online retailers today is that many eCommerce systems are designed to cater either to companies or shoppers, but not both. This is why companies need a comprehensive hybrid eCommerce solution with an online sales portal for both business-to-business and business-to-consumer sales.
However, No matter if you're selling to other businesses or consumers, your goal is the same: to satisfy your target audience with the highest quality products and services possible. Selecting an appropriate SaaS eCommerce platform can help you get there faster. Get in touch with us if you need help deciding which eCommerce platform is right for your company. TatvaSoft guarantees that your project will turn out beautifully.