Ecommerce is an industry that is continuously growing and most businesses are extracting good revenue from this industry. Online shopping is becoming more popular. It generates enormous revenue for entrepreneurs and demonstrates tremendous potential. Still, it is difficult for entrepreneurs to predict an e-commerce website development cost, which is why we analyzed our experience and decided to create this definitive guide for you.
As a business, you might not be sure which type of website to build, how many pages should be built with it, and several other development challenges too. In order to address this, you need a professional or eCommerce development company, and if you don't want to hire a professional. This guide is a fit for you to clearly get which aspects to consider and how much it will cost. So, it will be an aid in the pricing of software products. So it's now time to discover the main aspects, Ready? Let's go!
1. How Much Does It Cost To Build An eCommerce Website?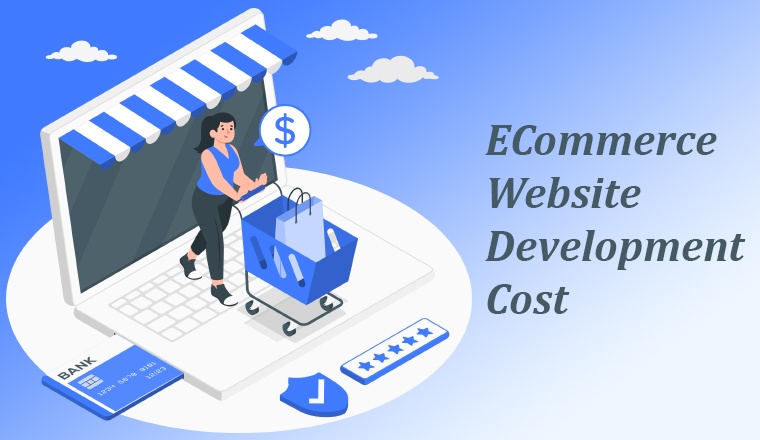 There are many major factors that are included in an eCommerce website to determine accurate eCommerce website costs. But before that, let us see what an ideal eCommerce website costs?
Ideally, an eCommerce website development cost for like 100 to 1000 goods will cost between $5000 to $50,000 (other additional costs if the client has some other requests). This will also include the custom design cost, software development process cost, payment processing costs, hosting costs, custom features, and any additional upfront fees. For an eCommerce website with 100 to 1000 items/goods, it is easy to maintain, on the other hand, the maintenance and upgrade would cost around $15,000 to $30,000 a year.
But then what does the main aspect behind the eCommerce website development cost? The idea behind it is that not all eCommerce websites are equally developed. The expense will be minimal than a world-class website if you desire one with few capabilities. Ecommerce website cost is completely dependent on what you want and how you wish to develop it. But still, there are a few basic custom eCommerce website development factors that are necessary for any business to develop their custom eCommerce website.
1.1 E-Commerce Web Design
The first significant factor of the eCommerce website cost is the general design of the site, but do not forget it is an important aspect of your success.
Your eCommerce website design is the initial impression you make on new visitors. Potential clients will assume your firm is the same way if your design is poor or outdated. As a result, you're surely going to lose consumers from all sides. In order to ignore it, all you need is a good eCommerce website design style that matches your brand.
Simple, Moderate or lightly styled, high-end, and world-class web design styles are usually divided into four groups.
Simple websites look great and work as expected. You won't have to hustle but it's a good foundation for a website.
Moderately or lightly designed websites take a few more design risks and make greater use of their available space. More graphics, a brighter color scheme, or other design elements could be included.
Enterprise-level websites have a professional and unique appearance. They're clean and straightforward, with high-resolution visuals and color palettes that appeal to the website's target demographic.
1.2 eCommerce Website Responsive Design
Responsive design is becoming a need for any eCommerce site. Customers look at any eCommerce website from their phones, and tablets, and do not consider the items you sell.
Custom eCommerce development needs plus website being responsive is an added advantage. This facility enables your eCommerce website to automatically fit and adjust as per the device. The customer will now see a responsive design irrespective of the device they use.
If a customer tries to view your eCommerce site on a smartphone, they will be greeted with large buttons, a well-designed layout, and full functionality.
1.3 Number of Pages for Your E-Commerce Website
For an eCommerce website, you must know how many pages you will need. Each page is designed in a way it can generate traffic for itself depending on how many goods you chose to offer or how many items you sell. It is a good idea for businesses to have a different page on their eCommerce site for each of their products.
To start displaying all of your items, all your business needs are category pages. Like one of them is landing pages, payment pages, home, and other selling categories as well. Our suggestion as a leading e-commerce website development company would be to have a limited set of pages instead of creating lots of pages.
1.4 Database Integration
The integration of the database would add some extra cost to e-commerce website design pricing. Database integration is normally optional on a website, however, it is necessary for eCommerce sites. Database connectivity allows your company to keep track of all of its products, employees, and customers in one central location.
Customers do demand database integration to easily access all information in the system. Customers have all the right to create their profiles, they can set or select preferences, and even have a more customized site experience based on the database they insert.
Database integration may also be utilized for credit card numbers to the client's online access so that they don't have to re-enter them on the shopping website again and again.
1.5 3rd Party Integration
Third-party integration means that a broad variety of options can be done in order to make your eCommerce software extra functional. ECommerce platforms use third-party payment gateways, live chat applications, and even third-shipping options or logistics options. This will help you trace applications and goods from scratch to end. This will add additional charges to the custom development cost of an eCommerce website design pricing. The moment you add extra customization, you are automatically adding some extra amount for that.
1.6 Marketing and eCommerce SEO
The number of pages of the website will have a significant impact on SEO (Search Engine optimization) and marketing. ECommerce businesses can do it by themselves if they have a tiny eCommerce company and with a restricted budget. You can simply put in some effort and you'll be fine. There is also no need to spend any money.
Marketing plays a vital role in medium and big organizations. As a part of marketing and SEO-related activities, they invest in multiple aspects which include PPC ads, retargeting, and other digital marketing methods in addition to SEO. Some people use blogs, while others use email marketing. There are so many options for marketing and ecommerce seo.
For a small company, the cost of marketing and SEO would vary from $250 to $2,000, or even more. While for larger eCommerce sites, marketing costs might range from $3,000 to $5,000 or more.
1.7 Functionality
When you create an eCommerce website you will be adding some custom eCommerce features like product management, graphical or best design view, a shopping cart, a payment module, secure gateways, and other important elements that are all required by the basic eCommerce functionality.
If you want to create a simple eCommerce site, you'll find that the majority of the functions are already available. But there will always be some other functional holes, regardless of the eCommerce platform you employ.
As a functionality, there are plugins and add-ons that can be used in this case. To increase the site's functioning, you may simply locate both free and paid add-ons. Choosing plugins is equally important because this will help you decide on the quality and functionality of the app whether free ones will perform well or paid ones. Because paid ones are frequently developed by third companies, they don't necessarily match a website. Adding that will also add extra cost to your ecommerce platform. Like the addition of $100-$500.
2. Infrastructure Costs
Breakdown of essential factors in the ecommerce website pricing
The entire cost of developing an online eCommerce store is influenced by a number of factors. On average e-commerce websites, the cost comes under some hundred to a thousand dollars. If you add additional features, this e eCommerce online store might cost tens of thousands. It all depends on the following items:
Ecommerce Software
Domain name
Ecommerce Hosting
SSL – Secure Socket Layer
Payment processing costs
Theme and design of the store.
Extensions and add-ons.
2.1 E-Commerce Website Domain Name
When you perform an eCommerce website development, you will need to have a unique name that is called a domain name. You can pay a few annual fees in advance too if you want for upcoming years. The eCommerce website cost varies from time to time and also depends on where you buy it and which extension you pick. Some of the major website domain names include .com or .shop. Godaddy is one of the major website hosting companies. The price varies on the basis of which company you are buying it from.
The cost of an eCommerce website domain name is small; it ranges from as low as $10 per year.
2.2 E-Commerce Hosting
Once your domain is set, now your next step is hosting. It's time to choose a web hosting provider after successfully registering a domain name. Some of the popular names are BigCommerce and software as a service (saas) eCommerce platforms such as Shopify, which are set examples of cloud-based solutions. They also provide web hosting as part of the subscription. This clearly means you don't have to look for any third-party hosting or take up any other hustle with this type of hosting.
If you decide to self-host then the cost of an eCommerce website will vary from $50-$500 per month. This will also fluctuate on the basis of features of the eCommerce site, its services like site backup, and also the traffic your store receives.
2.3 SSL Certificate
For any successful eCommerce business, you need to have some factors fixed that add to the total cost. This adds SSL certificates too to the list. The average annual cost of an SSL certificate is $70. While there are other more expensive components in the eCommerce project that adds up to the online business. SSL offers a layer of network security on your website for consumers to view and purchase without the worry of a data breach on your site. An SSL certificate is often used as a ranking criterion by search engines as well. Also, bear in mind that some hosting services include this as part of their package.
2.4 eCommerce Website Maintenance
Your websites are like roads, need regular maintenance to keep them running at peak performance. Ecommerce website maintenance entails resolving any faults that arise, adding new pieces to certain areas of your site, and keeping your site operational. Website maintenance may cost a bit more than you want to spend, and you may not realize the advantages right away, but it is critical.
Yearly pay ranges from $15,000 to $30,000.
3. Breakdown of eCommerce Website Development Cost
| | | | |
| --- | --- | --- | --- |
| Factors | Cost for Small companies | Cost for Medium companies | Cost for Enterprises |
| Number of pages | About $1000 | $1000-$5000 | >$10000 |
| Responsive Design | $5000 or more | $10000-$30,000 | >$50,000 |
| Functionalities | $4000-$25,000 | $10,000-$25,000 | >$35,000 |
| Database integration | $25,00-$5000 | $10,000-$20,000 | >$25,000 |
| SEO and Marketing | $0-$500 | $500-$2000 | >$5000 |
| Domain Name | >$10/Year | >$10/Year | >$10/Year |
| Hosting | $75-$2,000 / year | $2000-$10,000/ year | >$12000 |
| Website Maintenance | $12,000-$24,000 / year | $25,000-$50,000 / year | >$50,0000 / year |
4. Conclusion
And after this comprehensive blog on your ecommerce website, now you are able to have an accurate idea of how much an ecommerce website development cost. From this, we hope to convey all the necessary points which may cause a boost in ecommerce website success. After all, all the time, effort, and prices you put in should not go in vain. It should reflect in your eCommerce website success. The essential website factors such as database integration, 3rd party apps, and other details cannot be ignored and infrastructure costs play a vital role.