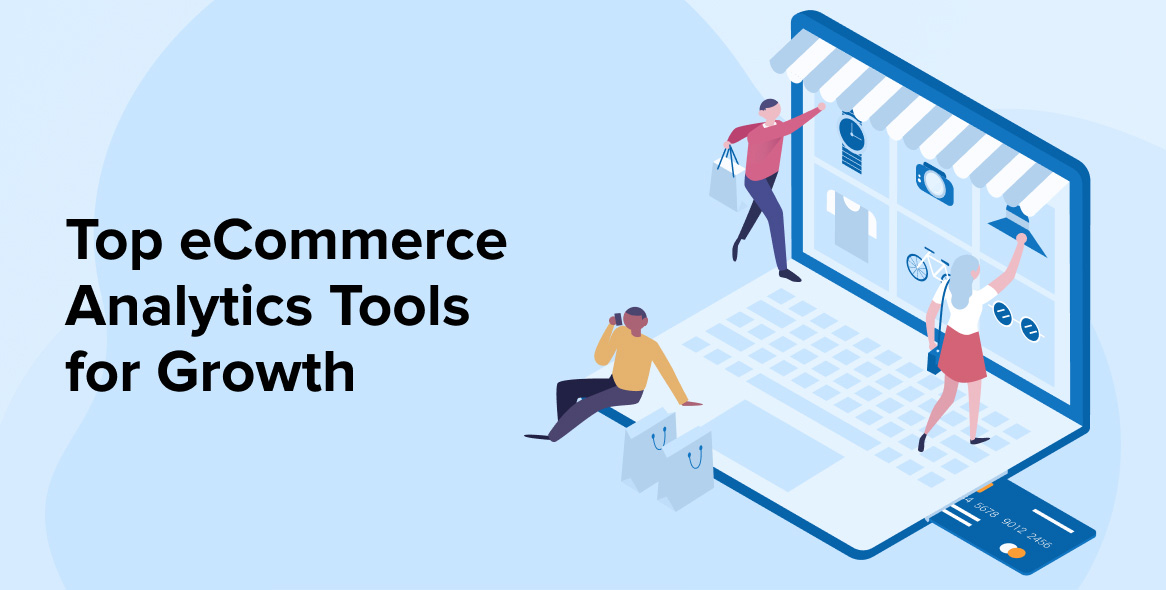 1. Introduction
You can evaluate the success of your brand and keep abreast of the game with the assistance of eCommerce development services and tools. With so many alternatives, it may be difficult to decipher the many capabilities and choose which tool is best for your ecommerce marketplace. This article will assist you in selecting the finest eCommerce analytics tools for your business, regardless of whether you're a newbie user or wanting to improve your present software.
2. What is Ecommerce Analytics?
Gathering information for your online store's analytics is the first step in using that information to make data-driven decisions and boost sales. Businesses can better price and sell their products by understanding changes in customer behavior using this data.
ECommerce organizations' analytical tools provide data for every stage of the consumer journey. They can assist in learning more about consumer acquisition, user experience, cart abandonment, and many other topics.
When you are a business that is data-driven, it becomes essential rather than optional to use eCommerce analytics software. You may provide your company with a stronger position in this intensely competitive industry by utilizing the power of consumer analytics. You may become more adaptable and customer-centric with the use of eCommerce analytics, which includes customer analytics. Investing more time in your analytics platform has the following benefits:
Utilize the knowledge about your consumers' online behavior to help them move through the marketing funnel more quickly and efficiently.
By learning which clients are more likely to respond favorably to these techniques, you can take your upselling and cross-selling campaigns to a new level.
Analyze the website usage of your customers to improve your product recommendations.
Examine patterns in the repeat buy rate to increase client retention.
Improve customer retention and marketing strategies by using the right analytics tools and metrics to gauge what customers expect and how you can deliver it. Analytics tools are one way of understanding the eCommerce Market for eCommerce marketers.
Further Reading on:

What is Headless eCommerce? A Complete Guide
What is eCommerce and How Does It Work?
3. Top 10 Ecommerce Analytics Tools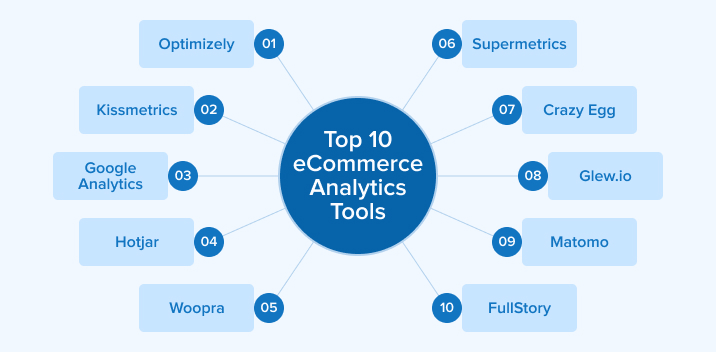 The eCommerce-specific capabilities of the analytics tool; Optimizely can be a good place to start if you're a business wanting to build a more unique and genuine purchasing experience. The platform's core idea is to use A/B testing for experimentation, develop genuine experiences and ultimately increase the rate of conversions.
For any ecommerce business owners looking to increase conversions for a better purchasing experience, this is a terrific platform. They have tools specifically designed for eCommerce businesses, such as A/B testing, which may be used to create customized landing pages or modify certain elements of your ecommerce site. The tool is data-driven and draws useful information from user activity.
Features:
Optimizely allows you to experiment with various checkout choices and will assist to lower cart abandonment.
This eCommerce software; Optimizely can be used to evaluate how chatbots might automate and enhance your customer engagement.
You may affect site optimization to offer a better experience for your users by gathering useful customer-focused data.
Price – $2,000-$3,000/mo
When it comes to metrics, Kissmetrics is more advanced than Google Analytics, making it ideal for eCommerce businesses and marketers. Learn the visitor-to-purchase conversion rate, cart-to-purchase conversion rate, and average revenue per user.
One can identify the most effective digital marketing channels while also comprehending the behavior of certain clients. You may use the data from Kissmetrics to decrease your website bounce rate by building pop-up boxes and notifications, optimizing your email campaigns, and A/B testing your marketing strategy.
You can quickly enhance your eCommerce plans as a result of the insightful information this analytical tool for eCommerce provides about every stage of the customer journey.
Features:
Try out various marketing tactics using the useful insights the tool has produced.
As the product stores data on each customer encounter, it might help you improve your lead generation process.
Utilize the extensive data tracking functionalities of Kissmetrics to learn more about the performance of your business.
Price – $299/mo, billed annually.
This tool is like a synonym for many best eCommerce analytics tools. One of the most often used data analytics programs for eCommerce is Google Analytics. It provides a terrific beginning point for any eCommerce business by giving out a wide range of useful insights.
Additionally, it contains a component called Google Analytics enhanced eCommerce that offers comprehensive analytics to eCommerce business owners. This makes it simple for a marketing team to monitor visitors at every stage of the sales funnel.
Features:
Google Analytics allows you to learn about the users who visit your website and how they behave.
Find the gaps in your checkout process, or use Google Analytics to understand cart abandonment. Consider making modifications to your website by looking at the pages where visitors spend most of their time and those with a high bounce rate.
Utilize traffic analytics data to identify the origins of website traffic and identify the factors that contribute most to eCommerce business conversion rates.
To enhance your sales success, recognize the lifetime value of a customer and distinguish between products that are selling like hot cupcakes and those that are not.
Price – Free
This one-shot visual tool called Hotjar uses heatmaps to show you how users interact with your website. It enables you to gather comments from potential customers and identify the "hot" and "cold" locations on your website. Here hot and cold locations mean the locations that are to increase your conversion rates and conversion analytics, you may also record people in real-time.
This unique solution uses heatmaps to assist you in comprehending user activity on your eCommerce storefront. You can determine visitor-favored regions of your product or service pages by using Hotjar's insights regarding where visitors spend the most time. It helps with customer input gathering and marketing campaign planning.
Features:
Use heatmaps to see customer clicks, scrolls, and motions on your eCommerce site.
Gain visual insights into how clients use your online website by exporting the heatmap analytics data.
Send appropriate teams the incoming consumer feedback.
There are NPS surveys taken that can be set to run automatically and be triggered in response to particular customer activities.
Price – Starts at $39/mo and also available for free
The "shopping success" niche is Woopra's area of expertise. By concentrating on the customer experience, Woopra can help you identify many strengths and weaknesses of your sales funnel and prevent the dreaded abandoned carts.
You can zoom in on each customer touchpoint, identify the locations where they are dropping off, and emphasize how long it takes them to complete a transaction with Woopra's customer-focused capabilities. You can also look into the profiles of certain clients to learn more about how they use your content and website layout in real time and provide them with individualized help.
Woopra is perfect for eCommerce companies that care about the customer experience and want to spot patterns, maximize customer retention and acquisition, and enhance segmentation for more individualized experiences.
Features:
Discover which areas of your eCommerce website require the greatest improvement.
To pinpoint the reasons why clients leave, look at the desertion rates.
It aids in measuring the typical length of time buyers take to decide whether to buy something.
Supermetrics is a simplified variant of Glew that facilitates the import of the all the eCommerce data and the generation of specific reports. Your data is collected by the tool from Shopify, online marketplaces, email tools, SEO tools, google ads, social media ads, and more. As a result, you can determine which marketing initiatives are boosting your sales. You may schedule emails to deliver you reports continuously and set up your data to update itself automatically.
Price – starts at $349/mo
Supermetrics is convenient eCommerce software for your continuing marketing campaigns if you want to spend more time focusing on enhancing your marketing materials.
One of the most important aspects of automated reports is security. Users of Supermetrics need not to worry about security because the information is not kept anywhere. Your data is encrypted right at the source.
Features:
The design and functions of Supermetrics is done keeping simplicity in mind.
There are superior ways of integration with Supermetrics as it allows third-party apps to adjoin with ecommerce platforms to provide integrated services.
The transformed data is fully complete and available for delivering actionable insights.
It also allows Data Studio Connector to connect seamlessly and perform marketing strategy.
Price – starts at $39/mo.
Another eCommerce analytics tool that uses heat maps to analyze customer behavior. Crazy Egg is a useful tool for figuring out how visitors behave to your website. You may increase your eCommerce conversion optimization rate by using this data to inform adjustments and A/B tests.
You can select an element to test ideas with Crazy Egg's A/B testing tool. For instance, it enables you to test various headlines, copy, and product descriptions to determine which one converts the best.
Features:
Use heatmaps to see where your visitors frequently click. With this it paints a clear picture of where your users are spending the most time on your website. It directs you in making changes to your user interface to maximize conversion.
A useful CRO tool that lets you view anonymous user behavior on your website is session recording.
View website visitors click in a variety of colors to identify their traffic referral source and critical customer behavior on your website in greater detail.
Price – starts at $24/mo.
Customer insights, product analytics, and performance statistics for online merchants and digital agencies are provided by Glew, a multichannel eCommerce analytics platform for businesses based on Shopify, WooCommerce and even Magento. Given that, it is one of the most convenient, and complete eCommerce analytics solutions currently in the market, it is an excellent option for both smaller and larger ecommerce enterprises.
Review your best-selling products and set them apart from others that bring in less money with the help of the ecommerce tools from Glew.io.
Glew.io may be set up to track sales from various retail platforms. You may view both sets of sales data in one location, for instance, if you sell on Amazon as well as through your own website.
Utilize sophisticated customer analytics to focus on particular client segments and examine the purchases made by particular customers.
Features:
eCommerce software provides insightful data for the entire company.
Monitor sales activity across several ecommerce platforms (including your website and marketplaces).
Take a look at important performance indicators.
Create thorough reports.
Examine your top-selling items.
View all of your consumer segments easily.
Price – starts at $79/month, billed annually.
When you use Glew.io for your business, you are performing audience segmentation for email marketing campaigns. Advertising is also improved when you start to use glew.io. By using this information from social media advertisements, you may even seem to evaluate detailed reports about your audience.
This one is the second last in the list of marketing analytics tools that work well in the eCommerce sector. Matomo had a former name which was Piwik and this tool started with examining key metrics from data. E-commerce systems like WooCommerce and Shopify are easily integrated with Matomo. eCommerce KPIs, such as your average order value and conversion rate, are simple to view.
Additionally, you can configure an automated feature to notify you each time a user leaves their shopping carts empty. Additionally, it offers thorough sales reports broken down by product, marketing channels, and geolocation. Matomo includes features like some of the additional eCommerce analytical tools to help you grow your online store along.
Features:
Matomo allows you to perform detailed examinations of sales reports that are segmented by geographic area, product, and marketing channel.
You can also create automatic reports to view information that might surround the order of the customer, order value, conversion rates, and other problems that lead users to leave their shopping carts.
Matomo can help you to connect online shops like Shopify and WooCommerce.
You may be confident that the platform securely stores all of the users' data, which they own completely.
Price – You can use it for free if data is hosted on your own servers, otherwise $29/mo.
The platform supplies businesses with the knowledge they need to enhance their online interactions. FullStory is a tool that monitors user activity within your app. User sessions are recorded and replayed, enabling developers and product owners to pinpoint areas where their program needs to be improved.
The FullStory javascript library will be added to your app and custom events will be sent into FullStory via this analytics plugin. In addition to providing statistics and useful information, the platform also collects data about user experience. The software lets eCommerce companies proactively improve their clients' online experiences.
Features:
Take advantage of data's potential by comprehending how income is affected.
Using the whole experience data for each consumer, make informed decisions.
A data-driven approach to problem solving and solutions can streamline procedures.
Experiment with your digital experiences to extend your customer base, increase retention, and you'll see a rise in repeat business.
Price – Free plan
4. Why Should You Use Ecommerce Analytics Tools?
The eCommerce business nowadays has access to a large wealth of data and needs to access important indicators. Thus, this might make them confused and overwhelmed by all the numbers. However, your analysis of digital marketing will continue to be pertinent if you start to pay attention to the most important metrics.
This strategy is ideally geared toward facilitating clear decision-making for potential future growth prospects. Using data from your eCommerce website to assess the effectiveness of your operations is made possible by eCommerce analytics solutions.
You can use data from your eCommerce website to gauge the effectiveness of your operations with the use of eCommerce analytics solutions.
You can select from the popular Key Performance Indicators (KPIs) to show the health of your website depending on the metrics you wish to optimize. Here are some of the metrics which you can use in analytics to get a sense of how well particular components are performing at different times.
4.1 Pay Per Visitor
Pay per visitor means, you will be paid a projected value for each user who visits your website. It is equal to your entire revenue divided by all of the website visitors.
4.2 Typical Conversion Rate
This will tell you how many potential consumers turn into actual customers after visiting your website. It can be done using mathematical calculations by dividing the number of customers that made purchases divided by the volume of traffic during that time.
4.3 Average Order Value
Average Order Value means the average amount a consumer spends when making a purchase from your e-commerce website. You may figure it out by dividing your overall revenue by the number of orders you receive.
5. Conclusion
Overall from this blog, we can say that eCommerce businesses should use marketing tools. It could be a free tool or a paid one whatever suits the need. These ecommerce analytics tools will help you understand the nature of customers through the data. You may learn more about your visitors, their surfing habits, and their purchasing tendencies, what they like, where they spend most of their time and on which page or which section of the website. By using appropriate analytics tools, this process will become a lot easier to develop comprehensive reports and deliver customer-friendly services.
Thus, this makes it much easier for businesses to meet expectations and persuade them to make a purchase from it. If you have more knowledge of eCommerce then the thought process and decision-making processes will be easier when you use the right ecommerce analytics tool. Advanced analytics will be faithful to increase business performance when they visit your eCommerce website. The actionable customer-focused data will increase conversions and increase customer satisfaction among businesses.