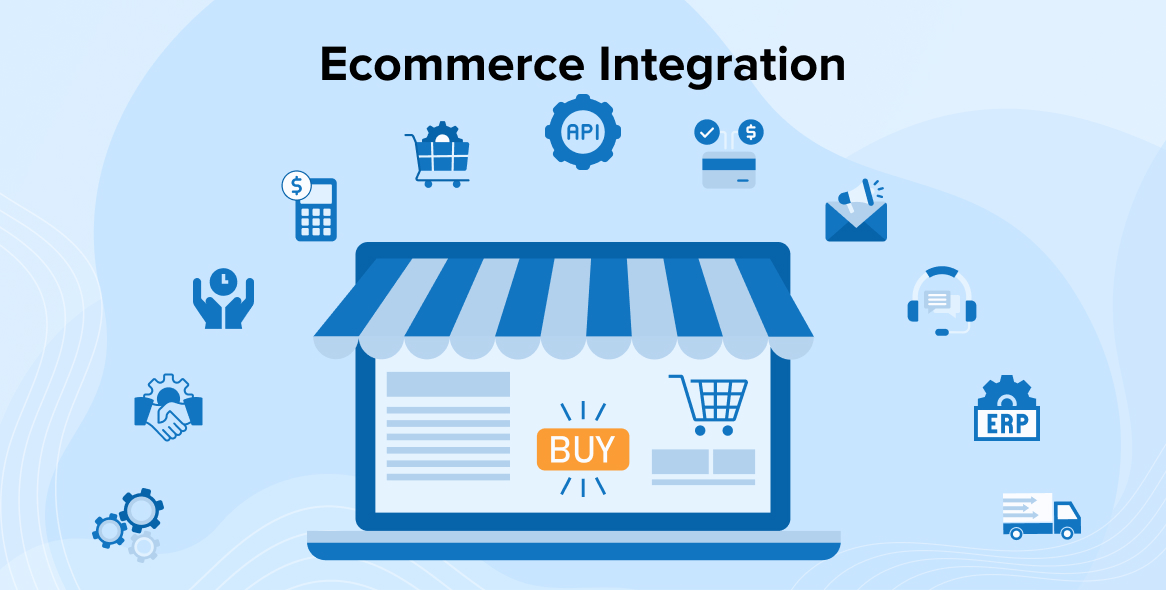 Having an eCommerce store is just the beginning of many other aspects involved in running a successful eCommerce business. Hence, eCommerce development services like customer relationship management systems, marketing tools, business intelligence tools, accounting packages, reporting suites, and countless more are required to meet the operational demands of eCommerce business owners. E-commerce platforms need to integrate such technologies for various reasons, which reduce the need for human intervention while saving significant time and money for enterprises.
Here we'll look at an eCommerce integration, a new kind of integration solution that applications are embracing to shorten the eCommerce integration roadmap, connect more quickly, and do it all for a lower price.
1. What is eCommerce Integration?
An interface that synchronizes eCommerce data between two applications is called an eCommerce integration. Suppose you're using HubSpot for CRM and Magento for eCommerce CMS and want to transfer useful data then this can be achieved by an ecommerce integration.
2. Why is E-commerce Integration Important?
Understanding the significance of eCommerce integration and why implementing it is essential for making it operate effectively. You can run and manage your program more smoothly with the help of eCommerce integration. Online stores allow you to view information about items, deliveries, purchases, payments, customers, and more without having to transfer between a number of different programs. Without eCommerce connectors, access to your customers' shop data is impossible.
In addition, an eCommerce integration is necessary to handle data across online stores if you are spending your entire day transferring data between platforms. Reduces the need for human effort. You may then use that time savings to focus on other matters of importance. To avoid stock-outs, it ensures that product details are always up-to-date and consistent across all channels. Integrating eCommerce into your core operation is crucial and is also considered an eCommerce best practice. If you want to meet the evolving demands of your customers and stay competitive in the market with the help of eCommerce outsourcing. Your share of the market will grow as a result.
Cargo management, automation of emails, order and stock control, mobile app development, enterprise resource planning, and other businesses whose customers run online storefronts require eCommerce connectivity.
3. Types of eCommerce Integrations
The most successful eCommerce platforms are those that can easily connect to other infrastructures.
There are a variety of methods by which online stores connect. There are several ways to bridge systems, but the one you choose should be in line with your company's long-term objectives. Which approach you use is determined by factors including process, goals, and available development resources. Here are the most widely used approaches to integrating e-business.
3.1 Real-time (API)

The use of an API or application programming interface is widespread when two systems need to communicate in real-time. To compare system data is eliminated when an API is used to transmit information between an application and an eCommerce environment. The directionality of a real-time integration could be either one-way or two-way.
Your eCommerce platform may communicate with external services through a one-way connection. An order placed on an online storefront is sent directly to an enterprise resource planning (ERP) system via an example of real-time, one-way API connectivity. Your enterprise resource planning system (ERP) might also update your online store's stock levels.
Further, two-way integration enables interaction between the two systems. Any changes made to inventory levels in eCommerce are reflected in the ERP, and vice versa for ERP stock levels.
3.2 Scheduled (SFTP or API)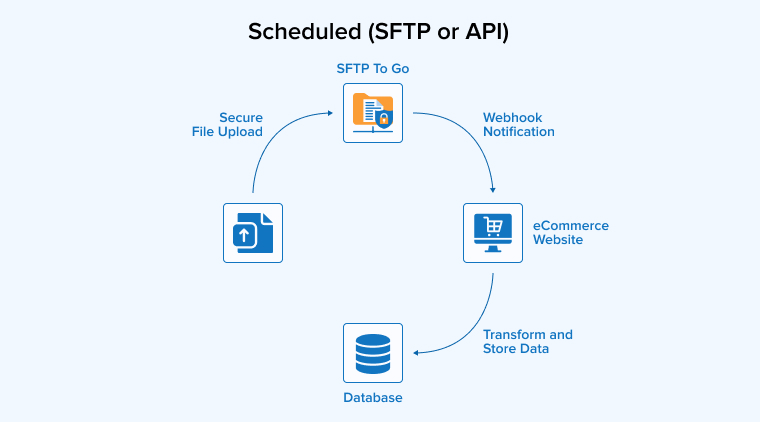 Different vendors may not always share the same level of synchronization when it comes to product catalogs, therefore, Scheduled(SFTP or API) can be your better solution. Particularly, off-peak times are ideal for doing routine tasks like updating invoicing and fulfillment data. Whether you use an API or a timed SFTP, you need to pay attention to the customizing choices.
3.3 Manual (CSV File upload)
Manual is the most financially viable option. Data transfer from your eCommerce platform is handled manually with this approach. It lets you move chosen files in the desired direction with no extra charges for integration or development. In this instance, you need an eCommerce import/export engine that can be customized.
Simple data sets and minimal turnover make CSV file uploads practical for some businesses. But it isn't without its flaws. This approach does not scale effectively as catalogue sizes and transaction volumes increase. The precision and safety of sent replicated data also pose a problem.
4. Examples of Top Ecommerce Integration Solutions
4.1 ERP Integration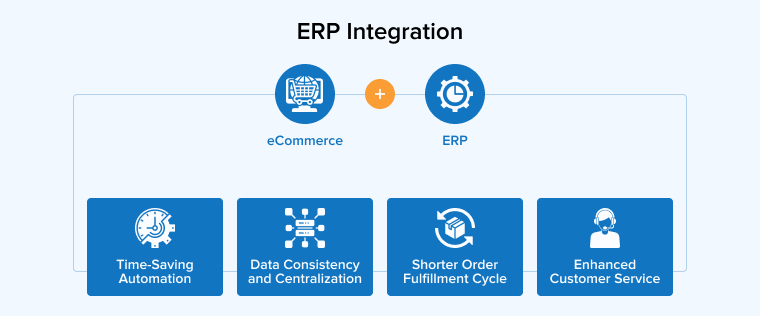 Managing a company's day-to-day operations requires a system called enterprise resource planning (ERP), which is often software. Enterprise resource planning (ERP) software is widely used to automate a wide variety of corporate operations, including risk analysis and management, task management, supply chain management, purchasing, HR management, and finance.
By eliminating the need for repetitive, labour-intensive tasks, automation makes complicated processes much more manageable.
ERP systems as a part of your eCommerce development services are appealing to eCommerce businesses because they help fill in the blanks and free up employees to focus on more niche tasks. It facilitates the efficient operation of eCommerce platforms by facilitating the integration of several applications and software packages. ERP software is useful since it helps firms do a wide variety of tasks. These capabilities are restricted only by the nature of the company and the software it uses.
4.2 CRM Integration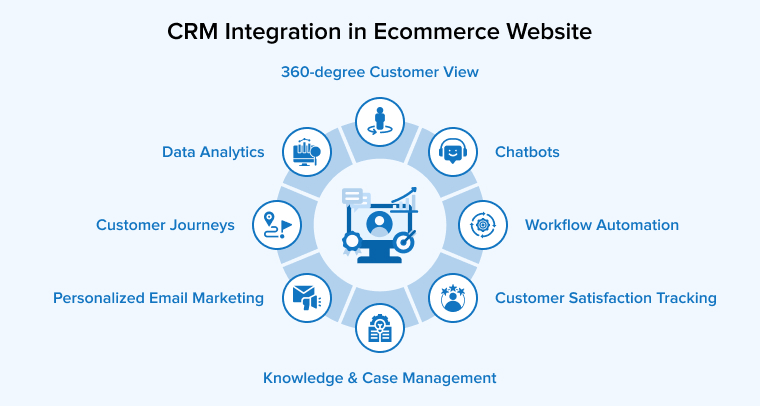 A CRM system's primary objective is to streamline interactions between a company and its customers.
When a consumer has a query or concerns as they shop, CRM software is there to quickly respond with an answer or solution. An eCommerce store can improve its chances of success by using a customer relationship management system.
4.3 API Integration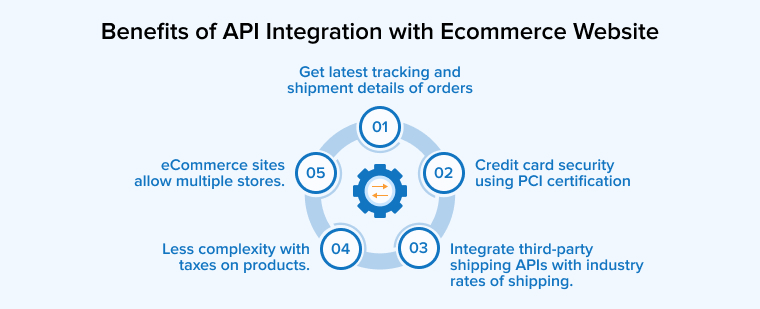 APIs or application programming interfaces, which means data exchange from one to another. eCommerce software applications. This integration helps to carry out predetermined workflows, in which one action causes another action and an update to occur in another application. In this approach, data and procedures may be shared throughout different platforms. APIs have become standard practice in the IT sector in part because their use often necessitates less technical expertise.
4.4 Payment Gateway Integration
A eCommerce payment gateway is a third-party application that facilitates safe and easy financial transactions between buyers and sellers across nations. It is often an online platform that verifies the customer's details and finalizes the purchase before sending a confirmation email.
Credit cards, cash, debit cards, and other ways of payment should all be accepted by any reputable online retailer. The vast majority of payment processors are "on-site," meaning that the consumer never leaves your system.
On the other hand, some are housed on other platforms, and after a customer's credit card details have been verified, they are led back to the original site.
4.5 Shipping Software Integration
A shipping application is a component of software that works in tandem with your e-commerce platform to help you control your stock, generate tags, and calculate shipping costs. For a small firm with a low volume of sales, calculating and managing shipping details manually can be a viable option. However, mistakes in shipping information processing are more likely to occur as demand and sales volume rise. Incorrect addressing, lengthy shipment times, incorrectly predicted costs, etc., are all potential causes of such problems.
4.6 Inventory Management Integration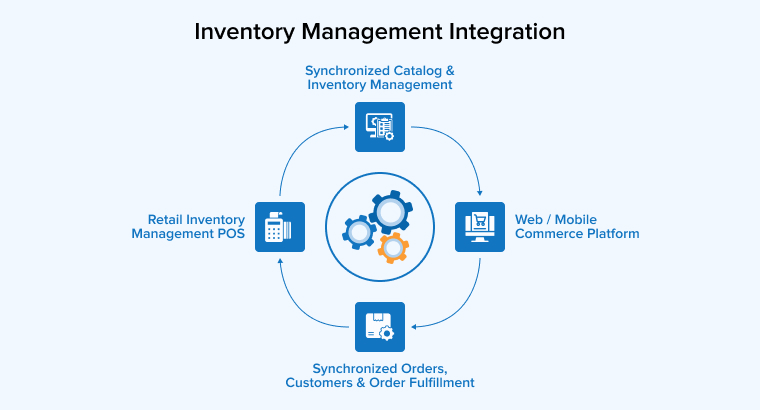 When a third-party solution is connected to your eCommerce website, synchronization and real-time visibility allow you to concentrate on expanding your business rather than managing inventories.
4.7 Accounting Software Integration

No matter how big or small your company is, you'll need some sort of accounting system to manage financial records including salaries, budgets, cash flows, revenue, expenditures, losses, benefits, etc. In the early days of a firm, a basic spreadsheet file may be sufficient for handling daily accounting responsibilities. However, there is a risk of making mistakes along the process, leading to a disjointed data system. Therefore, company owners are unable to make significant choices. That's why it's crucial to combine e-commerce and accounting platforms.
4.8 Customer Support Software Integration
Salesforce found that if customers are satisfied with the service they receive, 92% are more inclined to buy from that company again. Receptive customer care agents and a smoothly operating software system are the backbones of a successful client experience.
Ticketing systems, help centers, knowledge bases, and reactive communication channels are only some of the features supported by a customer service system.
You need an automated system to deal with questions, orders, and problems as more clients shop at your online business. By delivering automatic responses to less difficult instances, services like live chat and chatbot connections allow your support staff to handle a higher volume of queries. With this synergistic integration, you can see how your customers have interacted with you across several channels and time periods. In addition, you may improve customer satisfaction by providing individualized assistance.
4.9 Email & Marketing Automation Integrations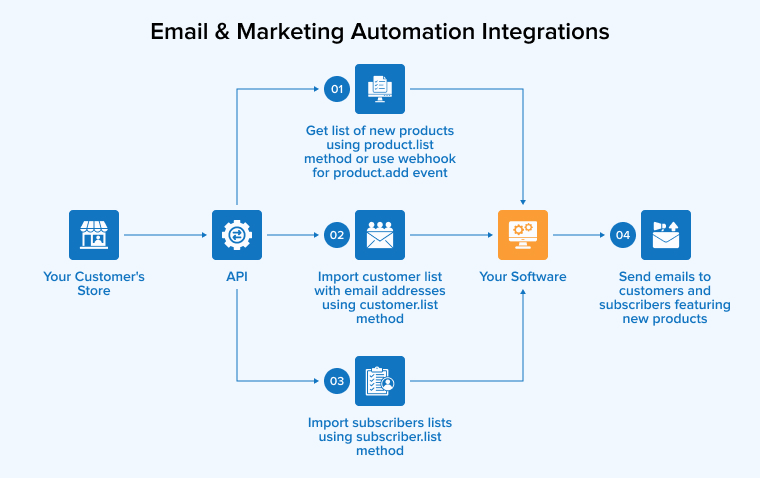 An email marketing system is one of the best e-commerce integrations for driving sales since it is the most efficient digital marketing channel in terms of return on investments. Feeding emails become increasingly important as your client base grows because they keep your name on top of memory. You may easily collect contacts' information from various sources and synchronize it with your email marketing platform with the help of email connectors designed to promote list-building.
Additionally, email marketing connectors make it simple to automate the sending of emails like welcome messages, birthday greetings, and more. Because of this automation, your audience will always have access to the latest and greatest information, right when they're looking for it, and the constant flow of communication will occur with no disruptions.
4.10 Social Media Management Software Integrations
If you're looking for a solution to email marketing that may reach a global audience, social media marketing is a great option. You may reach out to potential consumers and remind current ones about your brand and sales by using social media like Facebook, Instagram, LinkedIn, Twitter, etc.
Still, it would be difficult for your team to manage all of your social media channels manually. And this might cause discrepancies and lower productivity over time. In order to draw more guests, promote engagement, improve sales, and promote productivity, your team needs a system that integrates post-scheduling, social listening, statistical analysis, advertising features, and other capabilities.
5. Benefits of E-commerce Integration
5.1 Getting Rid of Duplicate Information
Instead of transmitting information across many unrelated systems (interfacing), which can lead to data duplication, the integrated system stores all of the relevant data in a single location. Integrating these systems will help ensure that all user and product information is accurate.
E-commerce platforms greatly diminish and often completely eliminate the necessity of manual data. They are essential to every company's success since handwritten data presents its own set of e-commerce issues.
5.2 Simplify Complex eCommerce Procedures
According to what you integrate, third-party e-commerce interfaces can greatly simplify complex processes for both customers and store administrators.
Consumers have expressed a preference for streamlined purchasing processes that don't need them to switch between many screens to complete their transactions. Rather than departing your store to finish making a payment, for instance, it is preferable to do so promptly. Finally, by streamlining the ordering process, you may boost customer fulfillment, decrease desertion, and increase loyalty.
5.3 Save Times
When businesses use a number of various platforms, they need to navigate through a number of different administrative interfaces to do the same tasks. Marketing efforts such as advertising, short message service (SMS) marketing, email marketing, Facebook Messenger, and other channels might all be part of a comprehensive marketing plan.
5.4 Assurance of Data Integrity and Accuracy
Accurate and trustworthy information is essential to the success of any online store. Companies can anticipate shifts in the industry and respond quickly with the help of accurate data. Customer retention may be ensured by the incorporation of accurate inventory information including pricing, availability, and other essential product features. It's also simple to add new sales channels and sync stock levels across them all.
5.5 Better Experience For the Consumer
E-commerce integration into a business maintains procedures and eliminates any unnecessary frills that can make a customer think twice about taking pleasure in the benefits they offer. It also facilitates the expansion of existing sales channels, which is essential for providing consumers with a comprehensive range of viable alternatives.
Additionally, a company may better serve its customers by allocating its resources more efficiently thanks to the eCommerce integration solution. eCommerce integration companies to adapt to shifting market conditions and stay one step ahead of rivals by scaling up or down as needed.
5.6 Growth Promotion in Business
A company can expand its operations and increase its revenue without actively seeking out new customers. The company achieves this in part by continuing to rely on preexisting business connections as it grows.
Maintaining positive relationships with your present clients raises the possibility that they will recommend your services to others. Even in an increasingly computerized world, the power of personal recommendation should not be discounted.
6. Conclusion
Despite the fact that eCommerce integration is a boon available to everybody, only a select few have figured out how to use it to their advantage. If you need help integrating your store with others, please get in touch with us. Our software development team will consult with you about your company's objectives and specifications to determine the best course of action through our eCommerce development services.