With digitalization taking over businesses, the use of project management tools is evolving. There are various project management tools available in the market. And all these project management tools cover a wide range of features and specialties. They help businesses handle multiple projects & employees as well as have a clear maintenance system. As there are multiple options available in the market, to choose the best project management software, one must look at different factors like its adoption of the latest techniques, and robustness. Basically, the main objective of every project management tool is to enable  custom software development companies to work better and faster. To know more about these task management tools, have a look at some of the best project management tools. Let's go through this blog. 
1. What Features Are Best for Project Management Software?
The preceding is a checklist of features that experts consider as "must-haves" while researching project management software for development teams:
Task Management
Sharing of Data Files
Regulating the Timetable
Accounting and billing
Analytics and Reports
Monitor Faults, Challenges, and Risks
You may complete the set of developer tools by including things like Gantt Charts, Kanban Boards, and collaboration options.
Sprint tracking, velocity charts, Scrum boards, and burn-down reports are all features that should be present in any project management tool used by a development team that adheres to Scrum or Agile development techniques.
Additional features include cross-platform compatibility for things like mobile apps and the ability to integrate with things like Slack, Google Drive, and GitHub code repositories from other vendors.
2. Benefits Of Project Management Software
2.1 Focus on Your Work
Not only will you complete more tasks, but you'll do the proper ones. You won't have to waste time re-doing tasks or looking in the wrong places for resources when you use project management software.
2.2 Reduce Busywork
With project management software, you can show how each individual's efforts contribute to the company's overall success by linking individual tasks to the overarching vision. An additional boost in productivity may be expected if workers are made aware of the larger picture of how their individual efforts contribute to the success of the business as a whole.
2.3 Connect Your Tech Stack
In today's competitive business environment, a wide variety of resources are required. By using adaptable project management software, all of your resources may be integrated into a single workspace.
2.4 Create a System of Record
In this way, project management software acts as a repository for all of your projects and the activities associated with them. So, not only can data be stored, but it can be made more accessible and used by all relevant parties and teams.
2.5 Boost Your Teamwork between Departments
Fundamentally, project management software provides a means for groups to communicate and work together. Project management software facilitates the development of a linked, healthy cross-functional organization by bringing together tasks, objectives, and people across projects, teams, and departments.
2.6 Keep Your Materials in a Secure Location
Have you ever unintentionally removed a cell from a spreadsheet? Or lose track of where you put that updated list of things to do? Maintaining your data on the cloud has several benefits, including increased privacy, less risk of losing data, and improved organization.
3. Best Project Management Tools for Software Development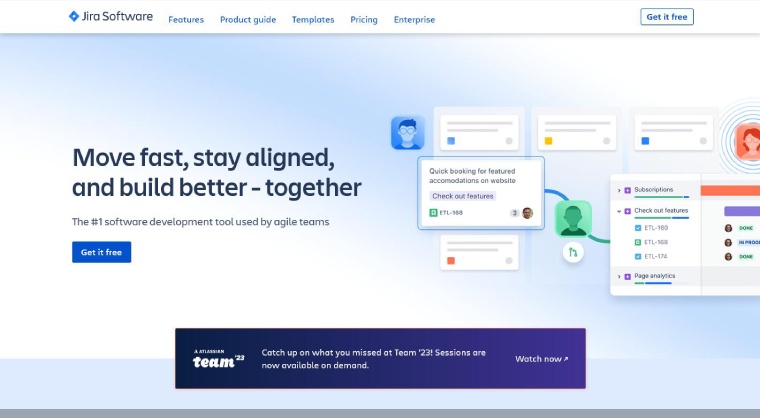 The first name on this list is JIRA, there is hardly anyone from the IT fraternity who hasn't heard of JIRA. JIRA is an issue tracking and agile project management tool for agile testing and project management. It is specifically designed for mobile and software development processes. Along with agile testing and project management, JIRA is also used to track bugs and issues. JIRA allows you to capture, assign, and set priorities for tasks with a few of the essential functionalities. Development teams can see long-term goals, project progress, and real-time release information with JIRA. JIRA dashboard can be tailored to your specific business operations with advanced features. What makes JIRA unique is that it was created specifically for software development teams, making it an ideal IT project management solution.
Top features of JIRA
You can plan the sprints, create user stories and resolve issues using JIRA.
Easily distribute responsibilities among your software project development team.
Prioritize and discuss the work of your entire team.
Communication within your team will be centralized.
Get real-time updates on your team's progress.
You are allowed to customize Scrum and Kanban boards as per present needs.
Competitive pricing
JIRA offers a price range of a minimum $10/month for ten and fewer users, and for fifteen users it charges $75/month and $300/month for teams with fifty users.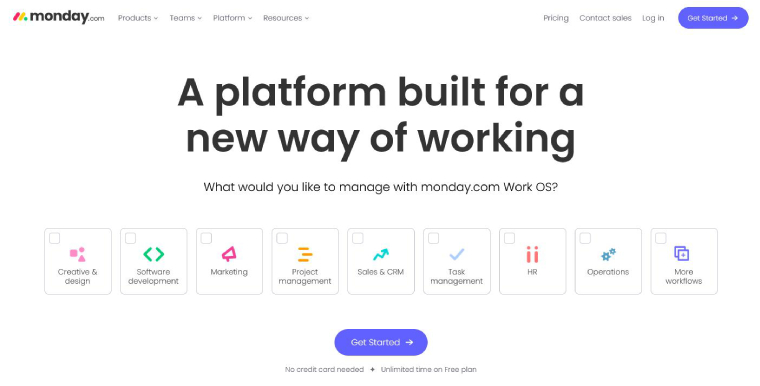 The word Monday seems like a fresh start to something. Similar is the aura of using this project scheduling tool. Monday.com is definitely a go-to tool for business because it includes all of the standard features of project management tools as well as a boatload of "bonuses" for software development teams and project managers. Monday.com also includes a marketplace that has dedicatedly 14 types of add-ons including team collaboration tools, customer relationship management plugins, and reporting capabilities; which is one of the most significant elements of the platform.
Top features of Monday.com
It allows you to easily monitor workloads, assign tasks, its management, and tracking.
It facilitates data visualization, collaboration, and communication.
You can accomplish Gantt diagrams, customize Kanban boards.
The track of bugs, backlogs, product roadmaps, and iteration project planning all can be done using Monday.
Price structure for Monday.com
Monday.com features are holistically divided into five pricing levels. The initial one starts at $0 for two "users" and rises to $16 per seat per month at the Pro level. There is also an Enterprise edition.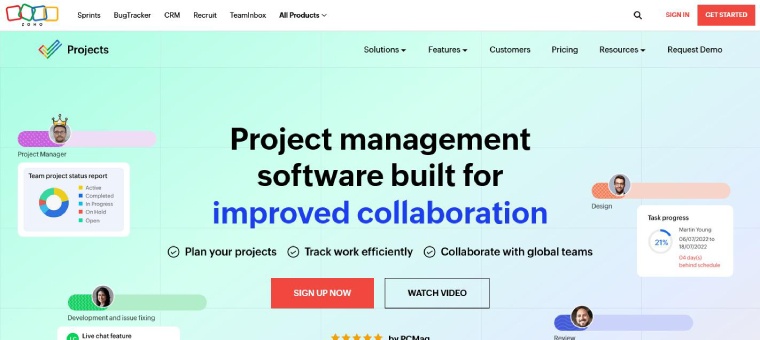 Another renowned name in the section of Project management is Zoho. Zoho is known as a cloud-based project management system specifically designed for SMB businesses. Zoho Projects combines project management principles and automation technology to create a fantastic project management tool. It is popular among software development teams because of its advanced issue tracking capability. Zoho Projects is a cost-effective project management app with lots of features. Additionally, Zoho Projects' management capabilities enable multiple customizable features to make it one of the greatest tools accessible.
Top features of Zoho
The task management would just go smoother and easier.
You can use different kanban boards. 
There are featured facilities of Automation.
Reporting options are quite powerful.
There is a recording of time as well to keep a track of usage.
Tracking down issues.
Users also have the ability to chat.
The uniqueness about this application is that it can be used in conjunction with Zoho CRM and other tools to practically handle every part of your organization  in one place.
Price structure for Zoho
Zoho project management starts at $5 per month per user.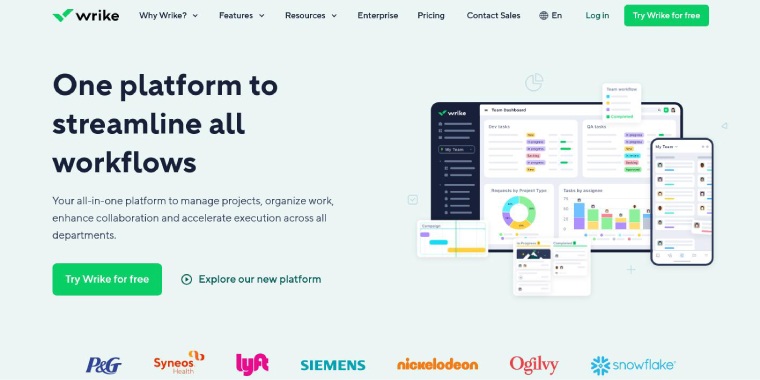 Another popular and preferable name in project management applications with powerful and secure capabilities is Wrike. It takes little time to set up and operate, despite having a large number of functions. Wrike is great at collaborating, centralizing, and connecting multiple projects while also increasing the efficiency of your team. It is quite tedious and has a complex UI but setting up your project tasks will be a breeze. Wrike's desktop and mobile versions are up to date with their releases and enhancements but there is a slight latency in the process. If you expect to see updates on your mobile devices at the same time as they happen on your desktop, this may be aggravating.
Popular features includes
Managing projects in spreadsheets with columns containing detailed project specifications. 
Performance tracking, reporting and file sharing.
Keeping track of the status of activities and receiving reminders.
Setup is extremely easy and quick.
There are no limits to the number of active projects.
Integrations using APIs.
Wrike's competitive advantage is that it allows team members to stay on the same page even if they are spread across the globe. It's ideal for massive tasks.
Pricing structure of Wrike
It's a premium plan that starts for 5 users with $10 and more depending on the features they want, the price will increase.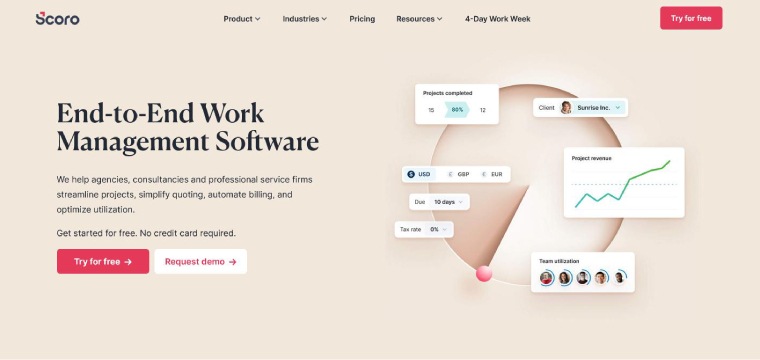 Scoro is a popular end-to-end work management solution for professional and creative services that allows them to manage their whole workflow in one place. Scoro is a business management software that will help you in managing projects, tasks, and content. It aids in the streamlining of work and the elimination of regular chores to guarantee that a company functions as smoothly and efficiently as possible from sales through billing.
Popular features includes
Task, Time, and Resource management
Tasks can be automated
Budgeting and forecasting for projects
Organizing resources
Matrix of tasks
Keeping track of time
Planner
Scoro's unique feature is that it helps you to streamline your entire work process, so you don't have to utilize a variety of different tools for each activity. All of your vital information is kept in one location.
Pricing Of Scoro
Pricing starts at $26 per month per user.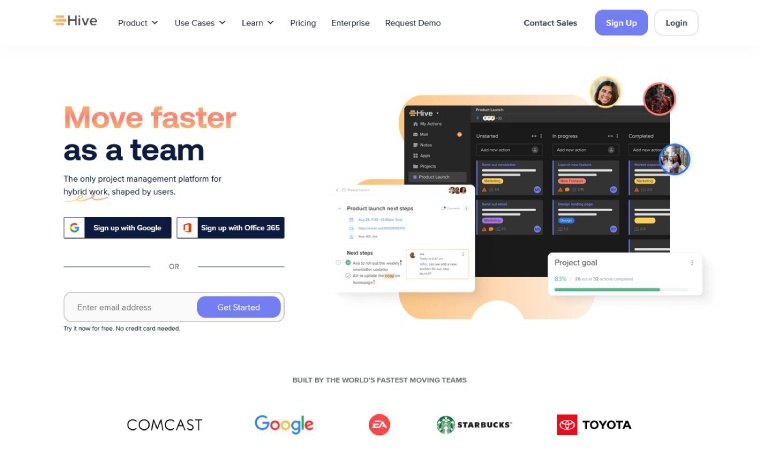 Hive is another prominent name that is used for project management for multiple projects with different domains and industries. Hive allows you to effectively arrange your tasks in a variety of ways. You can include Gantt charts, Kanban boards, tables, and calendars in all the data. All changes to the project will be reflected in all perspectives. You can also quickly change viewpoints. It's a productivity platform that can connect to tens of thousands of other apps.
Top Features of Hive
Hive can offer you automated processes, summaries, and action templates.
Proofing & approvals, action cards, and forms are among the features available for execution.
By combining AI and machine learning, Hive analytics will provide you with actionable data.
It includes time-tracking features that allow you to keep track of how much time you spend on different projects.
What makes Hive unique from others is, it has a simpler UI and is quite easy to understand and implement projects. All the latest technologies like AI, machine learning, IoT and more help you easily integrate it with other systems.
Price Structure of Hive
There is a basic package for Hive that is $12 per user per month.
There are also free trials available and you can add extra features at a minimal price range of $3 per user per month.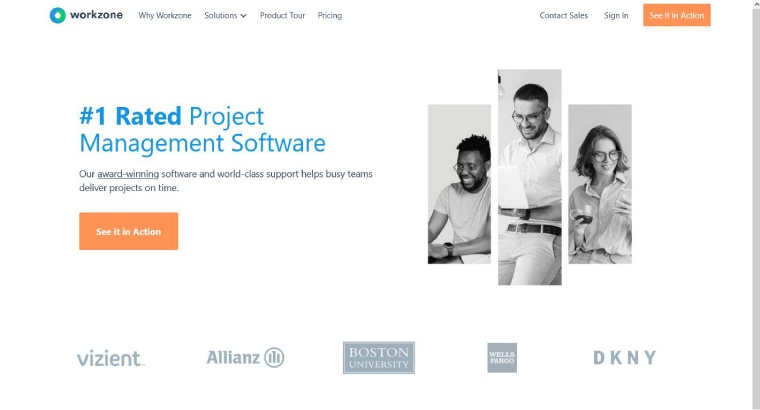 Workzone is a tried-and-true project management solution that marketers and creatives have relied on since 2000 to get their job done. Workzone is a one-of-a-kind combination of complexity and usability. Workzone is perfect for groups with a mix of seasoned and inexperienced members. Workzone was created by a group of seasoned advertising executives who wanted to make it easier for agencies and creative teams to see all of their work.
The top features of Workzone
Subtasks and task dependencies can be created.
Gantt charts allow you to see statuses quickly.
Assign people to multiple tasks.
Set rights for certain people to access projects, tasks, and files (including clients).
There are to-do lists that are unique to each person.
What makes these tools unique is that Work Zone has a lot of strong capabilities, yet it's a lot easier to use than other products.
Pricing of WorkZone
The pricing of Work Zone starts at $24 per month per user and can increase with the increasing use of features.
4. Conclusion
This blog has conveyed  all the important and popular brands of Software development project management tools. You as a business leader have a right to choose any of these project planning software but the least you need to ensure is that all your project requirements are fulfilled by the company and project management tool that you have chosen for your business. All of these are different from each other, some of them have similarities but none of them are the same.