When it comes to identifying and eliminating bugs from software development projects to maximize the quality of the system, performing the right type of software testing at the right stage of SDLC is important. Testers must perform the different levels of smoke testing before finalizing and releasing the product. This helps the software testing services providers gain the customer's confidence and trust. But the implementation of the testing process must be strategic and it must detect bugs in software at an extreme level or else it is useless.
This is why having a complete understanding of smoke testing for identifying critical issues in software is very essential. Therefore, in this blog, we will learn everything about what is smoke testing and how it helps to detect critical errors.
1. What is Smoke Testing?
Smoke Testing is a type of testing that enables software development companies to verify the stability of the solution. It helps the testing team to serve all the software testing prerequisites and also allows them to proceed with further testing. This type of software testing is unique as it can be performed universally for every new app. In clear terms, across every new build. In simple terms, smoke testing enables verifying whether the critical features are necessary or not. For instance, if a rapid regression test is conducted for major functions, it will assist the software testing team with useless test processes and this means that it decreases the project costs.
So after the software is verified in a smoke test, it is ready for formal testing. And each type of software build comes with data files, libraries, engineered components, and reusable modules. All of them are needed for the implementation of different functions.
2. Why is Smoke Testing Important?
If QA testers don't perform a smoke test on the application, it is a waste of time to run other tests. This means that smoke testing is important as it indicates whether the structure of the software is even ready for formal testing. If this is not done, major issues might slip through the cracks and there are chances that those issues stay within a build for a longer period of time.
Besides bugs, smoke testing also helps as it paves the way for other testing types in the build improvement process. This means that without performing smoke testing, the software testing team cannot move on to functional testing and this means the confidence testing or build verification testing can't progress. Once you complete smoke testing then only you can move further on functional testing. In addition to this, smoke testing is an integral part of the testing process.
3. When Should You Perform Smoke Testing?
Smoke testing is a process that is done whenever the new functionalities of the software solution are developed and integrated with the current build. This ensures that all the functions in the solution work perfectly fine. Besides, this smoke testing enables the software development team to deploy the build in the Quality Assurance process. When the subsets of test cases are identified, the QA team can run different test cases on the build. Basically, the QA team tests the app against difficult functions and the test cases they perform are designed to expose errors in the build.
4. Types of Smoke Testing
There are three main types of smoke testing and they are –
4.1 Manual
Manual testing means employees testing the applications by performing manually smoke tests. If a software development team is creating a brand-new mobile app that requires testing, a manual testing team can run tests across a variety of devices. Though this process seems time-consuming, it comes with the built-in benefit that helps the QA team in exposing the app in a way that would make it look after it is being put on the market. And this means that the test cases performed manually are going to be more indicative of the app's practical functions.
4.2 Automated
Automated testing is accomplished with the use of various tools that help the testers to boost the efficiency of any business drastically. Besides, automating smoke testing clearly means that the testers can save money and resources. Basically, the automated testing process is quick, efficient, and accurate.
4.3 Hybrid
The third type of smoke testing is hybrid testing. It is a combination of both manual and automated tests. It includes some kind of automation in the smoke testing process but also relies on software testers to manually check the build of the software. Hybrid testing comes with a mixture of both testing types and this offers a lot of advantages to both the business and QA team.
5. Smoke Testing Cycle
Here is a chart that shows how to smoke testing actually works. It will give you a clear idea of how smoke tests are passed for functional testing after the build is deployed in QA. And in this case, the diagram will also show that if the test fails, it won't end until the issue in the build is resolved.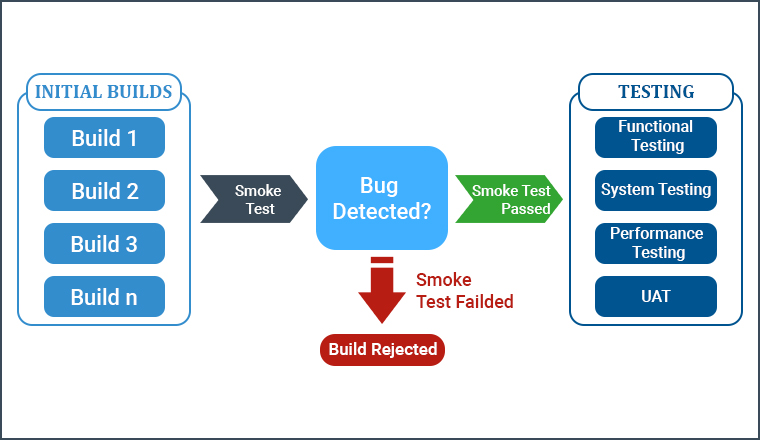 6. Advantages of Smoke Testing
6.1 Simple Process
Smoke testing is a very simple process that can be carried out by any software tester and this is what makes it the best choice. Using this type of testing doesn't require a lot of resources in the process. The simplicity of smoke tests makes them compatible with other testing methodologies and this makes the integration of testing types easy.
6.2 Improves end-Product Quality
Smoke testing helps in identifying bugs and resolving them as soon as possible. This results in the system having fewer bugs. This helps software development companies in offering a high-quality product to the client and gaining customer satisfaction.
6.3 Identifies Bugs Easily
Identifying software bugs at a faster rate is the specialty of smoke testing. It catches bugs as early as possible and makes sure that the build is fixed before it goes to the deployment process. This ensures that the most prominent errors don't make it to end-users. Besides, when smoke testing is carried out regularly, it ensures that the system will remain relatively bug-free.
6.4 Improves Efficiency
When it comes to testing software, software development companies don't want to waste their time and see that the developed system has different types of errors. Therefore, smoke tests are put in as soon as the system is ready for the tests and they will point out all errors affecting the stability of the software. This is why smoke tests are considered reliable for the foundational code of the system.
6.5 Saves Time and Resources
As smoke testing finds errors quickly and efficiently, it enables the testing teams to carry out regression testing and acceptance testing at the early stage. This can fasten the entire testing process. Besides time, it also saves test effort and resources on smoke testing as it follows automation.
7. Characteristics of Smoke Testing
Offers self-scoring process
Runs quickly
Provides broad coverage
Exposes basic errors of any new system build
Can be run by software developers and QA experts.
8. Conclusion
As seen in this blog, nowadays, businesses need quality products like high-performing mobile or web applications to stay ahead of the competition. And to have quality products, software testing is essential. It comes in different types like integration testing, unit testing, sanity testing, system testing, acceptance testing, hardware testing, interface testing, and one of the most important types of software testing, smoke testing. Smoke tests bring a new update and a clear idea about each software build. After deep testing, it also seems that if the build is broken, it needs to be solved before sending it further to start functional testing.
Basically, there are multiple benefits of using smoke testing at an early stage of the software development life cycle. It helps in quickly evaluating the major functionality of a new build. It also ensures the stability of the build. This shows that when any software development team is working on a project that is going to have critical functionalities, adopting smoke testing and implementing it before the development team deploys the software is very helpful.