IT service providers may recommend a range of engagement strategies for IT outsourcing. It includes staff augmentation, project outsourcing, and potentially managed services, as a means of acquiring external expertise.
Despite the fact that all of these solutions can give you competent programmers or developers to aid your development team in focusing on a deadline-driven project, there are significant differences between them that you need to be mindful of.
In this article, we're going to run a staff augmentation vs outsourcing debate. Where we will focus on some of the key distinctions between staff augmentation model and project outsourcing services which are the most prevalent IT outsourcing models to assist you in determining which strategy best addresses your existing workforce hurdles and currently underway software development requirements.
1. IT Staff Augmentation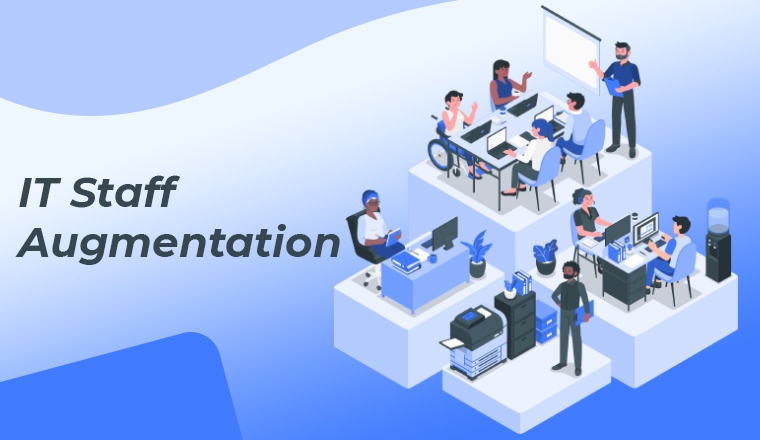 Staff augmentation is a form of software outsourcing service in which a corporation hires temporary professionals and highly skilled specialists from a software development company to increase the production of its in-house software development team. Generally, software development businesses provide staff augmentation on work and materials agreements. In which customers spend for the manpower at an hourly rate and the materials required to execute the entire project.
Staff augmentation has been utilized by a variety of organizations to address labor shortages when demand surpasses availability. Staff augmentation may be a cost-effective and straightforward option for businesses with temporary labor needs, like during seasonal spikes, seasons of enhanced activity or expansion, etc.
Let's examine IT staff augmentation vs outsourcing in further detail, including its obvious benefits and hidden drawbacks.
2. Key Benefits to Staff Augmentation Services
2.1 Cost-Effective
IT staff augmentation managed services provider reduces recruiting and training expenses of new employees, in addition to full-time salaries and perks, which are unavoidable in-house. Consequently, you only spend the real hours worked on the projects, reducing both short and long-term costs.
2.2 Fast Onboarding Narrow Specialists
CIO Harvey Nash states in a KPMG study that "The IT sector is witnessing a scarcity of competent and committed IT personnel. Consequently, locating a suitable professional in your industry might be a challenging endeavor." Staff augmentation vendors enable your company to utilize a pool of qualified and skilled software developers and discover the individuals most matched for your IT projects.
2.3 Seasonal Employment
IT staff augmentation offers adaptable engagement strategies for external teams. It implies that you may recruit IT specialists, when you need them the most and reduce their number when their help is no longer required. For instance, to choose a staff augmentation approach to finish a certain project or to reinforce your in-house employees with additional personnel during pick-ups. In addition, terminating a staff augmentation agreement is significantly simpler than laying off or dismissing an in-house staff person.
2.4 In-house Management
If you choose to recruit assets from a software development firm, the external factors will collaborate closely with your internal team. They will adhere to internal regulations and submit straight to their superiors. This implies that business team leaders and project managers will examine when and where skill shortages need to be filled with the appropriate resource.
3. Staff Augmentation Drawbacks
3.1 Management Capacity
When employing an external staff, the company's management should be ready to manage extra individuals and give more direction.
3.2 Supplementary Instruction and Integration
Even though an external staff will acquire the essential IT technical capabilities, the company managers will still be required to clarify your company's internal processes, procedures and rules. In addition, when new professionals are added to the existing in-house team, time must be allocated for them to understand the company's operations and policies.
4. Outsourcing
There are numerous important distinctions between staff augmentation vs outsourcing, each with its own merits and downsides. The primary distinction between them is that with staff augmentation, you are acquiring technical assets while retaining full authority over the staff and the potential consequences of a conceivable bad result.
With an IT outsourcing company, you are spending for particular, prescheduled results and discussing the risk involved with the outsourcing vendors, while sacrificing specific power over such factors of the operational processes.
Businesses can hire, equip, and supervise an outsourced team of experienced people to complete the projects you assign. This external team will operate independently from your organization and will not be intimately associated with the remainder of the domestic development efforts or other in-house technical tasks.
Even with digital centers bursting up all around the globe, from often-overlooked regional choices like San Diego, or Durham, to more conventional offshore locations like India or Brazil, which is now producing its own worldwide marketable technology companies. Project outsourcing remains a strikingly feasible alternative to choose when it occurs to stuffing actual skill shortages, discovering outside expert knowledge, or reducing costs.
5. Key Benefits to Project Outsourcing Services
5.1 Reduction in costs
When you choose to outsource software development processes over staff augmentation, you do not have to engage in hiring, training, and developing talent, nor do you have to be concerned with their pay or incentives. This considerably reduces the expenses associated with recruiting in-house personnel.
5.2 Quick project start
For internal teams, launching a project might take a considerable amount of time. To begin the project, the staff may need further training, the hire of specialized personnel, or acquisition of specialized tools. In project outsourcing, the project team manages the whole software development cycle, from paperwork creation through product delivery and management.
5.3 Technical and management arrangement
When outsourcing jobs, there is no need to acquire extra space to arrange tasks for new staff or to purchase licensed software or gear. In fact, software development businesses are responsible for personnel recruitment and training. Consequently, you receive an entire team for a set fee.
5.4 Reduced risks
When companies decide to outsource IT services, outsourcing vendors supply highly qualified personnels who bear full accountability for project results. As a consequence, they embrace the hazards involved with the technological solution's growth.
5.5 Unloading the internal team
By outsourcing software development, you can concentrate on your core company objectives and free up your employees to focus on more important business tasks. Consequently, your managers will have more freedom and will be able to focus on initiatives pertaining to the company's particular area of competence.
6. Disadvantages of Project Outsourcing
6.1 Coordination Breakdowns
It may be challenging to coordinate with teams from other businesses. Notably when engaged on a project that demands tight cooperation and mutual recognition. Physical isolation, such as when employees work in separate offices, towns, or even nations, exacerbates breakdowns.
6.2 Chances of Conflict
Since project members do not adhere to the same interests and environment, stressful situations are more likely to arise. Loyalty, which is crucial to the achievement of a project. It can be tough to establish when exchanges are restricted, and individuals belong to separate organizations.
6.3 Security Issues
Based on the undertaking, corporate and trade information may be divulged. This might be troublesome if the contractor performs for your competition as well. When outsourcing procedures such as payments, clinical transcriptions, and health records, organizations must also be extremely cautious about privacy.
Further Reading on:

Advantages and Disadvantages of IT Outsourcing
7. Selecting the Right Technology Delivery Model for Software Development
Selecting the optimal technology employment partner may be a difficult endeavor. This difficulty is exacerbated by factors such as a company's IT and personnel expenditures, predicted staffing needs resulting from estimated business expansion (or compression), the technological considerations obtainable between many existing employees, operation safety and project timelines, and the status of international rivals in world trade.
If you require a flexible workplace approach that enables you to introduce outside technological expertise as required, with augmented staff being to swiftly incorporate with the current workforce. If you don't mind relinquishing direct management over a project or if you lack the administrative skills to cope with the increased workforce, project outsourcing may be the best collaboration approach for your business. As we have seen in this article on staff augmentation vs outsourcing, despite the disadvantages of project outsourcing (lack of production control and connectivity concerns), an external development team may assist you to save money while providing your in-house developers more time to focus on the most critical development and project management tasks.
Ultimately, based on your software project requirements, you may choose staff augmentation, project outsourcing, or a hybrid model integrating both methods with a dash of managed services to balance out your overall staffing strategy. As your organization continues to expand, you may modify these engagement models as necessary.