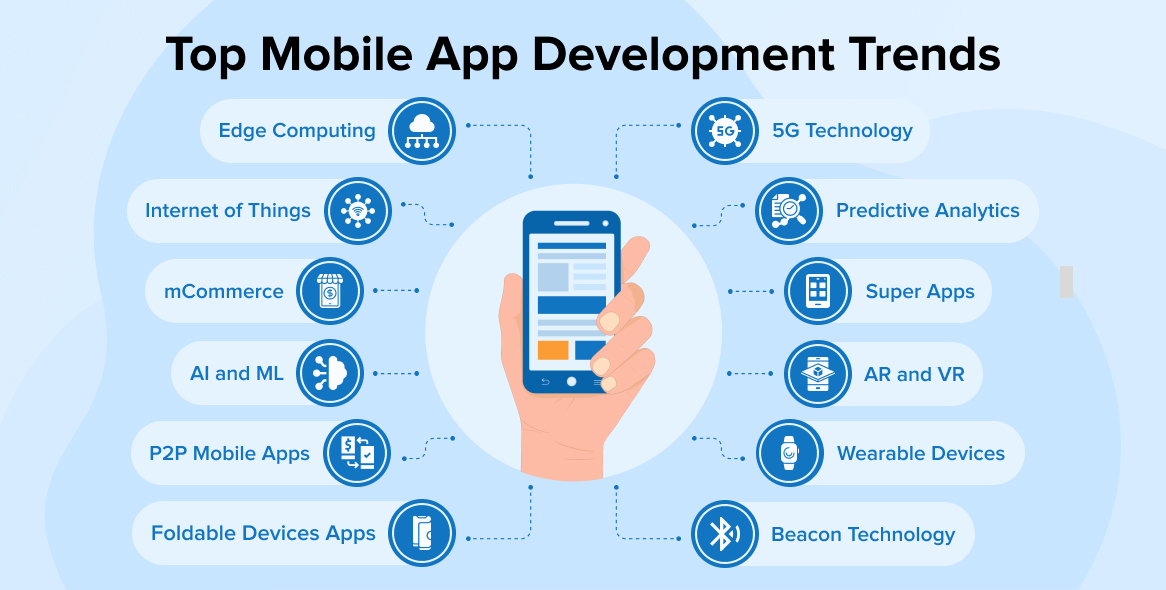 In today's time, the mobile app development industry is evolving rapidly. To survive in this competitive world, both mobile app development companies and businesses need to get acquainted with the changing trends of this sector. As smartphones are the key to digital media success, using mobile app development trends to create unique applications is essential. But at the same time, failed mobile apps are also the case we see in this competitive and overlapping market. However, if the developers make use of the latest trends and implement new techniques, they can offer the best and most unique applications to their clients.
1. New Top Trends in Mobile App Development
1.1 5G Technology
The highly-spoken mobile app development trend is 5G technology. 5G has been a game-changer technology for business applications. This next-generation wireless technology provides excellent speed that is 100 times faster than 4G LTE. Because of this reason, the developers say that 5G is the technology that is and will keep opening up new possibilities for mobile app development. Every organization has started to explore this new technology and is taking advantage of its features. For instance, 5G is a technology that can be useful to create more immersive AR and VR experiences, provide real-time data and analytics to customers and develop new efficiencies in their operations. The advancements of 5G can help developers create innovative and transformative applications that businesses can use to offer the best services to end users. 5G-powered applications can also help businesses stay one step ahead of the competition.
Benefits of 5G Technology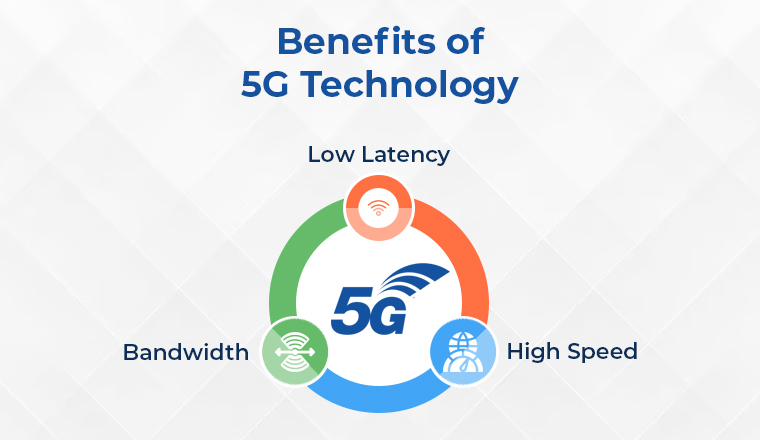 High Speed: 5G technology comes with faster cellular services than its other predecessors like 2G, 3G, 4G, and 4G LTE. With the help of 5G technology, tasks like downloading movies and music have become very easy and faster.
Latency: In comparison with its predecessors, 5G is a technology that comes with low latency and this is what makes it support other new-edge technologies like IoT, AR & VR, AI, and more.
Bandwidth: 5G offers increased bandwidth which enables seamless data transferring. This has improved the connectivity amongst various devices and the overall user experience.
1.2 AR and VR
AR and VR are the most popular technologies in the market. The game Pokémon Go which took the world by storm was created in augmented reality. Augmented reality is a technology that superimposes artificial objects on real-world objects. Whereas virtual reality is the technology that provides an entirely outstanding artificial environment. One can use these technologies to create gaming apps, educational apps, and apps utilized to improve the efficacy of training. AR & VR enables people to learn new things and perform their jobs in a true sense.
Enjoy your favorite World Cup 2022 football matches using Augmented Reality and see insights you never would have been able to see before
pic.twitter.com/TKt7gy49kF

— Tech Burrito (@TechBurritoUno) December 10, 2022
Besides this, with the help of AR & VR technology, the marketing and interior designing teams can create a next-level experience. The users can see how the product will look in a particular space. Basically, it gives a clear idea about the size and shape of the product that the users are going to purchase.
Benefits of AR and VR
Practicing Skills: Practicing the skills can make developers learn new things and create unique software solutions. In this case, learning more and more about AR & VR enables the developers to stay informed about the new updates and see how this technology can be used to create unique solutions for the end-users.
Effectiveness of Learning Materials: AR & VR technology comes with new approaches and techniques every now and then. This means that developers have a huge learning curve when it comes to this technology and can easily get materials from the tech creators. The developers must utilize the materials in the best possible way.
Get Employees Ready for Emergencies: VR and AR are the best technologies when it comes to training employees to handle real-life problems. For instance, the Air Transport Department uses this technology to help pilots learn how to fly in dangerous situations by giving them a simulator that creates a real-time situation for the pilots.
1.3 Edge Computing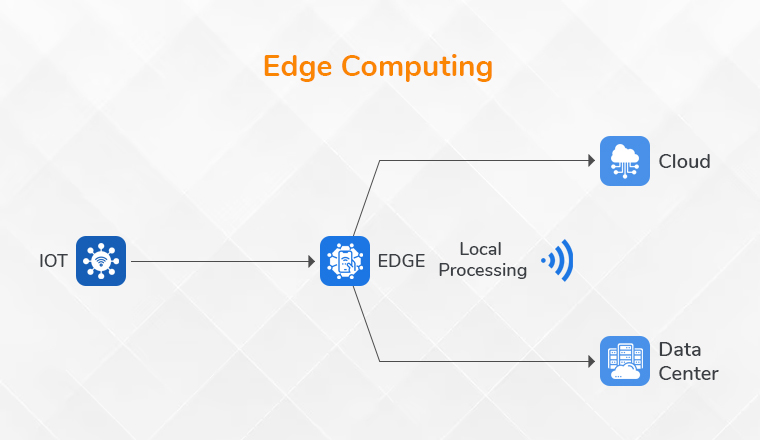 When it comes to having the best mobile app development technology that not only offers the greatest perks but also helps in centralizing the data on the cloud, edge computing is the perfect choice. It is an evolution of the cloud. Edge computing is a technology that literally moves the cloud near mobile device users by making some of their computational requirements processed either on the nearest edge cloud station or locally. As the cloud goes nowhere, it just gets integrated with any of the devices.
Basically, edge computing is adopted by companies as the devices that firm uses to become a part of the cloud. As well as it removes latency issues that the company might face. This means that technologies like IoT, 5G's wireless services, and autonomous cars will take cues from edge-powered devices to run properly. With edge computing, B2B mobile app trends are increasing and usage of location-based services has grown in the mobile market.
Benefits of Edge Computing
Reduces operational costs: Nowadays, businesses have to spend a lot of money on moving data around on cloud hosting services. In this case, edge computing helps organizations save money by creating minimal requirement to move business data to the cloud.
Meet regulatory and compliance requirements: Edge computing makes meeting regulatory and compliance requirements very easy. This technology stores and processes data in the same place.
Enhances reliability and resiliency: Fetching data and processing it in a poor internet connectivity area is easy with the help of edge computing technology.
1.4 Internet of Things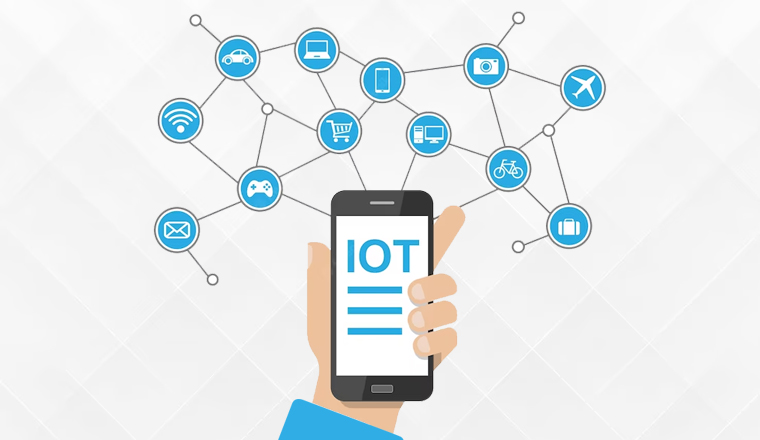 The next technology in the latest trend is IoT. It is not a new concept for the world, but its growth in the mobile world is more in recent times. It has caused a rise in mobile penetration in various categories and sectors by giving new & endless opportunities. Nowadays, people have started using this technology to improve their lifestyles. Because of IoT, the usage of networks of devices that are connected to the internet is increasing as they offer automated control to the users. For instance, smart home technologies.
Besides this, mobile applications can be used to adjust the thermostat in a house from anywhere, you can lock or unlock a front door from your mobile phones, and connect to home security systems easily. IoT-based mobile app users can control their refrigerators through their phones. It is expected that the global IoT market will reach $2270 billion by the end of the year 2028. Besides, according to Statista, the revenue from technology associated with the IoT will reach 1.6 trillion by the year 2025.
Benefits of IoT
Improved productivity of employees: IoT solutions enable employees to automate mundane tasks so that they can use their skills in some special tasks or out-of-the-box thinking. This helps in improving the employee's productivity level.
Efficient operation management: IoT interconnects all the smart devices which means that the operations carried out in a firm can be efficiently monitored from one point.
Better use of resources and assets: IoT makes everything automated which means that the tasks in an organization get automatedly assigned to the eligible employee. In this way, the use of resources is done very smartly and efficiently with the use of IoT.
1.5 Foldable Devices Apps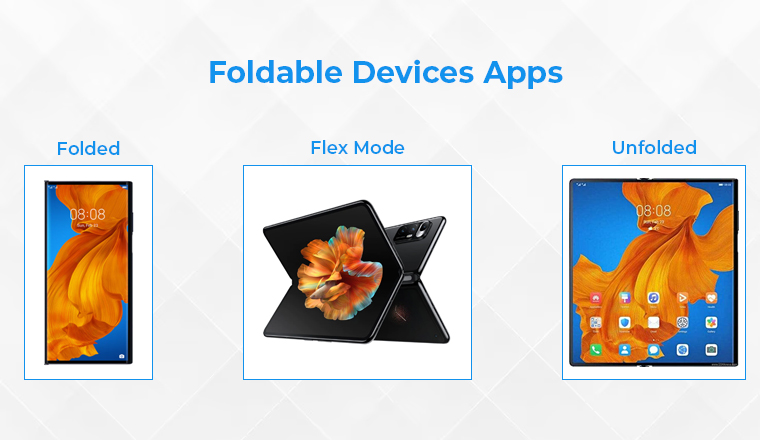 Foldable devices are known as the tip of the overall market share of smartphones, they might change things in the future. As per a survey by Statista, around 50.1 million units of foldable devices shipped in last year 2022. Foldable devices are nothing but phones, tablets, or laptops that come with screens that can be folded like a notebook. This is why mobile app development companies must keep foldable devices in mind while they are planning the strategy of creating mobile apps. They must make sure that the applications run seamlessly on foldable devices.
The foldable devices offer a larger screen to the users which have created a positive impact on the market. The reason behind it is that a larger screen offers more space for a detailed & immersive experience. Users get a multi-windows experience on that device. Besides, video streaming and gaming apps work smoothly on foldable devices and they offer a unique experience to the users. Therefore, creating applications for foldable devices by keeping the screen size in mind is the biggest trend this year.
Benefits of Foldable Device Apps
Larger Screens: Foldable apps are created for devices that come with big screens or which can be converted into big screens. So these applications can be used for things on a larger scale.
Multi-Window: With foldable apps, users can switch windows easily and can multitask.
App & Screen Continuity: Apps created for foldable devices offer continuity of the app on the other part of the screen when the user toggles between the unfolded or folded state of the device.
1.6 Super Apps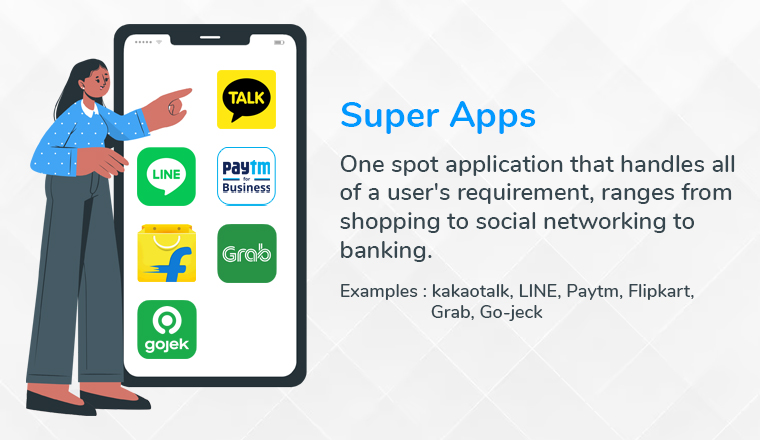 Super applications are those that work as an ecosystem that helps in performing various activities like shopping, working, social interaction, and more. The best example of this type of application is WeChat messaging application in China. This application works like a platform on which the users can not only communicate with their friends but can also perform various things like payment, gaming, and more. This is the concept that social media app development companies have started catching up with in today's time. Mobile app development services providers have now started to transform the app platforms into super apps so that people can do more and more online things than just messaging. For instance, Facebook offers marketplace and shopping features, while Instagram is also no longer used only for sharing photos.
This means that with the super application approach coming into the market, the one app – one purpose concept is changing.
Benefits of Super Apps
User Convenience: Super apps save a lot of effort, time, and space on the client's smartphone which makes it really convenient for the users to have these types of applications.
Boost Customer Retention: Super apps offers everything that the users need to connect with the business.
Covers all Grounds: Super applications enable businesses to cover all grounds of digital services by ticking all the checkboxes for offering better services.
1.7 AI and Machine Learning
Artificial Intelligence and Machine Learning are the biggest technology trends in the mobile app development market. Businesses that want to stay ahead in this competitive world use these technologies in their mobile apps to offer the best services. Mobile app development companies implement AI & ML concepts in the apps that can help businesses stay ahead of the competition. Besides, AI & ML-based apps enable businesses to process and analyze data efficiently and quickly irrespective of its size. This means that companies can now make informed decisions as per the client's behavior data by incorporating AI concepts in their apps and collecting customer data effectively to offer them personalized user experiences.
Basically, Artificial Intelligence can be useful to have interactive and engaging content in the application which can help businesses stay ahead of the curve. While on the other hand, ML enables businesses to improve operations and serve their clients in the best way possible.
#ComputerVision for Enterprise

🎥 @PlainsightAI via @CurieuxExplorer#technology #AI #manufacture #retailtech #CES2023 #IoT #5G #automation
pic.twitter.com/qqDgjR6pez

— Glen Gilmore | 🌻 #HIMSS23 (@GlenGilmore) December 15, 2022
Benefits of AI and ML
Reduce operational costs: Organizations want to have lower operating costs and for this adopting AI is the best operation. It automates manual tasks that save time on repetitive work and increase the employee's focus on high-value jobs.
Launch innovative products: In this competitive business world, AI & ML enables organizations to launch new product lines and capture market share.
Meet customer expectations: With AI & ML, organizations can offer amazing solutions to the end-users that enable them to use such modern technologies on a daily basis. This eventually helps in meeting customer expectations which means more revenue.
1.8 Beacon Technology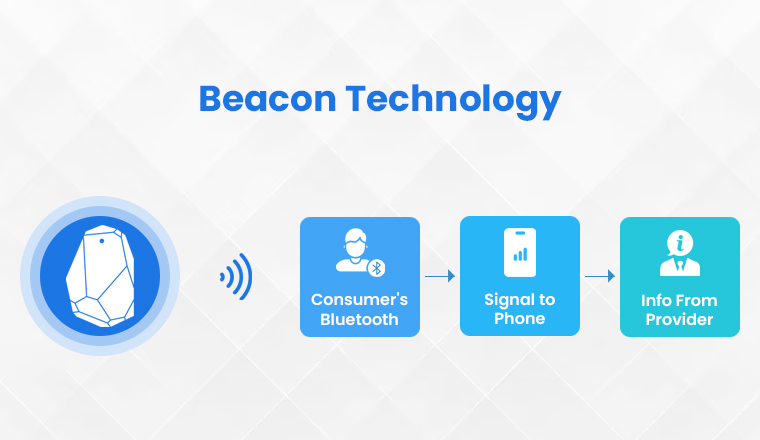 Beacon is a popular location-based technology. This technology uses the Bluetooth of the smartphone to identify a store, a hotel, or any such thing in proximity. Beacons available in that location sends signals that trigger the application to be open on your smartphone. After that, the application can perform various tasks like it helps users to shop from the store they found or order room services in the hotel they decided to stay. The beacon also offers information about the different pieces that are available in the museum you visited. Basically, the beacon application has the potential to overhaul the retail shopping or service-providing sector.
Beacon technology helps in improving customer satisfaction by offering them customized services at their fingertips. Now with this technology coming into the market, clients don't have to wait longer for a salesperson to answer their queries. They can even easily checkout from any store without standing in a queue.
Benefits of Beacon Technology
Send Important Offers Effortlessly: Beacon technology enables businesses to send the most relevant offers to customers which change as the client moves from one area to another.
Capture The Customer's Attention: with Beacon technology, businesses can easily get access to the client's behavior and they can offer them products or services accordingly.
Expand Our Database: Beacon technology helps businesses to have more information to better organize themselves and further detail the profile of their clients as per their preferences.
1.9 Predictive Analytics
Predictive analytics is a concept that retailers use to personalize the services and products they have to offer to clients. For instance, stores like Walmart use data mining to find out the stock or sales of a particular thing and see which type of product is sold in which season. By doing so, the company can keep a proper stock of the products beforehand. This helps in making predictions of future events with the use of available data and employing techniques such as data mining, machine learning, and statistics. With the use of analytics developers can take action on whether to add or remove features in the applications that the potential clients will use to buy the business products or services.
Besides this, predictive analytics can be used by retail in addressing medical issues like COVID. For instance, medical researchers can explore the potential of predictive analytics in finding out whether patients are at risk of this virus and whether it will be severe in the future or not.
Benefits of Predictive Analytics
Identify Profitable Customers: Predictive analytics enables companies to identify the clients that spend the most and see who are the most profitable ones for their organizations.
Improve Customer Segmentation: With this technology, companies can focus on the right target audience and the right segments.
Improve Decision Making: It help businesses find the best manner to communicate with their customers. This is only possible by analyzing all aspects of client behavior.
1.10 mCommerce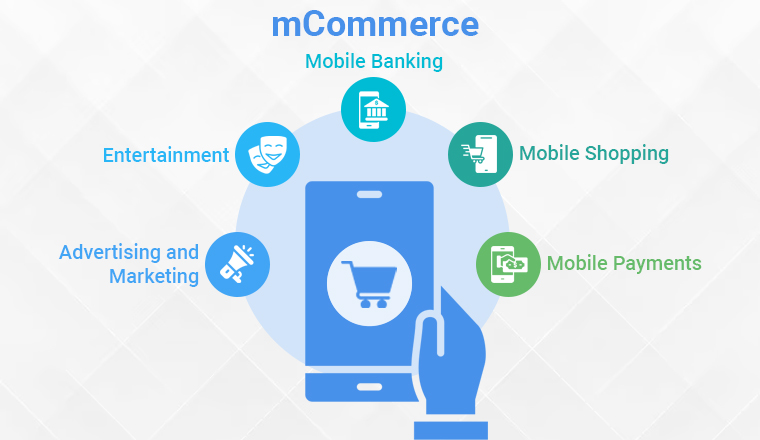 mCommerce is one of the most important trends in this list and it is thriving day by day. The main reason behind it is that everyone now is leveraging mobile applications to increase their business revenue. Mobile commerce comes with various different functionalities that can help businesses to showcase their products to clients easily while pitching them. This means that mCommerce apps can help businesses in driving sales. This shows that mCommerce is a part of the competitive world on a larger scale. In the year 2021, around 72.9% of total ecommerce sales came from mCommerce apps.
Benefits of mCommerce
Usability: Mobile commerce applications offer the best UI to the clients as they come with a fast & streamlined shopping experience for the end-users.
Marketing: mCommerce platforms come with a new marketing channel. This means that with the use of mCommerce businesses can directly connect to the end users and sell products.
Fast Transactions: Mobile apps offer faster transactions than traditional website which gives buyers the chance to purchase things quicker.
1.11 P2P Mobile Apps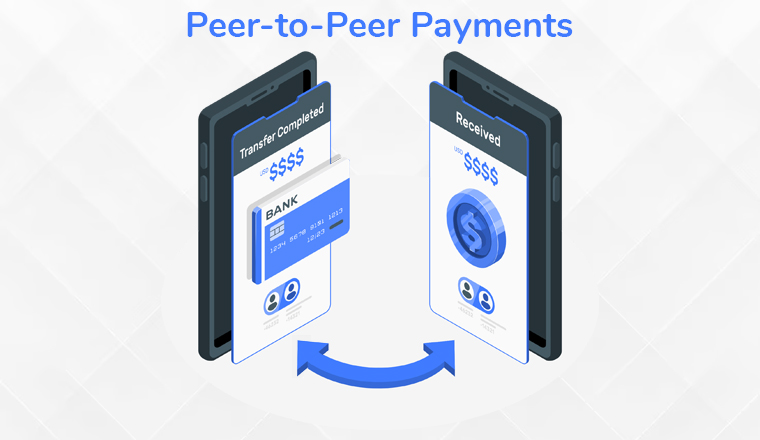 P2P mobile app is one of the key mobile app industry trends. These applications have a huge scope in the market. As per the survey by Straits Research, the P2P mobile transactions worth is about to reach $8.07 trillion by the end of 2030. With P2P apps, users can quickly pay the sellers and sellers can directly receive the amount into their bank accounts. You can observe the use of P2P apps in social media platforms where payment features are available. For instance cryptocurrency wallets, and mobile payment systems like Apple Pay or Android Pay.
Benefits of P2P Mobile Apps
Real-time payments: With the help of P2P mobile apps, payments can be done in real-time. There is no need to wait for cheques to clear.
Contactless transactions: P2P enables transactions that are completely contactless.
Payment notifications: Nowadays, mostly all apps come with notification features that let users know about their transactions. This helps them from sending money to the wrong person.
1.12 Wearable Devices
The wearable is the most trending technology in today's time. It started coming into the market in the form of smartwatches, fitness bands, and trackers. But now, we can find more diversity in the type of wearable devices. For instance, Apple made a big announcement about app integration and wearables at WWDC 2019. It came up with watches that have brought the Apple App Store to Apple Watch. For this, independent apps are being created that can only be used on Apple watches.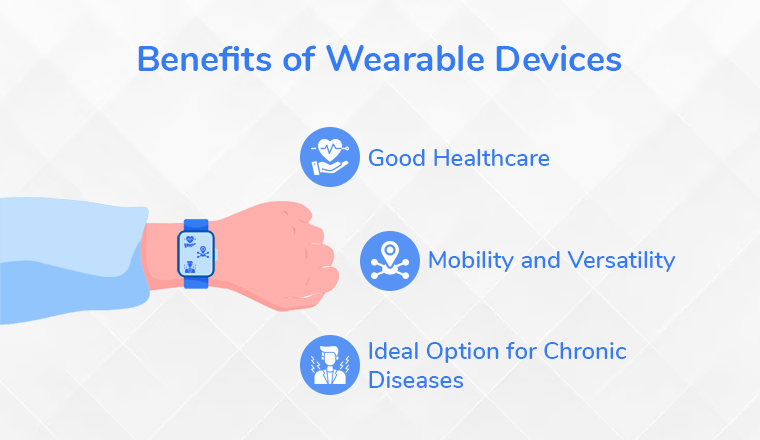 Benefits of Wearable Devices
Good Healthcare: Wearable devices enable users to keep track of their health. These devices encourage people to remain active & increase their productivity. These devices offer instant feedback to the users by monitoring their vital stats in real time.
Mobility and Versatility: The wearables are portable which makes them easy to use. If you are using a smartwatch, you won't need to take out your smartphone from your pocket to check messages or receive calls, everything can be done through the wearable device.
Ideal Option for Chronic Diseases: Wearable devices are popular in all age groups. But these devices are more helpful to people dealing with chronic diseases. Medical wearables encourage patients to improve their health by having a stable routine and stats on their health in real-time. This is beneficial for patients with obesity, depression, sleep apnea, and more.
1.13 Blockchain
Blockchain is one of the most popular technologies which is applicable in many different areas to secure important data. It is used everywhere from medical institutes to logistics businesses. This technology plays a very important role in mobile applications. With the help of blockchain technology, developers can create decentralized applications. Dapps grant users more control over their critical information by eliminating the requirement for centralized intermediaries to handle the data. Because of this advantage, dapps are used for governance, security, identity, finance, and social categories.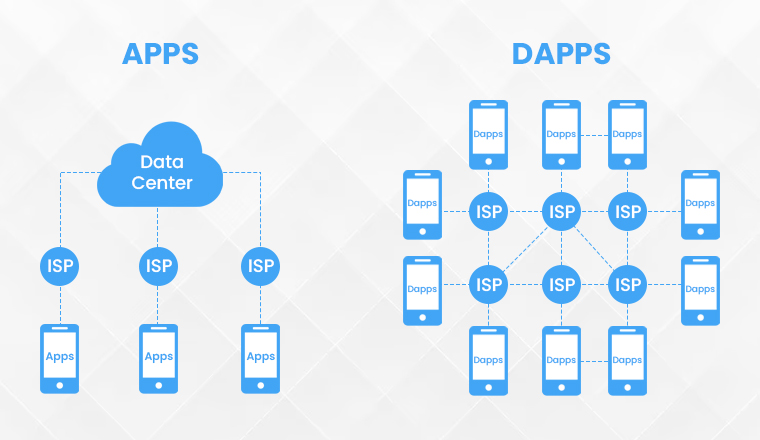 There has been a rapid growth of cryptocurrency enthusiasts and other businesses using blockchain-based wallets and decentralized applications because of the security features of Decentralized applications.
Benefits of Blockchain
Open: The biggest benefits of blockchain technology is that it is accessible to anyone. People can become a participant in blockchain technology contribution without any permission as it is a distributed network.
Verifiable: The main use of blockchain technology is to save data in a decentralized manner. With blockchain everyone on that network can verify the correctness of the data with the use of zero-knowledge proof.
Permanent: All the information stored using blockchain technology is permanent. This means one needs not to worry about losing that data.
2. Conclusion
As seen in this blog, there are many different mobile app development trends to create modern applications. These trends enable the developers to deliver feature-rich and robust applications that help businesses grab the attention of the end-users and eventually increase their revenue.