The software industry is growing at an unprecedented rate with countless advancements showered upon businesses to adapt and rise. Every enterprise has an equal opportunity to leverage the technology and get benefitted from the unparalleled potency. This is not just another blog that talks about the latest technology trends but this is rather talking about the monotony of your regular application and software. There is no other twist in the plot, it is quite simple.
Businesses are not sure of what their enterprise shall need to back up their business in terms of software products and applications. So, here we will be discussing all the aspects that will help businesses to understand why they need enterprise software and how enterprise software development can make a difference to your business.
To start with, let us understand what enterprise software means to a business?
1. What is Enterprise Software?
The initial step is to understand how Enterprise software application and software development for an organization are different. For that, we will have to go through what makes enterprise applications unique. So, the definition of enterprise application is "Any application developed for an enterprise that serves a myriad of business needs through diversified features of a single business application".
Over the years, there has been no difference between software development and other apps development in the name of the enterprise. But the basic difference lies in the ability to cater to different markets. The progress of enterprise applications has been low because of numerous reasons that take accounts of different applications into the name of an enterprise app, slow progress, and incompetent to market changes.
We have already defined what enterprise application means and now we will be discussing how it is different from other applications. Briefly, we have discussed how enterprise software applications are. We will be going through it in-depth in the later section. For now, it is important for us to understand how it is any different from normal software applications that are developed in multiplicity for everyday business concerns.
2. How is Enterprise Software is Different from other Software Management Processes?
Every enterprise has unique business needs and successfully caters to each of its customer's needs. They need to be well-versed with technology offerings. With the objective of serving businesses better, the software companies try to develop more and more software that streamlines their productivity and upscales growth. So the major difference between any software you develop versus enterprise software development is that.
The enterprise software is a multifunctional application that is designed in a way to break all bureaucracies of limited use of the software by developing a fully functional application. While on the other hand software development is a process of developing software with numerous features that will resolve any one of multiple challenges of the enterprise.
For example, ERP systems, SAP management systems, or HRM applications are different types of enterprise-grade applications that cater to various needs of a single company.
Software development applications are web app development, mobile apps or website development, UI/UX apps, and similar unique apps.
3. Why Use Enterprise Software Development for Your Business?
Businesses have uncountable reasons why an enterprise should use applications for a variety of purposes. For starters, it allows you to store valuable information in a usable and efficient manner. As a result, you can keep track of diverse order processes, client requests, and other activities through many divisions in the organization.
In addition, Enterprise software applications automate the customer service process for all staff, allowing you to streamline the process. Enterprise software development is also modular, which means it can be used regardless of the scale of the company. It will then evolve alongside you as an organization, ensuring no further disruption. It also ensures that if your IT capacities are limited, you will scale down your service without sacrificing quality.
Enterprise software also allows companies of all types to save money. This will free up the budget to be used in other areas. Of course, there will be some upfront expenses to pay the software development service provider, and the setup process will create some disruption, but in the long run, it will have a huge positive impact on the market. It will bring consistency to the way you operate within the organization.
4. Features of Enterprise Software Development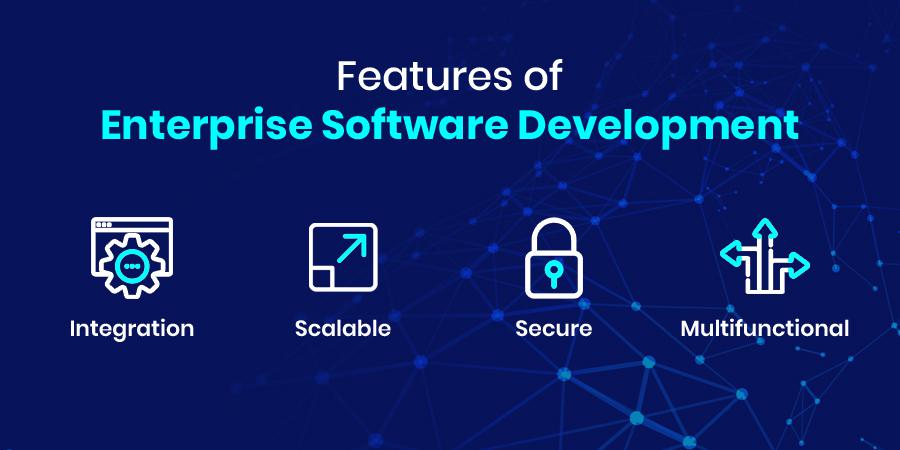 1. Integration
If we talk about the stats of integration of enterprise data then Currently, 67 percent of businesses use data aggregation to enable analytics and BI platforms, and 24 percent expect to do so in the next 12 months- Source.
Data integration is definitely on the top for businesses utilizing enterprise software applications. One of the focused reasons for businesses to develop enterprise software applications is because of seamless integration with all third-party apps and other essential apps that can contribute to the success of their business.
2. Scalable
One of the most important factors to remember when developing a new technological solution is scalability. Without it, the app would be unable to sustain usage development without jeopardizing the user interface, as well as revenues.
According to research conducted by Enterprise Strategy Group, 66 percent of companies consider their IT ecosystems to be more complex than they were two years earlier, and 46 percent expect to continue improving and expanding their network infrastructure.
So this clearly indicates that a business with a strategy will require scalability as one of their important virtues in their enterprise development of applications.
3. Secure
The revenue of the IT security market has surged high with the market revenue worldwide of 125.3 Bn.- Statista
For businesses to develop apps security of application and data is considered as a very important part. There are concerns regarding the data breach, confidential data leakage, data loss, and other security reasons. It makes businesses invest more in the security of enterprise application software. Consequently, EAS offers this essential feature to businesses that make them stress-free from any future data or information-related disputes.
4. Multifunctional
One single application has the capacity of catering to a variety of needs of applications and their offerings. The fundamental reason for businesses to opt for enterprise applications is because of its multifunctional reasons. EAS applications allow businesses to address large-scale problems and back them up with our multi-purpose software. Accordingly, this will empower multiple users with different roles, actions, and information adding to the software.
5. What is Enterprise Software Used For?
The answer to this is very simple. It is the software that designs to streamline and smoothen business. Enterprise application software (EAS) are one-shot solutions to big business problems. So there are concerns regarding the data breach, confidential data leakage, data loss, and other security reasons. It makes businesses invest more in the security of enterprise application software. For example, enlisted are some of the enterprising benefits of EAS.
Assured Performance- With its multifunctional approach it is capable of managing all the challenges while simultaneously ensuring performance.
Business Ownership- The ownership of the developed application goes completely to the business and businesses can do any sort of modifications as per the need.
Scalability & Customization-The developed application is designed in a way that it can be flexible for any futuristic needs.
Deeper Integrations- It is deeply integrated with multiple third-party applications for businesses to expand their business apps and reap benefits.
Security and resilience- This developed enterprise application is robust and secure with two-way integration, multiple accessibilities with secure encryption to provide new-edge business solutions.
6. Benefits of Enterprise Software Applications
In the corporate world , who doesn't want to remain competitive? We all do, right? And how is that possible here?. Simply by saving cost and time, centralizing systems, automating tasks, and smoothly running your business operations. Basically, all this leads to incorporating an enterprise software application.
It may quite interest you to know that ERP software is designed to be deployed across the entire corporate network, intranets, or the Internet. Yes, you read it right, these enterprise software systems have the potential to interconnect well with multiple departments and ensure that there is a convenient and accurate flow of information. Of course, all this is done by complying with security requirements, policies, and legislation.
Further, I would like to talk about the key benefits offered by enterprise software. Companies can use these benefits in their favour and accelerate the profitability of their business. So these are the top 5 enterprise-driven applications that can shape up your business to a whole different level.
1. Enterprise Resource Planning Applications
Enterprise Resource Planning (ERP) application is an aid to multiple businesses to monitor, track and review various processes. In layman terms, enterprise resource planning has now become the heart of businesses these days. Right from HR to manufacturing, supply chain, services, procurement, all core business processes can be taken care of by this enterprise system.
Now when do you need an ERP application?
First, when you are taking longer to conduct day-to-day key activities and business functions.
Second, when you are unable to answer even the most important questions regarding revenue per product or product line for your business.
Third, You are spending too much time on duplicate data entry as most of your departments are using their own applications.
If this is the case, then you must opt for an ERP system.
2. Business Intelligence Applications
As the name implies, business intelligence is a rare combination of business analytics, complex data mining, data visualization, and data tools & infrastructure. Here with the help of such business-oriented tools and accounting software, data can be used to drive change, eliminate inefficiencies, and quickly adapt to market or supply changes.
Business Intelligence has been around for a while assisting such organizations to make better, actionable decisions. How? You may ask!
By identifying different ways to increase profit
Customer behaviour can be analyzed and interest-based user groups can be created.
The data can also be compared with competitors
Project Management performance can be tracked accurately
Right from order processing to inventory management, online payment processing, all these business functions can be optimized well.
Success can be easily predicted by large organizations
Market trends can be spotted without much hassle and whatnot!
Overall, develop business intelligence tools that improve decision making, enable real-time analytics and eliminate business bottlenecks easily.
3. Human Resource Management Applications
Do you know what is the core requirement for any business to succeed? It's the people, your human resources are your real assets. Therefore, good Human Resource Management (HRM) software is considered as one of the crucial types of enterprise software. Moreover, large organizations featuring engaged employees leads to more productivity , by delivering high-end work and making their end clients happy.
Human resource management tools includes management of everything from Hiring, payroll schedule, staff preparation, performance monitoring, payroll management and monitoring, employee training, and interaction with HRM software.
In addition, before you end up choosing a large scale software, just make sure you consider the below-mentioned aspects:
Easy to use
The specialized software must offer easy integration
With workflow automation, it must have multiple access facility
Collection of ready-to-use reports
The computer software must be able to integrate with third-party tools
4. Customer Relationship Management Applications
A Custom Relationship Software or CRM software can be defined as a system assisting large organizations in nurturing their relationships with their clientele. High efficiency and effective time-management are its key features. Earlier we were supposed to use old excel spreadsheets where individual users could be tracked by their name, email, phone number, website, address, type of customer, data purchased and more.
Whereas a CRM can be used to track all the above-mentioned plus lead-scoring based on triggers, size of the company, multiple contracts with the company, nNotes, history, detailed reporting and more.
Such business-oriented tools enable businesses to easily maintain Customer records and manage their sales leads, information of customers, their company, and several other minute details.
5. Supply Chain Management Applications
Software Configuration Management is supposed to track and control changes in the software part of the configuration management. An SCM is such business logic support functionality that can determine what has changed and who has changed.
Supply chain management to efficiently track all the distribution channels, to manage procurement, logistics, and other essential details.
7. Concluding on Which Type of Development an Enterprise Needs
Enterprise software allows you to see how the whole company is doing in real-time. For most companies, waiting months for data is no longer an option, so you need to stay on top of things. That means getting access to timely and correct information about the company's recent results. In order to stay relevant in the business market, keeping up with multiple aspects is of extreme importance. Your business needs to keep up with application software in accordance with the finance of the product, every enterprise wants to develop.