Businesses are not sure of what their enterprise shall need to back up their business in terms of software products and applications. So, here we will be discussing all the aspects that will help businesses to understand why they need enterprise software and how enterprise software development can make a difference to your business.
To start with, let us understand what enterprise software means to a business.
1. What is Enterprise Software?
Enterprise software is a type of computer program that tries to aid large businesses with a variety of tasks, including data processing, advertising, business development control, and client service. Often, these solutions are built to scale and integrate with a big user base.
Here is brief answer from Quora on Enterprise Software concept: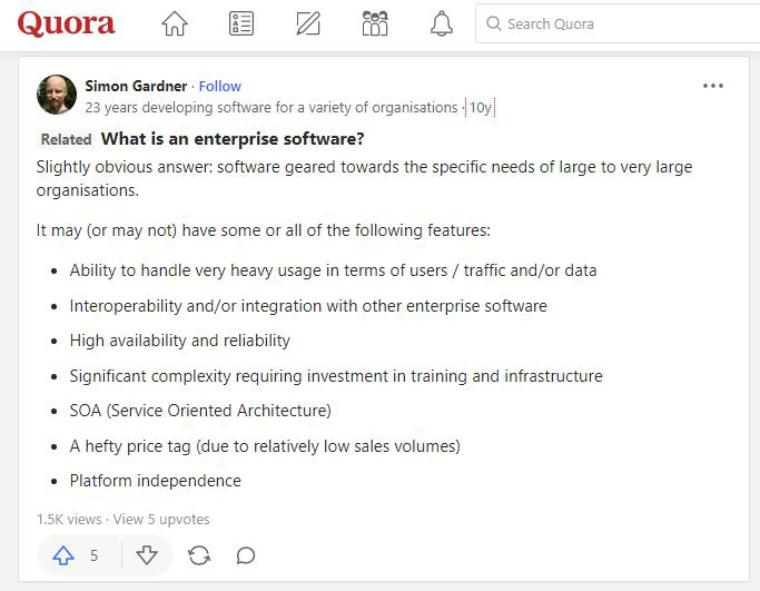 This type of software is used by huge enterprises, ministries, merchants, healthcare setups, as well as sectors such as revenue, sales, tech support, and banking. Consequently, this type of software demands transdisciplinary methodologies and procedures for managing massive data sets. For instance, a human resources-focused business application would have multiple HR capabilities that will allow experts to use a concrete platform and create data concurrently.
The software helps you effortlessly automate countless procedures and activities, and also adds meaning to your company management. We'll take a deep look into the enterprise software types, benefits, and more.
2. Types of Enterprise Application Software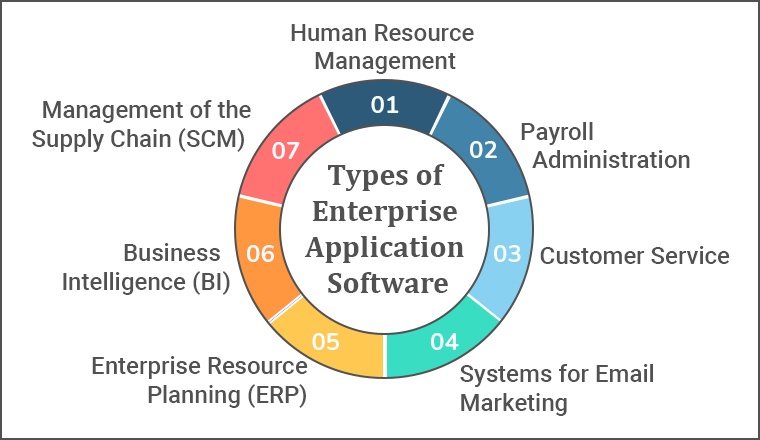 We'll now discuss some of the most frequent types of enterprise software in detail. Given that the purpose of this sort of software is to assist huge corporations in their daily operations. Let us begin with them.
2.1 Human Resource Management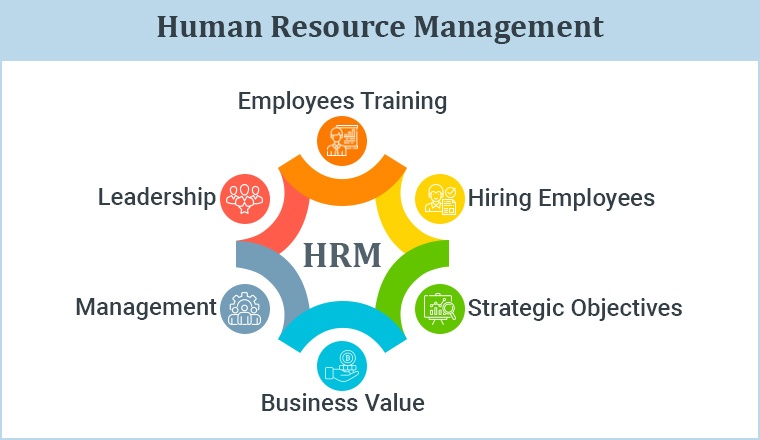 Big businesses will certainly have a huge staff and an HR team to manage recruiting, raises, terminations, pensions, holidays, and paid time off.
Based on the region of the business, it may be highly sensitive to external labor laws. Refusal to adhere to such enterprise requirements may have serious financial and legal ramifications. Therefore, having specialist software to aid human resource experts in conducting work is critical for the majority of businesses.
2.2 Payroll Administration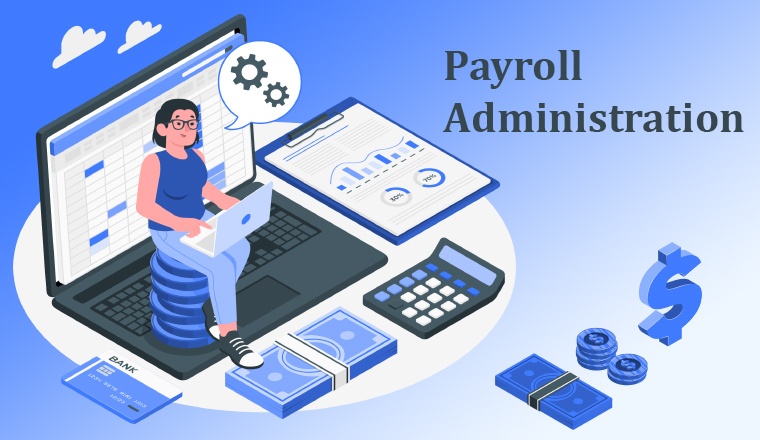 This article expands on the preceding one's central theme: companies have workers. Employees must be paid the correct amount at the appropriate time. Or else, the company may be subject to a few economic and accounting implications.
Why did we separate payroll administration from human resource management? While they are undoubtedly connected, payroll administration may require the involvement of a separate group of experts, particularly auditors. Accounting software or a bookkeeping module within a bigger corporate application is always going to contain terms that HR specialists are unfamiliar with.
2.3 Customer Service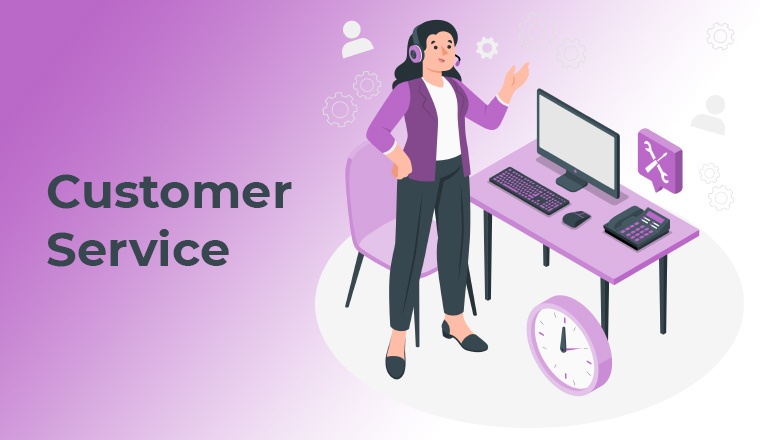 A business, ideally, that has a large number of clients will inevitably have difficulties and want assistance in resolving them. That is why the majority of businesses will have some form of customer service center where they will respond to consumer inquiries by telephone, email, or live chat. Customer support software is critical in two ways. The first and the most obvious benefit is that it enables customer service representatives to accomplish their duties by assisting consumers.
However, the next and most delicate method is cloud-based software that contributes to the client service procedure through the collection of metrics that may be used to enhance the business process itself. By tracking metrics such as mean time required to resolve an issue, the overall effort used on each issue, and the number of issues registered each day; firms can gain a clear picture of their customer support performance and ideally put that information to good use.
2.4 Systems for Email Marketing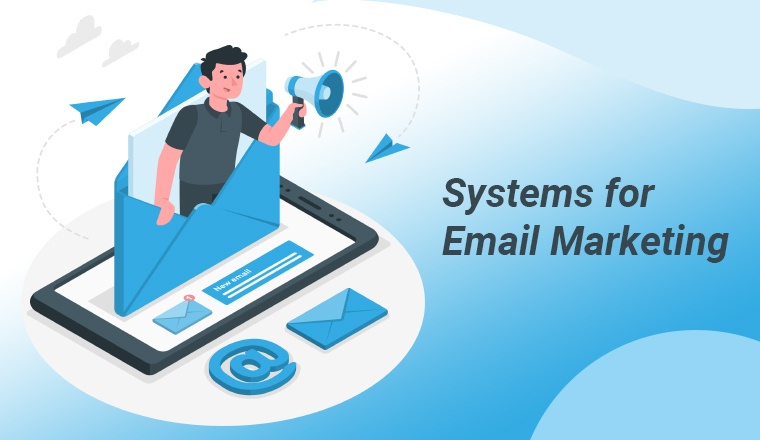 To not just survive but to grow, businesses must constantly seek new consumers while preserving strong, long-term connections with current ones. Few tools are as effective for this purpose as plain old email, which is the de facto standard of workplace interaction.
However, you cannot begin bulk emailing individually just by utilizing a library from a computer language. Apart from the danger of being marked as spam, in-house solutions may run afoul of regulations aimed at safeguarding consumers' information, such as GDPR. Adopting a competent email marketing system is the way to avoid the pitfalls and have access to the tools necessary to manage your customers' requests.
2.5 Enterprise Resource Planning (ERP)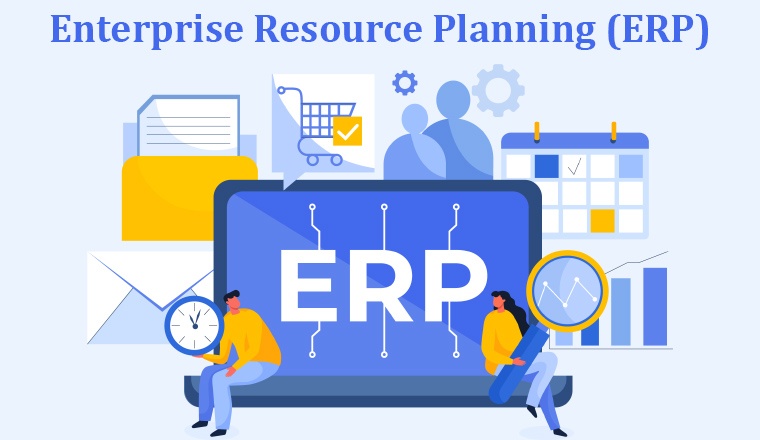 Finally, most significantly, we have the enterprise of all corporate applications: the worth billions of dollar market known as Enterprise Resource Planning (ERP) software.
ERP is a procedure, not a kind of software. Its objective is to establish an effective system of an organization's primary business operations. Frequently, businesses utilize technology to accomplish such a procedure, where ERP systems come in handy.
By implementing ERP software, businesses may gain a holistic perspective of their most critical processes. This enables them to keep track of their resources as well as the progress of commercial activities. In a way, ERP encompasses all of the above categories and more. It enables data exchange between a business and organization's departments also with external stakeholders.
Traditionally, ERP solutions were largely employed by big organizations. However, smaller enterprises and even startups have recently begun utilizing similar platforms as well.
2.6 Business Intelligence (BI)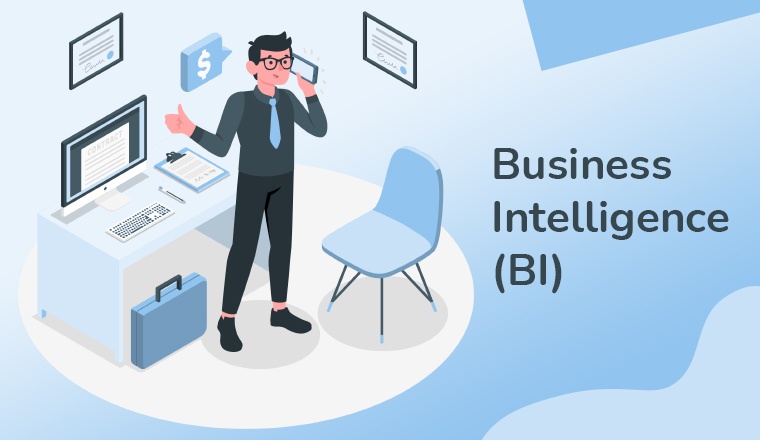 These technologies assist firm leaders in becoming better educated, enabling them to make sound decisions at the proper moment.
BI software is designed to automate data analysis so that management can make strategic decisions about resource allocation and product delivery.
In brief, it is the intelligence software used by the business that enables data analysis of its strengths and shortcomings.
2.7 Management of the Supply Chain (SCM)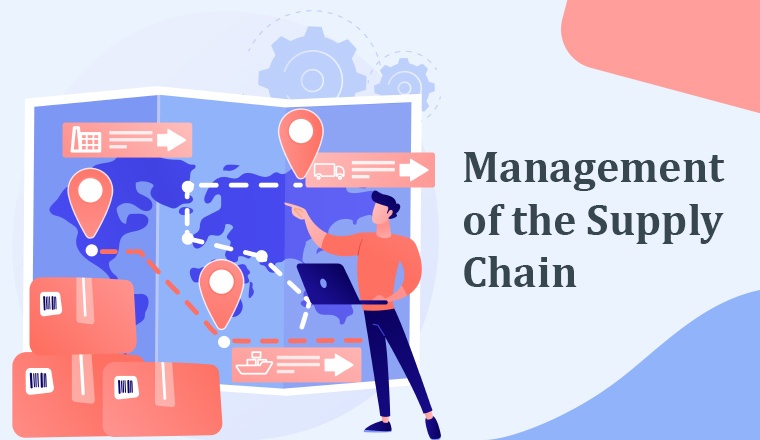 SCM software is intended to facilitate the effective coordination of the supply chain's numerous links, from the production to the final user.
The customizable programs assist in automating inventory management by emphasizing transport and distribution.
This is an excellent tool for fostering more collaboration among producers, distributors, and retailers.
Other enterprise software strives to gather, display, manipulate, and store massive amounts of complicated data, which is then utilized to automate business processes.
Numerous ways have been proposed to accomplish this goal, and continue to evolve in response to changing business patterns.
3. Features of Enterprise Software Development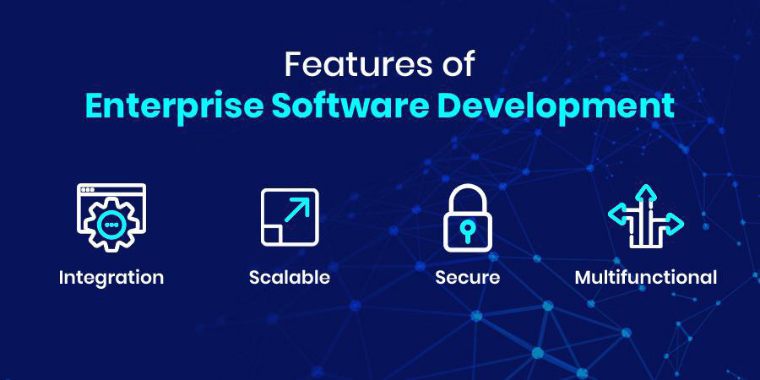 3.1 Integration
If we talk about the stats of integration of enterprise data then Currently, 67 percent of businesses use data aggregation to enable web analytics and BI platforms, and 24 percent expect to do so in the next 12 months- Source.
Data integration is definitely on the top for businesses utilizing enterprise software applications. One of the focused reasons for businesses to develop enterprise software applications is because of seamless integration with all third-party apps and other essential apps that can contribute to the success of their business growth.
3.2 Scalable
One of the most important factors to remember while developing a new technological solution is scalability. With the help of it, the app would be able to sustain usage development without jeopardizing the user interface, and revenues.
According to research conducted by Enterprise Strategy Group, 66 percent of companies consider their IT ecosystems to be more complex than they were two years earlier, and 46 percent expect to continue improving and expanding their network infrastructure.
So this clearly indicates that a business with a strategy will require scalability as one of their important virtues in their enterprise development of applications.
3.3 Secure
The revenue of the IT security market has surged high with the market revenue worldwide of 125.3 Bn.- Statista
For businesses to develop apps, the security of applications and data is considered a very important part. There are concerns regarding data breaches, confidential data leakage, data loss, and other security reasons. It makes businesses invest more in the security of enterprise application software. Consequently, EAS offers this essential feature to businesses that make them stress-free from any future data or information-related disputes.
3.4 Multifunctional
One single application has the capacity of catering to a variety of needs of applications and their offerings. The fundamental reason for businesses to opt for enterprise applications is its multifunctional reasons. EAS applications allow businesses to address large-scale problems and back them up with our multi-purpose software. Accordingly, this will empower multiple users with different roles, actions, and information adding to such software.
4. Benefits of Enterprise Software Applications
In the corporate world, who doesn't want to remain competitive? We all do, right? And how is that possible here? Simply by saving cost and time, centralizing systems, automating tasks, and smoothly running your business operations. Basically, all this leads to incorporating an enterprise software application.
It may quite interest you to know that ERP software is designed to be deployed across the entire corporate network, intranets, or the Internet. Yes, you read it right, these enterprise software systems have the potential to interconnect well with multiple departments and ensure that there is a convenient and accurate flow of information. Of course, all this is done by complying with security requirements, policies, and legislation.
Further, I would like to talk about the key benefits offered by enterprise software. Companies can use these benefits in their favor and accelerate the profitability of their business. So these are the top 5 enterprise-driven applications that can shape your business to a whole different level.
4.1 Enterprise Resource Planning Applications
Enterprise Resource Planning (ERP) application is an aid to multiple businesses to monitor, track and review various processes. In layman's terms, enterprise resource planning has now become the heart of businesses these days. Right from HR to manufacturing, supply chain, services, and procurement, all core business processes can be taken care of by this enterprise system.
Now when do you need an ERP application?
First, when you are taking longer to conduct day-to-day key activities and business functions.
Second, when you are unable to answer even the most important questions regarding revenue per product or product line for your business.
Third, You are spending too much time on duplicate data entry as most of your departments are using their own applications.
If this is the case, then you must opt for an ERP system.
4.2 Business Intelligence Applications
As the name implies, business intelligence is a rare combination of business analytics, complex data mining, data visualization, and data tools & infrastructure. Here with the help of such business-oriented tools and accounting software, data can be used to drive change, eliminate inefficiencies, and quickly adapt to market or supply changes.
Business Intelligence has been around for a while assisting such organizations to make better, actionable decisions. How? You may ask!
By identifying different ways to increase profit
Customer behavior can be analyzed and interest-based user groups can be created.
The data can also be compared with competitors
Project Management performance can be tracked accurately
Right from order processing to inventory management, and online payment processing, all these business functions can be optimized well.
Success can be easily predicted by the whole organization
Market trends can be spotted without much hassle and whatnot!
Overall, develop business intelligence tools that improve decision making, enable real-time web analytics and eliminate business bottlenecks easily.
4.3 Human Resource Management Applications
Do you know what is the core requirement for any business to succeed? It's the people, your human resources are your real assets. Therefore, good Human Resource Management (HRM) software is considered one of the crucial types of enterprise software. Moreover, large organizations featuring engaged employees lead to more productivity, by delivering high-end work and making their end clients happy.
Human resource management tools include management of everything from Hiring, payroll schedule, staff preparation, performance monitoring, payroll management, and monitoring, employee training, and interaction with HRM software.
In addition, before you end up choosing a large-scale software, just make sure you consider the below-mentioned aspects:
Easy to use
The specialized software must offer easy integration
With workflow extensive automation, it must have multiple access facility
Collection of ready-to-use reports
The computer software must be able to integrate with third-party tools
4.4 Customer Relationship Management Applications
Custom Relationship Software or customer relationship management (CRM) software can be defined as a system assisting large organizations in nurturing their customer relationships. High efficiency and effective time management are its key features. Earlier we were supposed to use old excel spreadsheets where individual users could be tracked by their name, email, phone number, website, address, type of customer, data purchased, and more.
Whereas customer relationship management (CRM) can be used to track all the above-mentioned plus lead scoring based on triggers, size of the company, multiple contracts with the company, notes, history, detailed reporting, and more.
Such business-oriented tools enable businesses to easily maintain Customer records and manage their sales leads, information about customers, their company, and several other details.
4.5 Supply Chain Management Applications
Supply chain management applications are used to track and control the supply chain. An SCM is such business logic support functionality that can determine what has changed and who has changed.
Supply chain management to efficiently track all the distribution channels, manage procurement, logistics, and other essential details.
5. Final Touch Up
In this article, we defined enterprise software, demonstrated the merits that this type of software can offer to your business, and gave a complete list of enterprise applications that can assist your firm in integrating employees across the corporation. Each solution is unique in its own way, and as a business, you may choose to examine only one or several.
However, if you feel you can customize your company's own software that is specific to your requirements and way of approaching, feel free to get in touch with our team of developers at TatvaSoft!