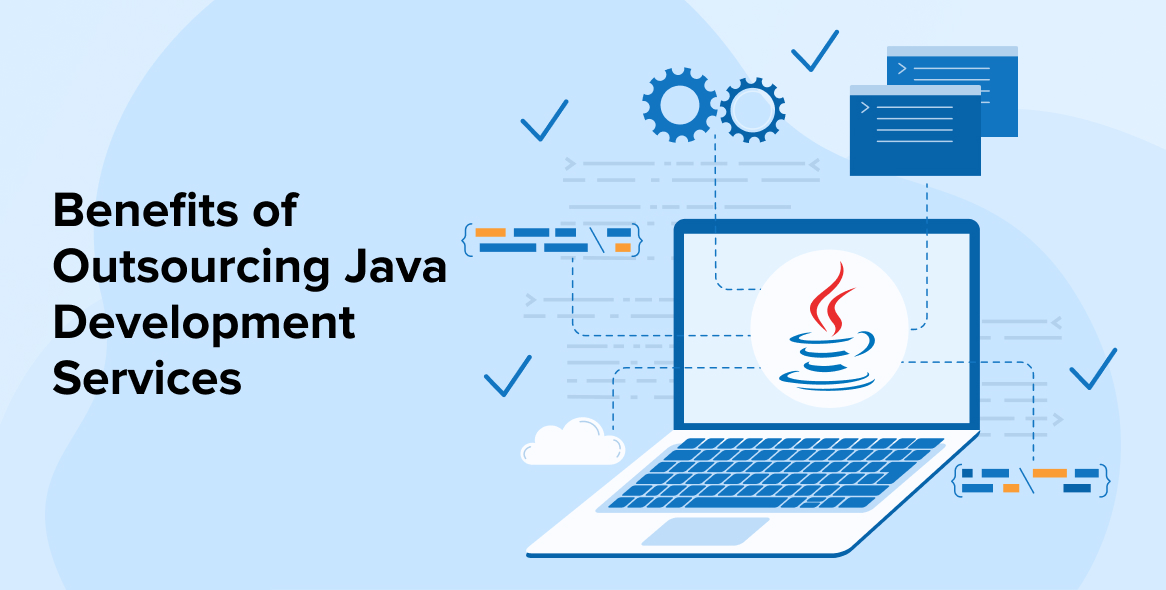 Businesses have started expecting a lot from technology innovations and tools. Nonetheless, they know that when the time is grim, technology can save their business. One such important technology that has been blooming many companies and shaping them to success in Java. Java is the most popular programming language, and it has been proved to be a game-changer for many businesses. Businesses are using Java technology to improve their business operations with the help of software developed in Java. And currently, businesses have two options to use Java in their custom application development process. The first option is that they can use their in-house resources and the second option is they can outsource which will be called Java development outsourcing in another term.
In these competitive times, businesses want to stay ahead by improving their core business functionalities by building software solutions. Today, most companies choose to outsource their Java projects to an offshore Java development resource because it is more cost effective and will give them access to a talented pool of Java developers.
1. Advantages of Outsourcing Java Developers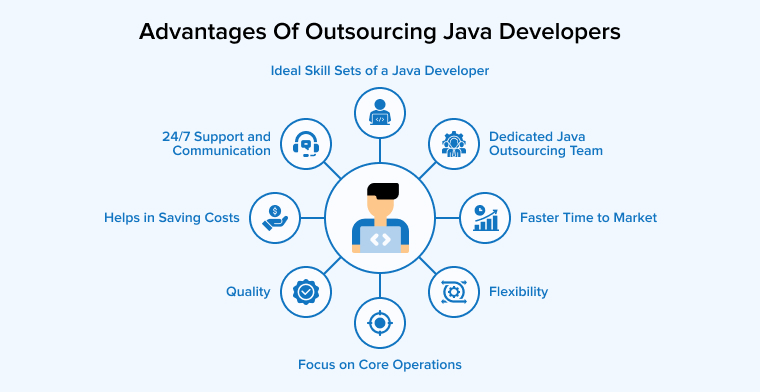 Java programming is basically very simple and lucid for complex programming. It easily binds up and can be used for building a wide range of applications. From building basic web applications to even highly complex enterprise solutions, the development with Java can be used for all types of projects. For all types of companies, from small, medium, or large, and from various industry domains, Java as a development platform is always favorable. There are multiple benefits that a business can take advantage of. We will be discussing each of the aspects in detail.
1.1 Helps in Saving Costs
Outsourcing the development of Java projects is definitely a cost-effective affair. And probably that is the reason why many businesses are turning towards outsourcing. One of the most evident reasons is cost -savings. The enterprise can effectively manage to bring down its finances with the help of outsourcing. The answer to your question is: When you decide to hire a Java development team of developers for your project, there are many investments involved like the initial technology training cost, infrastructure cost, hiring skilled developers cost, and the salary.
Outsourcing helps a company to convert fixed expenditures into variable expenses, freeing up funds that may be invested in other areas to generate direct income. More experienced and skilled software developers can be hired at a lower cost.
1.2 Ideal skill sets of a Java developer
Another important reason for businesses to choose software outsourcing for the development of their project is because of specialist software engineers. You get to choose your developer team members and can take advantage of their skills and knowledge. From a Java outsourcing services provider, you can easily hire a dedicated Java development team. The Dedicated Software Development Team model is one of the most popular ways to hire top Java engineers. Your outsourcing partner will examine your specifications, identify programmers with the necessary capabilities, and onboard them to the project. You'll also have dedicated staff (or an extension of your in-house team) dedicated entirely to your project.
With Outsourcing, your development project will be able to get a higher success rate and with no chance of project failure. Instead, Outsourcing has always been preferred due to access to global talent that expands the reach of the company and improves the IT side of the business.
1.3 Faster Time to Market
When the In-house Java development team tries to develop mobile applications, there can be cases when they fail and they have to redevelop them. Since the development of Java applications is not their forte. Their forte is to focus on core business activities with the help of new-edge technology solutions. Hence, when you outsource your services to a third party or a Java outsourcing company, the results would be different.
A reliable Java development company is pillared by years of experience catering Java development services with an in-depth understanding of the Java frameworks, platform compatibility, and backend operations. Java makes it simpler with reusable codes and other easier coding options. Java multi-capability of application development provides better programming options and seamless operations.
1.4 Focus on Core Operations
Java is a versatile programming language that sets up in any business environment and delivers expected outcomes. In scenarios, where your business expands then, there come additional responsibilities for all functions. From web app development, marketing, managing its sales, and back-office processes- everything will emerge at some time. This time you won't be able to focus on the development and hence it may become a distraction.
As a result, when you outsource your Java programming services, you'll have more time to focus on other important aspects of your business, such as growing your brand, investing in R&D, and providing additional services to your clients. Also, we can fairly split the work between the outsourcing company and your organization which will, in turn, improve your business fundamental offerings. This will also improve sales bringing more opportunities to you by a focus on core operations.
1.5 Dedicated Java Outsourcing Team
Outsourcing java projects has definitely shown better and more profitable ways for your business. Outsourcing services ensure that you will always have a committed team of specialists working on all of your projects. The productivity of currently developing applications is high as well as this will improve future initiatives too. You can have a solid connection with the Java development team to work at their best for you. A dedicated staff will have a clear understanding of the project's deliverables and objectives, enhancing the profitability and marketability of the current Java applications.
Your dedicated development team has its full commitment to helping your business at all stages of software development. The team consists of everybody from highly skilled developers, testers, project managers, and business analysts. Every team member works in sync to support your business and delivers the task.
1.6 24/7 Support and Communication
There is a lack of communication between commercial organizations and the outsourced firm during the development of software. This is one of the most significant challenges dev during the execution of software development projects. However, most Java development outsourcing businesses allow the company to contact the development team at any time that is convenient for them.
One of the greatest aids to this is that technology has advanced immensely and there is no stopping. Technology offers transparent networking and real-time update of all the processes and completions. So, when you partner with a Java outsourcing development company, you will receive all the benefits of mobile app development with all timely communication and regular monitoring of daily tasks. Also, there must not be any barrier of communication between you and the development company that is working on Java projects.
1.7 Quality
Experienced Java developers are always up to date on industry trends, have knowledge of various technologies, and know how to use a variety of Java-related tools and solutions. Your business can access the expertise, experience, talents, and knowledge of a top-rated outsourcing team that they have over years of working with businesses when you hire them. These benefits contribute to the greatest level of outsourcing quality.
1.8 Flexibility
The development of Java is procedural, manual, and platform-specific(i.e Java SE, Java EE, Java ME, and Java FX). Code in C language is not the pinnacle of programming. Because of Java, a growing number of people are using OOP, which is still widely used. This shows that there is a need to outsource the services of Java applications. Java outsourcing services offer flexibility to use highly skilled Java developers, infrastructure, and other consulting services that benefit them in the long run.
2. Conclusion
In this blog, we saw that there are multiple benefits that businesses get with Java Outsourcing. There are multiple reasons that encourage top enterprises to software outsourcing. The reasons like Skill shortages, financial restrictions, and rapidly evolving technology characterize today's IT world. To meet these demands, you'll need an outstanding team from a software development company that can provide application growth, rebuild, and offer the right services in a streamlined manner. Despite the fact that the global market is flooded with world-class IT production firms, only a few have the scope and depth of expertise and a large pool of resources needed. All you need to do is find an ideal java outsourcing partner with the best skill set and software development services.