A product that has not undergone thorough testing or quality assurance can be the most vital reason for failure. This can happen because of innumerable other reasons as well like lack of time to test, projects already working in delay, checked superficially, and no quality standard followed. All of these are posing for an inaccurate deliverable that we launch for our customers to use. 
When you develop an application, make sure your QA strategies are in place before you give action to your plans.
In this development, phase comes the primary aspect of development which is the testing process. To elaborate on Testing Quality assurance accurately, It is a systematic approach to ensure the developed product meets the highest level of service quality. A strong quality assurance team scrutinizes the criteria for designing, developing, and manufacturing dependable products.
Once you've completed the QA process, you'll notice that the app performs at an unparalleled level, boosting customer confidence, corporate reputation, and the capacity to compete with all prevailing peers. We'd like to share some of our best practices for the agile QA process with you.
1. Why Should QA Processes be Implemented?
Quality Building a quality assurance procedure takes time and effort. Test planning is one of the important parts of the QA testing process. There is a specific testing approach that obviously involves QA engineers to enhance the software quality and make applications bug-free. Here are two approaches to implementing this procedure in your firm.
One way is to create an in-house QA team.
If you have the capacity for additional workers and a long-term project in which QA professionals will be participating, forming an in-house team of QA professionals is the best option.
Another way in the implementation process is to hire a dedicated team of QA test engineers or the company.
Hiring a special team of QA consultants will ensure that you have testing professionals concentrating only on your project. You'll have total control over your specialized QA team including the ability to choose the scope of activities, the number of specialists on the team, and the hours they work. They know exactly what the market wants and can deliver specialized software testing services.
These are two ways you can use to proceed with QA implementation. But there is a definite method that every business follows in setting up the QA process and assuring to meet the best quality standards.
2. Stages of QA Process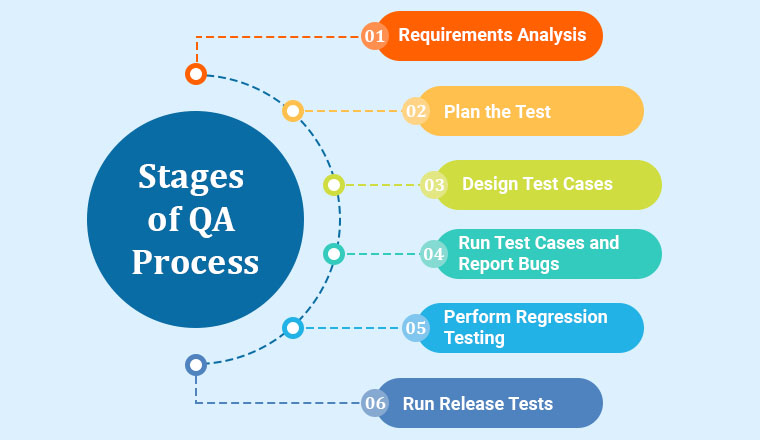 2.1 Requirements Analysis
The first phase in this process of the Software development life cycle is analyzing the requirement. In this process, take up all the requirements from the client and analyze them meticulously so that you can predict the further roadmap accordingly. There are different development procedures that need to be followed by the development team. There is an SRS- software requirement specification which will ensure that whatever requirements are clear, consistent, comprehensive, and measurable.
The next step to this is planning for software testing.
2.2 Plan the Test
When you are executing a plan for your application that will undergo testing, there are a few serious aspects that need to be kept in mind before implementation. You need to develop a strategy in order to proceed ahead in this process.
The expectations from the testers are to develop a test strategy that not only allows them to test the software more thoroughly but also gives all stakeholders confidence in the product's quality. The most important component of this phase is to develop a plan. During implementation, the developing software product should be error-free, long-lasting, and well-liked by its customers.
There are different types of tests that can be performed in different test environments. The QA team will take all the test data into the account and ensure a seamless testing method initiates. The testing types are unit testing, performance testing, security testing, integration testing, smoke testing, regression testing, load testing, cross-platform testing, and more. Each one can be performed in a unique staging environment.
2.3 Design Test Cases
The next step is to design the test cases. QA experts will create test cases and checklists that cover software requirements at this level. Each of these test cases will provide the circumstances, test data, and test methods required to validate specific functionality as well as the desired test outcome. Test engineers may begin test design operations with a certain amount of data in order to establish acquaintance with an application and come up with the best strategy to test design. Team members can write test documentation during this phase to ensure the test planning goes in the right direction. The QA team members can define quality metrics here.
The quality assurance process ensures to meet all the needs and perform all the required tests. This can have two types of testing- Manual Testing and Automated Testing.
In manual tests, all the testing scenarios take place manually. Test automation engineers generate test automation scenarios throughout the test design stage when test automation is in scope. In addition, the test environment is set up for the execution of test cases. In terms of hardware, software, and network configurations, operating system settings, accessible databases, project documentation, and other features, the test environment should closely resemble the production environment.
2.4 Run Test Cases and Report Bugs
In this process, developers perform Unit tests at the beginning of the testing process. There is a bug tracking system designed by a QA engineer for each test case execution. This will streamline the bugs management and tracing will get easier. This will allow users to apply tests in each section and the end results received will manage the overall quality control of your apps.
Every team member will perform different necessary testing activities. Once every team member has performed their respective test programs, rerun the test cases to double-check if all the tests bring the expected outcome or not. If not, report the bugs and resolve them.
The QA team will then conduct testing at the API and UI levels. You can carry out manual testing in line with test cases with readily available specifications. All the discovered flaws will go through exploratory testing and get into a defect tracking system. Additionally, test automation engineers may run test scripts and create reports using an automated test framework like Selenium or Appium.
2.5 Perform Regression Testing
Now the next phase is to perform regression testing. When you identify the defects, it's now time to repair and resolve them. QA engineers will perform regression tests to ensure that everything is working correctly and that the new changes have not changed anything. You can repeat this whenever you implement any new features.
The regression test's primary goal is to find faults or flaws in the product. One of the most important aspects of the testing activities is the testing team's and the project development team's tracking of flaws and faults for the project development.
The QA processes are critical because they indicate areas where development and testing might be improved. This means the expected test result is better than what's assumed.
Full regression testing becomes time-consuming in Agile projects as the number of times a regression test suite is run grows. Test teams may mix partial and complete regression testing, prioritize regression testing operations based on defect risk levels, and automate a regression test suite to enhance the regression testing process.
2.6 Run Release Tests
This is the last stage of a well-established QA process where bugs will be detected by applying various quality metrics. There is a specific QA flow involved in every QA process. But, why is release testing a part of QA activities? This answer should be known.
The term Release testing has a set of coding techniques and test methodologies just like other testing methods. This test ensures a software release that is suitable for all users. The goal of release testing is to detect and fix faults and flaws in a software release before it is made available to the public. It meets all the testing goals and fixes the bugs from a unit level before the actual users use it. The test case which was not addressed during bug tracking will be addressed by QA specialists at this phase now.
After this, you can claim that the software quality standards are met and the developed software can now be used by consumers in the market.
3. Conclusion
Throughout this insightful blog, we have showcased all the QA best practices involved in aligning a setup for the QA processes. The bug fixes are a time-consuming process and thus, it needs a strategic plan to make a success. With the help of the development team and other team members, you will achieve desired testing results. The QA teams have to undergo this mature process to match the quality code and the test plan. Setting this up for your QA department will audit and ensure all the errors are handled first-handedly. You and your organization are all set to achieve comprehensive benefits of the QA process starting from scratch to end.