In the present times where we are all dealing with crucial situations; social media, OTT platforms, games are something where we all keep searching for our little paradise. As a result, more and more businesses are found making a seismic shift Towards these areas, especially video game development.
First came angry birds, fortnite, pokemon go and now it's your turn to add something to the league! And Even after the massive hit, the game design and development hasn't been impacted negatively – all thanks to outsourcing! Moreover, Game development outsourcing services are pretty much on rage these days especially due to its low cost.
This article incorporates how to choose a reliable game development outsourcing company or things to consider when outsourcing one. Also it includes certain myths to avoid. So, are you ready?
The video game development industry is one of the most alluring and lucrative ones around. Unfortunately, it may be difficult to locate candidates with the required programming skills.
The majority of companies nowadays thus opt to outsource the development of the video games. You may also locate experienced game developers to assist your in-house team in creating cutting-edge games that will appeal to new gamers by contracting with third-party service providers.
This article will discuss the growing gaming industry and the factors to consider when selecting a reliable GameDev outsourcing partner.
1. Defining Game Development Outsourcing
Hiring a third-party development studio is what is meant by "outsourcing" a game.
More and more businesses are turning to outsourcing teams for assistance as they face increased competition and a weakening economy.
There are several benefits to using an outsourcing service to find game developers. In particular, the most crucial ones are:
Use of a pool of skilled programmers who can create games for every platform.
Using cutting-edge tools, such virtual reality and augmented reality, to create innovative video games.
Observing and following current fashions.
Costs associated with finding and bringing on new staff can be reduced.
Profound adaptability to changing project specifications.
It's time to start hiring experts in game design, animation, illustration, and graphical effects.
Business expansion is one of the many benefits of outsourcing. Games would be more shorter and less varied or have inferior visual quality without an outsourced workforce.
2. Top Outsourcing Models
The process of releasing a video game can go in a variety of directions, each of which is fraught with difficulties. Thankfully, game development outsourcing companies can offer scalable, custom solutions for each customer. Don't pass up the opportunity to have your game's development outsourced, either in whole or in part, to a team of experts.
Here are three of the popular ones:
2.1 Specific Task Outsourcing
Having a few additional individuals around who are familiar with the Unreal technology can sometimes be all it takes to get the game going (or Unity, XML, Python, or Lua). If you're worried that outsourcing companies would only work with you if you place a huge "order" of engineers, know that the vast majority of reputable corporations do not impose such restrictions. Even if you only need two or four more developers for a short period of time, an outsourcing company may help you find them and get them to work on your project.
2.2 Co-Development
When your current team has the technical knowledge to do the work but lacks the management and leadership skills to see it through on its own, co-development may be a huge help. Co-development offers a scalable approach to filling skill gaps, whether you're starting from scratch to assemble a team for a new endeavor or bolstering an existing one. A gaming studio will collaborate with you to create a workflow strategy for your project, allocating specialists to the areas where they will be of most use throughout production.
2.3 Full-Cycle Production
End-to-end service means outsourcing the whole process of making a video game, from conceptualization to final polish. "Full-cycle" refers to the entire process, from concept art and design to audio and quality assurance. The external team is responsible for implementing the change into your game. The whole process, from concept creation to final release, is covered by full-cycle development. It can also offer optional maintenance, updates, and bug fixes. This method of game creation is perfect for businesses that see video games as a potential side hustle but don't have the personnel or funds to create their own.
3. Benefits of Game Development Outsourcing
3.1 Cost-Effective
One of the main reasons why businesses tend to outsource game development or consider software outsourcing is cost savings. It's more like when you outsource, it's just the service you are paying for and not the entire team. This is way cost-effective move! Hiring game developers and designers could be pretty expensive, especially within your country.
3.2 Time-Effective
Another crucial advantage of outsourcing game development is that businesses themselves get a golden opportunity to get involved in the project with the developers. In fact, they get to choose their own teammates. And since they themselves have made a choice, developing games precisely won't be an issue. On the other hand, selecting different criterias can be more time- consuming. If you delve in the process of interviewing, onboarding, how will you get time to focus on your business?
3.3 Reduced Overheads
Of course, game development is a pretty costly venture, no two ways about it. When you outsource a development company, you don't have to think regarding those unnecessary expenses, for you only the bottom line matters. And with outsourcing, your cost reduces to a great extent.
3.4 Staffing Flexibility
While working with software development outsourcing companies, flexibility comes as a bliss. There are times when you can ask your development team to stay for a bit long or release early when not needed. Outsourcing helps your in-house team in training and delivering high quality final products.
3.5 Risk Management
For every organization, risk management cannot be ignored. With outsourcing, managing risks can be easily taken care of.
4. Questions to Ask Your Game Development Company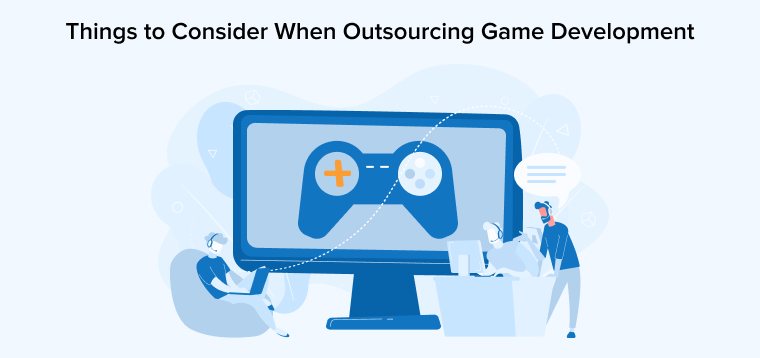 Generating a fresh idea of your own is very much important. It's the stepping stone of your game development project. I am sure there must be people around you suggesting how this game would be if it had this or that functionality. I mean we all have ideas to make our game great but first and foremost you have to be well-prepared.
The following list comprises of different yet crucial questions and answers that will certainly help before signing any contract.
4.1 Is the Company Established?
Many of you often forget to ask the basic question – is the company well-established or is it still a work-in-progress in the market or not. Once you are done with shortlisting potential candidates try researching about their reputation in the current market, its ongoing trends, etc. Once you are done with this, you can checkout their websites and go through each aspect in detail. Go through the About the company section rigorously.
4.2 How Many Years of Experience Does the Company Have?
Check how many years has the company been experienced in the game development space. The longer the better. Of course, knowledge is important but knowledge with experience is like cherry on the cake. And these companies will be marked as number 1 in regards to reliability and reputation.
More or less, these outsourcing partners have the potential to understand what it takes to conduct a quick yet high-end development process and achieve fruitful results for its clients. In general, it is advisable to choose companies featuring an overall experience of 5 or more.
4.3 Have You Checked their Working Process?
One of the most neglected factor during outsourcing is not understanding the internal working process of your outsourcing provider. Yes, even though you are hiring professionals for a while, it is advisable to know everyone inside out. Get to know their team – managers, developers, testers, everyone and see how they work. Will they be able to handle your project in the given deadline?
Of course, this might be hard to implement I mean understanding how the workflow is organized in a certain company is definitely not as easy as it sounds but it is a doable job. Ask them a few questions such as:
How do you perform communication? What channels or tools do you use?
Do you offer staffing flexibility even while working on the project?
Do you conduct feedback sessions?
Can we directly get in touch with the development team?
As the rule of thumb, a trustworthy outsourcing partner or a game development company is enough if you want to make a mark in the gaming industry.
5. Conclusion
Again game development and software outsourcing are two different worlds but both of them are promising and fast-developing. All you have to do is take a leap of faith.