In the present times where we are all dealing with crucial situations; social media, OTT platforms, and games are something where we all keep searching for our little paradise. As a result, more and more businesses are found making a seismic shift Towards these areas, especially video game development.
First came Angry Birds, Fortnite, and Pokémon go and now it's your turn to add something to the league! And Even after the massive hit, the game design and development haven't been impacted negatively – all thanks to outsourcing! Moreover, Game development outsourcing services are pretty much of the rage these days especially due to their low cost. This article incorporates how to choose a reliable game development company outsourcing or things to consider when outsourcing one. Also, it includes certain outsourcing myths to avoid. So, are you ready?
1. About the Evolving Gaming Industry
It may quite interest you to know that in the previous year, the gaming industry succeeded in generating a revenue of around $120 billion, can you imagine? Now think how will be the future, which it will reach five years down the line. The numbers are endless. Further below we would like to shed some light on some numbers to justify the rosy future of the gaming industry.
The gaming industry revenue :
Mobile gaming – $64.4 billion
PC gaming: $29.6 billion
Console gaming: $15.4 billion
Game-related videos: $6.5 billion
VR and AR gaming: $6.3 billion
It may interest you to know that big tech giants such as Apple, Google and Amazon have entered the realm and even started competing against each other. Do you remember the Apple Arcade, and Google's Stadia?
Let us see how technology will be reshaping the future of the gaming industry.
1.1 Artificial Intelligence
Many of you think that artificial intelligence is one of those Jetson's eras where technology and gadgets were running their lives smoothly. AI has created a benchmark in every possible sector and area whether it's Gmail's Smart Compose to face-recognition solutions, smart city projects featuring cars without drivers and how can video games be an exception.
Now AI here plays a crucial role. In every game there are non–player characters (NPCs), for example, have you watched the Jumanji movie (yes, one featuring Dwayne Johnson)? Now there is one character named Nigel Billingsley who conveys the back story and what needs to be done next. That is an NPC character. Another character we can think of here is the colorful ghosts in Pac-Man. These characters might seem real all due to the AI technology but are not. In fact, today it has been observed that artificial intelligence has assisted several programmers in creating a behavior tree for an NPC. This means they are no longer monotonous and can deal with complex situations.
Apart from the gameplay experience, Artificial Intelligence plays several other roles while the game is being developed.
1.2 Virtual Reality
For several decades, humans have gone aww the moment they hear about virtual reality. However, the technology hasn't given its 100% yet.
Much like AI, VR still has its own charm in comparison to other technologies in the gaming industry. Though we are still in the early days, that doesn't mean consumers don't skip a beat once they experience this. And much to our amusement, the future seems to be pretty promising.
With the rise in such technology, the gaming market is growing by leaps and bounds each year and it's unstoppable! More or less, outsourcing game development comes with a lot of many advantages.
2. Advantages of Game Outsourcing Development
Cost-effective – One of the main reasons why businesses tend to outsource game development or consider software outsourcing is cost savings. It's more like when you outsource, it's just the service you are paying for and not the entire team. This is way cost-effective move! Hiring game developers and designers could be pretty expensive, especially within your country.
Time-effective – Another crucial advantage of outsourcing game development is that businesses themselves get a golden opportunity to get involved in the project with the developers. In fact, they get to choose their own teammates. And since they themselves have made a choice, developing games precisely won't be an issue. On the other hand, selecting different criteria can be more time-consuming. If you delve into the process of interviewing, and onboarding, how will you get time to focus on your business?
Reduced Overheads – Of course, game development is a pretty costly venture, no two ways about it. When you outsource a development company, you don't have to think about those unnecessary expenses, for you only the bottom line matters. And with outsourcing, your cost reduces to a great extent.
Staffing Flexibility – While working with software development outsourcing companies, flexibility comes as bliss. There are times when you can ask your development team to stay for a bit longer or release early when not needed. Outsourcing helps your in-house team in training and delivering high-quality final products.
Risk management – For every organization, risk management cannot be ignored. With outsourcing, managing risks can be easily taken care of.
3. What Questions to Ask When Choosing a GameDev Company?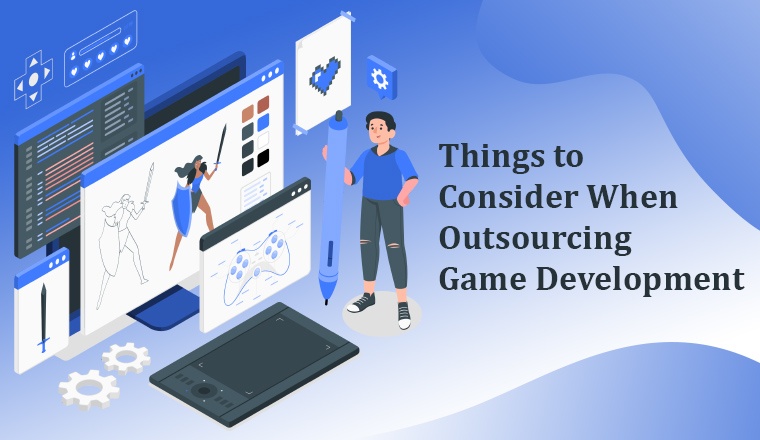 Every innovation was once considered a joke! Now generating a fresh idea of your own is very much important. It's the stepping stone of your game development project. I am sure there must be people around you suggesting how this game would be if it had this or that functionality. I mean we all have ideas to make our game great but first and foremost you have to be well-prepared.
The following list comprises different yet crucial questions and answers that will certainly help before signing any contract.
3.1 Is the Company Established?
Many of you often forget to ask the basic question – is the company well-established or is it still a work-in-progress in the market or not? Once you are done with shortlisting potential candidates try researching their reputation in the current market, its ongoing trends, etc. Once you are done with this, you can check out their websites and go through each aspect in detail. Go through the About the company section rigorously.
3.2 How Many Years of Experience Does the Company Have?
Check how many years has the company been experienced in the game development space. The longer the better. Of course, knowledge is important but knowledge with experience is like the cherry on the cake. And these companies will be marked as number 1 in regards to reliability and reputation.
More or less, these outsourcing partners have the potential to understand what it takes to conduct a quick yet high-end development process and achieve fruitful results for their clients. In general, it is advisable to choose companies featuring an overall experience of 5 or more. Check out their achievements and make a decision. Check how many projects they completed with their skill and expertise.
3.3 Have you Checked their Working Process?
One of the most neglected factors during outsourcing is not understanding the internal working process of your outsourcing provider. Yes, even though you are hiring professionals for a while, it is advisable to know everyone inside out. Get to know their team – managers, developers, testers, everyone and see how they work. Will they be able to handle your project within the given deadline?
Of course, this might be hard to implement I mean understanding how the workflow is organized in a certain company is definitely not as easy as it sounds but it is a doable job. Ask them a few questions such as:
How do you perform communication? What channels or tools do you use?
Do you offer staffing flexibility even while working on the project?
Do you conduct feedback sessions?
Can we directly get in touch with the development team?
As the rule of thumb, a trustworthy outsourcing partner or a game development company is enough if you want to make a mark in the gaming industry.
4. Conclusion
Again game development and software outsourcing are two different worlds but both of them are promising and fast-developing. All you have to do is take a leap of faith.