Modern businesses constantly evolve through changing business needs. Every new change in market dynamics expects companies to continuously modify the process of development by innovating their software development process. There is a common misconception prevailing among business owners and leaders of the industry that what perks Software outsourcing offers. Nevertheless, these are not facts, but myths that restrict businesses from outsourcing. In this blog, we will try to bust these myths and constraints that are limiting your business to reap benefits from software outsourcing.
Table of Content
The Need for Software Outsourcing
We all heard about Software Outsourcing. It is a process of subcontracting services to a third-party outsourcing service provider like TatvaSoft and utilizing their skill set to achieve our business goal. It is no more just a cost-saving process, it has now become a strategic move. Unfortunately, companies are not considering outsourcing as an effective option because of multiple disbeliefs. So, let's start the process of debunking the popular misconceptions that aren't allowing businesses to progress and take the benefits of outsourcing.
The major advantages of outsourcing for any business are to save cost, time and resources into more strategic aspects. Irrespective of what you heard and believe. Let's try to find the actual information behind these seven most common outsourcing myths: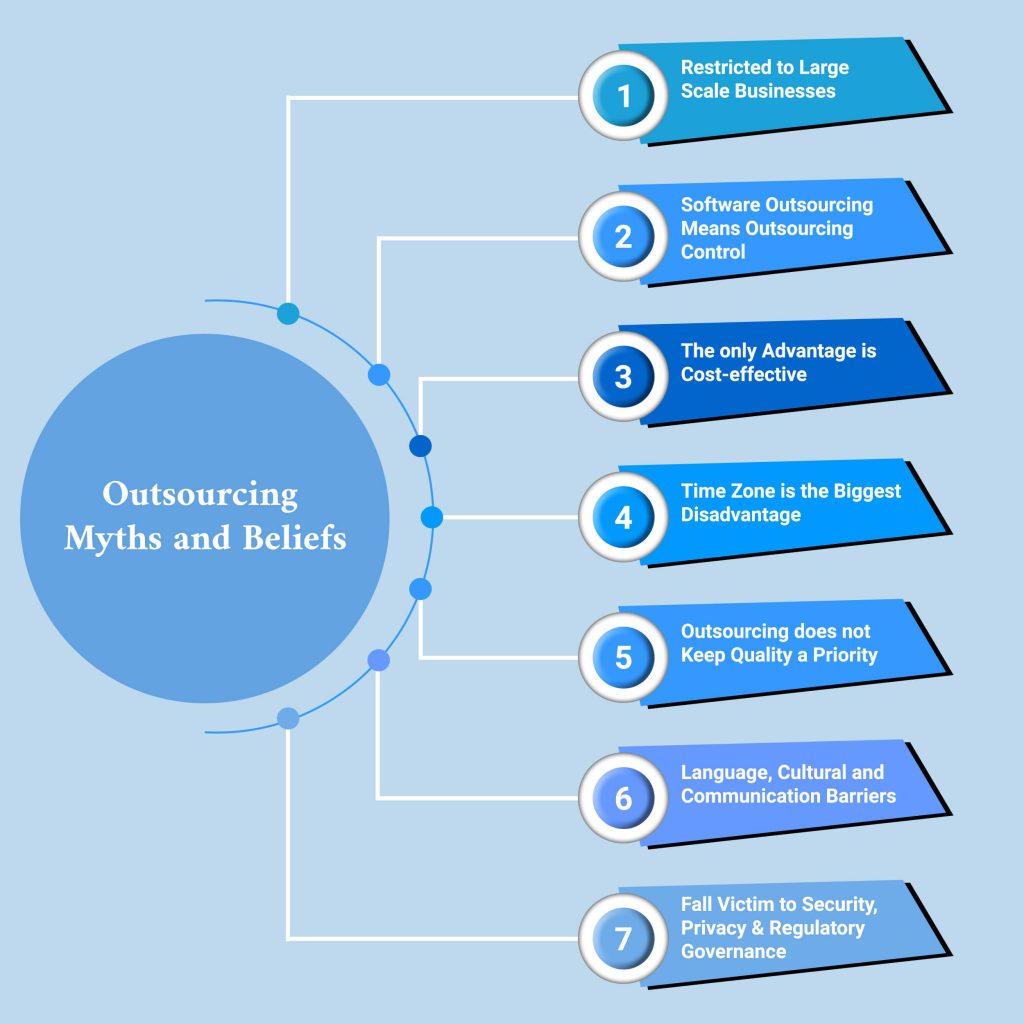 Myth #1- Restricted to Large Scale Businesses
One of the most popular misconceptions about outsourcing is that only big companies can enable it. This is completely incorrect. Accordingly, Businesses of all sizes and scales are free to outsource their requirements to the type of software outsourcing company that fits their need and the budget. Anyone from a small, medium or large size business can outsource their software development needs to a third-party right outsourcing provider.
This myth deters into the minds of small and medium business owners that outsourcing is only meant for large businesses. But Clutch's finding says more than half of small businesses (52%) plan to outsource business processes in 2019. Small businesses should thoroughly understand the process they want to outsource before handing it over. Many companies cater to the mid-size market and they can easily avail business benefits such as cost-saving, process streamlining and improve core business functionalities from experienced outsourcing companies.
Myth #2- Software Outsourcing Means Outsourcing Control
Another misleading aspect that comes with outsourcing is that businesses outsource complete control and access to outsourcing companies in addition to software development needs. This is completely untrue. No one can control your business until you give them the right to control. Some companies worry that they'll lose control of their project and operations if they outsource development services. If you partner with the right software outsourcing company then you are all set to harness the benefits of outsourcing.  Businesses can also engage their in-house team or internal employees with external development teams.
The norms of your outsourced software company can be rigid and they may not be scalable with your specific needs. All you should aim for is to convince them to develop what you want or switch to another outsourcing partner who would drive your application in the right direction. The ideal solution here is to establish a communication that given equal importance to both parties. Unquestionably, the client takes all the key decisions, and using the knack of technical experts, they can accomplish software outsourcing goals.
Myth #3- The Only Advantage is Cost-effective
This belief has soared the market size to an exceptional level. Businesses all around the world are outsourcing based on just one advantage- faster and larger cost benefits. Cost efficiency is undoubtedly one of the predominant factors that drive the software outsourcing market with higher profits with a lower cost of investment.  Time zone often trumps geography as a factor in impacting the effectiveness of an outsourcing model.
Deloitte's study on outsourcing trends shows that the major reason for outsourcing is cost reduction. Many industry leaders from the same domain show that there is a constant increase in the adoption of outsourcing because of cost reduction. To keep their costs down, big outsourcers tend to operate under strict Service Level Agreements (SLAs). Their research depicts that a number of businesses give outsourcing their topmost priority because of the traction it offers to companies. The succeeding trends of software outsourcing in Deloitte's reports show improved agility, automation, and QoS (Quality of service). But it is not limited to just cost, there are innumerable other benefits as well.
Myth #4- Time Zone is the Biggest Disadvantage
Expand your horizons with software outsourcing and your business is functioning 24*7. Time zone is never a disadvantage or a hassle, businesses should count it as a major advantage. Clients can always suggest their operational hours to remote agencies and freelancers.
India is a favorable outsourcing destination and if you are from the USA or Canada or any other region, then the 12-hour time gap can be effectively utilized in working round the clock. Like the software development team in India is working in the Indian time zone to achieve software goals. While the business in the USA is completely focused on core business activities and working at USA time. This clearly shows the business is functioning all day long.
Myth #5- Outsourcing does not Keep Quality a Priority
Keeping faith in something which is far away from your location is always a challenge. Thus, this myth is not uncommon among businesses who want to outsource but avoid doing so. Most of it is because businesses have chosen the wrong company to outsource and the outsourcing company did not stand up to the expectations. Spreading this type of story makes such myths persistent. There is a myth that cheaper development services equal lower quality but this belief is not true.
Not all businesses are the same. If you choose the right outsourcing partner, you would see superior quality software solutions and high-performing apps. So the right outsourcing company will make Quality of service a priority and achieve it to upscale your business. Poor quality is never an objective, when the target is missed, the quality is missed automatically. So always choose your software outsourcing partner after evaluating all parameters and your business needs.
Myth #6 – Language, Cultural and Communication Barriers
Most of the companies fear to delegate their tasks to an unknown company, never visited nor seen. So, it is challenging for businesses to keep up the trust. The main reason is transparency and language barriers that disrupt the whole process of outsourcing. But thanks to Technology advancements. It is a bane to companies who take advantage of radically evolving apps. Cloud applications and productivity tools can offer you 24*7 visibility, tracking, and monitoring on the regular work and updates. It is inaccurate to suggest that cultural and language barriers can not be overcome.
This is another myth believed by companies that prevent them from outsourcing. This belief is busted by technology which allows enabling a fixed matrix of communication. It can be the application or a definite number of calls, promptness of response, and SLA requirements.
Myth #7 – Fall Victim to Security, Privacy & Regulatory Governance
To debunk the disbeliefs of a data breach or not following appropriate rules and regulations of outsourcing or disclosing clients' data to their competitors. These are common myths that limit businesses from outsourcing. Outsourcing service providers always sign NDA to protect their client company's privacy.
Outsourcing these functions suggests that a corporation must expose its data to a third party. That can be frightening, and for enterprises that have struggled to adequately protect their networks, it has often proven catastrophic. The selection of outsourcing partners is no different than providing access to the data and systems to other individuals. Thankfully, you can incorporate data and protections into the Software Contracts and procedures by signing an NDA for outsourcing.
Final Thoughts
Undoubtedly, Outsourcing is an easier, effective, and profitable option if you know whom to choose. The benefits of software outsourcing are countless but due to these myths businesses are unable to leverage it. Finding a trustworthy outsourcing provider and limiting user access to only the data required for a given task is crucial. Checking the ideal parameters will help your business to tap on all potential benefits. Increase productivity and pace up your business with an edge of competitiveness and cutting-edge software solutions.