We witnessed technological advancement in the medical sector and this is a boon at the same time for humans. Every small advancement in the technology sector is one step closer to understanding complex problems with ease. Medical companies and healthcare providers have been leaping forward with many healthcare software solutions and discoveries such as advanced telemedical, database healthcare, 5G enabled devices, coders, and other healthcare highly-efficient devices. Various Healthcare organizations can leverage such benefits of outsourcing.
The healthcare arena is ever-growing and we have no doubts about it. Their inventions are already over-arching which does not allow them to experiment with medical software development. Healthcare companies with advanced healthcare app development are changing the face of the healthcare industry. They are already into many other aspects that they are unable to manage many facades such as clinical services, health-related support, and the development of drugs and medical equipment.
Since the pandemic, the healthcare industry is on the boom and is continuously inventing new healthcare software solutions. There is a comprehensive upliftment seen in software development that has begun to spearhead the conventional medical treatment method. Everyone is moving to digitalization and making medical records compatible. This makes medical software development an integral part of this process. There are a plethora of benefits that software outsourcing provides such as better healthcare facilities, improved healthcare processes, enhanced treatment, and patient safety. They also offer faster results in overall medication facilities and more effective and manageable EMR electronic medical records.
The current-day healthcare sector is spiraling at an unexpected speed. The global healthcare analytics market size is projected to grow from USD 11.461 Billion in the year 2019 to USD 40.781 Billion by the year 2025, at a compound annual growth rate (CAGR) of 23.55% during the forecast period alone.
1. Benefits of Outsourcing Healthcare Software Development Projects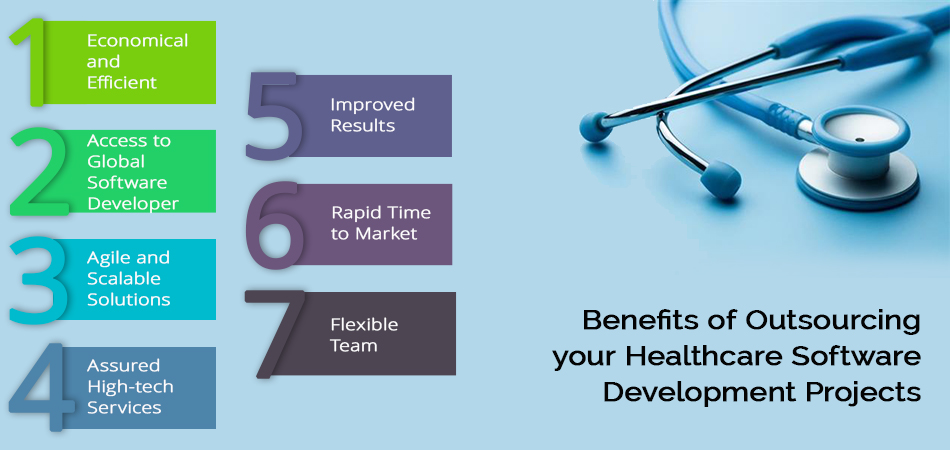 1.1 Economical and Efficient
Collaborating with a third-party offshore company for developing different types of custom healthcare software can help businesses save a lot of costs. It is a cost-effective method that can help healthcare domains to save largely on the investment cost of developing application infrastructure, recruitment cost of hiring professionals, their training, and finally on deployment and pre-installation setup charges. 
Custom software application development for the healthcare sector is an economical solution that will help healthcare organizations to build and use cutting-edge applications. Service provider companies use advanced technology that would fit in the budget.
1.2 Access to Global Software Developers
Another, extremely important factor is access to a global talented workforce. If you are limited to a single company then the app development will be restricted to limited sources. Do medical facilities enhance their operations, patient data security, and patient experience with the latest technology such as artificial intelligence and predictive analytics.? Outsourcing software development services in healthcare offers businesses an option to avail globalization of talents.
Your team doesn't have to spend extra hours assembling teams, distributing work, and then making them implement the tasks. It is a tedious way to work and does not promise exceptional results.
1.3 Flexible Team
Every project comes with unique requirements. We may have to cater to some enterprises on an urgent basis and need a large pool of software developers. While the others may not need such a large pool of resources or are targeting a deadline. In such cases, it is cumbersome to hire software developers and then relieve them after the completion of work. As it is a costly process of hiring, setting up infrastructure, and team. Hence, outsourcing healthcare software application development gives all the liberty to scale up and down resources as per the needs.
1.4 Rapid Time to Market
The best-in-class experts from specifically healthcare domains are investing their time in developing applications. The outcome from the application will be well-grained, superior, and qualitative products that will amplify the time to market and offer the patients faster treatment and better usage of technology. This will let them stay at home and harness the power of custom software. Healthcare agencies and companies will have highly profited from this type of development strategy.
1.5 Improved Results
When you are investing in a company that is building a software application for you then your focus changes. The company can be more inclined toward its core business roles and takes time to make it more effective. You won't have to burden them with rounds of briefings and preparation as you recruit offshore developers who are already qualified and talented in the production of medical applications. Since they are already well ahead of the game. Instead, you should spend this time improving critical services for hospitals.
1.6 Agile and Scalable Solutions
The in-house healthcare software developers are already engrossed in multiple other tasks and lose focus when multiple tasks are in action. So, in such cases, the delivery of the application cannot be compromised. Hence the company decides to outsource healthcare software development. When collaborating with healthcare software developers, you have an option to flexible manage resources whenever needed. Also, with a better scope of work, you can add scalable software engineers to make the developed app more agile and consistent.
1.7 Assured High-Tech Services
It's time for your business to bid goodbye to overheard development charges, recruitment, and training charges. Because when you partner with a software development company, you will have access to a superior talent force, medical domain experts who are experts in developing high-tech applications. They ensure that the developed app is as per the latest technology standards and will meet the quality benchmarks and outcomes.
2. To Sum Up
Healthcare is an ever-evolving industry. The advancement is benefiting humankind and hence there will be innovations. So to cope up with innovations, the healthcare industry must be on its toes. So, when you decide to outsource your healthcare software development needs, it is important to find an ideal software development partner company TatvaSoft. There is no shortage of software developers in the healthcare sector. You should know to choose from the available options. Custom software like the telemedicine segment will drastically reduce cost and expand access to healthcare all over the globe. So, why is your organization restricting to one country or company, step up and outsource healthcare software projects and reap benefits?