By adopting the changing and demanding innovative enterprise web applications and cross-platform mobile applications, businesses are increasing the chance to earn more revenue and cut down all operational costs. Therefore, the .NET enterprise application development framework is the best solution. ASP.NET application development companies offer flexible enterprise application development services at a low budget and in less time. Besides, when it comes to developing NET enterprise applications for businesses, .NET developers offer a consistent, dependable, and scalable environment.
To understand more about why choosing the .NET framework is beneficial and what would be the advantages if any business owner will hire .NET developers, is necessary which we will see in this blog.
1. Why .NET Framework?
.NET Framework is one of the most popular among app developers when it comes to creating and running robust web applications. Applications created using dot NET technology can run on many different operating systems and it is possible because of the different implementations of the .NET environment. Software developers prefer to use .NET Framework as it enables them to create various enterprise apps like desktop apps, web services, web apps, and more with the help of Visual Studio. This is the reason behind the popularity of the .NET framework.
2. Advantages When Hiring .NET Developers
Some of the major advantages behind hiring .NET developers are –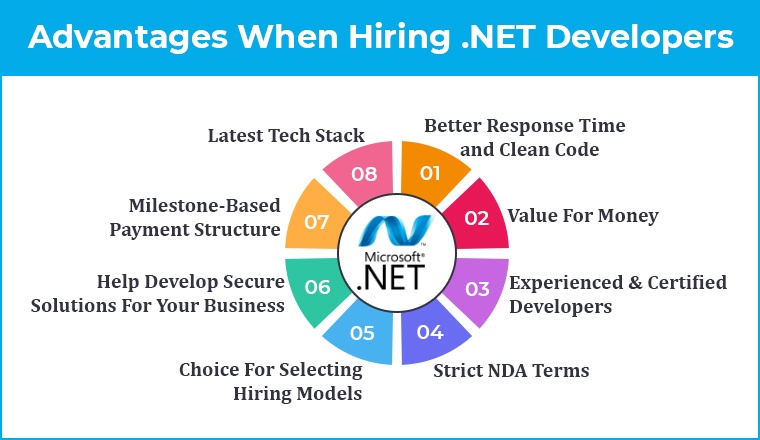 2.1 Better Response Time and Clean Code
Hired .NET developers follow strict development approaches where they keep the code of the software development solution as per the .NET coding guidelines. They give descriptive names for all the project's variables and also write down in-code comments for reference. The expert.NET developers follow the practice of keeping the code documentation clean and they also split the app's code into short and focused units so that any other developer can go through it easily.
2.2 Value for Money
When any business organization hires an outsourcing company to get .NET development services from the .NET experts of the firm, a lot of money can be saved. The reason behind it is that the hiring firm doesn't have to provide infrastructural facilities to the new ASP.NET programmers as they are already working from an outsourcing company. Besides, the business owner doesn't even have to think about the extra allowance or taxes. The only payment that needs to be done is for the service the hired .NET developers offer. This saves a lot of money and creates value for money.
2.3 Experienced & Certified Developers
Web application development is a market that heavily relies on experience and expertise. This means that any organization that wants to have a web app for its business would prefer to hire experts who have the proper experience and are certified developers. Though every .NET developer would have the required skill-sets, if he is not a certified or experienced developer, businesses won't hire him. The reason behind it is that the experience of the developers plays a critical role in conceptualizing, designing, planning business processes, and building web applications. Experienced programmers can easily solve complex problems and help clients streamline their businesses.
2.4 Strict NDA Terms
A Non-Disclosure Agreement (NDA) is a contract that specifies all the essential details of the two parties and the project that they are working on. It defines all the confidential information about the project. Every business must have strict NDA terms and they must be signed by both hired .NET developers & the hiring firm itself to keep the valuable corporate data of the web development services secure. It holds the developers in strict adherence to confidentiality.
2.5 Choice For Selecting Hiring Models
When it comes to hiring a .NET developer from India, businesses have to choose a specific hiring model. Organizations can hire a .NET developer or .NET development team on an hourly or monthly basis. As per the length of the contract, businesses also hire IT outsourcing companies for a longer period of time.
2.6 Help Develop Secure Solutions For Your Business
When a business owner hires a team of professional .NET developers, they come with profound expertise in various aspects of the .NET ecosystem and its fundamentals which also includes the security features of the application development approach. Therefore, hiring ASP.NET developers gives assurance that the development and deployment of your business project will be fully functional. The reason behind this is that the .NET experts have the capability to offer secure apps and websites to the hiring firms and this is with the help of various techniques like URL sanitation, windows authentication, and pre-app configuration.
2.7 Milestone-Based Payment Structure
Generally, business owners define a list of milestones to keep the hired .NET developers focused and speed up the web app development process. Based on these milestones, the payment is made to the developers. This structure makes the developers complete their tasks with clarity and in a predefined time. It is a highly useful model when it comes to working with a team of .NET developers from different countries. The reason behind it is that this approach leaves the hiring company with less liability and gets the required support on time for the project.
2.8 Latest Tech Stack
.NET developers have access to various advanced technologies and they use the latest digital infrastructure. This means that they are well-versed with the latest enterprise app development trends and tools. Besides, .NET Core programmers keep themselves constantly ungraded by researching and learning new concepts, the latest development approaches, and cultural changes in the web development world. Therefore, the hiring organizations can rest assured that when they hire a .NET developer in India, they will get the best results for their projects.
3. Conclusion
As seen in this blog, when it comes to developing NET enterprise applications, any business organization would prefer to hire a developer who has hands-on experience in using cross-platform integration. The developer must have top-notch skills in creating an enterprise-level application. Some of these skills include knowledge of various .NET technologies like ASP.NET framework, SQL Server, its stack and libraries, and architectural patterns (Model-View-Controller). Besides, the hiring companies also make sure that the developer has ample knowledge of .NET languages such as C# and Visual Basic .NET.
Basically, as this blog listed, hiring a .NET developer is very beneficial if he has expertise in creating a robust and scalable enterprise application with the use of proper techniques, APIs and architectural styles, web development technologies, and more.